Fast Forward
At the 'Jewish Olympics,' Biden bursts into song for an American basketball player
"If anyone sings 'Happy Birthday' to you, it's great. It just so happened to be the president," said Abby Meyers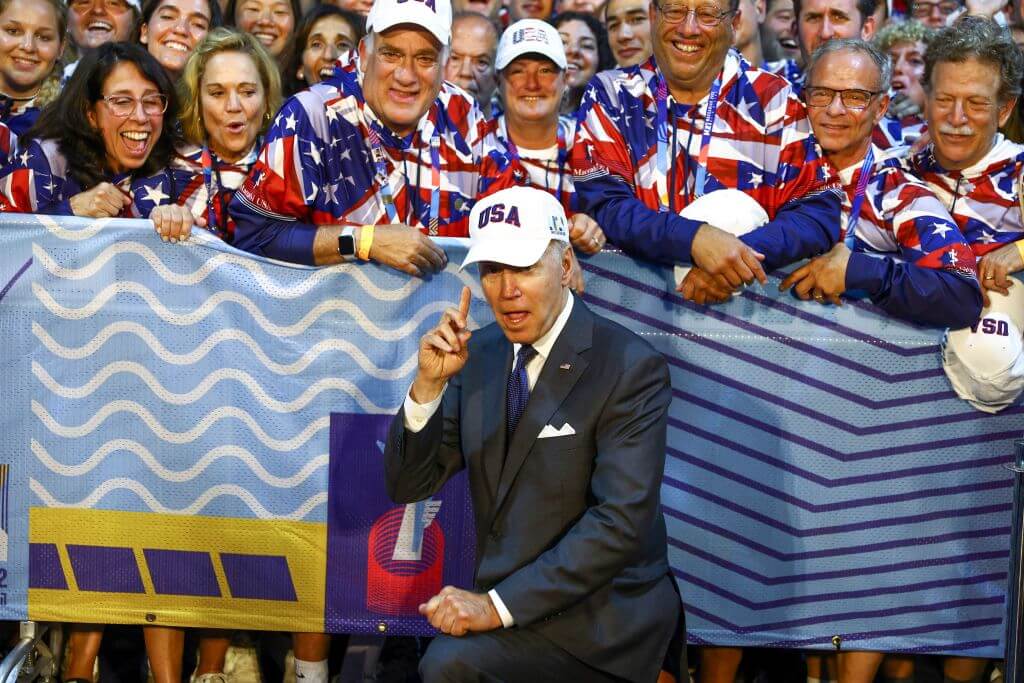 Jewish American basketball player Abby Meyers knew Thursday was going to be a good day. First, it marked the opening of the Maccabiah Games, also known as the "Jewish Olympics" — the reason she's in Israel this month. Second, it was her 23rd birthday.  
But she she never imagined what would turn out to be the most memorable part of July 14: President Joe Biden regaling her with "Happy Birthday" just before the games' opening ceremony in Jerusalem. 
The surprise serenade happened just before the American team joined the parade of more than 60 nations competing at the event. Biden got through just the first word before everyone around him joined in.
"It was probably the best birthday I had," Meyers, the American team's starting shooting guard, said Friday. "If anyone sings 'Happy Birthday' to you, it's great. It just so happened to be the president."
President Biden leads members of the American delegation to the Maccabiah Games in "Happy Birthday" to Abby Meyers, a basketball player from the Washington suburbs. And thanks to hockey player Zoey Pellowitz for the video. pic.twitter.com/GUtevuDD49

— Lauren Markoe (@lmarkoe) July 15, 2022
The moment came after Biden shared a few words with the U.S. delegation's general chair, Lou Moyerman, who told the president that the player standing behind him was celebrating her birthday.
Biden asked Meyers, a native of Potomac, Maryland, just outside the nation's capital, where she's from.
"Washington, D.C.? I know that place," Biden replied, prompting laughter from many of the U.S. Maccabiah group's 200 officials and athletes pre-selected for the brief meeting.
Once in the pen awaiting Biden's arrival at about 7 p.m., Meyers maneuvered to the second row, content to make it into a group photo with the president.
It was a skill she said she learned from her parents, Steve and Val, who used to rouse their three daughters at daybreak during trips to Disney World, so they'd be first in line for their favorite rides.
The American team will play its first Maccabiah game Sunday against host Israel on what is Meyers' first trip to the country. 
It's already been an eventful few months for Meyers. She graduated Princeton in the spring after earning the 2021–22 season's Ivy League Player of the Year award. And in mid-June, she stood in Rome's St. Peter's Square and could see Pope Francis as he held a general audience.
As for Biden, this is his first presidential trip to Israel, but not his first time belting out an unscripted "Happy Birthday" this week. He filmed a pre-departure interview in Washington on Wednesday with Yonit Levy of Israel's Channel 12 News, who was celebrating her birthday. 
"Here's the deal," he said to the crowd surrounding them. "We're all going to sing 'Happy Birthday.'"
When President Joe Biden sang happy birthday to @LeviYonit, chief anchor of Israel's Channel 12 pic.twitter.com/BR6IcpoOk5

— Jacob Kornbluh (@jacobkornbluh) July 13, 2022
Writer-editor Hillel Kuttler can be reached at [email protected].