Fast Forward
Biden has COVID. Did he get it in Israel?
Positive test comes days after fist bumps, hugs and handshakes in a country where infections are surging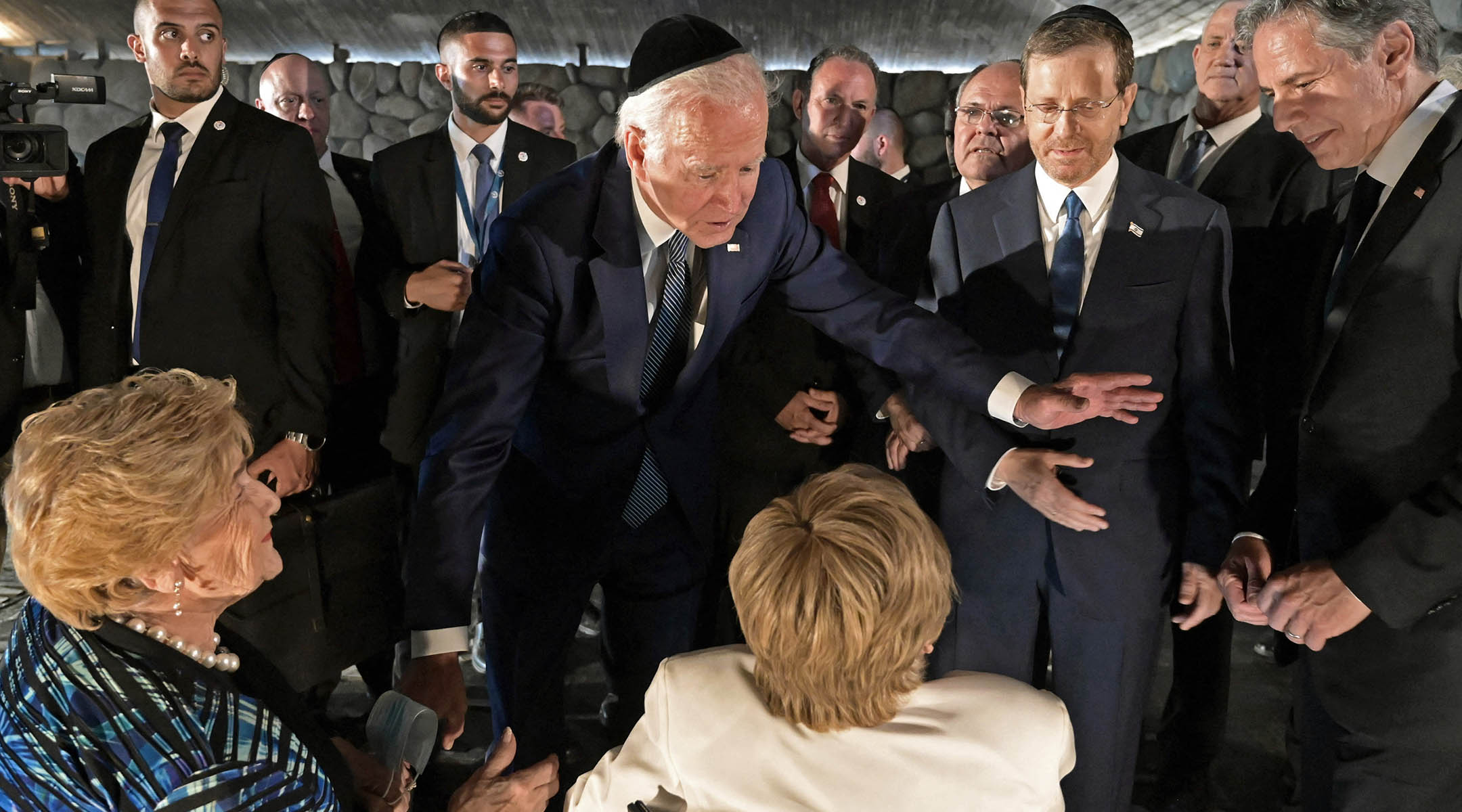 President Joe Biden tested positive for COVID-19 Thursday, days after returning from a Middle East trip that included Israel, where infection rates are high.
There was no official word on how Biden contracted the virus.
The White House had said prior to his four-day trip to Israel and Saudi Arabia that he would try to limit physical contact due to concerns about the spiking infection rate spurred by the highly contagious BA.5 variant. But that's not how things turned out. Biden threw his arm around Israeli Prime Minister Yair Lapid, shared a hearty handshake with former Prime Minister Benjamin Netanyahu, and knelt to hold hands and kiss the faces of elderly Holocaust survivors.
"He asked permission to kiss me and he kept on holding my hand and we were told not to touch him," Rena Quint, 86, was quoted as saying after meeting the president at Yad Vashem, Israel's Holocaust memorial.
Biden landed in Israel on July 13 and left two days later for Saudi Arabia, where he adhered to the protocol and fist-bumped Crown Prince Mohammad bin Salman. He flew back to the U.S. on July 16. Before embarking on the trip, he had shaken hands with members of Congress at a White House picnic.
COVID-19 is generally thought to be an airborne virus, not one transmitted by touch. Cases are up 18% in the U.S. from two weeks ago.
The president, who is 79, is fully vaccinated and twice boosted. Statistically, vaccinated individuals are less likely to become seriously ill from the disease, but the vaccines do not block infections altogether.
White House Press Secretary Karine Jean-Pierre said on Thursday that Biden has "mild symptoms" and was taking the antiviral drug Paxlovid, which reduces the severity of symptoms.
The U.S. Centers for Disease Control currently ranks infection rates in Israel as "high," advising unvaccinated travelers to avoid the country and anyone over 2 years old to wear masks in indoor public spaces.
The Israeli government implemented new COVID-19 rules this week in response to a surge in infections, including restrictions on large gatherings and masks required for entry to businesses and other public venues. Health Ministry data cited by Haaretz, the Israeli news outlet, confirmed 1,400 new cases on Tuesday, up from 1,380 on Monday.
Lapid tweeted his hope that Biden would have "a full and speedy recovery."
On behalf of the people of Israel, I wish a full and speedy recovery to my friend, President @JoeBiden.

— יאיר לפיד – Yair Lapid (@yairlapid) July 21, 2022