Fast Forward
JewBelong billboards near Berkeley get the anti-Zionist treatment
A group of Jews are claiming responsibility for the 'redecorating'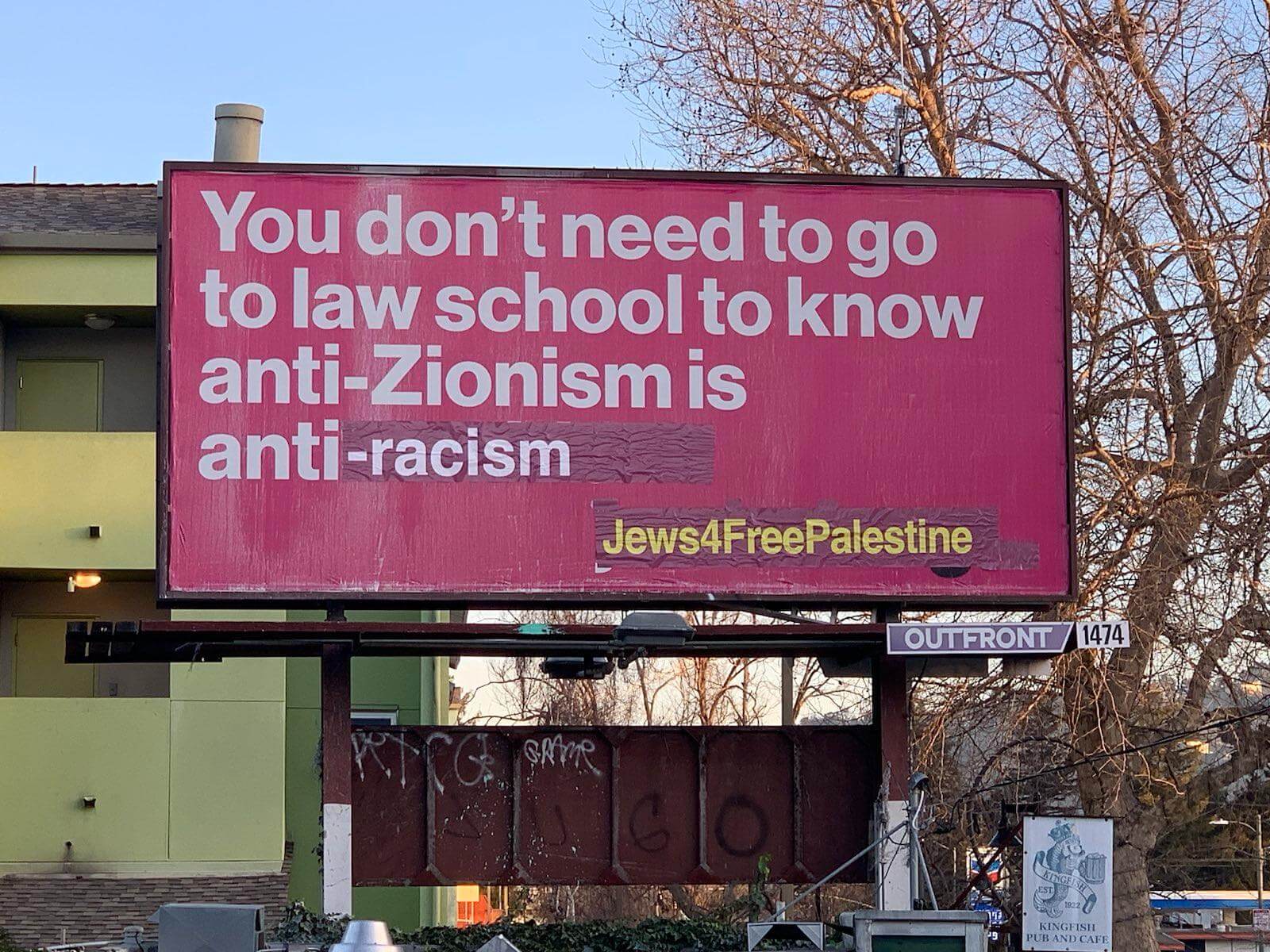 JewBelong has long gotten pushback for its hot pink anti-antisemitism billboards, with edgy slogans about Jewish persecution. While the signs originally condemned antisemitism broadly with phrases like "Can a billboard end antisemitism? No. But you're not a billboard," the more recent campaigns have been more targeted.
In response to a September uproar — even Barbra Streisand weighed in — about what a Jewish Journal op-ed called "Jew-Free Zones" at the University of California at Berkeley's law school, JewBelong put up a new set of billboards. These ones were specifically aimed at the student groups who had signed a resolution not to invite pro-Israel and Zionist speakers. (Berkeley does not, in fact, have Jew-free zones, and only nine out of over 100 student groups adopted the resolution.)
"You don't need a law degree to know that anti-Zionism is anti-semitism" the brightly-colored billboards say. Placed "just off campus" according to an email from Archie Gottesman, the founder of JewBelong, the billboards specifically called out the law students that adopted the anti-Zionist resolution.
In fact, there's ongoing debate both within the Jewish community and wider world about whether anti-Zionism is antisemitism; the topic is extremely contentious. 
But JewBelong, despite its stated mission of welcoming all Jews, particularly those who have not felt comfortable in most Jewish spaces, has taken a strong stance on the topic. "Listen," Gottesman told me last year, "when people are anti-Israel, I don't think JewBelong is for them."
In response, a group struck back at JewBelong's billboards, putting printed messages over the slogans with what appear to be large posters or stickers. "You don't need a law degree to know that anti-Zionism is anti-racism" one sign now reads. Others simply now read: "Jews4FreePalestine" and "End Israeli Apartheid."
Bay Area Jews redecorate JewBelong's racist billboards targeting UC Berkeley law students:
"Anti-Zionism is not antisemitism. Anti-Zionism is anti-racism. We call on all Jews who feel the same way to make their voices heard in support of Palestinians everywhere," they say pic.twitter.com/RnWJJlwhGy

— Nora Barrows-Friedman (@norabf) February 1, 2023
It is not the first time the signs have been tagged. Spray-painted graffiti reading "Free Palestine" was splashed across the Berkeley signs a few weeks ago; Berkeley police investigated the incident as a hate crime and Gottesman sent out an email to JewBelong subscribers condemning it. 
In a statement shared to Twitter by Nora Barrows-Friedman, a journalist for the pro-Palestinian publication Electronic Intifada, an unnamed coalition of Berkeley Jews took responsibility for the incident, saying that they "redecorated" the signs in response to the idea that Gottesman called the previous graffiti a hate crime, an assertion the group called "dishonest."
"We are particularly opposed to the recent campaign by JewBelong, which has taken out billboards and ads across the country that falsely equate support for the Jewish people with support for an apartheid state," they wrote. "Jews are not a monolith, and JewBelong does not represent the views of the majority of Jews in the United States, who know that real antisemitism has nothing to do with support for Palestinian rights."
The statement also referenced a previous tweet by Gottesman, in 2018, in which she called Palestinians in Gaza "monsters" during an exchange of fire between Hamas and Israeli forces; she has since apologized.
"The biggest threat to Jews in this country comes not from those supporting Palestinian rights, but from white, Christian nationalists," the organizers said in their statement.