Fast Forward
Santos invites Jewish Democrat he met in 2021 as guest to the State of the Union
Michael Weinstock said he accepted the invitation to bring attention to firefighters with neuropathy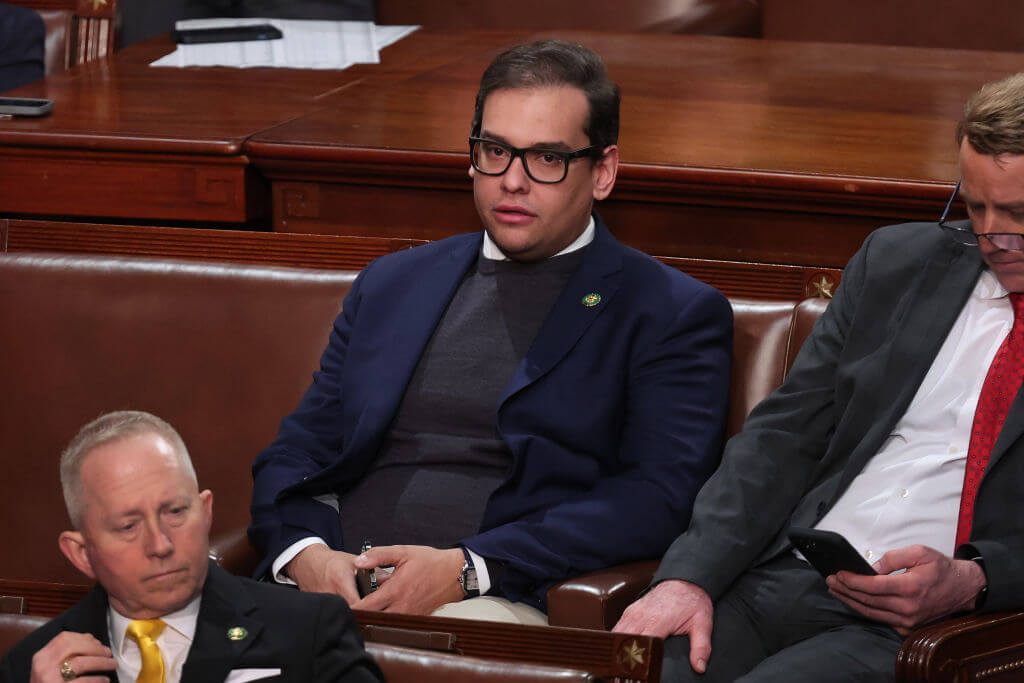 Republican Rep. George Santos, who has been caught in a web of lies about his Jewish background, invited a Jewish Democrat from New York who volunteered as a first responder on 9/11 as his guest to President Joe Biden's State of the Union address on Tuesday night. 
Michael Weinstock, a former Brooklyn prosecutor, was a volunteer firefighter on Sept. 11, 2001, after two planes hit the World Trade Center. In 2020, Weinstock ran in the Democratic primary, challenging then-Rep. Tom Suozzi, for the House district that Santos now represents. 
Members of Congress get one extra ticket to bring a guest to the State of the Union. Weinstock said he accepted the invitation to bring attention to firefighters with neuropathy. 
Santos has come under fire for lying about having Jewish grandparents who fled persecution during World War II and calling himself a "proud American Jew" during the campaign. He reportedly posted offensive remarks about the Holocaust and made jokes about Jewish stereotypes before he ran for Congress. He also fabricated a story that his mother, Fatima A.C.H. Devolder, was in the World Trade Center during the terrorist attacks on 9/11.
A recent poll showed that 94% of Jewish voters in New York's 3rd Congressional District think their freshman representative should resign from Congress. 
Weinstock faced issues related to his Jewishness during his congressional campaign. 
One of his opponents, Melanie D'Arrigo, challenged Weinstock's petition signatures in court. Weinstock tried to get the lawsuit thrown out because it was delivered to his home on Shabbat — in New York, it is illegal to serve someone with legal papers on their day of rest. 
D'Arrigo's lawyer,  Arthur Schwartz, said in an interview with the Jewish Telegraphic Agency that the law should not apply to Weinstock because he is not a "super observant Jew." 
The New York Post quoted Weinstock as saying that he was "plenty Jewish," and at a hearing, he told the Albany Supreme Court judge: "I'm not a perfect Jew, but I am observant."
Appellate judges ultimately ruled in Weinstock's favor.
Santos, who ran against Suozzi in the 2020 general election, got to know Weinstock after exchanging Instagram messages about comments Santos made during his second campaign. 
Santos visited Weinstock in the summer of 2021, after hearing that he had broken his foot. On Sept. 11, 2021, marking the 20th anniversary of the deadly terror attacks. Santos posted a photo of Weinstock on his campaign's Instagram account. 
"I can't thank Michael enough for his brave actions and for having been a first responder," Santos wrote. "Michael also happens to be a Democrat and former congressional candidate in 2020 who believes in serving his country."
Weinstock said he didn't vote for Santos.
In a recent interview on The Howard Stern Show, the host asked Weinstock whether Santos did "any of the Jewish prayers over you?"
Weinstock did not respond to a request for comment about how he feels about Santos' lies.  After the initial publication of this article, he said that he was misquoted by the New York Post and never said he was "plenty Jewish."
Editor's note: Earlier versions of this article inappropriately characterized Michael Weinstock as having exaggerated his Jewish observance or exploited it for political gain. It also mischaracterized Weinstock's relationship with Santos; they were not friends.