Fast Forward
NYC mayor speaks in support of Jews as communities brace for 'Day of Hate'
Synagogues nationwide urge caution — while some propose countering the hate with a Shabbat themed on peace and love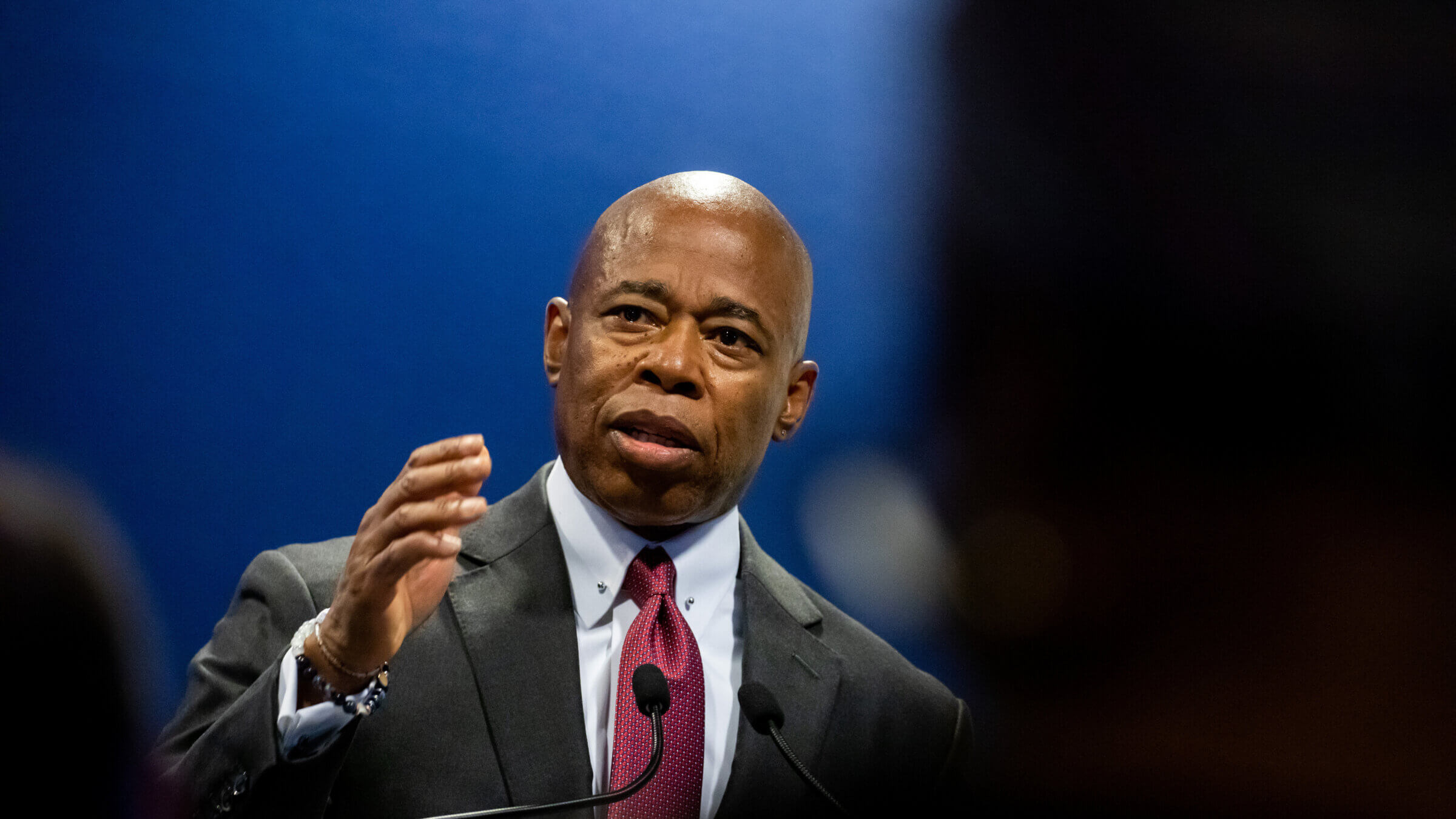 As warnings surfaced nationwide about a "Day of Hate" planned by extremists, New York City Mayor Eric Adams spoke in support of Jewish New Yorkers at a Broadway show targeted by neo-Nazis.
 "We have the largest Jewish population outside of Tel Aviv. And when you come out and really cross-pollinate ideas and culture, that's the beauty and a symbol of New York City," the mayor told the sold-out audience at the Thursday night performance of Parade. 
The play is about the real-life case of Leo Frank, a Jewish man charged with the rape and murder of a non-Jewish teenager in Georgia in 1913. Frank was convicted and sentenced to death, but the governor commuted his sentence to life in prison. A mob then dragged him from his cell and lynched him.
On Tuesday, several individuals belonging to a neo-Nazi group held signs and passed out flyers in front of the theater, calling Frank a "pedophile" and accosting audience members standing in line. 
The incident came as white supremacist groups have been planning a "Day of Hate" for Saturday. While organizers posting in Telegram channels have warned their followers to not break any laws, they have also called on them to spread hate via antisemitic flyers and graffiti. 
Several Jewish organizations have opted to counter the hateful message with their own positive messages: The Anti-Defamation League has dubbed Saturday as the #ShabbatOfPeaceNotHate while the Association of Jewish Aging Services went with #ShabbosofLove.
Concern over the Day of Hate has led several U.S. police departments, including New York's, to issue advisories to Jewish communities to be on high alert, though no specific threats have been disclosed. Synagogues across the country have reached out to their congregants, urging caution.
One congregant of a West Virginia synagogue told the Forward that Saturday services had been canceled. Calls to the synagogue were not immediately returned.