Theater
After neo-Nazis rallied at a Broadway show, Jews in theater gathered to respond
In a Times Square rehearsal studio, Jewish theater makers shared fears and hopes for the future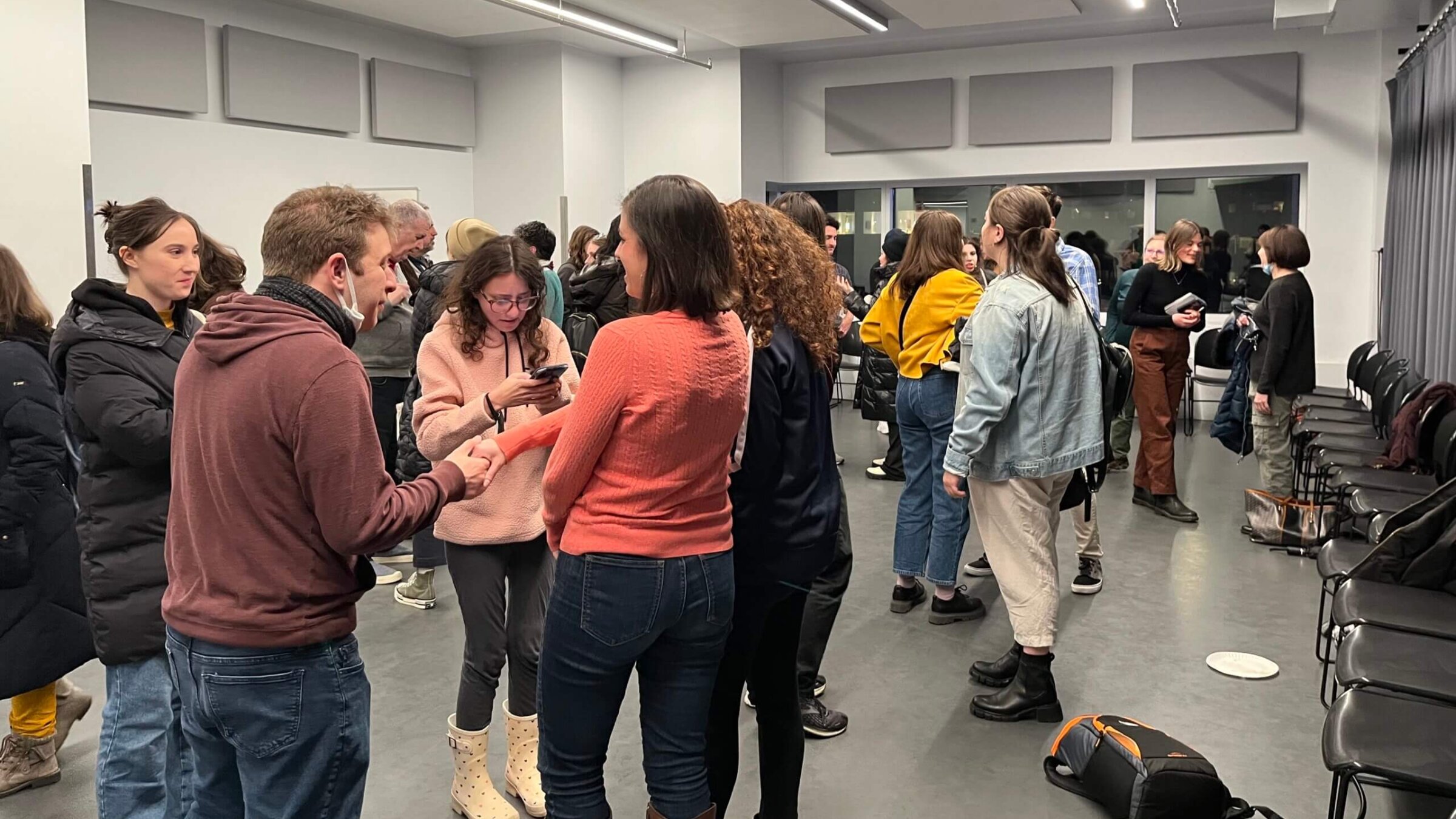 Ari Axelrod was out for margaritas with a friend when he first saw the videos — neo-Nazis accosting theatergoers and handing out antisemitic leaflets in front of the Bernard B. Jacobs Theater. The much-anticipated Broadway revival of Parade, a musical about the 1913 trial of wrongfully convicted Jewish factory manager Leo Frank, was about to play its first preview.
"Normally it's easy for me to process my thoughts and figure out how I feel and proceed," Axelrod said. But his reaction to the videos was different: "I couldn't do it." 
Three blocks north at the Longacre Theater, David Krumholtz and the cast of Leopoldstadt heard the news too. They feared the neo-Nazis would be coming to target their theater, home to another Jewish story. 
Broadway producer Elliot Masie, who had been at the performance of Parade the previous night, couldn't remember anything like this happening in the theater industry, he said. "These guys were pretty professional," he said. "They were very good at making their presence heard."
"I didn't know what I felt," Axelrod told me, "but I knew that I needed to be with people who were affected. I had to form a minyan of some sort." 
The next morning, Axelrod, an actor and cabaret artist, booked a rehearsal room for people to come together and share their thoughts and feelings. He posted an open invitation to the meeting on Instagram, asking his followers to circulate it widely.  
Less than 12 hours later, nearly 50 Jewish members of the theater community congregated in a rehearsal space at Open Jar Studios on Broadway and 48th Street. Axelrod's minyan included Broadway producers, two college students in dress rehearsals for a production of Indecent, and Krumholtz, who was surprised to find that he was the only Leopoldstadt cast member in attendance.
As the blaring lights of digital Times Square billboards flashed through the window, Axelrod took to the center of the circle. "This kind of feels like Jewish AA," he said, eliciting a laugh from the crowd. He led the group in the shehecheyanu prayer, to commemorate the gathering as the first of its kind. Then, he counted as the group took three deep breaths.
The previous night's events had brought up fear, anger, and surprise for many attendees. "I just never thought 'there were Nazis outside a Broadway show' was a sentence I'd have to say," Beatrice Owens, an actor and playwright, said.
For some, the fact that a Broadway theater — not to mention one home to such a visibly Jewish musical — had been the target of antisemitism felt particularly painful. "It feels like they came into our home," Axelrod said to the group. "Not just our home as Jews, but our home as theater artists."
Yael Chanukov, who was in the cast of Fiddler on the Roof in Yiddish, discussed the conversations the company had about safety and security during their run this past fall. Chanukov, the daughter of Russian Jewish immigrants, spoke about the immense anxiety that accompanied her pride to be performing in such an unabashedly Jewish musical.
Participants floated ideas of counterprotests inspired by The Laramie Project and educational initiatives to respond to antisemitic microaggressions from colleagues. Axelrod brought up the possibility of forming a Jewish advocacy coalition for theater professionals, in line with the Broadway Advocacy Coalition and other groups that formed recently to address instances of racism in the industry.
"If you listen to the room, it is an energized hum, and it's not a funeral-like dirge," Axelrod told me afterwards, looking out at the mingling crowd. "To leave an event that was established to talk about antisemitism, to leave with a revitalized energy to fight for something positive for Jews, if that is not a representation of Jewish vitality — and if Broadway isn't — I don't know what is."