Fast Forward
Jewish groups urge Ticketmaster to stop selling tickets to Farrakhan events
At a recent conference, the Nation of Islam leader said 'Synagogue of Satan' has destroyed the country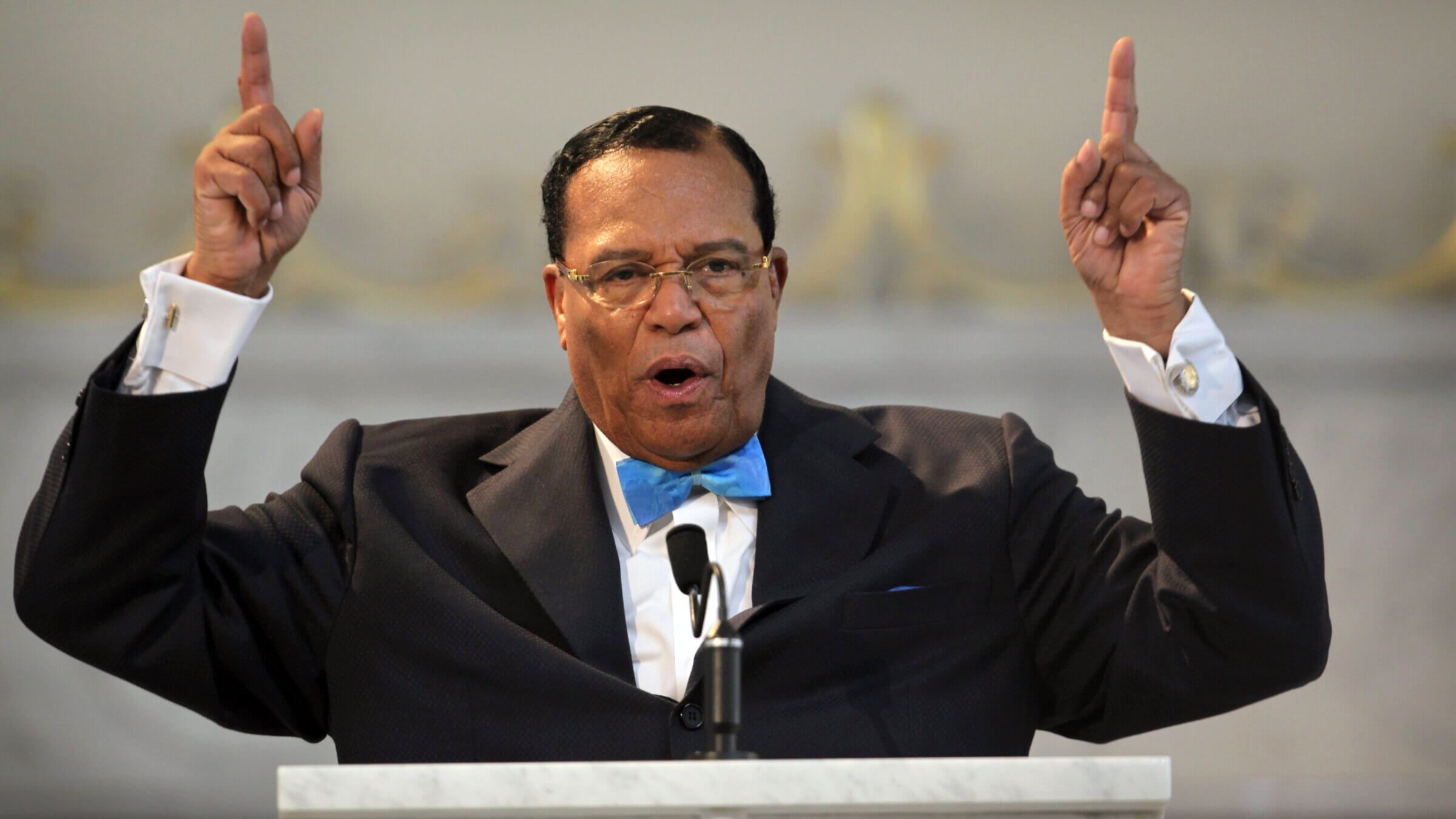 Jewish groups are imploring Ticketmaster to stop selling tickets to events featuring Louis Farrakhan, the Nation of Islam leader and notorious antisemite.
The outcry against the ticketing giant follows a recent event in which Farrakhan defamed Jews and defended Hitler. 
Ticketmaster sold tickets to the Nation of Islam's annual Saviours' Day conference, held Feb. 24-26 in Chicago. The Anti-Defamation League said the event served as a forum for "vitriolic antisemitism and anti-LGBTQ+ bigotry." 
Farrakhan's keynote speech was full of antisemitic conspiracy theories, including the falsehoods that Jews orchestrated the assassinations of presidents Abraham Lincoln, John F. Kennedy and others because they "threatened the international banking system" serving Jews. He also said Adolf Hitler attacked "usury" and "pornography that the Jews had put on the Germans."
Rabbi Abraham Cooper of the Simon Wiesenthal Center called out Ticketmaster and others for monetizing the event, The Algemeiner reported. The Creative Community for Peace, an entertainment industry trade group founded to combat antisemitism, circulated a petition signed by 120 entertainment industry figures urging the ticket-selling platform to shut down the sales. 
The ADL said other speakers at the event also trafficked in "familiar antisemitic and conspiratorial rhetoric" and that Farrakhan's keynote demonstrated his "obsession with Jews and affirming the NOI's position as a leading promoter of antisemitism in America." 
Farrakhan's talk, called "The War of Armageddon Has Begun," accused "Jews of controlling world governments, the media and financial institutions," according to the ADL.
The "Synagogue of Satan has destroyed the country," he said. 
Farrakhan also warned Black comedians to be wary of "who's writing your script," because "behind the scenes, they give you a writer who's Jewish."
Farrakhan said LGBTQ individuals "have been deceived by Satan" and are "living a life that ultimately is destructive." He suggested that Jews promote homosexuality, saying, "They're not only breaking the divine law, they're selling the wickedness of their sinful life" based on "teachings of the Talmud."
Farrakhan told his audience that when a Jewish man said to him, "Never again will we be in the oven," he responded: "You can say that to men, but you can't say that to God. Because the Bible says, behold the day cometh that shall burn — as a what? — as an oven. And those who do wickedly, He will slay them." He added: "The War of Armageddon is to decide who will live on this earth."
Farrakhan's Twitter account and the NOI's official account shared clips from the speech, which was also streamed on YouTube and Facebook. 
Ticketmaster has been accused of wielding too much control over ticket sales to various events in the U.S. and has also come under fire for adding fees and service charges. The platform recently apologized after thousands of Taylor Swift fans were unable to buy tickets to her concert tour because Ticketmaster's system was overwhelmed by demand. U.S. Sen. Amy Klobuchar, who chairs the Senate committee on consumer rights, says Ticketmaster is a "monopoly" responsible for 70% of U.S. ticket sales.
An email from the Forward sent to Ticketmaster public relations seeking comment was not immediately answered.