Fast Forward
Asaf Zamir, Israel's top diplomat in NY, summoned to Jerusalem after implicitly criticizing judicial overhaul
Meanwhile, Zamir's wife Maya Wertheimer appeared in a provocative pro-democracy show to kick off Tel Aviv Fashion Week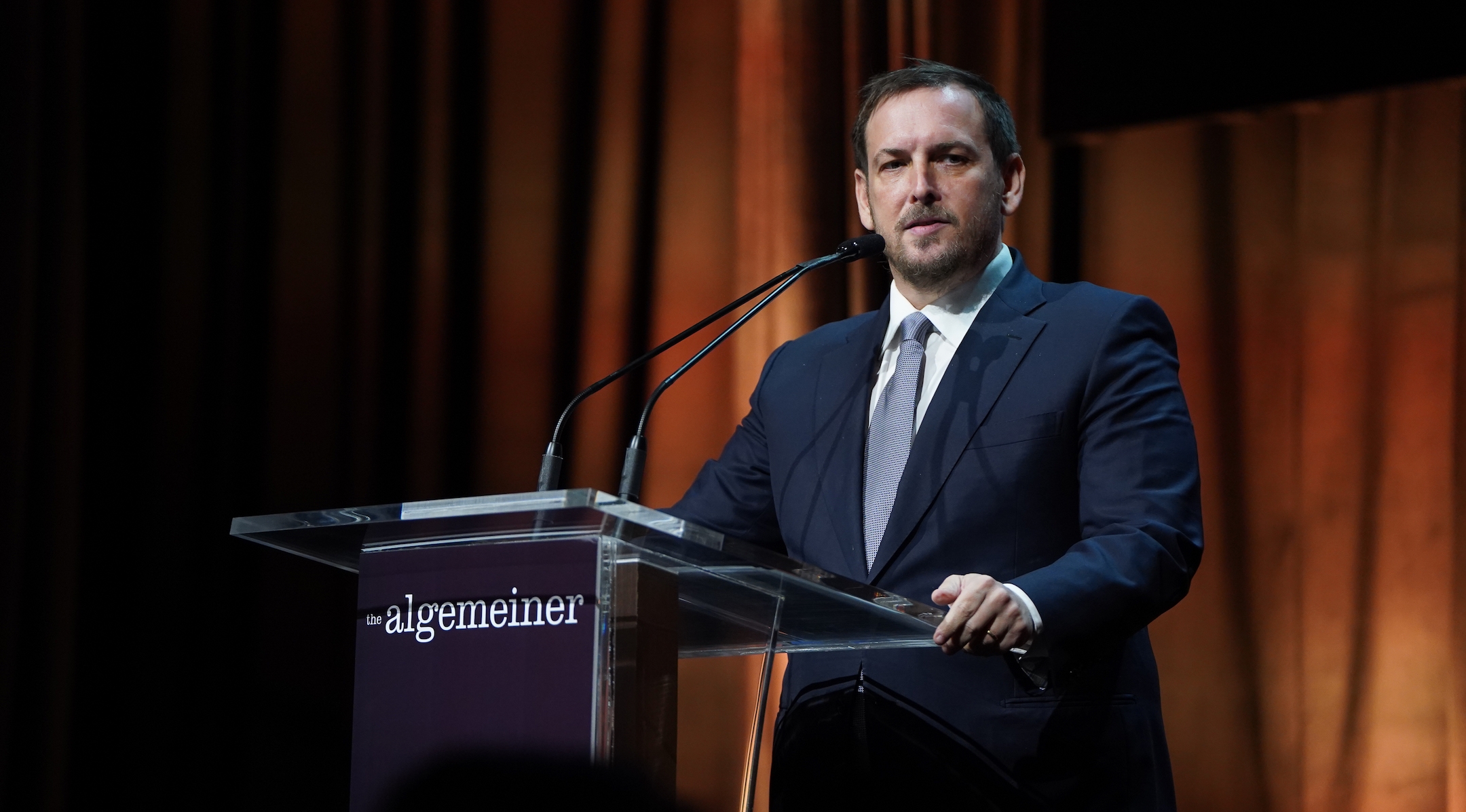 (JTA) — Since December, Israel's top diplomat in New York has found himself in an odd-couple relationship with the government he represents. Now, that relationship looks like it may be on the rocks after he criticized his government's signature legislation.
Asaf Zamir, Israel's consul general in New York, was appointed to the position in 2021 by the short-lived centrist government that had unseated longtime Prime Minister Benjamin Netanyahu. Zamir was a former deputy mayor of the liberal city of Tel Aviv, and had previously served briefly under Netanyahu as tourism minister — before resigning in protest.
But when Netanyahu returned to power at the end of last year, leading a coalition with far-right partners, Zamir stayed in his position in New York — long thought of as a coveted seat in Israel's foreign service. He kept serving even as other senior diplomats — such as Israel's ambassadors to France and Canada — resigned rather than represent Netanyahu again.
Now, Zamir has clashed with Netanyahu and is heading back to Jerusalem to explain himself. The order to fly home to clarify his remarks, given by Israel's Foreign Ministry, came after Zamir implicitly criticized Netanyahu's planned overhaul of the country's judiciary, which would sap the Israeli Supreme Court of much of its power and independence.
"Right now, we're in a very dramatic period," he said in remarks to a gala dinner in New York City on Thursday night hosted by Anu, the Museum of the Jewish People, which is located in Tel Aviv. His statement was first reported by Barak Ravid, a reporter for Israel's Walla News and the U.S. outlet Axios.
Zamir, who was appointed to a three-year term, said being a diplomat sometimes means defending policies one doesn't agree with but continued, "That's not the point in the last few weeks."
"I'm deeply concerned in the direction the country is going in right now," he said. "If we want to have a national home and we want it to be everyone's home, it really must be democratic."
Zamir was alluding to the fears of an expansive range of critics — including hundreds of thousands of Israelis who have taken to the streets in frequent protests — that the judicial overhaul would threaten Israeli democracy. The legislation, which is currently advancing through Israel's parliament, the Knesset, would allow a bare majority of parliament to override court decisions and would give the governing coalition full control over Supreme Court appointments. Its defenders say it will allow the government to enact the wishes of Israel's right-wing majority.
Zamir isn't the first diplomat to fret over the legislation. Last week, Simon Seroussi, the spokesman of the Israeli embassy in Paris, warned in a leaked cable that "in recent weeks, we have identified a worrying trend of French journalists, editors, academics, and commentators who are known as pro-Israel speaking critically, even very critically, about Israel" due to the legislation as well as violence by Israeli settlers, according to the Times of Israel.
Seroussi's cable came ahead of a visit by Israel's far-right finance minister, Bezalel Smotrich, who said in a private speech in Paris on Sunday night that "There's no such thing as the Palestinian people." according to Israeli reports.
Israeli actor and producer Noa Tishby, who was appointed last year as an unpaid envoy for Israel, has also criticized the court legislation. The government is considering cutting ties with Tishby as a result, Israeli media reported on Sunday.
Zamir's wife, actress Maya Wertheimer, delivered her own implicit criticism of the legislation on Sunday during an appearance at the kickoff gala of Tel Aviv Fashion Week. She walked in a show that featured Ivri Lider, an Israeli singer, who was wearing a blue dress bearing the seal of the state of Israel, along with a gold crown. Stenciled on his chest were the words "free in our land," a quote from the Israeli national anthem.
Lider wrote on Instagram that his outfit, designed by Aviad Arik Herman, was called "Dress of Democracy" and said the crown was made of gavels representing "the importance of the judicial system." Wertheimer carried an oversized passport and plane ticket during her appearance in the show, which also featured Tel Aviv Mayor Ron Huldai and the former head of the left-wing Meretz Party, Zehava Galon, wearing a dress emblazoned with the faces of Israeli women in politics.
This article originally appeared on JTA.org.