Fast Forward
Netanyahu's defense minister publicly calls on him to halt judicial overhaul legislation
Defense Minister Yoav Gallant is the highest-ranking lawmaker in Netanyahu's government to openly call to halt the judicial coup legislation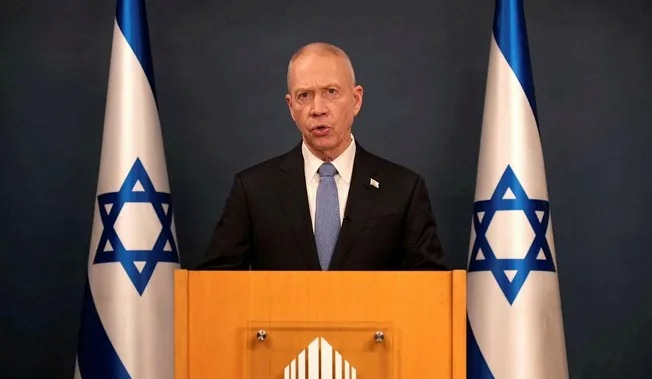 This article originally appeared on Haaretz, and was reprinted here with permission. Sign up here to get Haaretz's free Daily Brief newsletter delivered to your inbox.
Israeli Defense Minister Yoav Gallant, a senior member of Netanyahu's Likud party, called on Saturday to freeze Prime Minister Benjamin Netanyahu's judicial overhaul plan. Gallant is the first senior Likud politician to openly come out against the controversial legislation. Minutes after he gave a live speech calling to stop the legislative process, while also calling for an end to the massive protests against it, two other Likud lawmakers joined his call for a legislative freeze.
"The events happening in Israeli society are not staying out of the military. Feelings of rage, disappointment and fear have reached heights we have never seen before," Gallant said on Saturday night as hundreds of thousands of protesters raged across Israel.
"I've presented this picture to Prime Minister Netanyahu. At this time, we must stop the process and sit down to talk," he said. "Now I'm saying it in my own voice, publicly: we must stop the legislative process and allow the people of Israel to celebrate together on Passover and on Israel's national independence day, and mourn together on our national memorial day and the official Holocaust memorial day."
Gallant is the highest-ranking lawmaker in Netanyahu's government to openly call for a freeze in the judicial coup legislation making its way through the Knesset, which has been met with massive resistance in Israel and abroad in recent weeks.
Minutes after his statement, two other Likud lawmakers – Yuli Edelstein, who chairs the Knesset committee on security and foreign affairs, and David Bitan, who is a rare critic of Netanyahu in today's Likud – joined Gallant's call. Israeli media reported that Minister of Agriculture Avi Dichter, another Likud member, told Netanyahu privately he also supports a freeze on the legislation. If all four eventually vote against it, Netanyahu won't have a majority for the legislation, but it's not yet clear if their stated opposition will be translated into a 'no' vote in the Knesset.
In response to Gallant's statement, far-right National Security Minister Itamar Ben-Gvir called on PM Netanyahu to fire the defense minister, who "entered the Defense Ministry with the votes of the right but succumbed to the pressure of those [defense establishment personnel] who threatened to refuse [to report for duty] and is trying to stop the important reform."
Shlomo Karhi, the Communications Minister from Likud, asked his party's voters for forgiveness following Gallant's speech, accusing the defense minister of "surrendering under the pressure of the left." Likud MK and coalition chairman Ofir Katz said following the speech that "anyone who doesn't vote for the reform this week has finished his political career in Likud."
Opposition leader Yair Lapid, meanwhile, applauded Gallant's move, saying that it is a "brave and important step for the security of the State of Israel."
Leaders of the reservists' protest, known as Brothers in Arms, said in a statement that "today Gallant and [former defense minister and opposition MK Benny] Gantz have laid the foundations for dialogue in Israel and for preventing a disaster and an irreversible rift within us."
Gallant planned to make his position known two days ago, but was convinced by Netanyahu to delay a statement to the press on that day. Instead of making his position known to the public, Gallant remained silent that evening and watched Netanyahu give his own televised speech, in which he doubled down on the legislation and stated it will go up for a vote despite the protests in the streets and the warnings by experts that it will harm the Israeli economy and hurt Israel's foreign relations.
Gallant had told Netanyahu privately on several occasions that he was concerned about a disintegration of the Israeli military as a result of the judicial overhaul. In recent weeks, hundreds of Israeli air force pilots, special forces officers and intelligence operators have said that if the government goes ahead with the legislation, they will no longer show up for reserve duty. The military leadership has warned both Gallant and the Prime Minister that thousands more could join this phenomenon if the government doesn't change course.
It is unclear if more Likud lawmakers will now follow in Gallant's footsteps. Netanyahu's coalition holds 64 seats in the 120-seat Israeli Knesset, meaning that it would take at least three other lawmakers aside from the Defense Minister to stop the legislation from being enacted.
Other major Likud figures have come out in support of a freeze. Longtime Likud lawmaker David Bitan publicly called on the government to halt the legislation. In an interview with Israeli daily Yedioth Ahronoth earlier this month, Bitan said the freeze is necessary to "calm the country," adding that his colleagues have been waiting for years to reform the judiciary, so "a delay is no problem."
Addressing the cabinet during its meeting last month to approve the 2023-24 state budget, Economy Minister Nir Barkat said that while he supports the government's actions, the dangers of the judicial reform should be taken into account. "I am meeting with people in high-tech, and they are concerned about the implications of the legal reforms," Barkat said, adding that "businessmen warned me that we could forget the budget, as there would be no money to fund it anyway."
Earlier this month, Edelstein and Danny Danon signed a joint statement with opposition MKs Chili Tropper and Gadi Eisenkot calling for dialogue, and Edelstein even said the legislation could be halted. It's not clear whether any of the four would vote against any of the bills in the event that negotiations do not take place, but it's a question that is being asked increasingly within Likud. Edelstein refused to answer when asked about it in an interview with Israel Channel 12 News.