Fast Forward
Travelers report confusion amid strike at Ben-Gurion Airport
The strike, sparked by the controversial judicial reform proposal, comes a week before Passover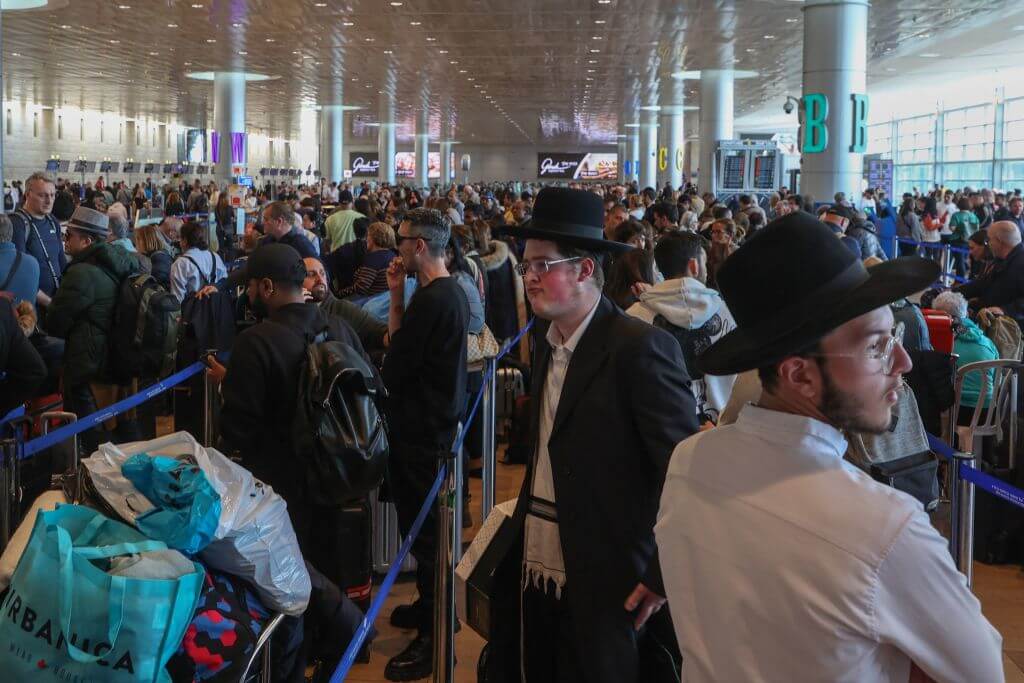 A strike at Israel's Ben-Gurion Airport has led to confusion for travelers heading in and out of the country on the week before Passover begins. 
On Monday, the head of the airport's union announced that departures would halt as a response to the controversial judicial reform proposed by Prime Minister Benjamin Netanyahu. The measures have sparked months of mass protests and labor strikes across Israel, leading to Netanyahu announcing on Monday that the plan will be frozen. 
On Twitter, Israeli airline El Al notified passengers of the cancellations, and advised them to "follow the reports in the media. Whenever there are changes in the departure times of your flight, we will update you in a separate message."
Despite Netanyahu's announcement, the Ben-Gurion Airport website listed numerous delays and cancellations for both arriving and departing flights.
Some travelers heading to Israel from the New York area said there had been some confusion over the status of their flights. Sally Gottesman, a prominent philanthropist and author who was flying from Newark Airport on Monday to attend some meetings in Israel, spoke to the Forward and said she became aware of the strike at 5 a.m.
"The person at El Al said flights are arriving but not leaving," she said. "Different papers say different things but El Al checked me in. The website doesn't say anything but at the desk they were very nice."
Sean Bejell, who lives in Tel Aviv, was in town to visit his grandparents in Long Island. He said he had been able to keep updated on the status of his flight out of Newark through the United Airlines app.
"It looks like everything is normal based on the flight. I hope I'm not going to get to the airport and discover the flight's not leaving," he said. 
With Passover starting next week, some people with family across the globe have begun to wonder if they'll be able to make the trip. A number of Israelis took to Twitter seeking answers from their airlines as to the status of their flights. 
@British_Airways I'm flying to Tel Aviv, Israel on Saturday, is my flight cancelled due to protests?

— روب جورج (@George36495011) March 27, 2023
Menachem Engel, a music producer and art gallery employee in Safed, usually comes to see family in New York during the holiday. While he believes flights will be back to normal by the time his flight leaves next week, he said he was surprised by the shutdown on departures. He was also left wondering how the shutdown could affect his work, which relies on tourists entering the country, as well as some family members who were set to visit him.  
"It was a whole thing. Are people going to come in? Is my family going to be able to make it, are we going to be able to make it? So it's just like a lot of different things, you know?"
Bejell said he's been watching the controversy grow in Israel and, while he does count himself among the Israelis in support of judicial reform, "it's been completely mismanaged by the government and whoever's been running the show in the Knesset."
"I think it got to a point where there's a lot of misinformation out there about the judicial reform. I'm hoping there's a way back in terms of scaling it down a little bit and focusing on the consensus points of the reform."
Gottesman said that despite the confusion, she was heartened by the protests in Israel.
"If it inconveniences travelers and not make it not clear whether their flights are going to take off so that we can ensure that Israel remains democratic, I feel fine about that."