Fast Forward
Fawning Netanyahu defends Musk against antisemitism allegations
Musk has been engaging in a war with the ADL in recent weeks, amplifying an antisemitic social media campaign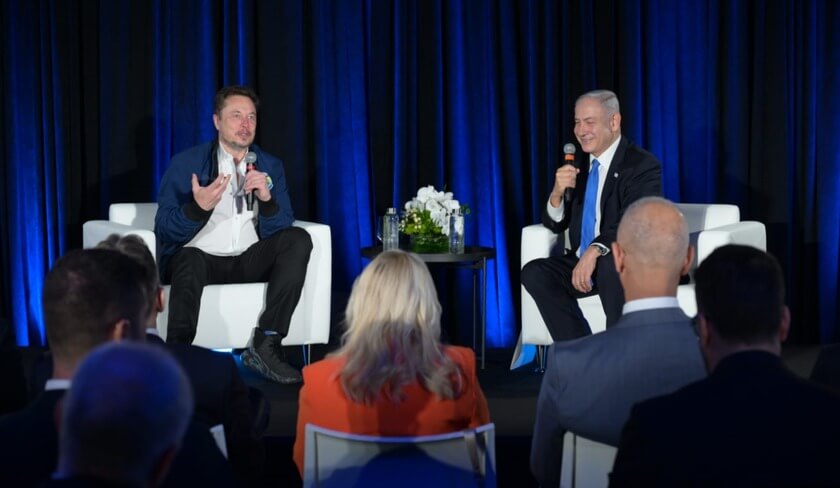 This article originally appeared on Haaretz, and was reprinted here with permission. Sign up here to get Haaretz's free Daily Brief newsletter delivered to your inbox.
Prime Minister Benjamin Netanyahu on Monday strongly defended Elon Musk against allegations of antisemitism, despite his frequent platforming of anti-Jewish tropes and conspiracy theories, while also implying that he is more powerful than the U.S. president.
Netanyahu, meeting Musk on the first day of his visit to the U.S., further acknowledged that his coalition's initial judicial overhaul proposal was "bad," with Musk noting he received more negative feedback from Tesla employees over his meeting with Netanyahu than any previous event.
"I know your opposition to antisemitism. You've spoken about it, tweeted about it. All I can say is, I hope you will find — within the confines of the First Amendment — the ability to stop not only antisemitism or roll it back as best you can, but the collective hatred of people that antisemitsm represents. And I know you're committed to that. I hope to help you succeed. It's not an easy task, but I agree with you to find a balance. It's a tough one," Netanyahu told Musk during a conversation centered around artificial intelligence.
"I'm against antisemitism, I'm against anti-anything that promotes hate and conflict. And I'm in favor of that which helps both society and take us to a better future for humanity collectively," Musk said in response.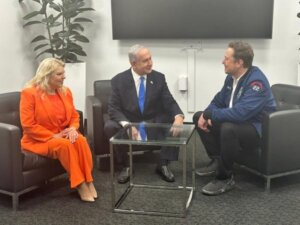 Netanyahu praised Musk throughout the meeting, comparing him to inventors Thomas Edison and Nikola Tesla, and jokingly exchanging with Musk about the extent of his political powers with a tongue-in-cheek remark about "not officially" being able to run for U.S. president.
Musk has found himself at war with the Anti-Defamation League in recent weeks, participating in and amplifying an antisemitic social media campaign targeting the Jewish anti-discrimination organization. Anti-extremism and hate speech monitoring organizations have been warning that since Musk took over Twitter, the company has been platforming hate speech under the guise of free speech. This comes at a time of unprecedented spikes in antisemitism, a significant portion of which arises on social media platforms on the internet.
Musk had defended himself against allegations of antisemitism, all while he and several of his prominent far-right supporters accused the ADL of fomenting antisemitism in an act of explicit victim-blaming. He further threatened to take legal action against the Jewish anti-discrimination organization, accusing it of being behind the company's $22 billion drop in value after advertisers fled en masse over the proliferation of hate speech on the platform following his takeover.
Several of Musk's Jewish business allies, reportedly including Palantir co-founder Joe Lonsdale and investor Steve Rattner, have attempted to defuse tensions between Musk and the ADL, all while X prepares for the potential lawsuit against ADL.
In response to the meeting, Vice Chairman of the World Zionist Organization, Yizhar Hess, said that "Choosing to pal around with Elon Musk at a time when antisemitism runs rampant on X not only sends the wrong message to Jews around the world, but puts them at risk. Fighting antisemitism requires decisive action, not platitudes and hoping for better. Today's talk served at the very least to legitimize inaction. I'm proud to stand with ADL and all those fighting the world's oldest form of hatred."
Just hours before their meeting, Musk accused Jewish billionaire George Soros of "appearing to want nothing less than the destruction of Western civilization" – alluding to the antisemitic trope which alleges immigration is meant to dilute the white population in order to recreate society. This conspiracy was cited by assailants behind significant white nationalist attacks in Charlottesville, Pittsburgh, El Paso and Buffalo. Netanyahu and his allies have similarly trafficked in anti-Soros sentiments, with senior Israeli officials defending Musk during a similar anti-Soros campaign earlier this year.
On the judicial overhaul, Musk offered Netanyahu a blank check to offer a long-winded defense about Israel's standing as a robust democracy — spreading his oft-repeated disinformation about an activist Supreme Court without delving into the specifics of his plan to enfeeble Israel's judiciary.
Netanyahu additionally acknowledged the initial judicial overhaul proposal introduced in January was "bad," saying "it rejected one imbalance by creating another imbalance." He additionally attacked the New York Times and the protest movement for its "polarization of social media," attempting to appeal to Musk's ego by invoking their shared victimhood.
The meeting occurred as Netanyahu continues to be relentlessly hounded by pro-democracy protesters in the Bay Area, including outside Tesla headquarters. Ahead of arriving, Netanyahu – who is in the midst of three criminal corruption trials – an image of him behind bars was projected on the walls of the former Alcatraz Federal Penitentiary and "save our startup nation" projected onto the Port of San Francisco's facade. Netanyahu during his day-long visit to the Bay Area, staging rallies and protests across San Francisco and Silicon Valley while planning similar strategic disruptions throughout his stay in New York throughout the week.
Sam Sokol contributed to this report.