Fast Forward
Increasingly, pro-Palestinians protesters are organizing sit-ins, die-ins and walkouts 
In recent weeks they have intentionally embraced disruptive tactics in both public and private spaces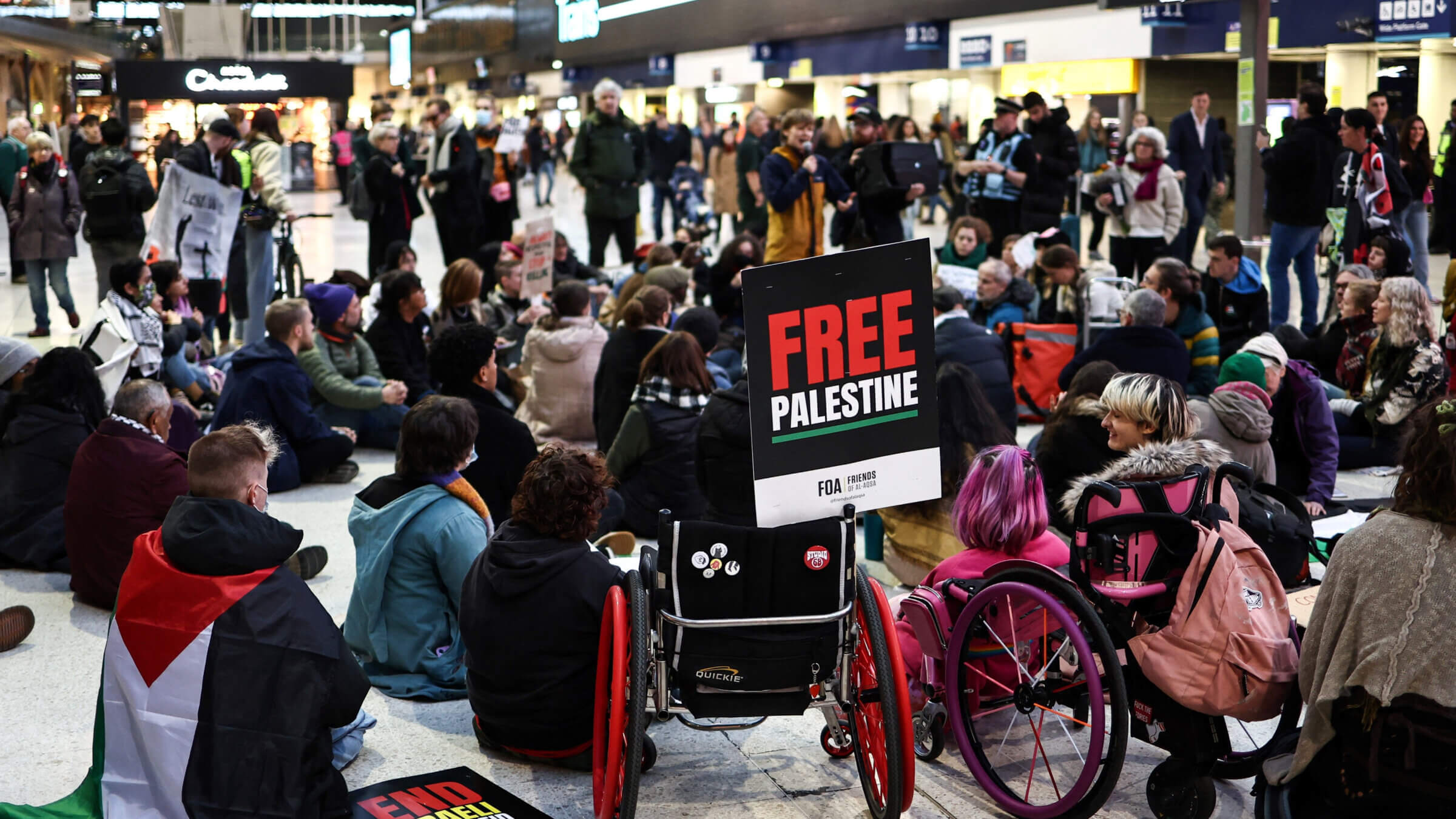 Pro-Palestinian protesters began rallying as soon as Israel began to retaliate in Gaza after Hamas' Oct. 7 attacks, but in recent weeks have embraced more disruptive tactics to keep the spotlight on their cause. 
In this sixth week of war between Israel and Hamas demonstrators are organizing sit-ins, die-ins and walkouts, targeting spaces both public and private, in the U.S. and abroad. They have occupied buildings at universities, and corporations, and stopped traffic on roadways and bridges.
The Shut It Down for Palestine movement encouraged activists to coordinate sit-ins across the country last Thursday, and more such demonstrations are planned for Friday. 
But almost every day brings a new action. On Wednesday, for example, about 1,000 demonstrators shut down a section of Hollywood Boulevard in Los Angeles. On Tuesday, before the rally for Israel on the National Mall, bus drivers hired to transport marchers from the airport to downtown Washington called in sick.
Such demonstrations can block a college administrator from her office, or prevent a disinterested citizen from taking his usual exit off a highway. It's a risky tactic — one that can annoy bystanders and often results in arrests and misdemeanor trespassing charges, as happened at Brown University and in downtown Chicago last week. But that hasn't dissuaded protesters, who are calling for a cease-fire, among other demands. 
"People are willing to take on risks to themselves to build the needed moral outcry, to stop these mass atrocities," said Elena Stein, Jewish Voice for Peace's director of organizing strategy. "They are risking a lot right now: charges to their records, as well as jobs and family relationships, and belonging in institutions."
Sit-ins gained popularity in the U.S. during the Civil Rights Movement, and are famously associated with a campaign that focused on desegregating lunch counters in the South. The tactic was also widely used to protest the Vietnam War. It's not a new one for the pro-Palestinian movement, which has used it in past years to draw attention to the Boycott, Divest, Sanction movement.
Here are some other recent incidents.
Brown University —

Twenty members of Brown U Jews for Ceasefire Now were arrested at a Nov. 8 sit-in at University Hall, the oldest building at Brown and a national landmark. The group

called

for Brown to divest its endowment from "companies that enable war crimes in Gaza." Brown officials said they had warned the protesters that they couldn't remain in non-residential campus buildings past usual operating hours.

Columbia University

: More than 50 students in the School of Social Work held a more than nine-hour sit-in in its main building on Nov. 9. University officials

informed

students that they were subject to sanctions "up to and including suspension for the rest of the semester." Though it does not appear any students were sanctioned, two students

said

they received emails from the university requiring them to schedule mandatory meetings to discuss the incident. Columbia on Nov. 10 suspended

student chapters

of Students for Justice in Palestine and Jewish Voice for Peace.

The New York Times:

Protesting the newspaper's coverage of the Israel-Hamas war and calling for a cease-fire, about 100 demonstrators occupied the lobby of the newspaper's building in Times Square on Nov. 9 for about an hour.

New York City high school students

: Hundreds walked out of class on Nov. 9 to protest Israel's offensive in Gaza. Around 800 students from across the five boroughs left their classes in the morning,

gathered

at the New York Public Library in Midtown Manhattan for a rally and then marched down Fifth Avenue.

Chicago train station

: More than 100 members of the Chicago chapter of Jewish Voice for Peace, IfNotNow and other groups were

arrested

Monday after blocking escalators in a commuter rail station. The Israeli consulate is located in the tower above the station.

Massachusetts Institute of Technology:

On Nov. 14,

student protesters

gathered at 8 a.m. at MIT's main entrance for a planned 12-hour die-in. After 5 p.m, when the administration told protesters to disperse, a few protesters refused to leave. These students were suspended from participation in non-academic university activities while the university's begins disciplinary proceedings.

San Francisco Bay Bridge:

Pro-Palestinian protesters

used their vehicles

to shut down traffic on the bridge during the morning rush hour on Nov. 16. Drivers stopped before the midway point and created a back-up miles long. At least 50 demonstrators were arrested, and police began towing cars after 90 minutes.