Forwarding the News
Who runs the largest Jewish federations? Not women.
Hasidic yeshivas brace for damning NYT investigation, Indiana Jews' lawsuit says abortion ban violates their religious rights, and that time Queen Elizabeth hired a mohel to circumcise Charles.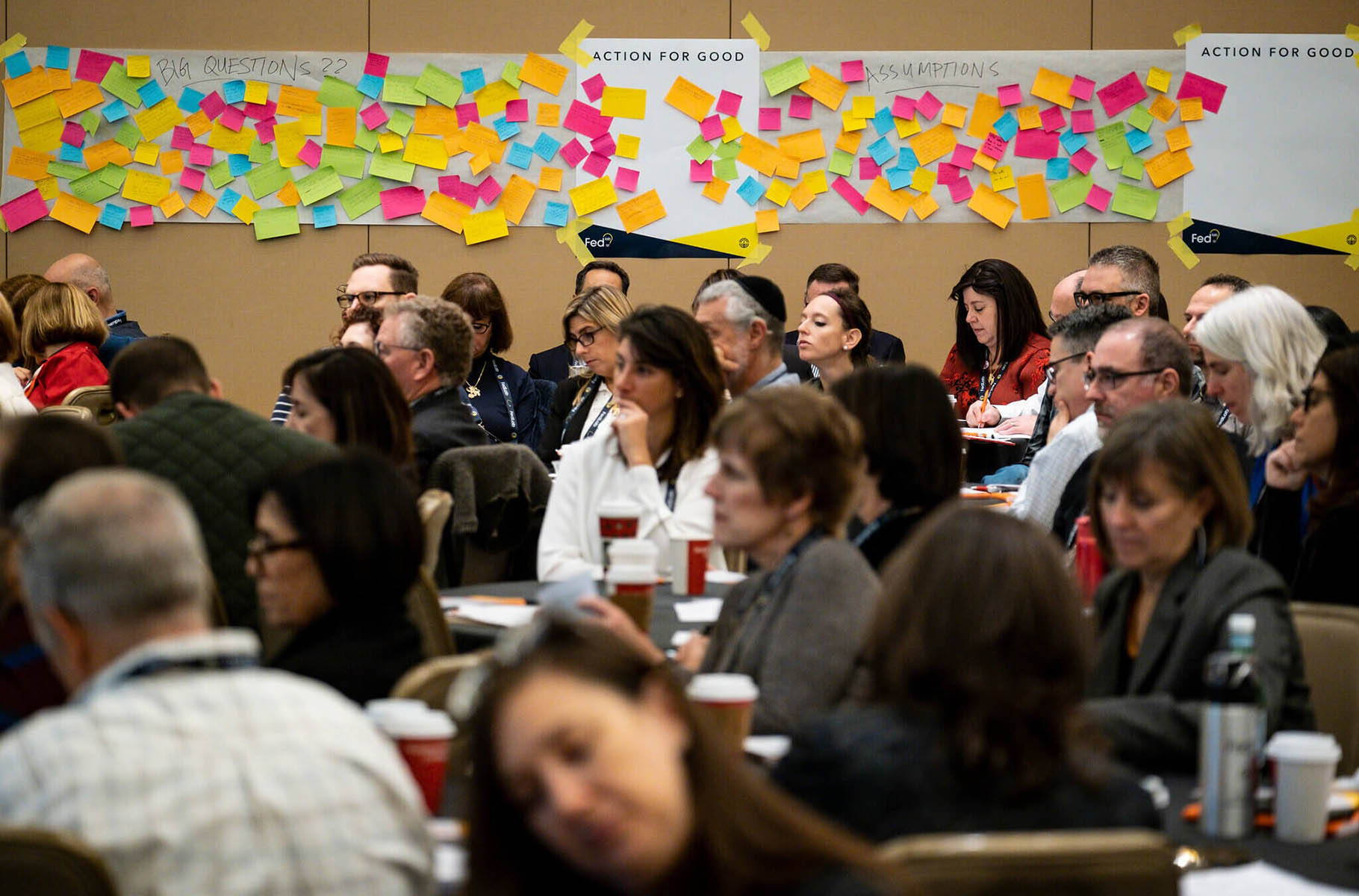 This article is part of our morning briefing. Click here to get it delivered to your inbox each weekday.
Who runs the largest Jewish federations? Not women.
The top Jewish federations – the nonprofits that organize, fund and represent Jewish communities across North America – have a thick glass ceiling. Arno Rosenfeld, the Forward's investigative reporter, dove into the history and crunched the numbers. While nearly half the 150 federations in the United States and Canada are led by women, men still helm almost all the organizations in big cities like New York and Los Angeles – controlling 73% of the system's $8.8 billion in assets. 
"The more money is on the line, the more the old boys network tends to be at play," said Rebecca Sirbu, executive vice president at the Jewish Funders Network.
Uneven progress: The federations of mid-sized cities have made huge strides in recruiting women to top roles in recent years, but those with more than $100 million in assets have made virtually no gains in that department.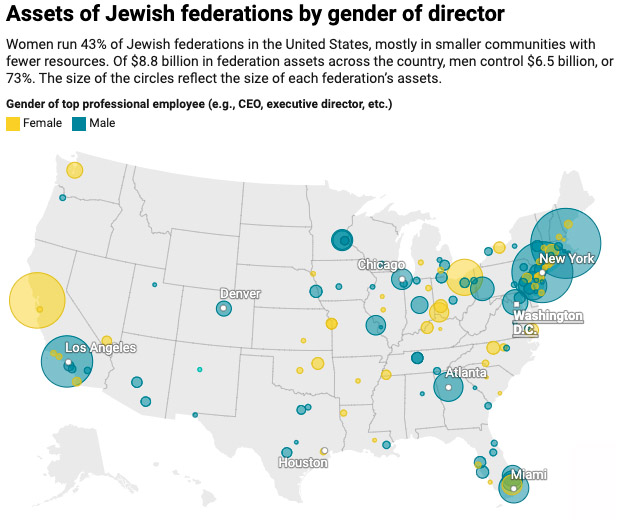 Paving a pipeline: Some who have advocated for gender parity see the growing number of female leaders in smaller federations as key to building a talent pool for the larger institutions to pluck from. Others say old-fashioned biases persist, like presumptions that women don't want to be on call 24/6 like many of the top jobs require. "It's 100% a challenge that we recognize and continue to focus on," said Liz Fisher, chief talent officer for the Jewish Federations of North America.
Bright spot: Joy Sisisky was hired in June to lead San Francisco's Jewish federation, which controls the third most assets in the country. In an interview, she noted that the federation in her hometown of Richmond, Virginia, was run by a woman when she was growing up. "It didn't really occur to me," she said, "that if that was a job that I wanted, I couldn't have it."
Hasidic leaders are denouncing an upcoming New York Times investigation into the state's yeshivas. (Getty)
Forwarding the News is now also available on our website. Click on the blue button below to share it on social media or send to friends.
WHAT ELSE YOU NEED TO KNOW TODAY
An anti-abortion demonstrator at a special session of the Indiana State Senate in July. (Getty)
🫄  A group called Hoosier Jews for Choice filed a lawsuit Thursday aiming to block a ban on abortions in Indiana. The suit argues that the ban, set to go into effect next week, violates their religious rights and cites instances when they believe abortion is acceptable. (AP)
🏳️‍🌈  Yeshiva University is on a new list of nearly 200 religious colleges deemed "unsafe" for LGBTQ students. The list, compiled by an advocacy group called Campus Pride, also includes Brigham Young, Baylor and Liberty universities. Y.U. is currently petitioning the Supreme Court to block a lower court decision requiring the administration to recognize an LGBTQ campus club. (Religion News Service, Forward)
🔫  The New York State Jewish Gun Club plans to fight a new law that restricts concealed carry in houses of worship. Private security guards, former and current law enforcement officers and active-duty military members are still able to carry guns. (News 12)
🎭  Tom Stoppard said he was compelled to write the multigenerational drama "Leopoldstadt," which premieres on Broadway next month, out of "guilt" over his newly discovered Jewish past. Stoppard's mother, who fled the Nazis when he was a child, married a British army officer, played down her history and her Jewishness, and he followed her lead in not looking back. "I don't recall ever consciously resisting finding out about myself," Stoppard said in a new profile. "It's worse than that. I wasn't actually interested. I was never curious enough. I just looked in one direction: forward." (New York Times)
🍲  Food was a comfort for Auschwitz survivors. A new cookbook, "Honey Cake & Latkes," showcases their recipes – and resilience. The project was the brainchild of Ronald Lauder, the businessman and chairman of the Auschwitz-Birkenau Memorial Foundation. "Food is something they talk about," said Lauder. "It is their contact with the past." (JTA)
🏈  Who will you be rooting for when the new NFL season kicks off this weekend? Here's a look at the Jewish players who may take the field. (JTA)
What we're listening to ➤  The new episode of the "Longform" podcast, featuring an interview with author Graciela Mochkofsky about her new book,"Prophet of the Andes." It's tells the true-life story of how a Peruvian carpenter led hundreds of Christians to convert to Judaism, sparking a pilgrimage from the Andes to Israel and inspiring a wave of emerging Latin American Jewish communities.

Longreads for the weekend ➤  This Holocaust survivor and Brazilian swimming champion is still competing at 98 … How Israel's Gaza border is turning into a foodie haven … Is the legend of Murray's Cheese only a myth?
Was this newsletter forwarded to you or are you reading it on our website?
Receive it in your inbox each morning by clicking the blue button below.
PRINT OUT OUR SHABBAT PDF
In the new issue of our weekend magazine: A New York law now requires museums to label art looted by Nazis — but is it constitutional? A new PBS documentary about the Holocaust lets no one — including American Jews — off the hook. And how a scandal in the Catholic Church is helping New Mexico's Jews buy back their synagogue. Download your copy now ➤
On this day in history (1966): Adam Sandler was born. Known for movies like "Happy Gilmore" and "Billy Madison," Sandler, who comes from a Russian-Jewish family, grew up attending Hebrew school, playing basketball at the JCC and participating in BBYO. Many of Sandler's characters have been Jewish, including his very first film role, as a failed comedian named Shecky Moskowitz in "Going Overboard." In 2021, Gabe Friedman wrote that a survey of 10,000 teens found that Sandler was their favorite celebrity. Sandler's next movie is a bat mitzvah comedy.
Last year on this day, our colleagues at the JTA reported on a diverse group of rabbis from across the country who play Dungeons & Dragons on Zoom.

In honor of National Wiener Schnitzel Day, check out this recipe for classic Israeli schnitzel.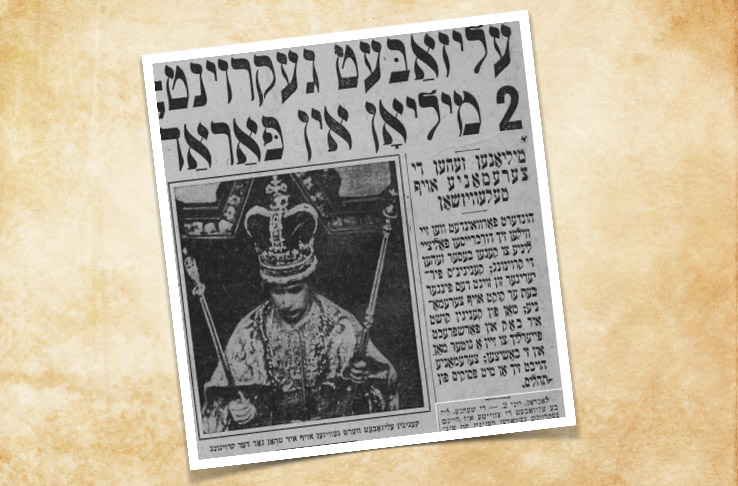 Here's the front page of our paper from June 3, 1953, reporting on the coronation of Queen Elizabeth, who died Thursday at 96.
Chana Pollack, the Forward's archivist, translated the Yiddish: "Millions watch ceremony on television; Hundreds wounded when they try to cut through police lines to better see the coronation; Queen's 4-year-old sucks his thumb while watching the ceremony; Queen's husband kisses her cheek and solemnly swears his fidelity as husband and protector; Ceremony opened with verses from Psalms."

Remembering the queen: "Her affection for the Jewish people ran deep, and her respect for our values was palpable," said Ephraim Mirvis, the United Kingdom's chief rabbi. Her reign encompassed the 20th-century ascent of British Jewry. Read an appreciation ➤
Looking ahead: Long a friend of the Jews, King Charles is a mensch for all seasons
–––
Play today's Vertl puzzle, the Yiddish Wordle
Thanks to Samuel Breslow, Jordan Greene, Chana Pollack, Arno Rosenfeld and Talya Zax for contributing to today's newsletter. You can reach the "Forwarding" team at [email protected].