Forwarding the News
There's now an endless market for Hanukkah merchandise. Is that good for the Jews?
Caterer in hot water for selling 'Anne Frankfurter,' Republicans say antisemitism not serious issue in poll, lawsuit dropped in 'My Unorthodox Life' divorce, 'Sunday Night Football' to host menorah lighting.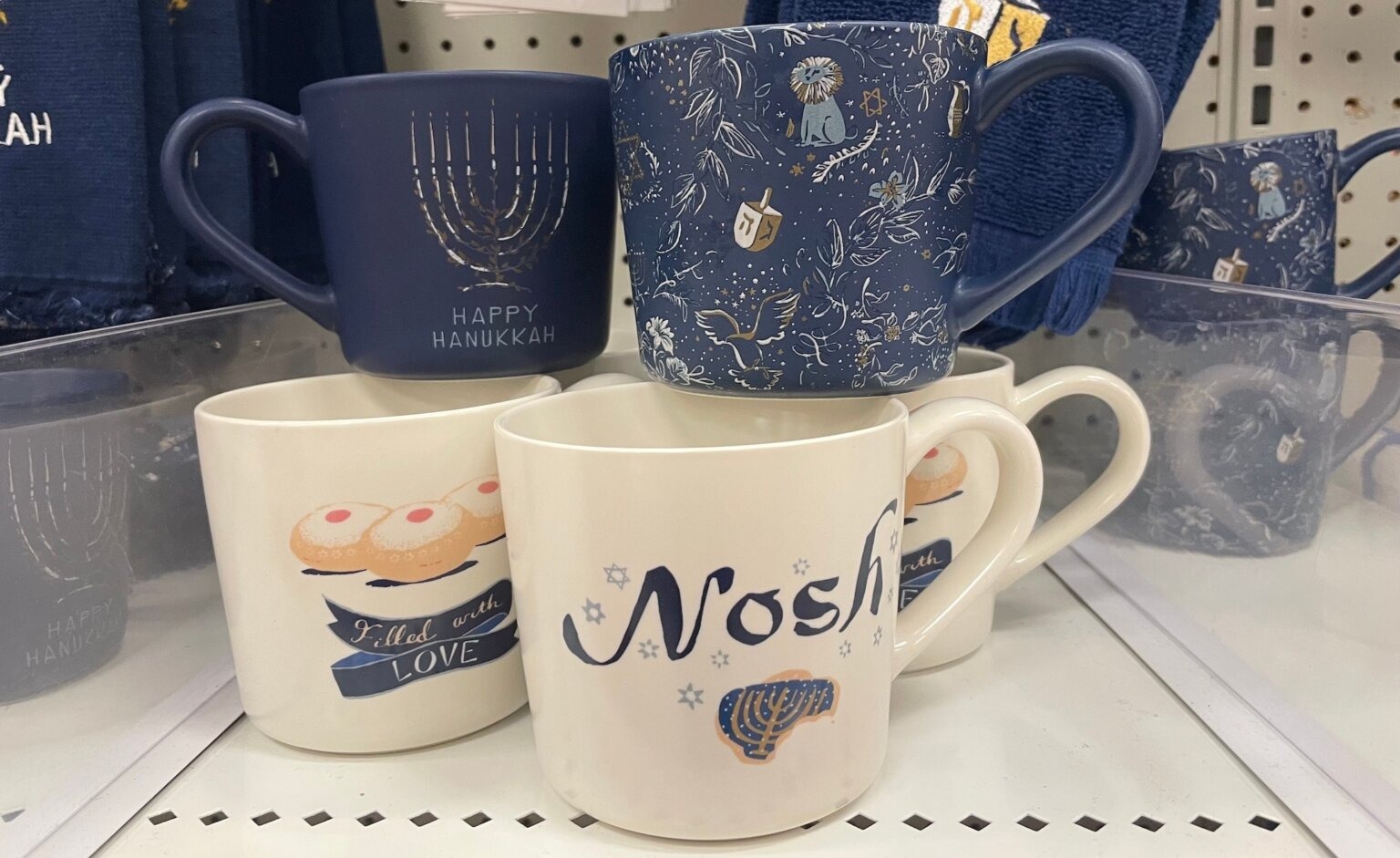 This article is part of our morning briefing. Click here to get it delivered to your inbox each weekday.
How did Hanukkah — a holiday about war — get so kitschy?
Hanukkah products at Target and other retailers used to be relegated to a small corner section: Some blue and white Stars of David, yahrtzeit candles and matzo. (Nobody ever seemed able to explain why matzo, since it's a Passover food.) But this year has seen entire aisles taken over with plush pillows, T-shirts and coffee mugs adorned with slogans like "Love you a latke." Our culture reporter, Mira Fox, asks: Is that good for the Jews?
Oy to the world: "The live-laugh-love-ification of Hanukkah is everywhere," said Rachel Kenneth who tracks the best and worst of these products. "Hanukkah is really not about love, it's really not. It's not anywhere in the story." She acknowledged that she is "a little bit, for lack of a better word, grinchy, this time of year."
Gelt-y as charged: Kenneth pointed out that the real story of Hanukkah, with its complex themes of persecution and assimilation, feels especially relevant this year. "There's so much intelligent discourse we could be having this time of year," she said, "and instead we're just making more dreidel puns."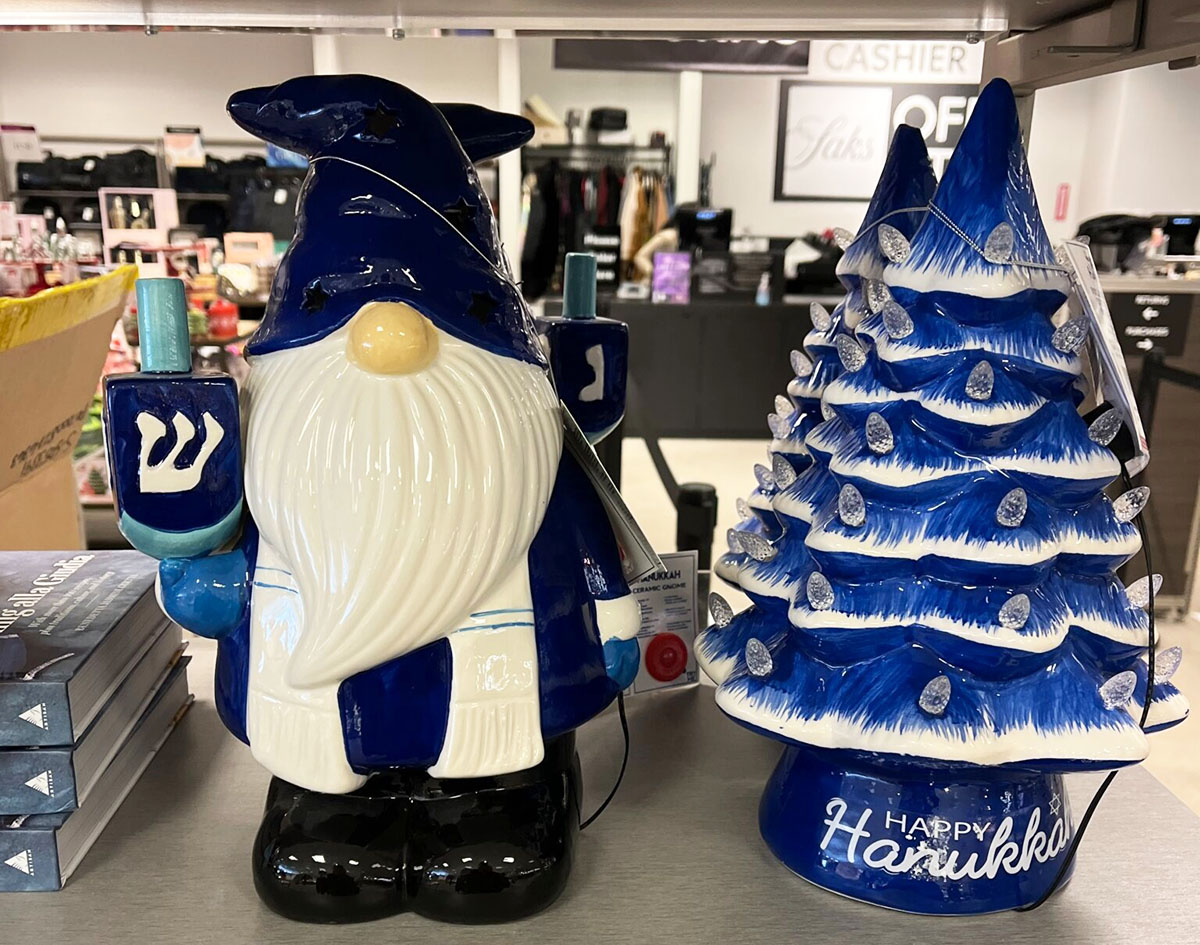 A sampling of Christmas items rebranded for Hanukkah. (Yael Buechler)
But wait, there's myrrh…
Best in snow: Ariel Scheer Stein, who shares crafting and holiday content for Jewish families on Instagram, has a theory about why we're seeing more Hanukkah products on store shelves: the fact that social media and Zoom meetings mean people's homes are constantly on display. "There's just more visibility than there has been in the past," she said. Read the story ➤

The final sleigh: For Rabbi Yael Buechler and her family, publicly displaying menorahs in the window and wearing Hanukkah-themed sweaters are an integral part of being proudly Jewish. The Talmud "teaches that it is a mitzvah to publicize this miracle," she notes, "which makes it all the more important for Hanukkah merchandise to be authentic, or at least, inoffensive." Read her essay ➤
Former President Donald Trump spoke via video to the Republican Jewish Coalition conference last month. (Getty)
The majority of Republicans don't think antisemitism in the U.S. is a serious problem: That's according to a new survey, published shortly after a White House summit on antisemitism and President Joe Biden's announcement of a new task force to address it. It also follows former President Donald Trump's controversial dinner with Kanye West and Nick Funetes, noted antisemites and Holocaust deniers, and accusations that Jewish leaders who criticized him for it "lack loyalty" and "should be ashamed of themselves," for not appreciating his record on Israel enough. Read the story ➤
And speaking of polls: About 40% of U.S. adults say we are 'living in the end times,' according to a new one from the Pew Research Institute.
Opinion | Instead of bemoaning new Israeli government, American Jews should give it a chance: The recent election saw the rise of two far-right politicians, Itamar Ben Gvir and Bezalel Smotrich. Despite their provocative statements and controversial histories, Oded Revivi, the mayor of Efrat — a settlement near Jerusalem —  cautions diaspora Jews from despairing over a presumed loss of Israeli democracy. "There is a long history of victorious Israeli political leaders making politically incorrect and even unpalatable statements prior to assuming office," Revivi writes, "which then, improbably, previewed cautious and restrained behavior upon assumption of the responsibility of actual governance." Read his essay ➤

And one more: An obscure 1975 movie from a little-known Jewish director was recently named the greatest film of all time by the British Film Institute, surpassing the likes of Citizen Kane and Vertigo. A fan explains why it deserves the honor.
WHAT ELSE YOU NEED TO KNOW TODAY
(Viva Veggie Van/Wikimedia)
🌭  Critics are slamming a British caterer for selling an "Anne Frankfurter" meatless hotdog. The owner apologized and explained her thought process: "Anne Frank was from Germany, from Frankfurt, and she didn't eat meat," said Maria Finn, whose catering company serves vegetarian and vegan food. This incident follows one from this summer when a Rhode Island bar used a photo of Frank with the words "It's hotter than an oven out there, and I should know" to convince patrons to come inside for a cold drink. (Jewish Chronicle)
⚖️  A Texas judge ruled this week that the death sentence imposed on a Jewish inmate was unconstitutional because the presiding trial judge "harbored antisemitic bias" and is recommending that the conviction be thrown out. The case now heads to the Texas Court of Criminal Appeals. (CBS News)
🇹🇷  Turkey arrested 44 people on Wednesday, saying they were involved with the Israeli intelligence agency Mossad. They were accused of shadowing Palestinians and pro-Palestinian organizations in Turkey. (JTA)
🛩️  A passenger on a Southwest Airlines flight was photographed wearing a Burger King crown scrawled with the phrases "white power" and "Ye was right," referring to Kanye West's antisemitic conspiracy theories. (JNS)
🏈  Sunday night's NFL game between the New York Giants and Washington Commanders will feature a menorah lighting ceremony after the first quarter. The ceremony, which will be shown on the stadium's jumbotrons, is being organized by the Chabad of Maryland and the movement's teen network. (JTA)
🚗  The head of the Goyim Defense League, a group focused on spreading anti-Jewish propaganda, said he is moving its headquarters from California to Florida because he thinks it's a more fertile ground for the hate group's activities. (J, the Jewish News of Northern California) 
♟️  An Iranian chess grandmaster pulled out of his match against an Israeli at an international tournament in Barcelona. The player, Amin Tabatabaei, has already faced reprisals from Iranian officials, who banned him from two tournaments after he played against an Israeli opponent three years ago; they also stripped another chess player of his citizenship for doing the same. (Algemeiner)
🎮  The U.S. embassy in Israel on Wednesday announced the first-ever Abraham Accords Esports Peace Games, a video-game competition among national teams from countries across the Middle East. "The more people understand one another, the easier it is to resolve issues," said U.S. Ambassador to Israel Tom Nides. "Especially among young people." (Haaretz)
🤝  The estranged second husband of Julia Haart, the star of Netflix's My Unorthodox Life, has dropped his lawsuits against her – including a claim that she stole $850,000 from their shared company. Haart discussed those claims and the acrimonious divorce during a Zoom event with us last week. "Now my focus and priority," Haart said on Wednesday, "is to heal through the strength and support of my family and to continue to build businesses that will empower others." (TMZ)

Shiva calls ➤  Menahem Schmelzer, a Holocaust survivor who served as the librarian at the Jewish Theological Seminary for more than two decades, died at 88 … Kenneth Kronen, a cantor who survived a fiery 1957 plane crash at Rikers Island, died at 95.
Today at 2 p.m. ET: Join our Yiddish editor, Rukhl Schaechter, for a conversation with comedian Rabbi Barry Schechter (no relation, different spelling). Imagine The Tonight Show – but in the mameloshn. Register here ➤
On this day in history (1913): Poet Muriel Rukeyser was born. Rukeyser, whose first book, Theory of Flight, drew on her experience taking flying lessons, was known for her leftist politics. As David Kaufmann wrote in the Forward in 2005, her poetry was driven "by the old Marxist conviction that individual lives and individual experiences only become truly meaningful when seen as broken moments in large historical processes."

Last year on this day, our colleagues at the JTA reported on Christmas pigs raised by Jewish farmers that were pardoned by a Jewish mayor. Yes, you read that right.
The coin cache found in a cave in the Judean Desert. (Shai Halevi/Israel Antiquities Authority)
Archaeologists have uncovered a cache of 2,200-year-old silver coins near the Dead Sea. They say this is the first physical proof of something described in the Book of Maccabees: That Jews fled to the Judean Desert during the upheaval and persecution under Antiochus IV Epiphanes, the villain of the Hanukkah story. Read more about the discovery from our partners at Haaretz, and sign up here to receive their daily briefing.
–––
Thanks to Nora Berman and Talya Zax for contributing to today's newsletter.
You can reach the "Forwarding" team at [email protected].