Forwarding the News
How an event at Madison Square Garden tried to rescue millions of Jews
Italian soccer team bans antisemitic fans, Netanyahu under new scrutiny, and we found the cat from 'The Diary of Anne Frank,' and chatted with a Jewish studies professor who won 'Jeopardy!' this week.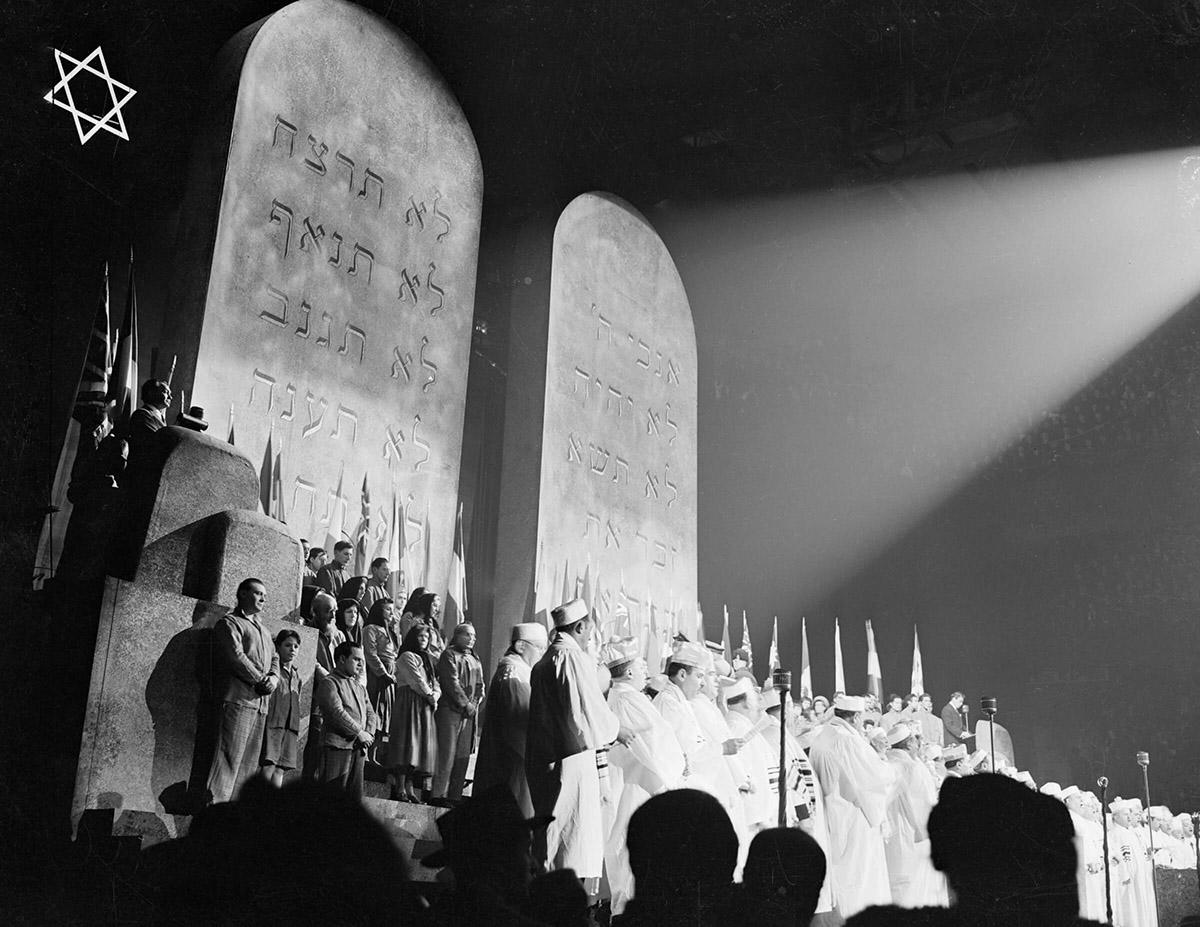 This article is part of our morning briefing. Click here to get it delivered to your inbox each weekday.
Kaddish for 2 million: When Hollywood stars pleaded for Europe's Jews
Eighty years ago this month, some of the biggest-name Hollywood and Broadway actors staged a pair of sold-out pageants at Madison Square Garden to pressure the United States and its allies to halt the Nazi genocide against European Jews. Frederic Frommer takes a deep dive into how the event came together.
Traveling show: The March 9, 1943, performance of the pageant, "We Will Never Die," was repeated on April 12 in Washington, D.C., with First Lady Eleanor Roosevelt, 200 members of Congress, and seven Supreme Court justices in attendance. Roosevelt called it "one of the most impressive and moving pageants" she had ever seen. It later played in several other cities, including Philadelphia, Boston, Chicago and Los Angeles. Overall, an estimated 100,000 people saw it.
Concerted campaign: The pageant ended with participants reciting kaddish. Two million Jews had already been murdered, but polls suggested that only 48% of Americans believed it. The day after the March 9 show, the Committee for a Jewish Army ran an ad in The New York Times to raise awareness.
Echoes of the past: Four years earlier, 20,000 people had attended a 1939 German American Bund rally — also at Madison Square Garden. It featured a giant portrait of George Washington flanked by two swastikas. Audience members held up posters that said "Stop Jewish Domination of Christian America," and denounced President Franklin D. Roosevelt as "Rosenfeld."
'Jeopardy!' host Ken Jennings with champion Melissa Klapper. (Sony)
Despite missed Yom Kippur clue, Jewish studies professor is a three-day 'Jeopardy!' champ: Melissa Klapper, author of Jewish Girls Coming of Age in America, 1860-1920, won $59,100 in the shows that aired Monday through Wednesday. She told our Adam Kovac that she doesn't have "good hand-eye coordination" and thus was not first on the buzzer for that Yom Kippur clue. Which was: "Jon Stewart noted that while Lent is 40 days, Jews have this one day of atonement. 'Even in sin, you're paying retail.'" Klapper, who once wrote for the Forward, assured Kovac that she knew the right question. "I got so many emails from helpful, kind Jewish studies colleagues, offering to explain Yom Kippur to me," Klapper said. "It's all in good fun, but yeah, I got a lot of razzing." Read the story ➤
They fought and died for Israel. Now, strangers are uncovering their stories: Of the 6,000 Jewish fighters estimated killed in Israel's War of Independence, some 963 remained mysteries for decades. They were Holocaust survivors or refugees who left behind scant records. In the past decade, volunteers have pieced together biographies for about 270 of them. "We have a duty to remember those who fell for the establishment of this country," said one of the researchers. "It's my purpose in life." Read the story ➤
What ever became of the cat in 'The Diary of Anne Frank'? Among the props needed for a stage production of The Diary are any number of suitcases, kitchen utensils, and candles. Probably the most difficult of these to wrangle is the cat. "Animals onstage are notoriously difficult," writes our Adam Langer, "and I imagined that 717 performances on Broadway plus hundreds more on the show's various tours must have been stressful for the animal." Adam, who hosts our podcast about The Diary, tracked down Mouschi the cat: the feline had moved to Connecticut. Read the story ➤

And one more: The ADL reported a 52% increase in antisemitic incidents in New York last year from 2021. Mayor Eric Adams says this year will be different, pointing to numbers from last month when antisemitic hate crimes were down 76% from the previous February.
Spread the word! Invite someone
to sign up for this newsletter.👇
WHAT ELSE YOU NEED TO KNOW TODAY
Prime Minister Rishi Sunak of Britain welcomed Israeli Prime Minister Benjamin Netanyahu to London this morning. (Getty)
🇮🇱 Israeli Prime Minister Benjamin Netanyahu, who is facing corruption charges in an ongoing trial, vowed in a Thursday night television address to take a more active role in his government's planned judicial overhaul. This morning, Attorney General Gali Baharav-Miara informed Netanyahu that doing so would violate a conflict of interest deal he signed in 2020. (JTA, Times of Israel, Haaretz)
🔫 A new bill would allow people in Missouri to bring guns into houses of worship if they have the proper permit. The proposal includes a provision allowing congregations to prohibit firearms if they post signs saying so. (Kansas City Star)
🎞️ Hot Docs, North America's largest documentary festival, will premiere a film about Rosalie Abella, Canada's first Jewish Supreme Court judge. The festival runs April 27 to May 7 in Toronto. (Variety)
⚽ Lazio, an Italian professional soccer team, said it had imposed lifetime bans on three fans who yelled antisemitic chants at a game last Sunday. One of the fans was wearing a jersey with the name "Hitlerson" on it. A similar incident occurred at another Lazio game earlier this month. (AFP)
🌴 Alberto Zeilicovich spent six years as a rabbi in Medellin, Colombia, where he buried congregants murdered by the drug cartel in the 1980s. He retired in 2020 and moved to Israel, but has now decided to take one more pulpit: in Aruba, which he calls "paradise." (JTA)
👏 A company that makes peel-and-stick countertop covers for Passover had to give $140,000 in refunds last year after customers struggled to remove its rubbery residue. Now the company says its product is "new and improved," and a social media influencer who tested it on three different surfaces said it was "smooth as a baby's bottom." (NY Jewish Week)
Shiva calls ➤ Norman Steinberg, a lawyer-turned-screenwriter who worked with Mel Brooks on Blazing Saddles and My Favorite Year, died at 83. "I'm so glad I rescued him from a dull stable legal career," Brooks wrote on Twitter, "because he always permeated the writers' room with his infectious comic spirit." … Gladys Kessler, a federal judge who issued a landmark 2006 ruling against the tobacco industry, died at 85 … Rivka Basman Ben-Haim, a Holocaust survivor and a beloved Yiddish poet, died at 98. (Read her obituary in Yiddish.)

Long weekend reads ➤ Alarmed by their country's political direction, more Israelis are seeking to move abroad … Sigmund Freud is having a moment … Inside the auction house driving the rare-book craze in the Orthodox world.
In this weekend's edition of our print magazine: Fans of I.L. Peretz, a 19th century Yiddish writer, sometimes bemoan that he is less famous today than Sholem Aleichem, whose celebrity grew because of Fiddler on the Roof. "Even when characters by Peretz were included in an off-Broadway play in the 1950s, they were sandwiched in a show called The World of Sholem Aleichem," says the author of a new Peretz biography. Plus: Elsewhere on Broadway, a new musical tackles American antisemitism. Download your copy now ➤
On this day in history (1882): German scientist Robert Koch discovered the tubercle bacillus bacteria that causes tuberculosis, leading to the establishment of germ theory. Koch's mentor was a Jewish doctor, Dr. Ferdinand Cohn, who wrote extensively on bacteria. For decades tuberculosis was wrongly connected to Jews due to its prevalence among poor people and sweatshop workers; overcrowding and unsanitary conditions cause the disease to spread.

What was Yiddish summer camp really like? Join us on Zoom on March 30, 2 p.m. ET, as the Forward's Yiddish editor, Rukhl Schaechter, speaks with Sandra Fox, author of the new book The Jews of Summer: Summer Camp and Jewish Culture in Postwar America. You'll also hear what the experience was like from two people who came of age in a Yiddish cultural camp: Josh Waletzky, a filmmaker and musician, and singer-actress Joanne Borts. Register here ➤
WATCH OUR JEWISH NEWS SHOW
Mass protests, army reservists refusing to report for duty, and something called a judicial overhaul. Understanding the current turmoil in Israel can be confusing. So my colleague, Laura E. Adkins, and I invited Amir Tibon, an Israeli journalist who writes for Haaretz, to join us for our weekly talk show to help explain the country's existential crisis. Plus: Laura and I offered up our usual take on the Jewish headlines of the week – including stories about George Soros, Pittsburgh's Tree of Life synagogue and a restaurant called JewBoy Burgers. Watch it here ➤
—
Thanks to Samuel Breslow, Tani Levitt, Lauren Markoe and Talya Zax for contributing to today's newsletter. You can reach the "Forwarding" team at [email protected].