Looking Forward
'We don't live in the abstract': 3 Jewish women on the fall of Roe v. Wade
Forward editors process the reversal of 50 years of abortion access.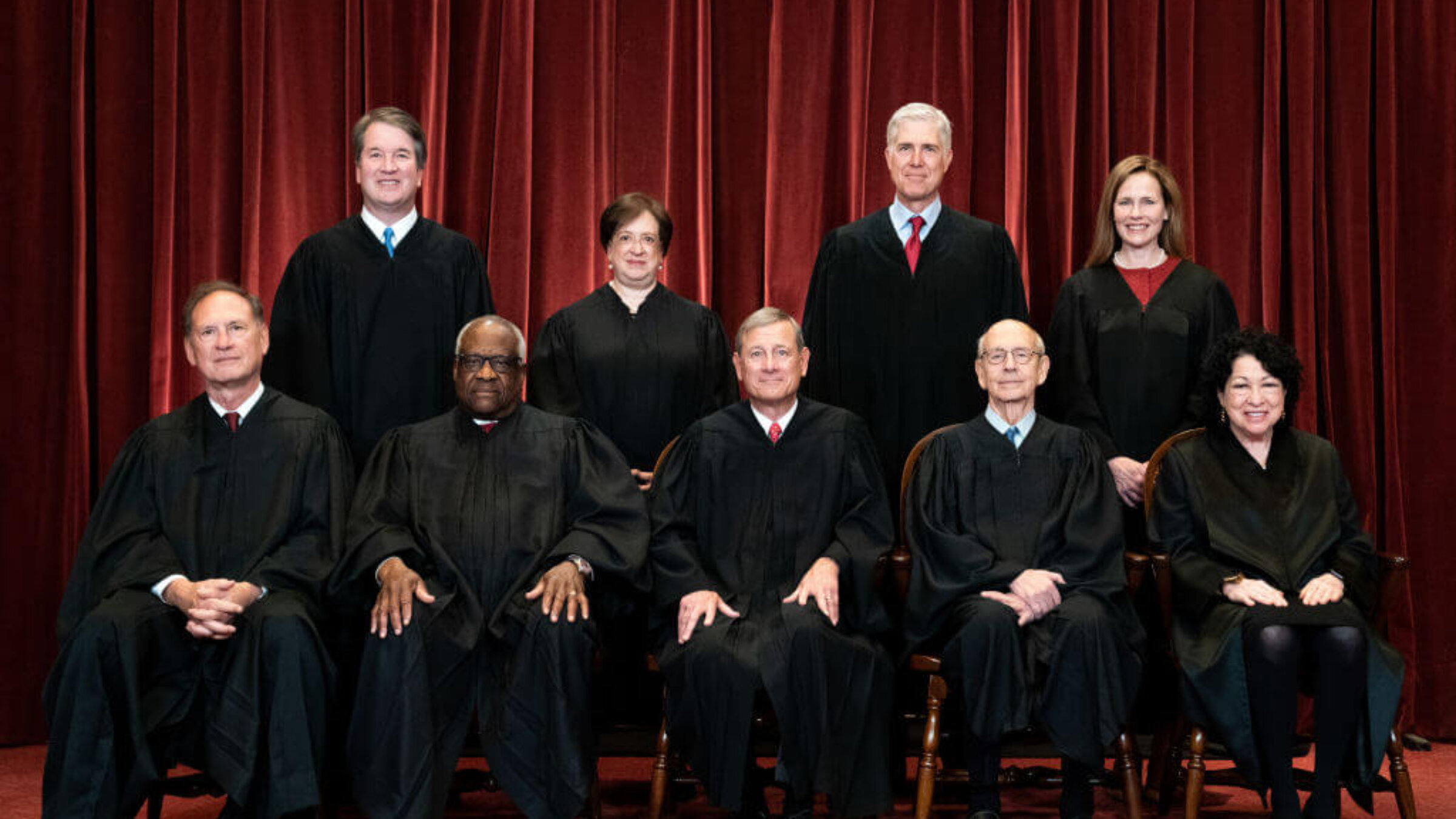 In the hours after the Supreme Court issued its decision on Friday overturning Roe v. Wade, the landmark 1973 case that enshrined a constitutional right to abortion, the explosion of opinions across the mediaverse was overwhelming. As we absorbed the news and scanned the ruling, a trio of female Forward journalists spent some time talking through the implications for Jewish women everywhere.
Jodi Rudoren is editor-in-chief of the Forward. Laura E. Adkins is the Forward's opinion editor, and Nora Berman is the deputy opinion editor. 
Jodi Rudoren: So, we're three Jewish women at different stages of life, especially in terms of family-planning: I'm a 51-year-old who has been pregnant twice, had two abortions — and am the mother of twins who will turn 15 in September, a boy and a girl. Which means from a personal perspective, I'm thinking mostly about what this ruling means for my kids, coming of age in a world without universal access to abortion. 
Will a state's abortion laws now be one of the considerations as they choose where to go to college? How should this change my conversations with them about sex and birth control (and might either of you want to have those conversations for me)? What do I tell them when they ask about the Supreme Court's mandate to be apolitical?
But you're two millennial women — Nora, married for six years and contemplating starting a family; Laura, not yet married and not interested in having children right now. 
Nora, you're from a blue state where abortion access is likely to continue, Vermont; Laura, you're from Missouri, where abortion is, as of today, prohibited, without even exceptions for rape or incest. 
What's the first thing you're thinking about as you absorb the news?
Nora Berman: On a personal level, I'm having a really hard time squaring the fact that such an immensely intimate decision would be no longer in my control, but up to the state. It feels so intrinsically wrong. 
I also think that blue states like New York and New Jersey, where the three of us live, should immediately follow in Connecticut's example, and pass legislation that bars local agencies from cooperating with out-of-state abortion prosecutions. There will be many, many people traveling to our states to get abortions, and our legislatures need to act immediately to protect them. That is a really clear step one, in my opinion. 
Laura E. Adkins: I'm pro-choice, but I wouldn't say I'm "pro abortion" — I think it's a sad decision many women have to make, and I don't think it's one most people make lightly. If you're against late-term abortions, know that now, instead of being able to end an abortion early and with medication, many women will end up having later and later-term abortions because it will take so much time for them to find appropriate care.
In the end, this is only going to make abortions worse: I can't stop thinking about how pre-Roe, rabbis, pastors and priests had to form an underground network to help young women in some of the most vulnerable states. 
Already, now, abortion-rights advocates waste thousands of dollars helping women travel to obtain services, when just a few years ago they could have been treated by a healthcare provider they know and trust.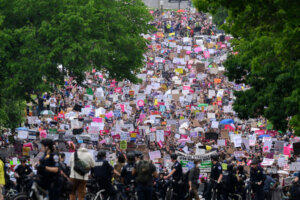 Berman: I think the biggest thing I'm grappling with is this line in the decision: "Our opinion is not based on any view about if and when prenatal life is entitled to any of the rights enjoyed after birth." It means, basically, that the justices are not concerning themselves with the rights of a fetus after it's born. But the decision spends a tremendous amount of energy on the rights of an unborn fetus. It's chilling. And lets politicians off the hook. 
Rudoren: What do you mean, lets politicians off the hook? By returning the issue to the states, isn't that putting it directly into the hands of state and local politicians/policymakers?
Berman: On a technical level, yes. The court is reversing Roe and abdicating a federal responsibility, in a sense, to ensure the right to abortion and leaving it up to the states. Yet back in the real world, having a child is a not a medically neutral decision in the U.S. We rank the highest in maternal mortality of developed countries, and our government does not provide access to prenatal care, childcare, health insurance and other crucial elements that support having a healthy birth and child, despite the court's claims to the contrary. 
Whose religious freedom?
Rudoren: We've already seen at least one lawsuit, in Florida, with Jews challenging new restrictions on abortion based on a religious-freedom argument, since Jewish law allows abortion in many cases and requires it in some. I'm wondering if this could open up some new divide among religious groups, like with Jews on one side and conservative Christians on another?
Rudoren: I mean, religion is such a huge force in American political life, and conservatives/Republicans have basically owned it, but is there some play for Democrats/liberals to try to reclaim a piece of the religious argument here?
Adkins: Well, the vast majority of American Jews live in states whose legislatures and statehouses are controlled by Democrats, so it won't be an issue for most of our readers for the foreseeable future.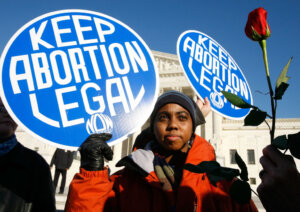 Rudoren: Umm, 657,000 Jews live in Florida, which passed a law in April that bans most abortions after 15 weeks (though many of them may be post-menopausal…). Another 434,000 live in Pennsylvania — if Doug Mastriano, a Christian nationalist, beats Josh Shapiro, the (Jewish) attorney general in this fall's governor's race, abortion could soon be radically limited there, too. 
Some 176,000 live in Texas, where abortion is currently banned after six weeks, and 128,000 more in Georgia, where legal challenges of a six-week ban were pending the Supreme Court ruling. (I got these population numbers from this nifty website, by the way, and The New York Times has a great state-by-state breakdown of abortion laws.)
Adkins: You're right — I said most, not all! Far be it from me to forget flyover country. I also think it's important to note that there are certainly Jews, mostly Orthodox ones, who are part of the anti-abortion movement and welcome the decision. Though when the draft ruling was released, even the Orthodox Union said it was "unable to mourn or welcome the decision." 
But look, Jews and Muslims have a very different understanding of religion than the evangelical Christians responsible for the past 50 years of undermining abortion rights.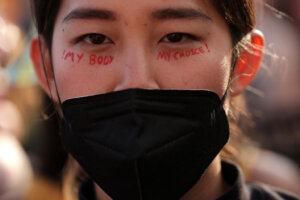 Of course, restricting access to abortion when a woman's rabbi requires or permits her to obtain one violates the religious liberty of Jewish women. But the bigger issue is that when religion is allowed a voice on the court, the rights of those who don't follow that same religious tradition are trampled on. 
We're blessed with a rich, interpretive tradition that values the sanity of a mother as much as the rights of her unborn child.
Berman: Right! When I read that part of the decision that said "the court surveyed more than 700 years of Anglo-American common-law tradition," my first thought was that they didn't read the Talmud! 
Rudoren: Laura, what does the Talmud have to say about abortion?
Adkins: Jewish law has nuanced answers to big questions, and as much as folks may try, the answer to "what does Jewish law say about abortion" is really, "it depends on who is asking and who is answering." 
Adkins: We have to remember that we're talking about a very old corpus of texts that is in some cases very progressive — many rabbis say the Talmud not only permits but in some cases requires the use of birth control — and is in many ways insulting to the modern mind. If someone causes a pregnant woman to miscarry, for example, he owes her husband restitution — it's treated as a property damage case, not a murder case.
In Jewish law, a fetus is "mere water" until 40 days after conception, a very different understanding of when life begins than the Catholic or evangelical one.
The RBG factor
Rudoren: It's hard not to think, today, WWRD — what would Ruth do — or, more accurately, what if Justice Ruth Bader Ginsburg had retired during President Obama's term rather than remaining on the bench until her death in 2020. 
Though today's decision was 6-3, maybe Chief Justice John Roberts — who voted with the majority but said he would have stopped short of overturning Roe outright — might have acted differently if Ginsburg was replaced by a liberal Obama appointee rather than by Amy Coney Barrett. 
Is this going to forever mar RBG's legacy for the legions of young Jewish women inspired by her?
Adkins: It certainly has for me. I have photos of Ruth Bader Ginsburg on my dresser and on my fridge, and she was really a hero for me — especially her commitment to working within the system to change things in a way that would be more effective than radical acts from outside of it. But I do think, when it mattered the most, her ego got the better of her. 
I cannot say for certain why she made that choice, but there's no question that it is no small part of why the court has tilted so far to the right, and will have devastating consequences. 
Berman: I am feeling less angry right now toward RBG's ego than I am furious about the complacency that Democratic leadership, President Biden included, displayed over the last 30 years regarding Roe. 
Biden did not say the word "abortion" until he had been in the Oval Office more than a year, long past the time when we knew that a Roe reversal was a very real possibility. The anti-abortion movement was focused, and worked not only harder, but smarter than abortion-rights advocates and politicians. I think that is something to think about. 
'We don't live in the abstract'
Rudoren: I was struck by this line from the dissent: "We believe in a Constitution that puts some issues off limits to majority rule." 
My daughter said to me Thursday, when she heard about the court putting up barricades for security, "Maybe if they know people are going to be upset about their rulings, they shouldn't rule that way." And I said: No, no, the whole point is that they're not supposed to focus on public opinion/reaction, that's how they're different from the other branches of government, they're supposed to be free of politics. 
Isn't that an even bigger impact of this ruling? Like, beyond abortion, there's this idea here that when there's division in the country, the Supreme Court is going to punt?
Adkins: You know, in the abstract, I'm actually sympathetic to the argument that calling the right to abortion a constitutionally enshrined right was a bit of a stretch. But we don't live in the abstract, and the court's assertion that the justices should not consider the impact of overturning 50 years of precedent when making their decision, is totally evangelical. 
Berman: There are plenty of  reasons why a right to an abortion is not present in the Constitution, or showing up in the hundreds of years of colonial and English history that was cited: namely, because women were considered chattel and not people, let alone deserving of any reproductive rights.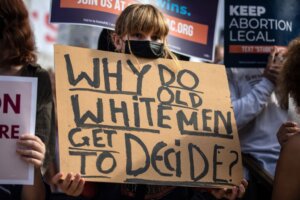 I think the macro question that the court is ultimately avoiding is: how do we protect the rights of marginalized people whose needs did not exist in the minds of the framers? If the law is supposed to be a living, breathing polity that addresses the needs of the people, it seems the court must address societal shifts from a constitutional jurisprudence perspective.
If we are looking to the Constitution to explicitly tell us that Beanie Feldstein and her (female) fiancee can get married, or that trans people deserve to make medical decisions about their own bodies, we're looking in the wrong place. 
Rudoren: Back when the draft ruling was first leaked, I heard something really powerful from Adam Liptak, who covers the Supreme Court for The New York Times. He pointed out that the court does overrule its own precedent — importantly, in cases like Brown v. Board of Education, which threw out the bogus concept from Plessy v. Ferguson that something can be "separate but equal" when it comes to race. 
But Adam, who is a friend, noted that the justices have only ever done this in the direction of granting more rights — it's a reflection of our progress as a society. As Nora said, this constitution was written by people who considered women to be property, and now it is being interpreted, at least in part, by women. So that's what's so shocking here, what's unprecedented — the idea of a ruling that reverses a 49-year precedent in order to give us fewer rights.