Looking Forward
The Santos story shows the truth matters. And so does journalism.
The Santos saga is a testament both to why journalism matters and to how our much our industry is struggling today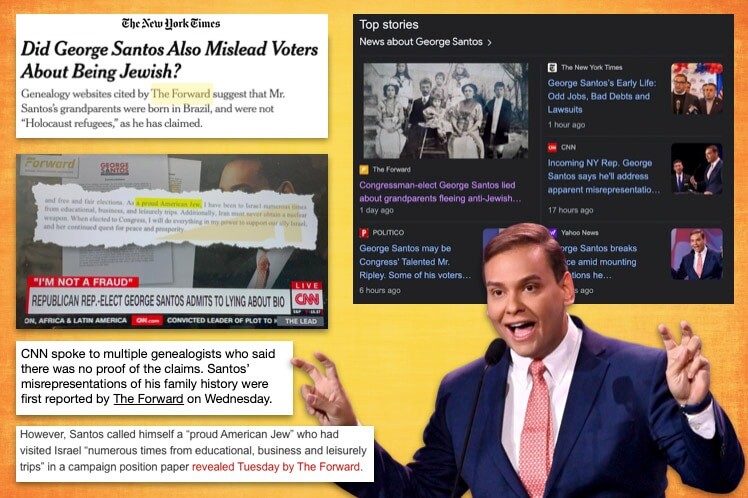 I was a young reporter at the Los Angeles Times when Stephen Glass was exposed as a fabulist who made up sources and then whole stories for The New Republic and other magazines.
It was 1998, and I remember vividly my shock at the sheer gall and idiocy of it. Here I was stressing over whether it was OK to tweak a word of a direct quote to make it fit more smoothly in an article (short answer: no) while a peer across town was not only faking entire quotes, people and scenes but also websites and news releases to cover his tracks.
Now comes George Santos, whose audacity makes Glass' misdeeds look like little white lies.
Santos, a 34-year-old MAGA Republican who won a Long Island House seat in November, appears to have invented his very self. He's lied about college, jobs, housing, income, expenses, charity work and, most mysteriously and most offensively, a family history connected to the Holocaust. Unlike Glass, he seems to have made zero effort to protect his lies from being exposed, perhaps hoping that our deteriorating public discourse, rampant disinformation and growing distrust in institutions of all kinds mean people no longer care about facts.
He is wrong. The truth matters. Thankfully, real journalists who work with real quotes and real people and real websites and actual facts, first from The New York Times and then the Forward and other publications, were there to show that Santos is a fraud.
After The Times published its first investigation into Santos on Dec. 19, showing he had not graduated from Baruch College or worked at Goldman Sachs as his campaign biography claimed, we at the Forward were naturally curious: Was he lying about his Jewish background, too?
As journalists, we have the great privilege of being paid to follow our curiosities. So Andrew Silverstein, a Forward contributor and something of a genealogy buff, spent much of the next 24 hours sifting through genealogy websites, public records, Facebook posts and obituaries in three languages. On the morning of Dec. 21, we broke the story that the first line of the "About George" page on Santos' website — "George's grandparents fled Jewish persecution in Ukraine, settled in Belgium, and again fled persecution during WWII" — was untrue. Andrew's reporting showed that those grandparents were actually born in Brazil, in 1927 and 1918.
Amid a sea of lies that included a fake animal-rescue charity, exaggerated wealth and false home addresses, this one felt particularly immoral. To exploit the sacred suffering of the Holocaust for political gain, as the Democrat Santos beat in November put it after our article was published, is "sick and offensive."
It's also inexplicable. Santos appears to have a legitimate immigration story of his own, with parents who moved to Queens from Brazil "in search of the American dream," as the updated biography on his website now states. Why would he need to steal one from our ancestors?
Maybe because the House district he will soon represent, which includes Great Neck, is more than 20% Jewish. And to win endorsements of groups like AIPAC: as our Jacob Kornbluh reported in another exclusive earlier this week, Santos opened his pro-Israel position paper by referring to himself as "a proud American Jew." In a campaign video Jacob uncovered, Santos said: "I've seen how socialism destroys people's lives because my grandparents survived the Holocaust," with Nazi imagery playing in the background.
Gross, gross and gross.
Santos has shrugged off his litany of lies as résumé embellishments, and said, bizarrely, that he has always considered himself "Jew-ish." This is supposedly based on his Catholic grandmother saying she'd converted from Judaism, something for which there is no evidence, and, in any case, does not address his false claim of connection to the Holocaust. The Republican Jewish Coalition has said Santos is no longer welcome at its events.
At a protest in his Long Island district on Thursday, people held homemade signs including "Make Lying Wrong Again" and "Fake Jew, Real Gonif."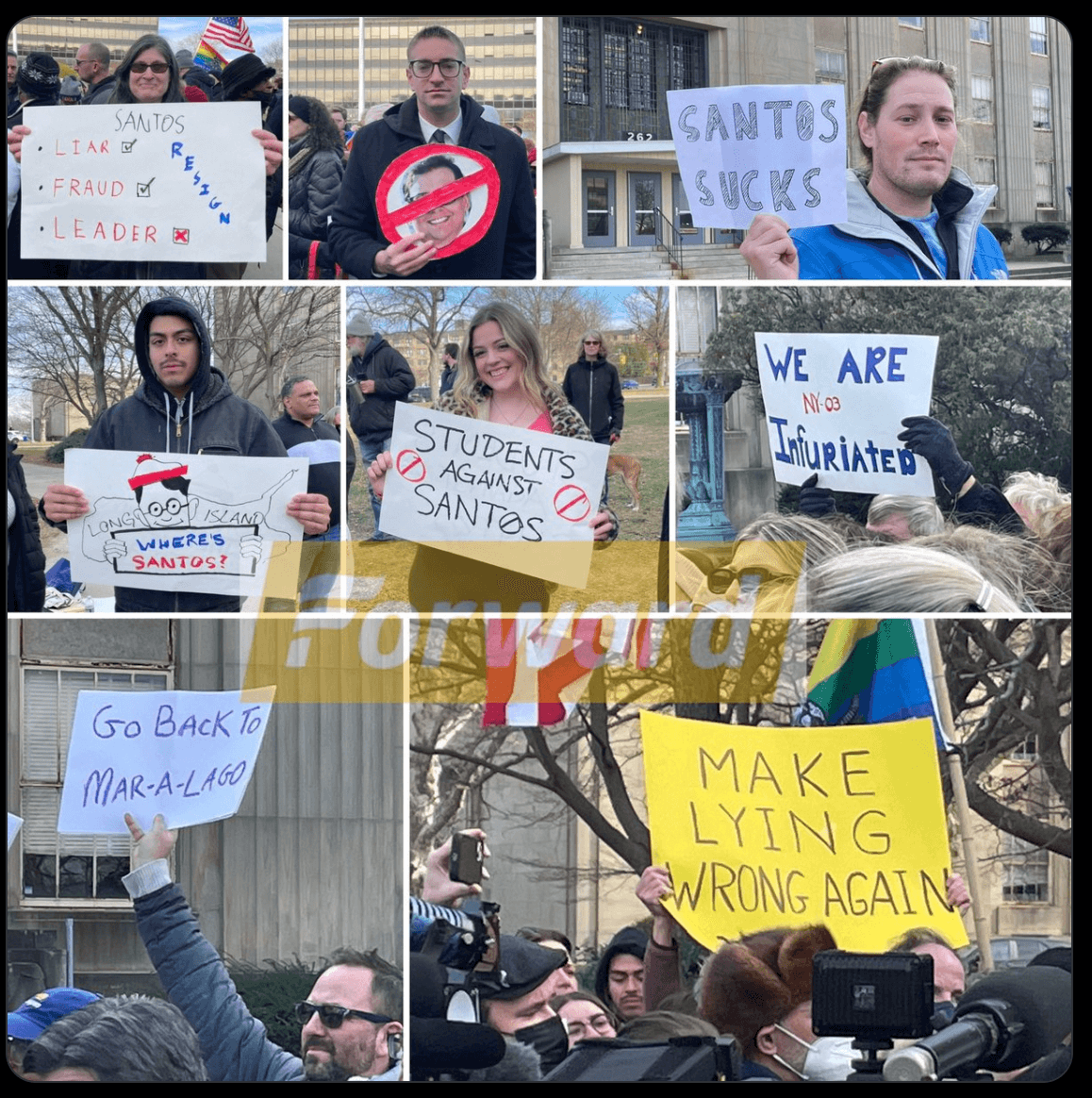 I had not planned to write a newsletter today; I'm supposed to be off this week. But I couldn't let the Santos story pass without comment. Because it's a testament both to why journalism matters and to how our much our industry is struggling today. It's a case study for why nonprofit newsrooms like the Forward and local outlets generally desperately need your support.
Many people have opined since the Santos story broke that it reflects both the decline in local journalism and a failure of the Democratic Party to invest enough in this race to  do proper opposition research. The breadcrumbs were certainly there.
The Democrats put out an 87-page memo of "unsavory facts" about Santos after he won the Republican primary, but few paid attention to it. A tiny weekly on Long Island that favors Republicans reluctantly endorsed the Democrat in the race because, as its editorial said, Santos is "so bizarre, unprincipled and sketchy," adding that he "boasts like an insecure child but he's most likely just a fabulist — and a fake." But as The Washington Post wrote yesterday, the journalism ecosystem in which a regional daily like Long Island's Newsday — today a shadow of its former self — would have then investigated his bizarre and sketchy fabulism "appears to have failed completely this time."
Well, not completely. Journalism with integrity, independent journalism based on reporting, real journalists following their curiosities to unearth the actual truth, eventually exposed Santos' lies about the Holocaust and so much else. It may have been too late to affect the election, but it was not too little.
It's been a heady few days here at the Forward, with The Times and CNN and the Los Angeles Blade and El País and Jezebel and Rolling Stone and so many other outlets citing our reporting. I'm proud — but also humbled, and concerned that we and others lacked the resources to jump on this story earlier. As we enter 2023, I want to make sure we can continue to follow our curiosities and fulfill our mission.
So: If you're outraged by George Santos' lies, if you care about the truth, I hope you'll make an end-of-year donation to the Forward or subscribe to your local news outlet. That's how you can show that facts matter.