News
Recipe: Cashew chicken and snow peas
Craving a healthy Chinese meal for Shabbat? This is your answer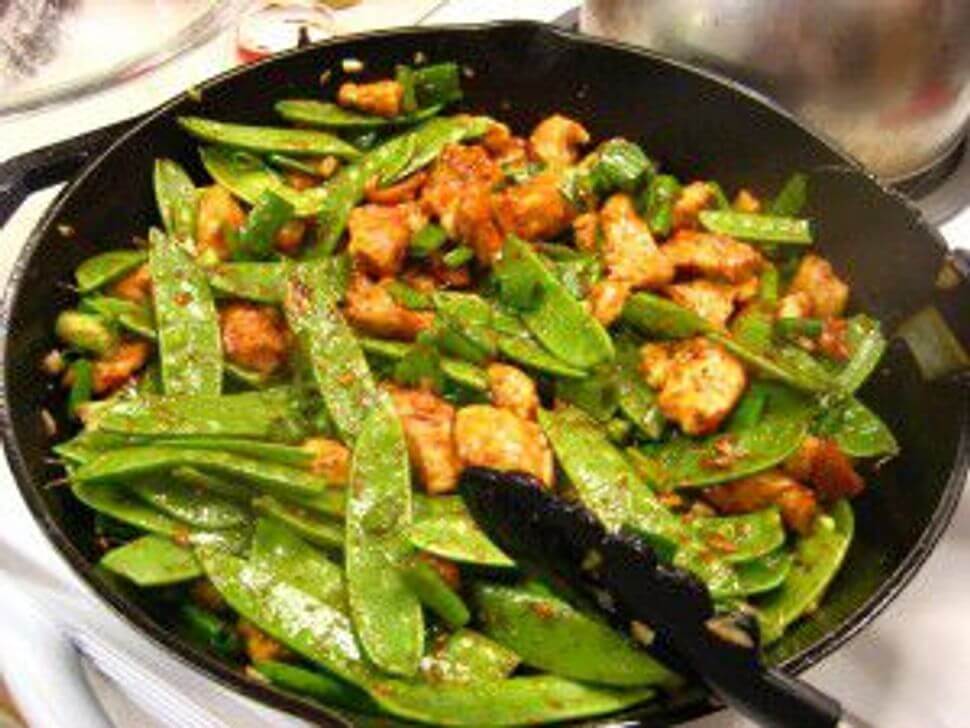 I am lucky enough to live in Eugene, Oregon. I've got it pretty good here – great weather, great outdoors, great Jewish community, great abundance of local organic food. But Chinese food? Not so much here in Eugene.
As a Bay Area transplant, I crave Chinese food. I often feel like I literally NEED it. After months searching for something that would quench my Chinese food tastebuds – and realizing that to keep my version of kosher (which is eco-kosher: less about what is and what is not treyf and more about eating only meat that is ideally organic and pasture-raised – and if not, is absolutely free-range, never given hormones or antibiotics, and was humanely slaughtered) – I came to the conclusion that I'd have to make it myself. For both taste and my personal kashrut reasons. Which is some kind of a life lesson right there, I'm sure.
I stumbled upon a recipe for Cashew Chicken from the inimitable Martha Stewart and decided to give it a whirl – and my own flair. And to tell the truth, it is delicious and happily graces our Friday night Shabbat table pretty often.
Cashew Chicken & Snow Peas Adapted from Everyday Food magazine
Serves 4
3/4 cup raw cashews
1 ½ pounds boneless, skinless chicken breast, cut into 1-inch cubes
2 tbsp cornstarch
Kosher salt and ground pepper
2 tbsp high-heat vegetable oil, such as sunflower
6 cloves garlic (or more, depending on your preferences – we like a LOT of garlic in my house), minced
12 – 16 scallions, white and green parts separated, each cut into 1-inch pieces
2 cups snow or sugar snap peas, trimmed
2 tbsp rice or white wine vinegar
1 tbsp Sriracha sauce
1 ½ tbsp soy sauce
3 tbsp hoisin sauce
White or brown rice, for serving (optional)
1) Spread cashews on a baking sheet, and cook in an oven heated to 350 degrees until golden and fragrant, about 10 minutes. Your nose will tell you when they're done!
2) In a medium bowl, toss chicken with cornstarch until chicken is coated; season with 3/4 teaspoon salt and 1/4 teaspoon pepper.
3) In a large iron skillet (or other non-toxic nonstick pan), heat 1 tablespoon oil over medium-high heat. Cook half the chicken pieces, without moving them at first so they can brown a bit, and then tossing often, until browned on all sides, about 3 minutes. Transfer to a plate.
4) Add remaining oil and chicken to skillet along with the garlic and white parts of scallions. Cook without moving them at first so they can brown a bit, and then tossing often, until browned on all sides, about 3 minutes.
5) Return first batch of chicken to pan along with snow peas. Add vinegar; cook until evaporated, about 30 seconds. Add Rooster sauce and soy sauce and toss to coat chicken and snow peas, allowing it all to cook a bit, about 1 minute. Add hoisin sauce; cook, tossing, until chicken is cooked through, about 1 minute.
6) Remove from heat. Stir in scallion greens and toasted cashews. Serve immediately over rice, if desired.