Fast Forward
Creator of incendiary 'Libs of TikTok' Twitter account revealed to be an Orthodox Jewish woman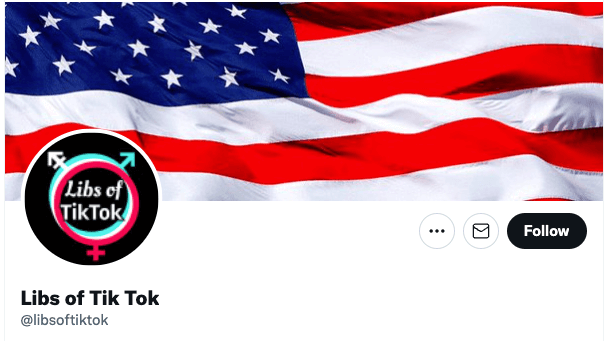 The creator of an anonymous Twitter account fueling anti-LGBT panic was unmasked in The Washington Post Tuesday as an Orthodox Jewish woman who claimed to have participated in the Jan. 6 insurrection.
The Twitter account @LibsofTikTok amassed hundreds of thousands of followers as it posted videos suggesting that children are being groomed by predator LGBTQ adults. The videos have become fodder for the right wing news cycle, featured on Fox News and pundit Joe Rogan's podcast, and the account owner — retaining anonymity — has been interviewed on Tucker Carlson's talk show.
According to the Post, the account — and a connected LibsofTikTok website — belong to Chaya Raichik, a former real estate broker who lives in Los Angeles. Before changing its handle to @LibsofTikTok, the account's bio identified the owner as an Orthodox Jew, the Post article noted.
Libs of Tik Tok first gained widespread attention after Rogan praised it on his show, calling it "one of the greatest f—ing accounts of all time." It has been criticized for inflammatory anti-LGBT rhetoric and for framing the videos it posts — which Raichik has said she is tipped to by her audience — in misleading and incendiary ways.
Without revealing her identity, Raichik became a right-wing media darling. In addition to Twitter, she also created a Libs of TikTok account on Instagram, where she has 65,000 followers.
In a February interview with the New York Post, she said, "I don't do this for money or fame. I'm not some politician or blue-check journalist. I feel like there are so many small stories that are so important that aren't getting out — and that's what I'm here for." 
The Forward called but did not immediately receive a response from Raichik, whose phone number is listed publicly under the LibsofTikTok.us domain.
Raichik claimed to have left New York for California in other anonymous interviews, the Post reported, and she said she had turned the account into a full-time job.
Another Twitter user found an archived tweet from Raichik's account claiming that she had participated in the insurrection at the Capitol last Jan. 6.
Update: I just found deleted tweets in which @libsoftiktok ("Chaya Raichik") claims to have participated in the January 6 insurrection. pic.twitter.com/IPZ0QOUQBT

— Travis Brown (@travisbrown) April 16, 2022
The author of the article, Taylor Lorenz, drew criticism for outing Raichik from several right-wing figures, including commentator Ben Shapiro and Donald Trump Jr.