News
'Everybody knows everybody': At Highland Park prayer vigil, it feels like a small village
Presbyterian minister quoted from the Mishnah to a crowd of more than 400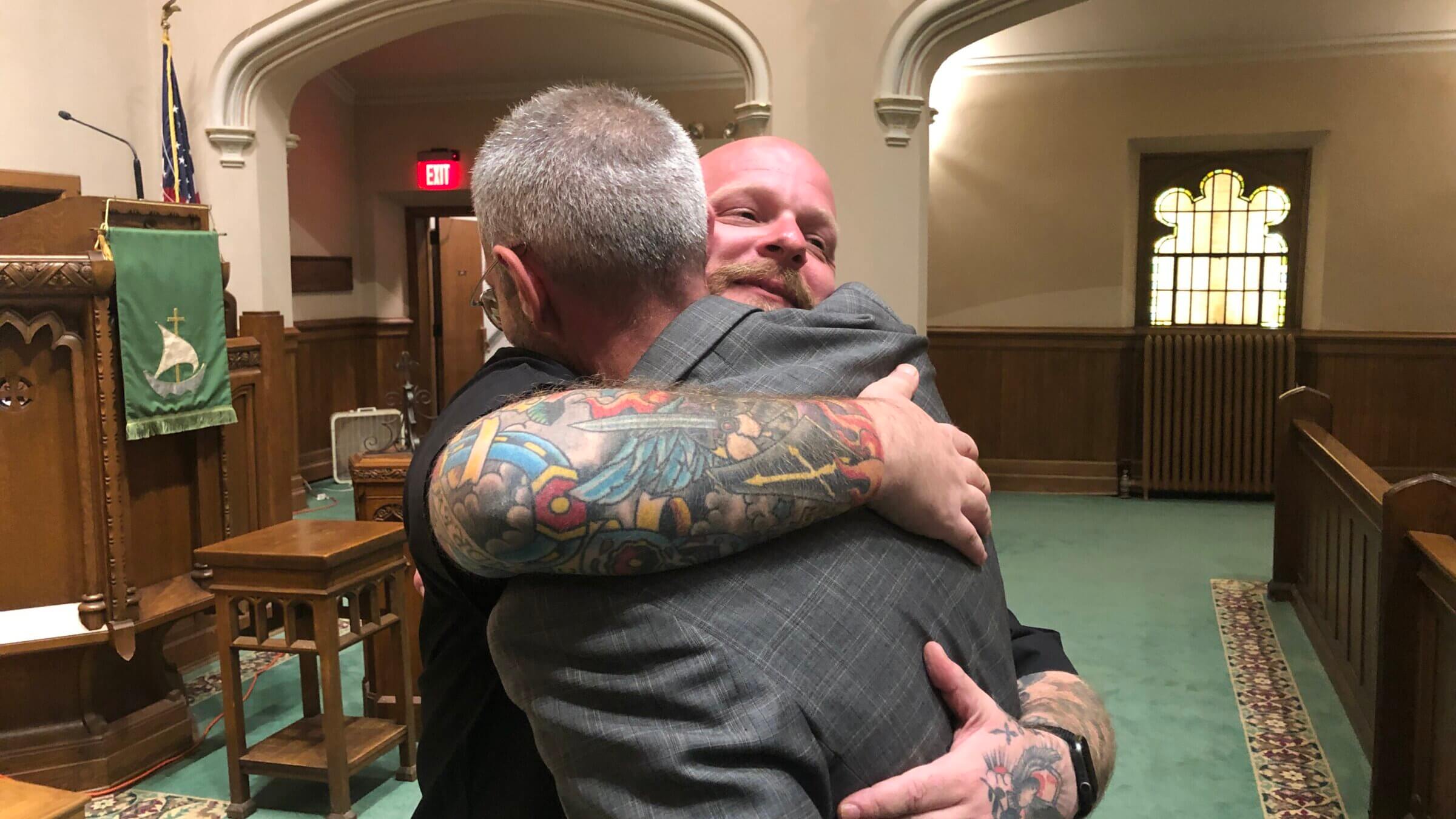 HIGHLAND PARK, Ill. – The Jewish members of the local clergy alliance did not make the community prayer vigil at the Highland Park Presbyterian Church Tuesday night. But the Mishnah was heard nonetheless.
"Do not be daunted by the enormity of the world's grief, but do justly now," the church's Rev. Quincy Worthington said, quoting from Pirkei Avot, Ethics of the Fathers.
Some 400 people gathered at the church, a half-mile from where a gunman opened fire at a Fourth of July parade the day before, killing seven people and injuring dozens of others. Joined on the pulpit by other Protestant leaders as well as Catholic and Baha'i clergy, Worthington said he understood why his Jewish counterparts were instead at a service at the nearby North Shore Congregation Israel, where one of those killed, Jacki Sundheim, had worked as events coordinator and preschool teacher.
"We totally get it," Worthington said, "especially with three or four of the victims being Jewish themselves."
A third vigil, at Highland Park's Catholic Immaculate Conception-St. James Parish, was attended by Cardinal Blase Cupich, the archbishop of Chicago.
At the Presbyterian church, Alan Freeman, who is Jewish, said he came because his wife and kids go to the church and "anything having to do with spirituality at a time like this is really necessary."
Rev. Suzan Hawkinson, of the First Presbyterian Church in nearby Deerfield, asked attendees to turn to their neighbors and say one word to describe where they were at that moment. 
"Here we are with broken hearts on Day 1 of healing," she said. "I call on you at this moment to give a true gift to your neighbor."
For Christina Douglas, who is Catholic, and Paras Parekh, who is Hindu, the exercise led to a discussion of the closeness of the village.
"We're a small community," Parekh said. "The parade is where we all come together. If you're in town and you have kids, you come to the parade — which we haven't for the last two years because of COVID. We're devastated. Angry. Worried."
To the reporter interviewing him, he added: "The reality is until things change, there's a chance you're going to be somewhere else in a few weeks, having this exact same conversation."
Douglas knew several people who were shot.
"Everybody knows everybody. Watching my daughter and her three friends down there," she said,  "they've been friends since they were in kindergarten. Two of the parents that were shot are from in their small group. And one of our next door neighbors was shot. They survived, thank God.
"My friend Erica who was shot said yesterday, 'This is the country that we live in.'"
The vigil began with a pianist playing and singing "America," and ended with Worthington's quote from the Mishnah.
"We can't think that having prayers and vigils on a night like tonight is enough to fix the world," he noted, "to heal the pain that we're experiencing, and to prevent other shootings from happening again."
Correction, 12:15 p.m.: This article has been updated to reflect that the Rev. Quincy Worthington quoted from the Mishnah, not the Talmud.