News
Kushner opens up about his Judaism, Ivanka Trump's conversion, and dealings with Netanyahu in new book
'Most people think I'm Jewish anyway,' Trump reportedly told his future son-in-law when Jared Kushner informed him that he was going to marry Ivanka Trump and that she intended to convert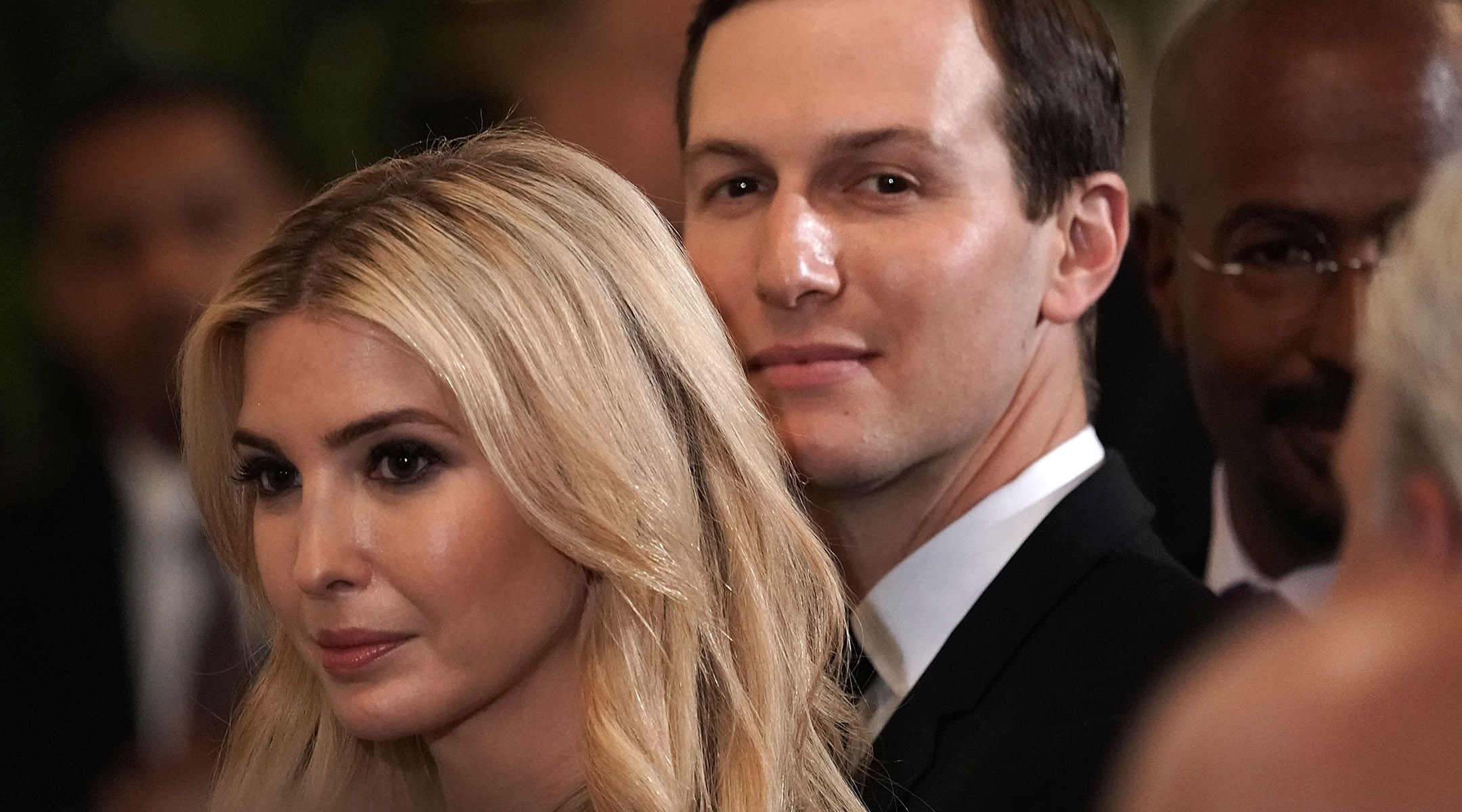 Jared Kushner, former President Donald Trump's son-in-law and trusted adviser, opens up in a forthcoming memoir about his wife Ivanka Trump's conversion in the late 2000s, his Shabbat observance, keeping kosher in the White House and his Middle East policy initiatives.
The book, "Breaking History: A White House Memoir," is slated for publication by Broadside Books on Aug. 23. Excerpts were obtained by the Forward and a leaked advance copy was posted online last week.
Kushner, Trump's point person on the Middle East, writes in the book that he was secretly treated for thyroid cancer in 2019 and even kept his diagnosis from his father-in-law. "When I did think about it, I reminded myself that it was in the hands of God and the doctors, and that whatever happened was out of my control," he writes.
The following are some key moments from Kushner's memoir.
First encounter with his future father-in-law
Kushner writes that his initial interaction with Trump in 2007 was rough. Kushner was at the time publisher of the New York Observer, a weekly newspaper. Trump, a real-estate mogul, wrote him an angry letter expressing disappointment about his placement on the Observer's annual "Power List."
"Please stop sending me your paper, so I don't have to read bullshit like this anymore!" Trump wrote.
Two years later, Ivanka Trump would introduce Kushner as her boyfriend.
Kushner writes that after dating Ivanka for some time, she told him she would consider converting to Judaism. "We began meeting with a rabbi and studying and practicing Shabbat together," he wrote. "I saw that Ivanka was enjoying these rituals." The two spent Friday evenings together eating takeout from his favorite eatery, the 2nd Ave Deli, until Ivanka Trump offered to start cooking for the Shabbat meal. "She loved it and quickly became an excellent chef."
As they began to talk about marriage, Kushner went to see Trump at one of his restaurants, Trump Grill at  Trump Tower. "I could feel my voice shake as I managed to say that Ivanka and I were getting more serious and that she was in the process of converting," he said.
"Well, let me ask you a question," Trump asked Kushner. "Why does she have to convert? Why can't you convert?" Kushner replied that she had made the decision on her own and was comfortable with it. "That's great," Trump then remarked. "Most people think I'm Jewish anyway. Most of my friends are Jewish. I have all these awards from the synagogues. They love me in Israel."
He added that he hoped Kushner was serious because Tom Brady, the iconic NFL quarterback, was also courting his daughter.
The wedding took place in 2009 at Trump National Golf Club in Bedminster, New Jersey. Trump "was respectful of our Jewish traditions," Kushner writes, "and before he walked Ivanka down the aisle, he asked for a yarmulke to wear."
Shabbat candles in the White House
Kushner writes about the first Friday night in the White House on the evening after Trump's inauguration in 2017, where he was staying with Ivanka Trump in the Lincoln Bedroom.
A member of the White House residence staff, he shares, told them that it was the first time Shabbat candles had been lit in the private residence.
Working as senior advisers to the president, the couple's Shabbat observance clashed at times with their professional responsibilities, and sometimes they could not observe as strictly as he preferred.
After the 2020 election, as he and Ivanka Trump were preparing to leave government, Kushner writes he was eager to "go back to fully observing the Sabbath on Friday evenings at sundown."
Keeping kosher
Kushner writes that his daily lunch at the White House was "a special chopped salad topped with sliced avocado and grilled kosher chicken," which was prepared in the White House Mess, a small dining facility run by the U.S. Navy. Dinner was sometimes "an omelet with American cheese."
As he was traveling to the Middle East for meetings with Arab leaders, Kushner tried not to embarrass his hosts when he avoided eating the non-kosher food they served him. On his first trip to Saudi Arabia with Trump, the menu at dinner included camel meat, which is not kosher. "So I moved it around on my plate," Kushner writes. 
It was only when he visited Casablanca to meet with the King of Morocco in 2019, and when he headed the U.S. delegation to the United Arab Emirates on a direct El Al flight from Tel Aviv in 2020, that he enjoyed a full buffet of kosher food.
Relationship with Netanyahu
Kushner has high praise for Netanyahu, whom he calls a "bold defender of Israel." He describes their first meeting in the early 2000s — when Netanyahu was out of office and spending a weekend at the Kushner home in New Jersey. Kushner's father was, at the time, a prominent real estate developer.
Netanyahu slept in Kushner's bedroom while Kushner bunked in the basement with Netanyahu's security guards on pullout couches. Jet-­lagged, Netanyahu pulled a book off the shelf – Charles Dickens' "Great Expectations" — read half of it, and the next morning asked the younger Kushner whether he could take the book to finish it on the road. But Kushner said it was a gift from his girlfriend with which he didn't want to part. "Bibi smiled and graciously left it behind," he wrote. 
Years later, in 2017, with Netanyahu serving as prime minister and Kushner as head of the Mideast policy team, Netanyahu was initially reluctant to go along with Trump's plan for peace between Israel and Palestinians.  Netanyahu explained to the Americans that the timing was off, in that  he didn't want Israelis to think that he was using peace negotiations to distract from investigations into allegations of fraud against him — which were underway at the time.
In March 2019, Netanyahu asked David Friedman, the U.S. ambassador to Israel, to ask Trump to recognize Israeli sovereignty over the Golan Heights. But Trump didn't want to give him another pre-election gift — he had already relocated the U.S. embassy from Tel Aviv to Jerusalem, as Netanyahu had long desired. "I have done too much for Bibi already," Trump told Kushner. "Let's see what he does with the peace deal first." But Trump's advisers were ready to move forward. After speaking with Friedman and National Security Advisor John Bolton, Trump announced on Twitter that he would recognize the Golan as Israeli territory.
Later that year, the day after he failed to form a government, which led to four consecutive elections in two years, Netanyahu explained to Kushner how important it was for him to play to his base to remain in power.
Netanyahu, he writes, grabbed a napkin and drew a triangle, separating it into three levels to illustrate "the pyramid of politics." Pointing to the sketch, he explained, "All the people in the middle level are the politicians who want the leader's job at the top. They don't give you power. They try to take your power." The beleaguered prime minister then pointed to the bottom part of the triangle and remarked, "The way to stay in power is to keep the relationship with your supporters strong. Deliver for them, and they will never forget it. Even without the support of the press or the politicians in the middle, if you stay loyal to your supporters, the group in the middle can't take your power from you."
At that meeting, Kushner first raised the idea of normalization with the United Arab Emirates. Netanyahu, who was preparing for another election, was skeptical but agreed to cooperate. Days earlier, Kushner had first met UAE Ambassador to Washington Ambassador Yousef Al Otaiba at his home and learned that then its crown prince of Abu Dhabi, Mohammed bin Zayed — also known as MBZ — was willing to make peace with Israel.
The road to the Abraham Accords
In January 2020, when Netanyahu came to Washington for the rollout of Trump's peace plan, he told Kushner that he would " live with it.'" Kushner wrote that he countered with a smile: "You won't live with it. You'll thrive with it."
At an event held in the White House's East Room, Netanyahu implied that the plan was a green light for Israel to annex Israeli settlements in the West Bank, to make them part of Israel proper — a move that was not previously agreed upon with the White House officials. "This was a step too far," Kushner recalls in his book. "I grabbed my chair so intensely that my knuckles turned white, as if my grip could make Bibi stop." Trump was equally enraged. "Bibi gave a campaign speech. I feel dirty," he told Kushner afterwards, and informed his son-in-law that he was contemplating endorsing Benny Gantz, the prime minister's rival.
Kushner confirms in his book that the relationship between the Trump administration and Israel deteriorated significantly after that episode, as previously reported by Israeli journalist Barak Ravid. "Behind the scenes, our relationship with the Israeli government had reached its lowest point to date," Kushner writes.
Still, the efforts that led to the Abraham Accords proceeded — after a series of somewhat astonishing developments.
UAE's Al-Otaiba penned a sharply worded op-ed translated into Hebrew and published it in Israel's leading daily, Yediot Ahronot, warning that Israeli annexation of the West Bank would kill the chances to make peace with the Arab world.
Netanyahu then agreed to drop his annexation plan if the U.S. could get three countries to normalize relations with Israel. "I couldn't believe it," Kushner writes. The prime minister ultimately went along and agreed to postpone the annexation plan when it seemed the efforts were moving in the right direction.
The day before the Abraham Accords was announced in August 2020, Netanyahu tried backing out of the deal, Kushner writes. But the Americans told him they were going to make it public. "I know Bibi will put what's best for Israel before his personal political situation," he recalls telling Israeli Ambassador Ron Dermer. "We've come too far, we're so close. This deal is happening. We're announcing it tomorrow."
Kushner writes that he gave White House Mideast peace envoy Avi Berkowitz the honor of publishing Trump's tweet announcing the groundbreaking normalization agreement between Israel and the United Arab Emirates.
"Jared's a genius," Trump remarked after the Oval Office announcement. "People complain about nepotism — I'm the one who got the steal here." Kushner writes that he smiled and shot back: "Maybe in the future, more presidents will haze their sons-in-law by tasking them with impossible problems."
Later in the year, three more countries came forward to announce normalization — Bahrain, Morocco and Sudan.
Before the White House ceremony to celebrate the accords in September 2020, Kushner writes that Trump gave Netanyahu an oversized bronze "key to the White House" in a wooden box carved with the presidential seal. "This is the first key I'm giving to anyone," Trump said. "Even when I'm not president anymore, you can walk up to the front gate of the White House and present it, and they will let you in."
Netanyahu, who is seeking to return to power in the upcoming Israeli election, has yet to visit the White House since Trump's departure.
A message to Iran
Kushner writes that Netanyahu's controversial address to a joint session of Congress to defy former President Barack Obama and oppose the 2015 nuclear deal with Iran "was a watershed moment" that buttressed Israel's secret relationships with Arab states in the Gulf.
"Like Trump, Bibi was fearless," Kushner opined. "This could sometimes be polarizing, but it also made him a powerful catalyst for change."
He confirms that Netanyahu's revelation of Iranian documents seized by the Israeli Mossad in 2018 "provided concrete evidence" that the Iranians had failed to comply with the terms of the nuclear deal. The move, he said, gave Trump "a firm basis" for withdrawing from it.
The book also sheds light on the U.S. assassination of Qassem Soleimani, the head of Iran's Quds Force and one of the most influential figures in the Middle East, who was killed on Jan. 3, 2020, in an airstrike at Baghdad's international airport.
Kushner writes that in a rare visit to Trump's bedroom the morning after, he urged the president to publicly comment on the strike. Mike Pompeo, Trump's secretary of state, advised against taking responsibility, fearing it would be unnecessarily provocative.
Kushner recalls telling Trump that the situation was already tense, and that he needed to talk publicly about the assassination so that Iranian Supreme Leader Ayatollah Khamenei would hear him. "It is important that you explain that this was not a preemptive strike — it was retaliation for all of the murders and maiming of American soldiers that Soleimani had caused. If you don't make a statement, we will be at greater risk of Iran hitting back at American troops in the region."
Trump took his son-in-law's advice.