News
'What was I doing when I was their age?' Six Jewish teens, out to change the world
This year's 15 Diller Tikkun Olam awardees are moving the dial on issues like the refugee crisis, climate change and LGBTQ+ inclusion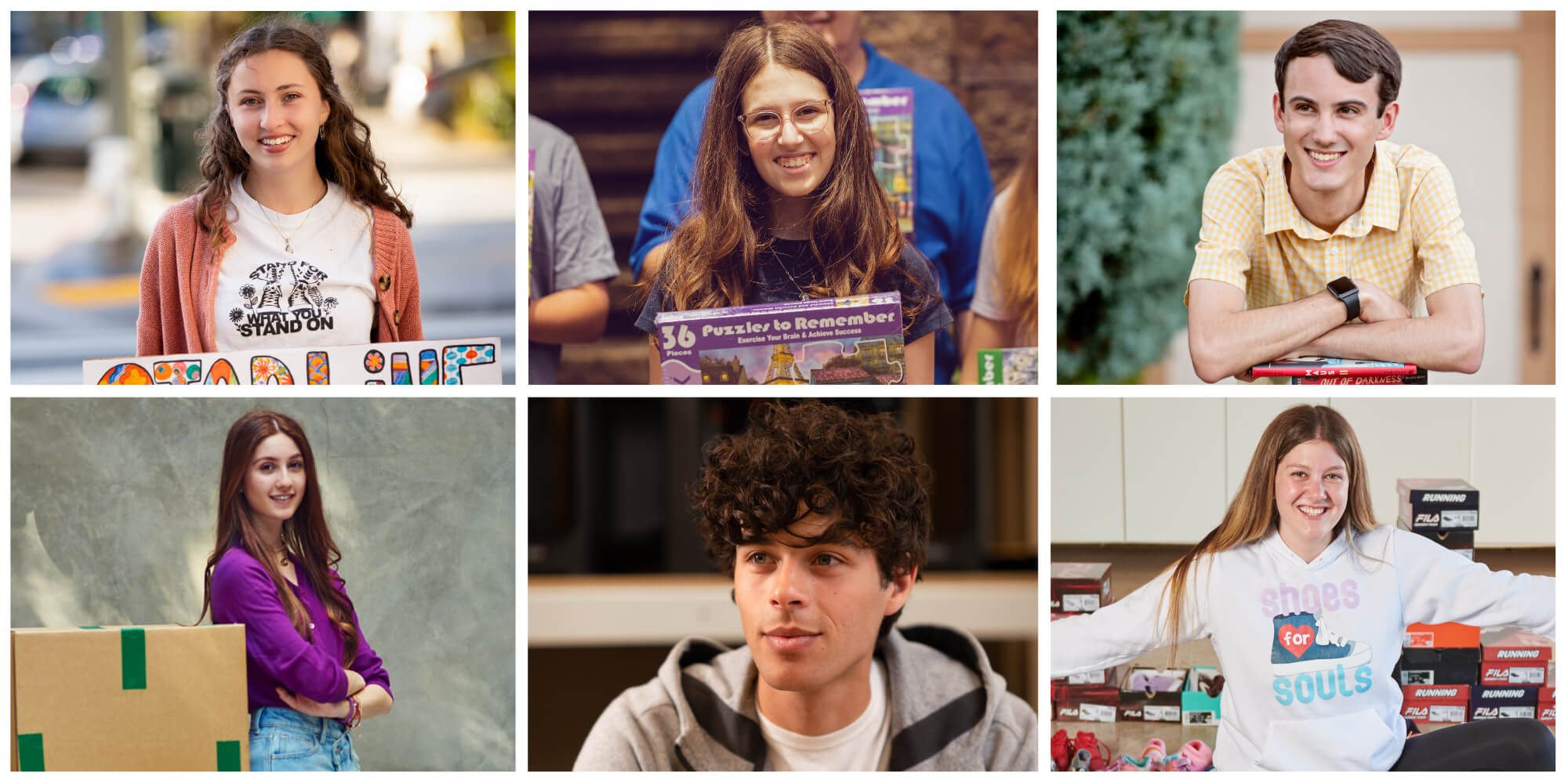 Every year when it comes time to review applications for the Diller Teen Tikkun Olam Awards, all the adults involved ask themselves, in awe, the same question: "What was I doing when I was their age?"
That's according to Jen Smith, executive director of the Helen Diller Family Foundation. The awards program annually grants 15 Jewish teen leaders across the country $36,000 each in recognition of their work to repair the world.
The program was started in 2007 by philanthropist Helen Diller, who passed away in 2015. She believed in the power of young people to change the world — a belief upheld by previous grantees. Among them are Jordan Grabelle, who creates literacy packets for underserved communities through Love Letters for Literacy, and Abe Baker-Butler, who raises awareness about teenage smoking and vaping through Students Against Nicotine.
This year's grantees are pursuing projects that touch on the most important and most challenging needs in our society, including refugee empowerment, equity in technology and resources for those experiencing homelessness.
"These are teens who see an issue, find ways to make a difference, see it through, and inspire others to participate," Smith said.
Here are profiles of six of this year's awardees, exemplifying a range of interests and experiences. Learn more about the full cohort here.
 Sienna Nazarian, 17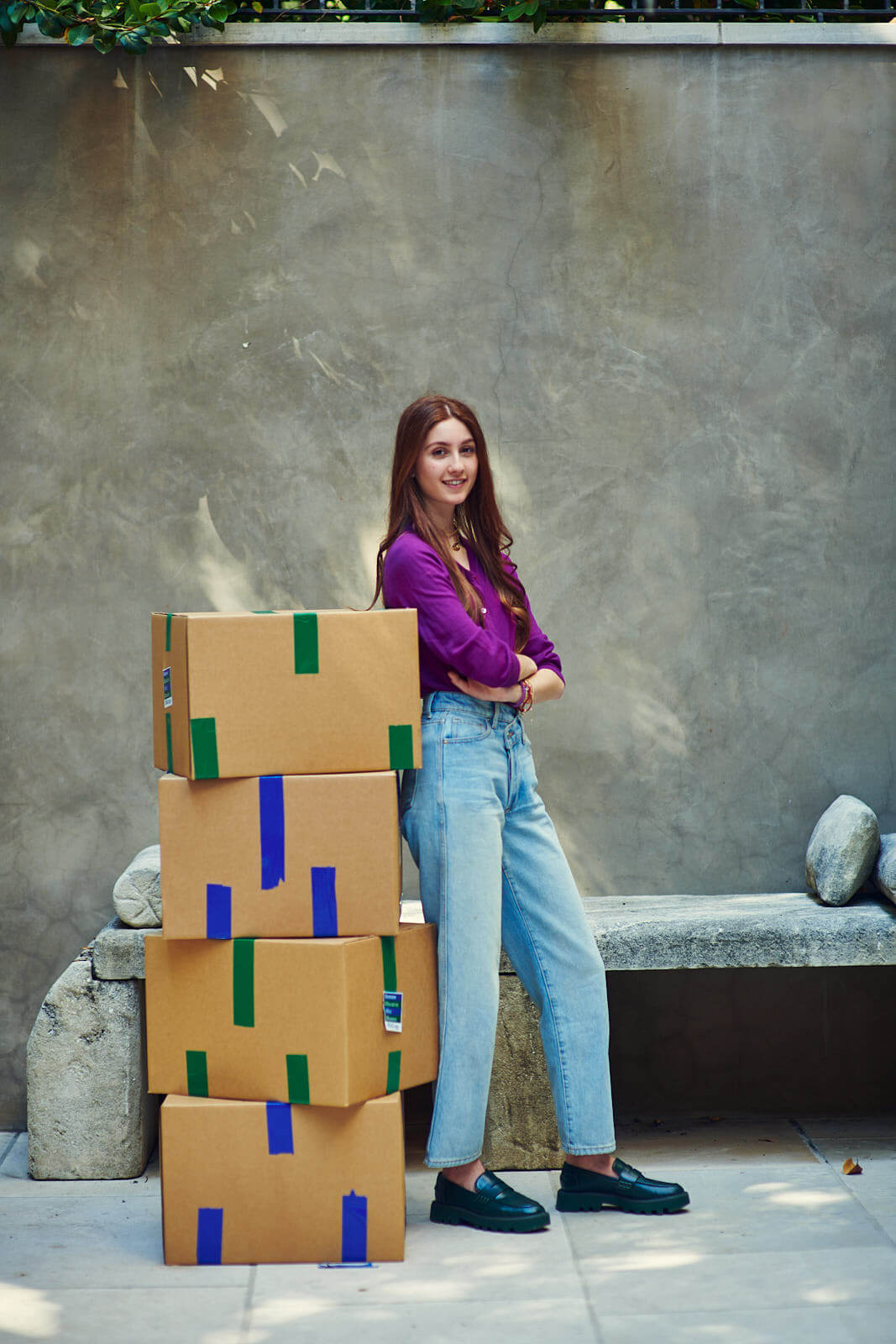 Sienna Nazarian was 12 when she started collecting instruments for Syrian refugees as her bat mitzvah project. An avid piano player, Nazarian, a Persian Jew, was interested in combining her passions for music and the concept of tikkun olam. 
Nazarian, who is from Beverly Hills, has an innate sense of connection to the experiences of refugees: Her family fled Iran during the revolution in the 1970s, when being Jewish meant they were unsafe. Today, she said, they still speak about how powerless fleeing a country can make someone feel. 
In ninth grade, having had several refugee organizations reject her efforts to get involved because she was too young, Nazarian co-founded the Refugee Empowerment Project — a small club at her school through which students participated in service projects that connected them to refugees across their communities. 
"You're never too young or too isolated to be able to have the impact you want to have," she said. "Starting small and involving other young people in this work is the most empowering part."
In March 2020, at 15, Nazarian decided to expand the project beyond her school, registering it as a 501(c)(3). She created an English mentorship program for refugees, from kids to college students, to learn English. From there, she grew the program to tutoring in all subjects. 
But for Nazarian, her nonprofit's community orientation programs are the most meaningful. Through these daylong orientations, volunteers walk refugees around the communities they are settling into, giving them a customized list of important landmarks and "need-to-know" information in their native languages. 
At one community orientation, Nazarian showed Gracia, a girl her age from El Salvador, around Griffith Park Observatory in Los Angeles. 
"She told us that this was the best day she'd ever had in America," Nazarian said. "Making a connection with someone who's my age and has had such a different life experience than me felt full circle." 
Cameron Samuels, 18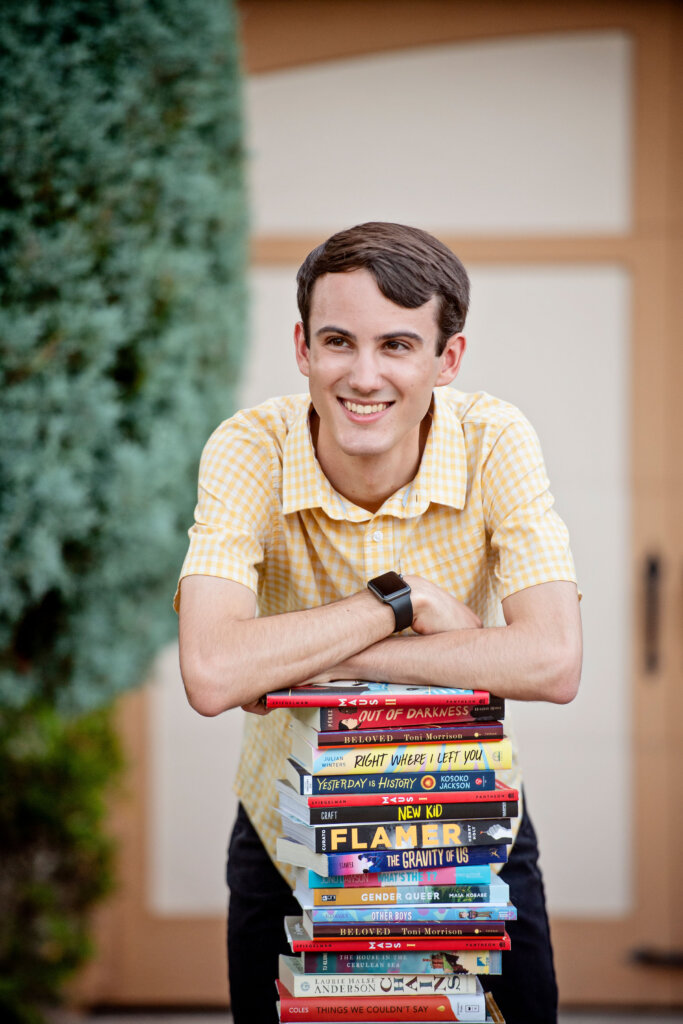 When Cameron Samuels attended a November school board meeting to speak out against a policy banning school access to LGBTQ+ websites, they were the only student in the room. 
No one in the room clapped when Samuels finished speaking. Instead, they said, everyone stared at them. 
"I felt so alone because community members continued to go up to the lectern and speak statements against the LGBTQ community," said Samuels, who lives in Katy, Texas, said, "especially in the desire to ban books that featured queer characters and authors."  
Samuels first noticed their school district's policy against accessing LGBTQ websites during their freshman year. While researching a project for their art and digital animation class, they attempted to visit The Advocate, an LGBTQ news source. But when they tried to access the site, they received an error message.
"It was under the category of 'alternative sexual lifestyles' and, in parentheses, GLBT," Samuels said. "As a freshman, who had just started high school, who was still on the journey of discovering who I was, and who I needed to be, I saw that my high school labeled my identity as alternative and not normal."
Samuels began working to organize community members and students to advocate for LGBTQ rights. And while Samuels' experience at that meeting last November was lonely, at subsequent meetings they and their peers have packed board meetings with support. 
Their presence has had a meaningful effect. After meeting with district officials, Samuels got the school to unblock eight websites, including the Human Rights Campaign and Peace Lag; they hope to succeed in unblocking more. And with the help of other students from the 90,000-student district, Samuel also initiated book distributions. They created a so-called "FReadom Week" during which they collected over 700 LBGTQ and BIPOC-related books and distributed them through the district's nine high schools. 
Their efforts have also extended beyond the district: They're now organizing rallies and book distributions all over Texas, from Houston to the capitol in Austin.
"I have noticed those stares they gave me at the meeting were stairs to climb on," Samuels said. 
Hailey Richman, 15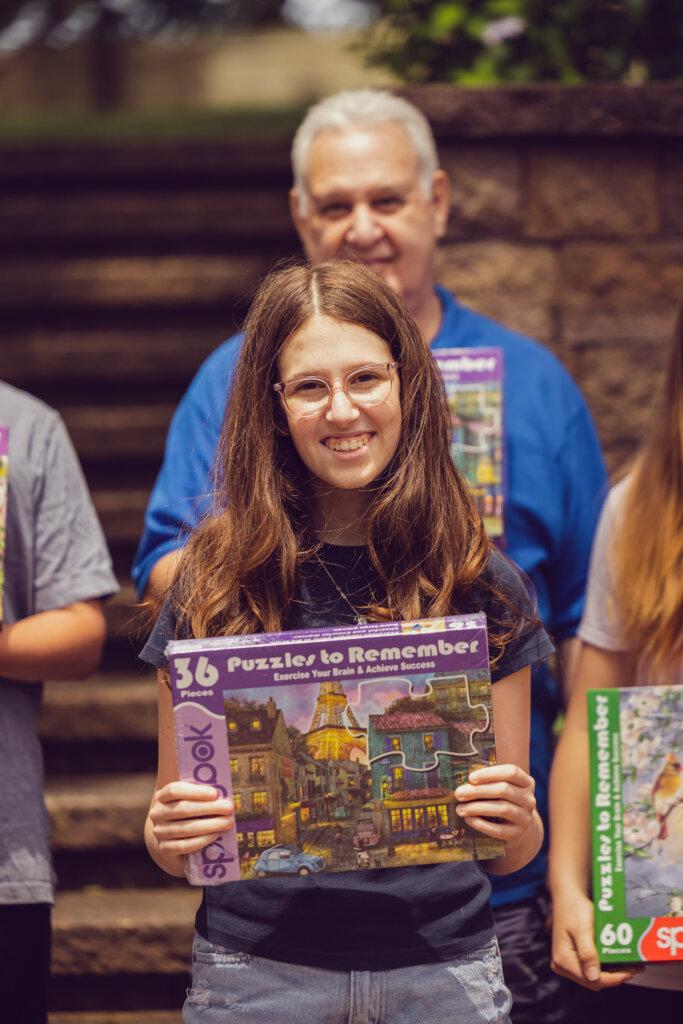 Hailey Richman has collected and donated over 100,000 puzzles as part of the work of Kid Caregivers, a nonprofit organization that she founded. The coolest puzzle she's ever received was cat-shaped, she said, with each individual piece designed with a picture of a cat.
Richman began Kid Caregivers when she was 9. Feeling alone and isolated after her grandmother was diagnosed with Alzheimer's, Richman, who lives in Plainview, New York, wanted to create an online support group that gives tips to kids with loved ones dealing with Alzheimer's disease. 
Around the same time, she and her grandma were working on a puzzle of the Eiffel Tower during a visit — the landmark was one of her grandma's favorite places — when Richman noticed that her grandma was agitated. 
"She just wasn't in a great mood," Richman said. "But solving the puzzle really helped her, putting her in a better mood and giving her something to talk about." 
Richman began researching and learned that jigsaw puzzles benefit cognitive stimulation, which can help people with Alzheimer's. Inspired, she started a Kid Caregivers initiative, called Puzzle Time. Through the project, student volunteers are paired with an Alzheimer's patient to solve puzzles together.  Puzzle Time has since grown to involve 2,000 student volunteers and operates in all 50 states and nine countries.
"I hope people can take away that takeaway, that solving one puzzle can help make a difference in someone's life, and no one is too young to give back," she said.
Gideon Buddenhagen, 17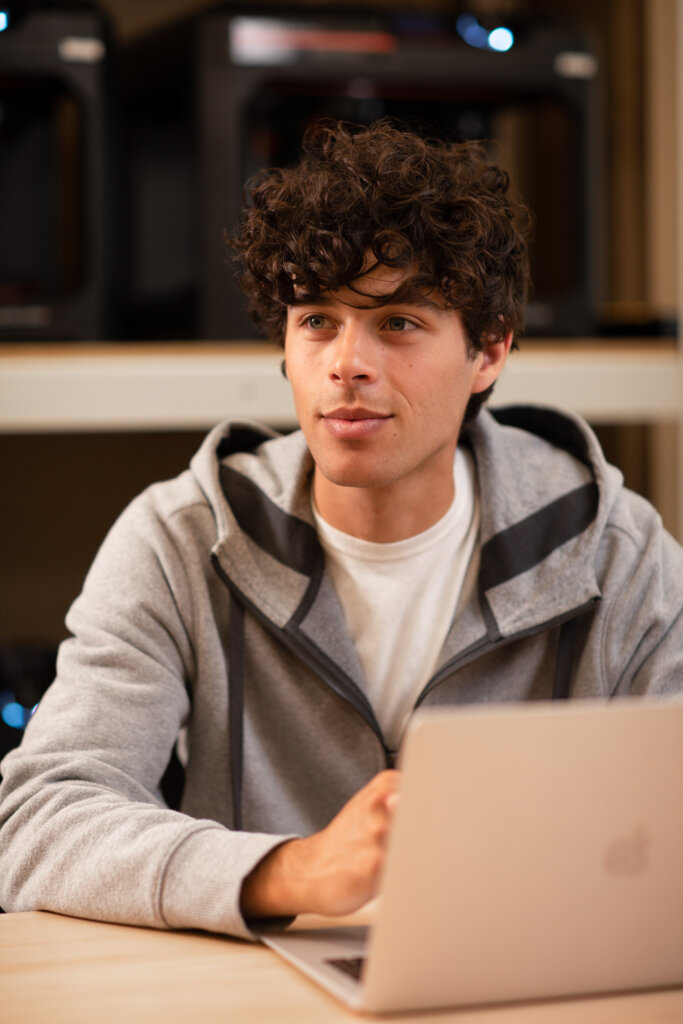 While tutoring a low-income third-grade student learning English as a second language in 2021, Gideon Buddenhagen asked his student if he had ever heard of computer science.
He hadn't, which got Buddenhagen thinking.
Buddenhagen is a Jew of color — his mom is a white Ashkenazi Jew, and his dad is Ethiopian. Growing up in Oakland, California, he said, he had observed a consistent lack of equitable access to technology in his community.
The result of those observations, and interactions like those he had with his third-grade student was Buddenhagen's nonprofit organization, Leadership in Motion. Through it, he pairs high school students of color with middle school students of color to provide them with custom computer science lessons.
"We strive to have this dynamic of students of color learning from mentors who can serve as role models that reflect a similar identity to them," Buddenhagen said — a dynamic that "develops a sense of community in this new technology space."
This summer, Leadership in Motion is hosting a four-week summer intensive, based in Google Code Next program's lab space. (Buddenhagen is a graduate of the program.) For two hours, twice a week, 10 students and two high school-aged mentors meet to learn about computer science.  Using Google Code Next's resources, he aims to spread his mission and grow his organization to the broader Bay Area and New York City.
"I hope that students can see themselves as diversifying the field of computer science and that they can see technology as a field that they can enter, and they're not intimidated by the current lack of diversity in that space," he said.
"For other folks, I hope that Leadership in Motion inspires them to follow a similar path of creating equitable systems to uplift their own communities in whatever way, shape, or form that manifests for them."
Amelia Fortgang, 18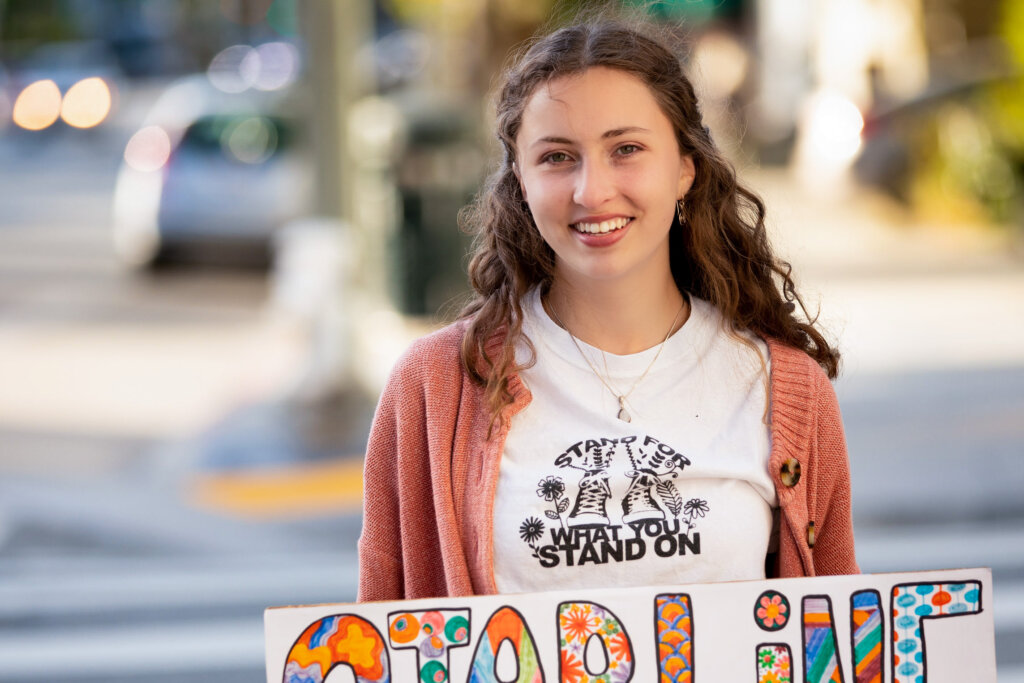 Amelia Fortgang stood on the steps of San Francisco City Hall, looking out at a sea of faces of people her age. 
It was Sept. 24, 2021, and Fortgang was speaking at the Global Youth Climate Strike, which she had helped organize through the Bay Area Youth Climate Summit, an activism network that mobilizes high schoolers to learn about and take action on climate change.
Fortgang founded the Bay Area Youth Climate Summit in September 2020. Since then, she has hosted 55 workshops for high school students,  focused on the lighthearted — discussing climate activism TikToks on Zoom — and the heavy — organizing climate strikes.
For the climate strike, she and 1,000 other local high school students marched from the Embarcadero, past U.S. Sen. Dianne Feinstein's office, to City Hall, where speeches were made on the building's steps.
In hers, titled "10 lessons I never learned about climate change in school," Fortgang focused on reasons to hope.
"The biggest lesson I have to teach people is that you can make a difference," she said. "You might not be able to vote, but you can still mobilize for systemic policy change."
"For example, before I voted in my first election last month, I talked with officials at the National Oceanic and Atmospheric Administration, spoke on the steps of City Hall, and even wrote my representatives. It goes to show that youth are powerful. Even if we don't have a vote, we still have a voice."
Fortgang said that her favorite event hosted by the Bay Area Youth Climate Summit so far has been a virtual career expo at which people from a range of environment-related fields spoke, including an environmental lawyer, a climate change photographer and someone who worked at the California Energy Commission.
The event was supposed to last 45 minutes, she said, but ran for over two hours.
"People stayed in their breakout rooms and just had conversations with these incredible people in environmental careers," she said. "It was awesome to see how excited they were by us wanting to be interested in what they are doing, and how youth want to be a part of that."
Lindsay Sobel, 18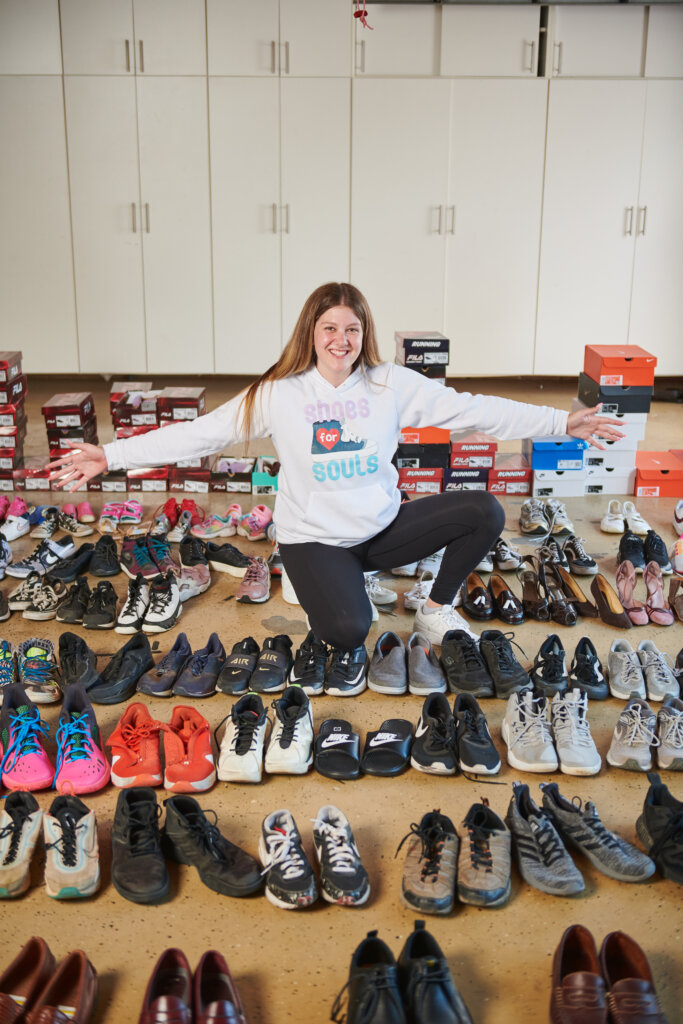 Growing up in Los Angeles, Lindsay Sobel often saw people experiencing homelessness walking around the streets without shoes, many of them kids.
So when she was brainstorming ideas for her bat mitzvah project in 2016, she knew she wanted to do something to help. Shoes for Souls, a project through which Sobel collected new and gently used shoes to donate to those experiencing homelessness, was born.
"A lot of us take shoes for granted," Sobel said, "but for the homeless, they don't have these simple necessities like shoes which a lot of people and I have an abundance of."
To date, the project has collected and distributed 52,000 pairs of shoes through drives at local schools, camps and synagogues.
In 2020, when COVID-19 struck, Sobel shifted her approach. She filed to have Shoes for Souls become a 501(c)(3), allowing it to accept monetary donations, which are then used to purchase shoes. She also initiated partnerships with Footlocker and Nike through which the companies donate their products to Shoes for Souls, which are then distributed directly to the community.
"I could see myself running Shoes for Souls for my job when I'm older," Sobel said. "Just working with it and helping others in my community, there's nothing like it in life."
A couple of years ago, she was, handing out shoes to a youth group in Compton when she noticed a kid sitting alone.
"Hey, do you want to come to pick out a pair of shoes?" she asked him.
The boy, who was tall, told her that he didn't think they would have a pair of shoes that would fit his feet. "Of course we do," Sobel told him.
She went over to the bin and, after digging through it, came across a pair in his size — 16.
When she brought the shoes over, the boy smiled.
"The smile's stuck with me," she said. "It's the smile of getting a new pair of shoes, there's just there's nothing like it."
Correction: A previous version of this story incorrectly gave Gideon Buddenhagen's age as 18, and misspelled his last name.