News
As Yeshiva University fights to block LGBTQ group, not all its grad schools are on board
Some of the Orthodox university's more progressive graduate programs may be rooting for its Supreme Court petition to fail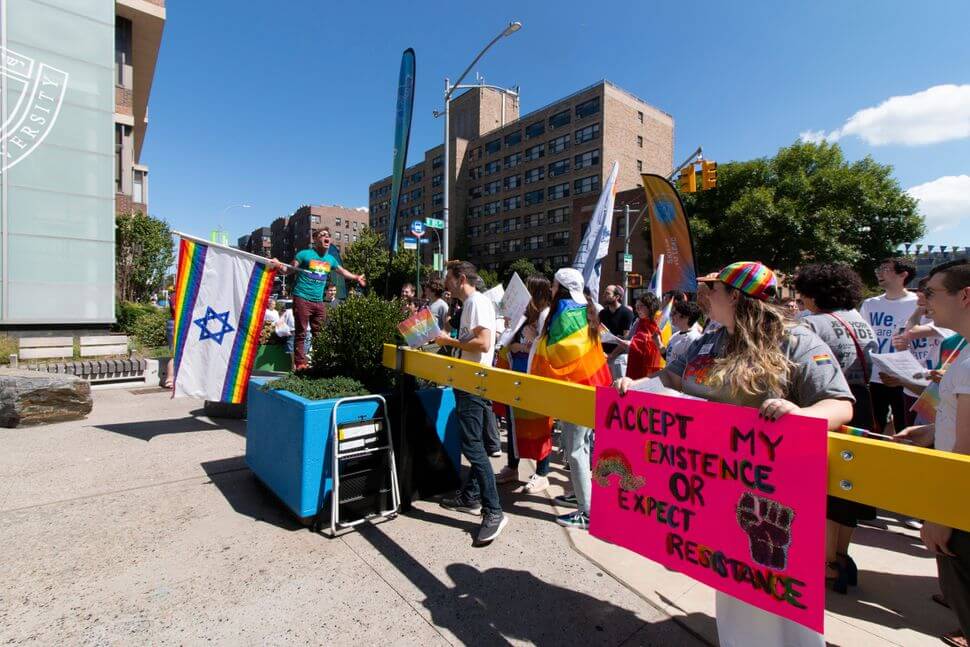 Yeshiva University's ongoing legal effort to avoid recognizing an undergraduate club has highlighted a longstanding dissonance between the university and many of its graduate programs on LGBTQ issues. 
At least two of YU's eight graduate schools have publicly declared support for LGBTQ causes. And as the school doubled down on its efforts to block the undergraduate club this week, its Benjamin Cardozo School of Law affirmed support for its own LGBTQ student group.
A New York judge in June ordered YU, as an educational institution that receives public funds, to treat the undergraduate Pride Alliance like any other student organization. YU officials argue that the order conflicts with the school's religious values as guaranteed by the First Amendment, and Monday asked the U.S. Supreme Court to block the ruling.
Both Cardozo and YU's Albert Einstein College of Medicine have dedicated spaces on their websites on LGBTQ inclusion, and Cardozo officials on Monday posted a statement on YU's request for the Supreme Court to intervene.
"The University's decision not to allow an undergraduate LGBTQ+ student group, the lawsuit and the pending application at the Supreme Court do not pertain to the Cardozo School of Law and will have no impact on law school policy," it reads.
The statement also informs that the law school, unlike YU's undergraduate programs, does not include religious education as a fundamental part of the curriculum.
It continues: "The law school has always supported our student LGBTQ+ organization, OUTlaw, and its alumni, and will continue to do so."
Members of OUTlaw took to Instagram to condemn the university's decision to apply for a stay at the Supreme Court.
A spokesperson for the medical school, which is located in the Bronx and hosts pride month celebrations, did not provide a comment before publication.
At the university's Washington Heights campus in Manhattan, where classes began last week, the undergraduate student government is poised to approve various student clubs. The Pride Alliance had expected, thanks to June's court ruling, to be recognized by the university — the nation's flagship Modern Orthodox institution of higher education — for the first time.
But the school's petition to the Supreme Court, made on YU's behalf by the Becket Fund for Religious Liberty, a nonprofit law firm, put that recognition on hold. 
Becket's filing was made to Justice Sonia Sotomayor, who is assigned to handle requests for stays on cases originating in New York. Sotomayor, considered the court's most liberal justice, can grant a stay or request the full court to weight in — making it a Supreme Court case — or reject the application outright.
At YU's graduate schools, which in general enroll a smaller proportion of Orthodox Jews than its undergraduate programs, many in leadership may not be rooting for the university to prevail. 
While the undergraduate curriculum is steeped in traditional Orthodox teachings, some of YU's graduate schools have long taken a more progressive approach towards LGBTQ issues. In her June ruling, Judge Lynn Kotler, of the New York County Supreme Court, quoted from a 1995 fact sheet in which an administration figure acknowledged official and unofficial clubs for gay and lesbian students within YU's graduate schools. 
The leaders of at least one student organization — the Organization of Psychology Students, which represents students enrolled in the Ferkauf Graduate School of Psychology — have also committed to standing with the Pride Alliance.
"As mental health professionals in training, we understand that such discrimination contradicts best practice guidelines in all respects, and we have an ethical obligation to support and advocate for the rights of all people, particularly those who have been historically marginalized," they wrote in a message sent to members.
The Ferkauf student leaders added that they have contacted faculty members and the Pride Alliance and that they intend to learn more about the court order and "establish plans for further action."
Correction: An editing error inserted the wrong location for Yeshiva University's main campus in a previous version of this story. It is in Washington Heights, not Morningside Heights.