News
This Jewish water polo player defied Hitler in 1936
Kurt Epstein refused to boycott the Olympics, and was later deported to Terezin and Auschwitz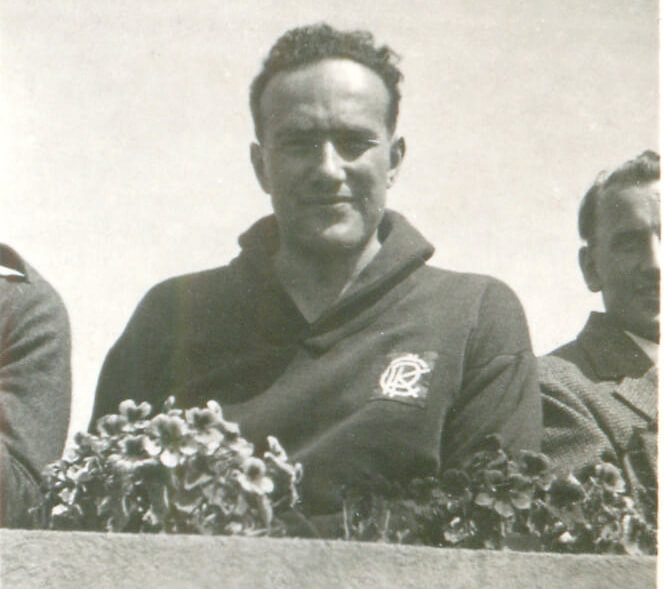 Despite growing up with a former Olympic athlete as a father, Helen Epstein was more drawn to her mother's relatives, a group of intriguing urbanites. Next to them, her father's family seemed like typical upper-middle class Czech Jews. 
"The combination of my father's not being proficient in English and the conventionality of his family made me disregard them — even though my father was super famous in Czechoslovakia," said Epstein, 74.
"Everybody was in awe of him. But when you're living in America, and the sport is water polo, it didn't ring any bells. So I didn't get interested in telling his story for a very long time."
But that changed over the years, and led Epstein to create an exhibit on his athleticism and perseverance that opens in a Czech museum on Sept. 8. It tells of his feats in the water, but also his time in Terezin and Auschwitz. She hopes to then bring it to his adopted country, the U.S.
Helen Epstein, a journalist and author who lives in Lexington, Massachusetts, outside of Boston, said a turning point came when she read a 1987 New York Times Magazine story by Karen Russell, the daughter of basketball great Bill Russell, about being the daughter of an athlete fighting racism.
"I identified very strongly with that," Epstein said. "Something about it stayed with me."
Competing — on principle
Kurt Epstein competed for the Czech water polo team in the 1928 Olympics in Amsterdam and then made the decision to compete in the 1936 Olympics in Berlin, known as the "Nazi Olympics." In a book about her father, "A Jewish Athlete: Swimming Against Stereotype in 20th Century Europe," Epstein wrote that a debate raged leading up to the '36 Olympics about whether Jews should compete.
"All the Zionist sports clubs urged a boycott," she wrote. "Kurt was one of only two Jews who chose to compete for Czechoslovakia; and the only Jew on the seven-member water polo team who went to Berlin." Four others, including the country's best water polo player, joined the boycott.
"Kurt felt that Jews were obliged to take part if only to refute the Nazi claim that they were inferior to the Aryans," she wrote.
Her father never regretted that decision. "He believed sports occupied a higher plane than politics and described the triumph of [U.S. track star] Jesse Owens, who defied Aryan notions of racial superiority by winning four gold medals," Helen Epstein recalled.
He said later that "you could in no way harm the Nazis by withdrawing from the competition. I cheered when the American Negro Jesse Owens won four gold medals. It was an achievement that no Nazi race propaganda could deny."
When the Nazis occupied Czechoslovakia, Kurt Epstein was deported to Auschwitz and Terezin — which had been his former military garrison when he served in the Czechoslavak army. His parents and both of his brothers were killed at Auschwitz.
After the war, Kurt Epstein became a member of the Czechoslovak National Olympic Committee and coached swimming, but decided to leave after the Communist takeover of the country in 1948. 
"I often heard him say that the Communists were 'Nazis in different color uniforms,'" Helen Epstein wrote.
Kurt Epstein, his wife Franci, and baby daughter Helen moved to the Upper West Side of Manhattan. He eventually found work as a cutter in a clothing factory in the city's garment district. He died in 1975 at the age of 71.
An unwanted tallis
After the Velvet Revolution in Czechoslovakia, Helen Epstein visited the country to do research for a book on her mother's life, and decided to visit her father's hometown, Roudnice nad Labem. She wound up writing a 1990 story for the New York Times Magazine on that visit, called "The House on Jan Hus Street." She still remembers this quote from a boyhood friend of her father's about forming a swim club back in 1920: "You know, we had a club when we were little, even before the Swim Club of Roudnice. We met every week, each time at a different house, so I knew your father's house very well. There were two brothers, two Jews and two 'Aryans' . . . well, one of those was me!"
In that story, Epstein described the seeds of her father's interest in swimming.
"My father explained to us that people then believed that Jews were physically stunted from so many years of ghetto life," she wrote. "He responded by founding, with friends, the Independent Swim Club of Roudnice, becoming first a competitive swimmer and rower and then a water polo player."
Epstein's visit took her to her father's childhood home, a large house down the street from her grandfather's factory, which lay in ruins. The home was built by her grandfather.
"I also went to the cemetery and realized that the Epsteins were one the oldest families in Roudnice — and that Roudnice itself was one of the oldest Jewish settlements in the Czech lands outside of Prague," she said.
Fifteen years later, she found out that this house had become a regional museum, the Podripske Museum. She considered that it might accept a family heirloom. Epstein had a tallis that her father received on his bar mitzvah in 1917 which had been passed around the family. Helen Epstein and her husband had used it for a chuppah at their wedding, then given it to her brothers, who eventually returned it to her.
"Their kids didn't want it, and my kids didn't want it," she recalled. "So I planned to donate it to a museum or Holocaust Center — but no one wanted it, because there are hundreds of thousands of tallises saved after the Holocaust. And it was in tatters."
Building an exhibit
But then she had the idea to make it part of an exhibit at the museum that was now in her father's childhood home, and sent a cold email to the museum director, who was interested.
"So we started with the tallis and a lot of photographs," Epstein said. "Unlike many children of Holocaust survivors, I have a ton of photographs, because the goalie on my father's water polo team, who was his best friend, saved them for him — along with the tallis."
The friend also saved Epstein's sports albums, so the exhibit includes family photographs, but also news clippings and photographs of his team from 1920 to 1938.
"It's esoteric — you have to be interested in water polo," she laughed.
The exhibit received funding from three sources: the regional museum, the city of Roudnice, and the Terezin Memorial, about 10 miles away.
Martin Trefný, director of the Podripske Museum, noted that the Jewish community has a long tradition in his city, with historical sources dating it back to the 16th century. 
He said he considers it important to preserve the Roudnice's Jewish past, that the museum has organized other exhibits with Jewish themes, and that he was pleased to work on one about Kurt Epstein, calling him "a significant personality of our city, as well as an important sportsman and Czechoslovak." 
The exhibit, which includes the tallis and 20 panels featuring photos and maps, actually opened in 2020 at the regional museum, but the museum was closed for most of that year, so hardly anyone saw it, Helen Epstein said.
Now, it's opening at the Terezin Memorial. Visitors can see photos of the original three-story Epstein family house; Kurt at his bar mitzvah; Kurt rowing; Kurt playing water polo in the Vltava River; Kurt in a Czech Army uniform; and Kurt at the '36 Berlin Olympics.
It runs through Nov. 30. Epstein hopes it will open next in the U.S. 
"It could be in a synagogue, it could be in a Holocaust Center, it could be in a university," she said.