News
Dispatch from London: In Jewish neighborhoods, shuls and kosher cafes shuttered as Britain buries her queen
A week before the High Holidays, the royal funeral prompts a meditation on ritual and change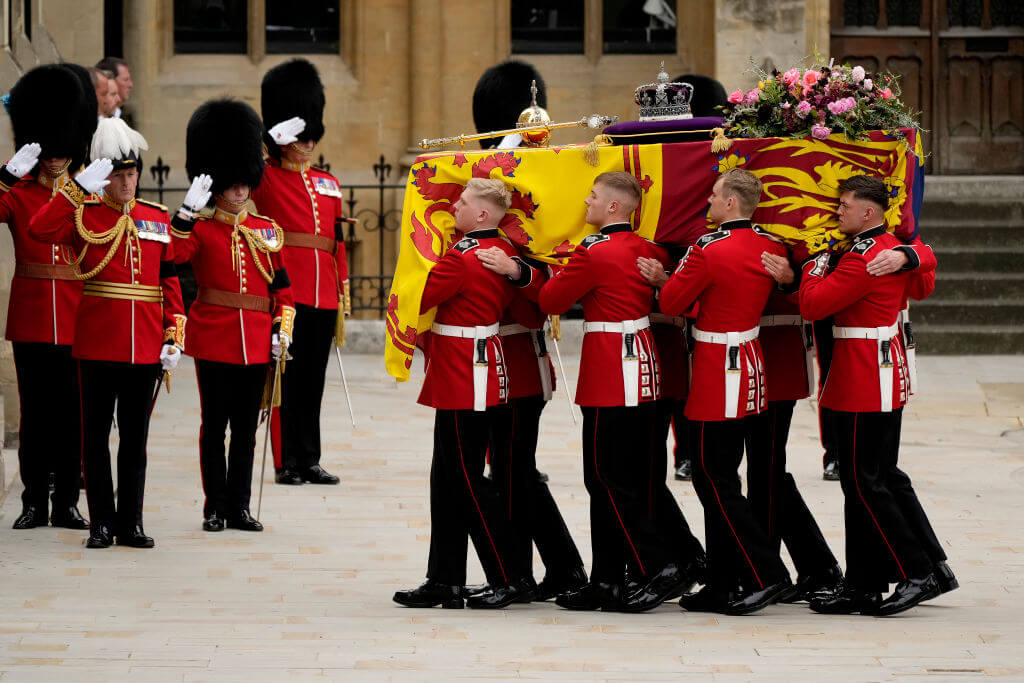 LONDON — The synagogues were closed. The Jewish community center was closed. The day school, closed.
Monday morning, as Queen Elizabeth II's state funeral took place at Westminster Abbey, London's Jewish community went quiet. Early-morning services had taken place as usual at a few select synagogues, hours before the main event. But at gathering spots from the city's center to its farthest outer reaches, the doors were shut and the gates locked, Jewish Britons being Britons, after all.
It was a national holiday here, of course. Coming a week before Rosh Hashanah, during a time when Jews traditionally reflect on the challenges of the past year and opportunities of the next one, it was a moment to think about how consequential transitions can really be. Even when, like the annual cycle of holidays or the passage of power between monarchs, they have been long expected and are filled with rigid ritual.
Minutes before the funeral services began, an older man and a young boy passed in front of a silent synagogue in Golders Green, the locus of Orthodox London, on the city's north side. They were discussing a story the boy was studying. "What," asked the man, "was the point?"
I could have asked the same a dozen times during my makeshift two-day tour of Jewish London in mourning.
En route to a synagogue in Chelsea — closed, of course — I stopped at a cafe filled by men outfitted impressively in dark suits and matching earpieces. An older woman in all black was bursting with gratitude. A police officer wandered in: "Thank you," she said, grasping his hand. An emergency worker ordered a coffee next to her at the counter: "Thank you." 
What was the point? With each "thank you," the woman's smile grew. To her, it seemed, the time of change — and possibly, with it, challenge — was one in which the simple words took on new meaning.
Outside the shuttered Chelsea synagogue, some sounds seeped out. The normal 9 a.m. minyan was not present. Instead, someone inside was listening to a BBC broadcast of the final steps before the 11 a.m. service.
What was the point? Perhaps that there are times when interrupting a tradition is more meaningful than the tradition itself. Or perhaps just that there was no place in British life that Queen Elizabeth didn't touch — including, despite being head of the Anglican Church, its neighborhood shuls.
In Golders Green, a cafe in a long row of kosher restaurants boasted a handwritten sign in the window announcing it would be closed for the day for "the funreal of Her Majesty Queen Elizabeth II."
In the entertaining misspelling — "funreal" — was something of a message. There had been something unreal about Elizabeth's reign: Not just its great length, but the amount of social change it witnessed, the seemingly consistent line the queen had drawn from the aftermath of World War II through to the radically different present.
And for all the pomp and pain of these seven decades, her reign had been fun, too: All that drama and glamour, all those grinning corgis. What was the point? I know "funreal" was probably just a typo. But maybe it also offered a lesson: Better not, even in somber times, to take anything more seriously than absolutely necessary.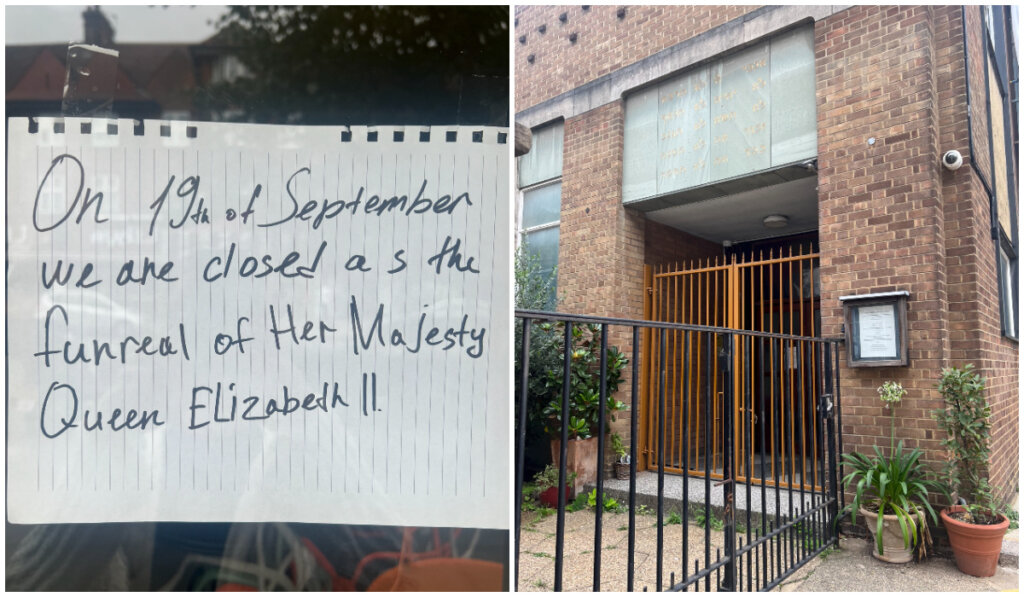 In another kosher cafe, an open one, there were also signs that this was not any other Monday morning. The streets outside were nearly abandoned, and the customers inside spoke quietly, then left quickly.
As two men entered partway through the funeral, the sound of bagpipes drifted in with them. They paused, leaving the door half open, looking for the source: The cafe hushed, listening with them.
Two minutes before noon, as a national two minutes of silence ended and those mysterious bagpipes sounded again, the sun came out over Golders Green Road. It was its first appearance on an overcast day. Perhaps it was a sign. Perhaps it was just the weather. But it was another quiet moment of change.
Outside, a young woman in modest dress took a bite of frozen yogurt. Two young girls in matching knee-length skirts and white hair ribbons glided by on pink scooters. A man in a kippah, with a baby on his knee, told a curious passerby about what life is like in New Jersey. Two women sitting down to shakshuka encountered a couple old school friends, and said an awkward, happy hello.
Among the lessons of the approaching High Holidays is this: Gates open and gates close, but at a certain point it's time to stop thinking about it and get back to the business of life. Two boys in tzitzit ran by, smiling, prayer books tucked under their arms. The sun stayed out. The streets filled up. In a third cafe, a man made an off-color joke about how the new king, Charles III, might defend his throne.
What was the point? Back in front of that closed Golders Green synagogue, the boy had bounced forward eagerly, his face thoughtful, considering the question. And perhaps that was the only answer, really, that the historic day required.