News
'The synagogue is in the street': On Yom Kippur, Tel Aviv shows another side of itself
Even the secular appreciate the 25 hours of calm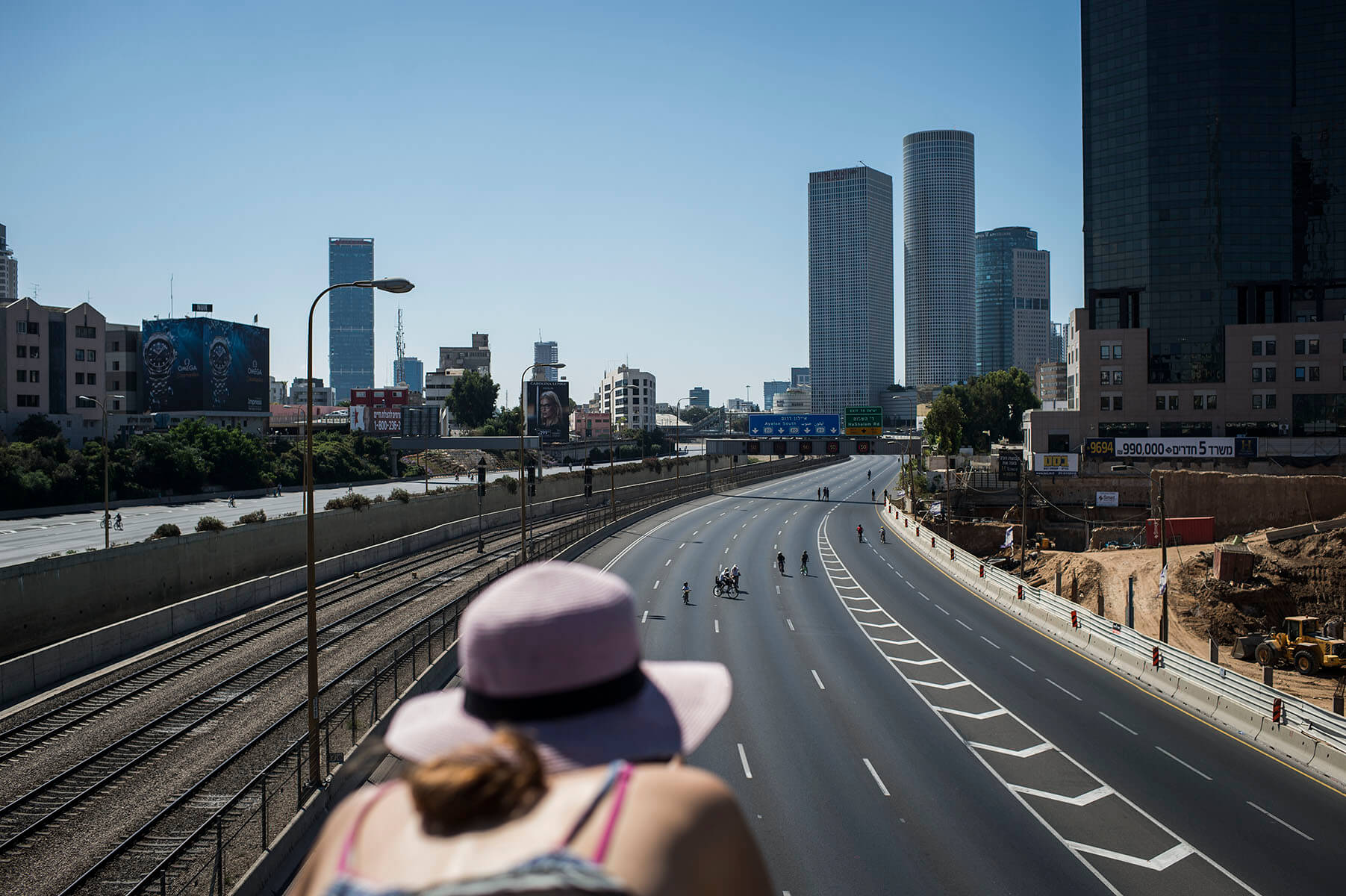 TEL AVIV — Welcome to Israel's loudest and most frenetic city. Traffic. Construction. Nightlife.
And then, on just one day a year — Yom Kippur — quiet.
"The city is like a volcano of noise, and suddenly the volcano is silenced. Even the thieves go to shul. The lifeguards are off," said Rony Sagman, a retiree who lives in the center of town.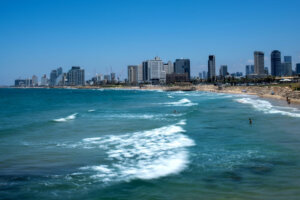 Tel Aviv's vibe on the holiest day of the year fits the occasion, a respite to fast and reflect. What's surprising in this city, which many Israelis consider the country's secular capital, is that Yom Kippur has also endeared itself to the non-observant.
They too look forward to 25 hours when the stores and restaurants are shuttered, and the cars and buses are still. For them it is a day of mellow distractions. On Yom Kippur non observant Tel Avivians take bike rides on the Ayalon Freeway safely, because people refrain from driving.
The night before, as soon as the Kol Nidre prayer and the Ma'ariv service conclude, thousands of congregants head to the promenade to stroll and schmooze with family and friends. They stay for hours amid the throngs who didn't spend the evening in shul.
I first experienced Tel Aviv on Yom Kippur four years ago, thanks to my son Gil, then 21, who convinced me that instead of heading back to our hotel after the Kol Nidre service, we should walk the promenade, and go to Frishman Beach.
We found a bench to schmooze. An older French couple sat next to us. Five 20-something English speakers clustered nearby, deep in conversation. Native Israelis claimed another bench. We chatted in our best clothes, steps from the sand and waves. Not far from us, children and teens in T-shirts and shorts — the offspring of secular Jews — glided down Frishman Street onto the promenade on their bikes and trikes.
I felt a new kinship with Tel Aviv that night, when the city shows another side of itself — a calm but still convivial side that is all the more special for coming only once a year.
Respect
I appreciated the uncommonly tranquil crowds in Tel Aviv on Yom Kippur, but did others notice it, too? As the Day of Atonement approached this year, I decided to find out.
I headed to a tiny synagogue founded about a century ago by immigrants from Skierniewice, Poland, about a mile from Frishman Beach. There I found my focus group. Six people in their 60s, 70s and 80s gathered for a weekly study session on the Bible and Talmud, and to chat and nosh potluck-style.
They welcomed me into their circle, and I, deftly as I could, turned the subject to Yom Kippur in Tel Aviv.
They lit up. "Magical," one said. "Mystical," said another. "Peaceful," said a third.
They, too, saw the respect Yom Kippur seems to evince in the non-observant, who avoid driving and turn the volume low on their televisions and radios — if they turn them on at all.
And that appreciation came not only from the religious but from the secular members of the group.
One, Eden Cohen, teaches theater at a Tel Aviv elementary school, commuting daily from Kibbutz Ma'agan Michael. She defines herself as "not secular, but a secular person who believes." She's bothered by what she said is her kibbutz neighbors' engaging in the "animalistic, hedonistic" activities of grilling meat and swimming in the pool on Yom Kippur. That's why she'll again stay in town at her daughter's apartment on the holiday.
"There's a certain holiness in Tel Aviv," she said.
Before moving back to the kibbutz, Cohen lived in this city for 30 years. She recalled her secular neighbors on Moshe Dayan Street arranging their plastic chairs into a circle and gabbing on Yom Kippur night. It was "a picnic without food," she said. "The idea was: Let's enjoy the night air."
Naftali Fishpan, a retiree living in the Florentine neighborhood, concurred. Walking in the middle of near-empty streets, seeing neighbors socializing outside, "you feel the specialness," he said. "In Tel Aviv, the synagogue is in the street."
Fishpan's own Yom Kippur observances reflect what he admires about his city on that day. He said he fasts "not because of the religious aspect, but because this is what Jews around the world do, and I want to feel connected to them."
His friend Sagman said he's likely to spend Yom Kippur sunning with friends at Banana Beach, about a half-mile south of Frishman. They bring cake and coffee, but partake "modestly, because of the holiday — not in front of other people," he explained. Most striking at the beach on that day, he's noticed, is that air pollution dissipates in the absence of vehicular traffic, allowing him to gaze further into the horizon.
The rest of Yom Kippur, Sagman said, he walks around town to make the most of the tranquility and the opportunity to bump into friends and acquaintances he likely wouldn't find on the streets on other days.
Therein lies an opportunity for Tel Aviv to create an oasis year-round, observed the lone American in the study group, Michael Alkow, a retired architect living in the city center.
Alkow, who regularly attends synagogue services, would like to see the seaside promenade extended over the parallel road, Herbert Samuel Street, to create a wider beach and buffer from the hubbub. Athens and Florence feature large, pedestrian-only zones, he said — why not Tel Aviv?
"It's the whole idea of making a city a more enjoyable place to live," he said. "It's something to think about on Yom Kippur. We'll leave that to future generations."
Some days after I queried the study group, I thought I'd get a particularly authoritative viewpoint viewpoint for my admittedly unscientific survey on Yom Kippur in Tel Aviv.
I called Yisrael Meir Lau, the country's former chief rabbi and a Tel Aviv resident for more than six decades.
The sentiment "doesn't surprise me," he said. Tel Avivians' respect for Yom Kippur is "deep in our roots."