First Person

Sukkot brought hope and warm weather to Kyiv. Then a missile struck blocks from my apartment

"Since the beginning of the war, I had never thought my life was in danger. Monday was the first time that I realized it could have been the end for me."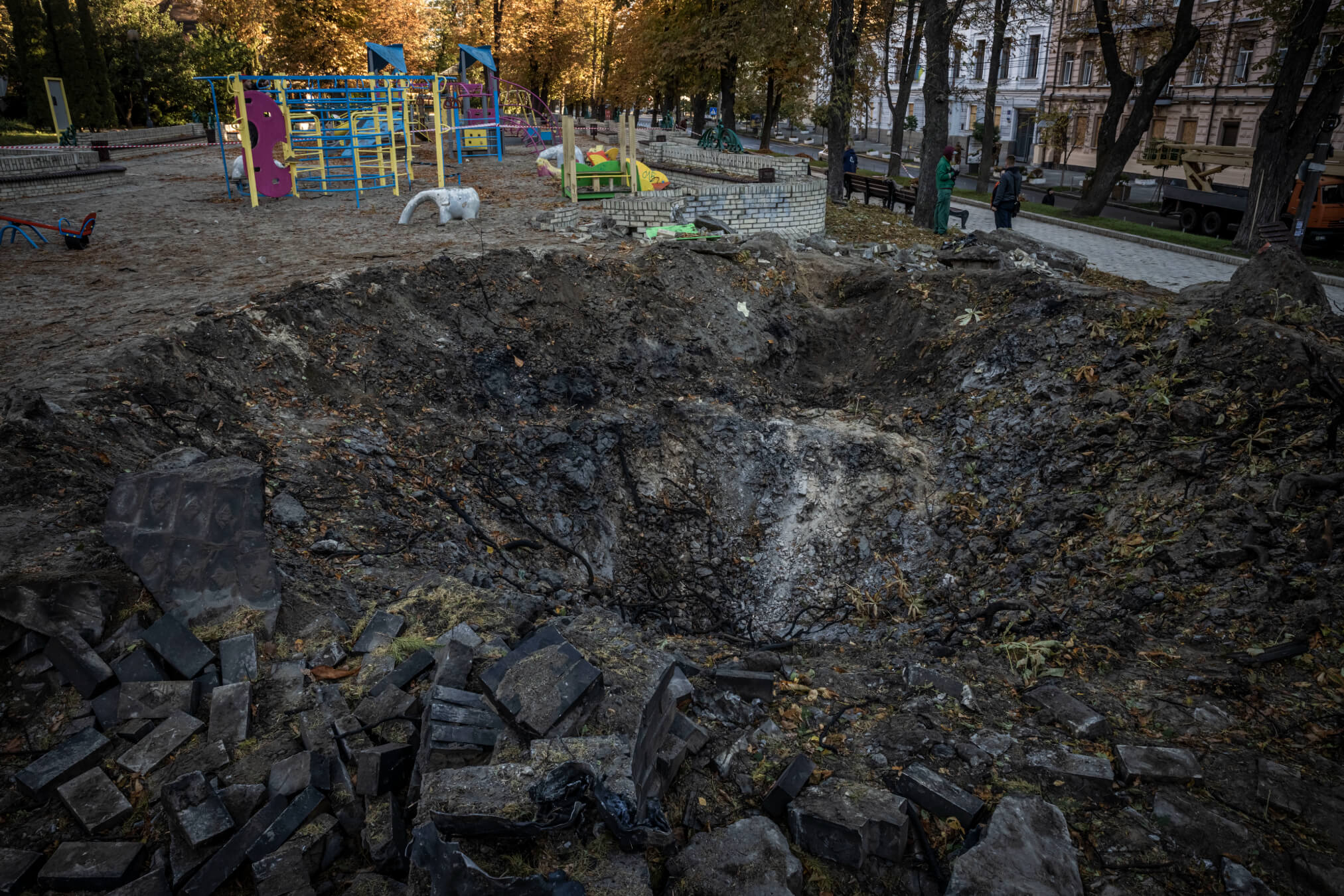 Helen Chervitz, a Ukrainian-born Jewish American who moved back to Ukraine about a decade ago, began filing dispatches to the Forward after the Russian invasion in February. She has lived through shortages and documented the Jewish community's response to the invasion from her native city, Kyiv. This week, for the first time, violence came to her neighborhood.
I live right in the center of Kyiv, around the corner from Kreschatyk Street, the city's main thoroughfare. Though the war is never far from my mind, it has seemed far away from my body since it began. Kyiv has felt lively and safe.
But Monday morning, shortly after 8 a.m. Kyiv time, I was doing my morning exercises on my fifth-floor balcony, facing one of the city's main streets, when our neighborhood was rocked by a thunder-like blast. I thought my eardrums had ruptured.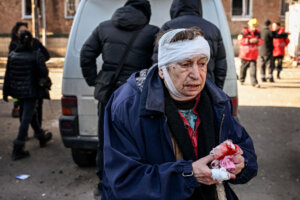 A neighbor from an apartment below opened her window, a look of panic on her face, and asked me if I knew what had happened. I told her that it might have been a missile, but I didn't quite believe it myself. Then I saw a cloud of smoke rising, from about two blocks away.
I asked my husband if he had heard anything on the news. "Not yet," he said, "but I have no doubts about what has just happened." I was still in disbelief. It didn't compute. We were in the first days of Sukkot, a festive holiday made all the more pleasant for the warm days it seemed to have brought after a cold and rainy September. The holiday held the promise of safety. I was not the only one who had sensed the hope and peace.
Since the beginning of the war, I had never thought my life was in danger. Monday was the first time that I realized it could have been the end for me, as it was for those who had happened to be close to the strike,  just a couple hundreds yards away.
People were terrified, and rushing to bomb shelters. Stores stayed shuttered. Traffic came to a standstill. We worried about another strike. Putin, we know, lashes out unpredictably.
My friend works at the Khanenko Museum, halfway between my apartment and the place where the missile landed. The museum holds the biggest and most valuable collections of European, Asian, and ancient art in Ukraine. She told me afterward that the force of the blast caused a chandelier to fall. It ripped several paintings off the walls, which are now cracked.
The missile fell close to a playground, but thanks to the early hour, no children were playing there at the time.
Texts flew between Kyivites and their friends and relatives as they tried to make sure no one they knew had been killed or injured. My husband and I received more messages than we can count, including from our American friends who woke up to the news that Kyiv's center city had been hit.
Here is one from a dear friend who lives in Chicago, who wanted me to know how angry she was about the violence. She told me to hang on. And she asked: "Ever think of moving back to the USA?"
She said she knew I wouldn't. But my husband and I are American citizens. She knows we could leave at any time and resume our comfortable American lives, in the same country as our grown daughter, a baby when we immigrated from Ukraine to escape antisemitism.
"I almost know your answer, but there is a limit to everything," she wrote, adding, "During the season of Jewish Holidays, we are praying for you!"
Some friends, knowing that my husband and I were so close to the strike, thought it better not to contact us directly. Maybe we needed to be fleeing to safety, they reasoned, instead of taking the time to reassure them that we were alive. So they checked our social media accounts instead.
I don't want to focus too much on what happened in my neighborhood, because there have been similar attacks against civilians in Kyiv and elsewhere in Ukraine in recent days. Nineteen people died in Russian airstrikes on Monday, according to Ukraine emergency services.
I am still left with a sense of disbelief. I saw the smoke for myself. But how can a missile launched from 2,000 miles away fall 200 yards from my apartment? I can't help thinking of Israel today. Its enemies want to deny it the right to exist as an independent state like Russia wants to deprive Ukraine of its independence, at the cost of thousands of lives, both soldiers and civilians, women and children included. My Sukkot prayer this year is for peace.