News
Israeli president visits DC six days before critical Israeli election
President Isaac Herzog was invited by congressional leaders to speak at a joint session of Congress next year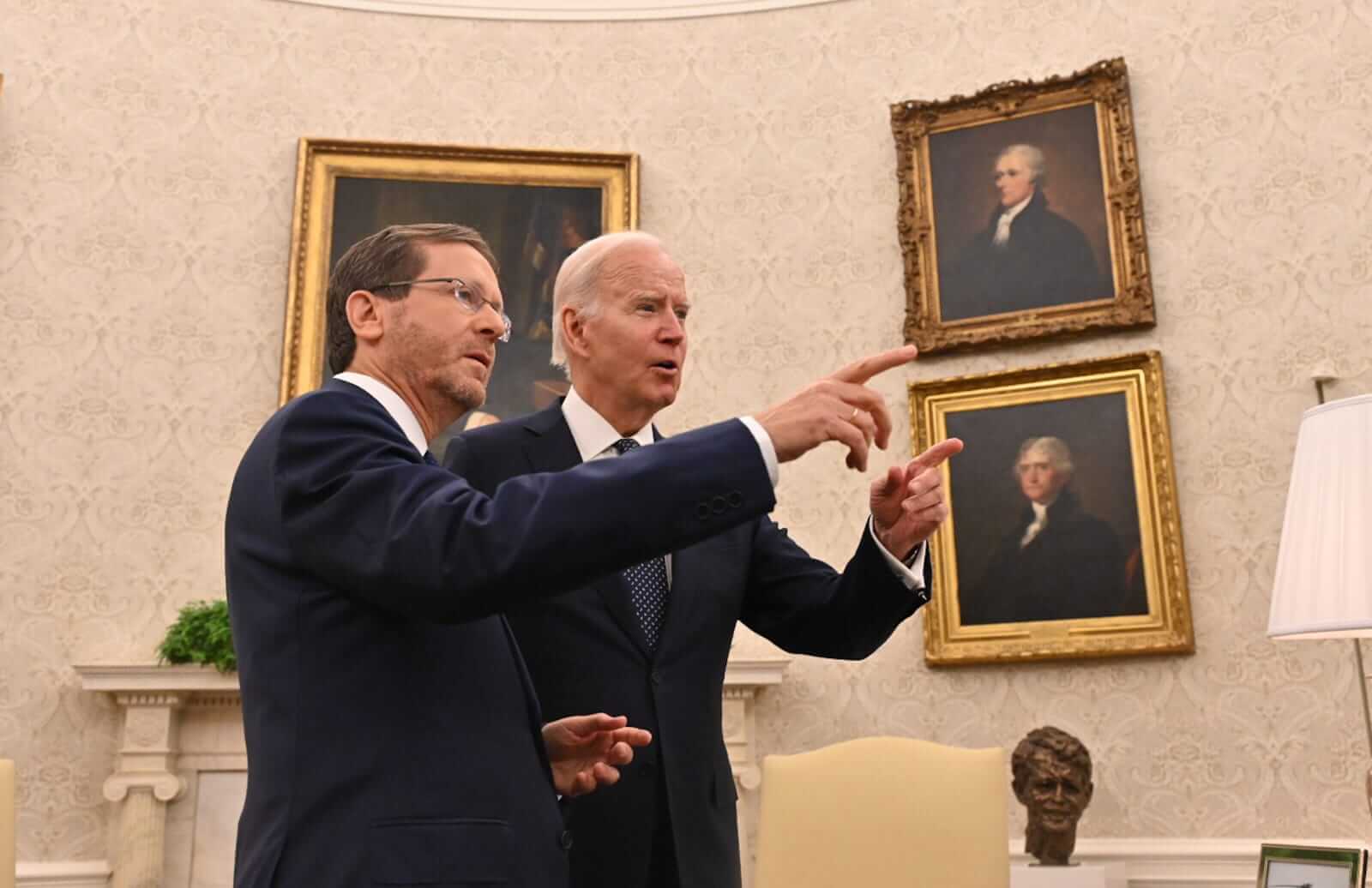 When President Joe Biden welcomed Israeli President Isaac Herzog to the Oval Office on Wednesday, former Prime Minister Benjamin Netanyahu was more than an ocean away — but his presence in Washington loomed. 
Herzog's first private audience with Biden came just six days before Israelis head to the polls for the fifth time in three years, an opportunity for the right-wing Netanyahu to return to power and recalibrate Israel's relationship with the U.S. and American Jews.  
More worrisome to many is the possibility that a slim-majority right-wing Israeli government, led by Netanyahu, would include the far-right nationalist Itamar Ben-Gvir as a key partner. Several members of Congress and liberal Zionist groups have warned Netanyahu that a government with the extreme right would complicate relations with the Democratic Party. 
The concern was evident in an invitation given on Tuesday to Herzog — the former leader of the Labour Party, who is widely seen as a moderate and peacemaker —  to deliver a speech to a joint session of Congress ahead of the 75th anniversary of the founding of the modern Israeli state next year. It came from House Speaker Nancy Pelosi and Majority Leader Chuck Schumer — but they told Herzog it also came from GOP House Minority Leader Kevin McCarthy and Senate Minority Leader Mitch McConnell, one or both of whom may be majority leaders at the time of the speech.
In 2015, Netanyahu used a similar invitation to rail against President Barack Obama and the Iran nuclear deal, despite warnings about how it could damage Israeli-U.S. relations. Pelosi and Schumer hope to avoid a repeat performance.
Herzog, who entered office in a largely ceremonial role last July, will be tasked next week to resolve what is likely to be political deadlock after the vote by choosing the politician most likely to form a stable government. As much as Herzog has pitched himself as a consensus builder, he doesn't have the authority to stop Netanyahu from forming a government if the former prime minister wins an outright majority. Neither can Herzog force anyone to join an alliance. 
Israeli elections didn't come up in the meeting with Biden, but did in the Israeli president's meetings this week with leaders of 40 diverse Jewish groups and on Capitol Hill, according to several people who were part of these conversations. They said Herzog declined to discuss possible electoral outcomes before ballots were cast and the final results announced. 
Herzog, at the start of the 90-minute White House meeting, said the timing of the visit, so close to Israel's election, was coincidental, and that Biden had invited him when he visited Israel in July.
The bond between the nations, Herzog said, "transcends all political differences and opinions and parties."
If Herzog used the visit to the U.S. to bolster his standing as a stabilizing force in Israeli politics, he also sought to present himself as an honest broker between Israeli and American Jews. 
In his Tuesday meeting with Jewish leaders of all denominations and political parties, Herzog shared his commitment to religious pluralism and gender equity and to Israel's democracy, according to several attendees. He pointed to the participation of an Israeli Arab Party — the United Arab List — as a source of pride for Israel. And he touted the Abraham Accords between Israel and Arab nations, which has strengthened tenuous ties between Israel and several Arab countries.
For Biden, the meeting Herzog gave him another opportunity to reiterate his commitment to Israel in the wake of its recent maritime agreement with Lebanon — a deal mediated by the U.S. and strongly denounced by conservative Israeli politicians — and less than two weeks ahead of the American midterm elections. 
"I have said this 5,000 times in my career, the ironclad commitment the United States has to Israel based on our principles, our ideals, our values," Biden said in a statement to the media ahead of his meeting with Herzog. 
Speaking with reporters outside the White House afterwards, Herzog said he and Biden also discussed the increase of antisemitism in the U.S. "The president was clear, crystal clear on fighting antisemitism with all tools possible," Herzog said later in an  interview with CNN's Wolf Blitzer.