Sports
Meet Team Israel's one non-Jewish player
Alex Dickerson is eligible for Israel's World Baseball Classic squad because his wife is Jewish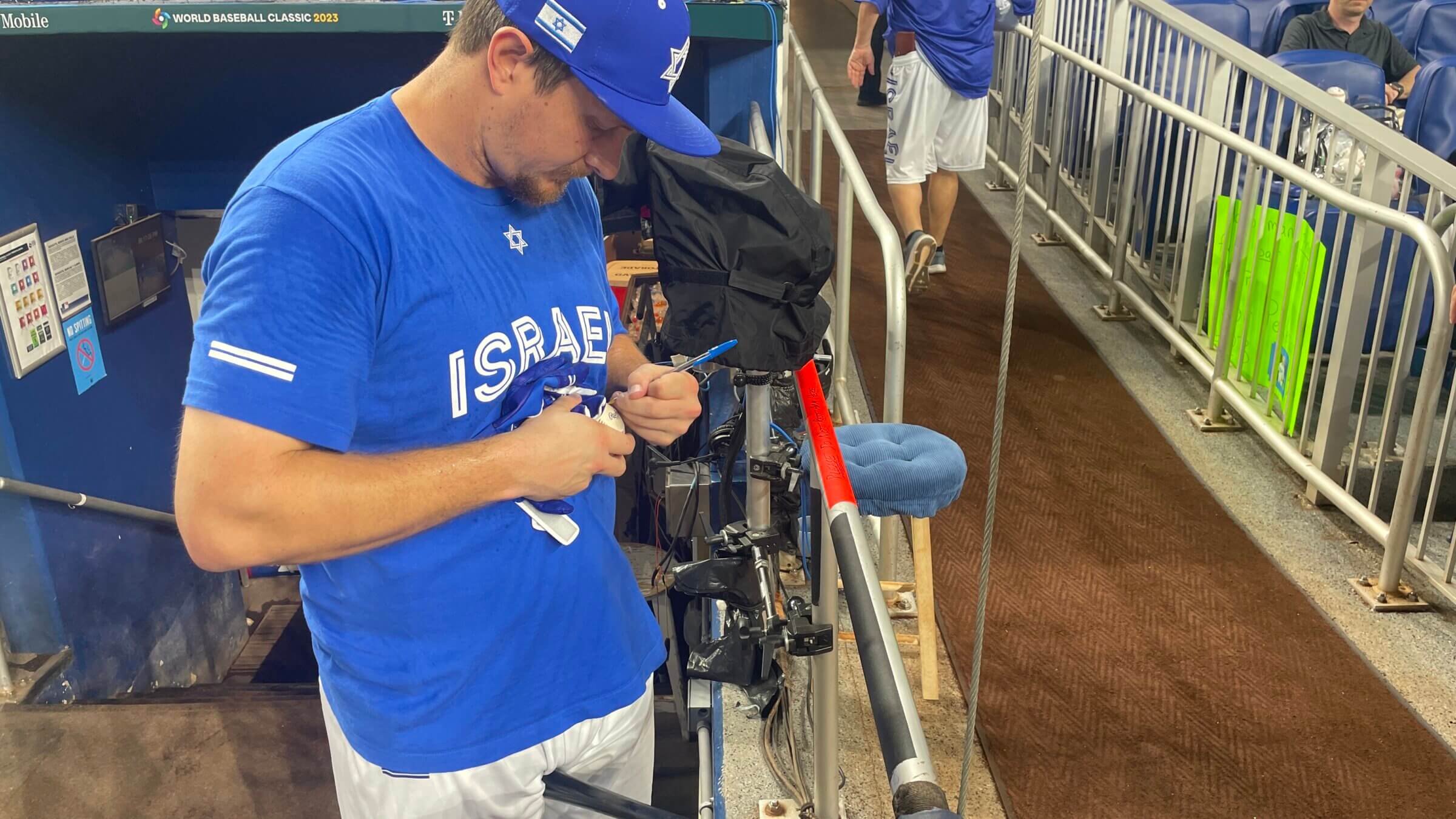 For all but one of the athletes playing for Israel at the World Baseball Classic, the star of David on their uniform is an extension of their identity — ethnic, religious or national. 
To outfielder Alex Dickerson, the team's only non-Jewish player, he needed his teammates' permission to wear it. But it was never a question of wanting to.
"I'm proud to wear it, to be honest," Dickerson, 32, said.
Tournament rules allow anyone eligible for citizenship in a country to play for its national team, which is why most of Israel's players are American Jews. Dickerson grew up in a secular Christian household, but his wife is an Ashkenazi Jew, and they're raising their kids Jewish.
For Dickerson, a free agent whose MLB debut came in 2015, playing for Israel in the Classic allows him to not only showcase his talent, but also represent the values he hopes to embody.
From the first time he met his wife's family, he says, he was attracted to their emphasis on family. When playing alongside Jewish teammates like Cody Decker, he had always appreciated their optimism.
"Not a lot of mopers in that group," he said.
Jennifer Dickerson (nee Hoy) isn't just the reason her husband could play — she's also who figured out he could. After she told him about the opportunity, Dickerson reached out to Decker. He had a text from Team Israel manager Ian Kinsler less than 30 minutes later.
The World Baseball Classic is an important tryout for the left-handed journeyman. He's played for three different teams since breaking into the major leagues in 2015, and has hit well at pretty much every stop. He's one of only two players in MLB history to hit three homers and two doubles in a game.
But the hulking 6-foot-2 slugger has been beset by injury across six big league seasons, and missed all of the 2016 and 2017 seasons — first with back surgery, then Tommy John surgery.
Dickerson says he feels healthier now than he has in the last two years, and he's showing it, with two hits in the first game and a running catch in deep right field during the second.
"I'm fighting to show people I'm still around and I can still play," he said.
The couple has two sons — Levi, 2, and 9-month-old Wells — and Dickerson said that when they're old enough, the family will go to temple, and maybe they'll celebrate Christmas, too.
It's not lost on him that many of his Israel teammates as well as their manager had one Jewish parent — just like his children do. To Dickerson, mixed heritage is something to be cherished.
"We all need to speak and be open to different things," he said. "I'm proud to say that I wasn't raised Jewish, but I can accept their fantastic values and be able to be accepted into a group like this. They've welcomed me with open arms."