News
Israel's judicial overhaul is facing a new test — but for protesters, the fight is about much more than the courts
LGBTQ+ protesters, women and other minority groups worry their rights are under attack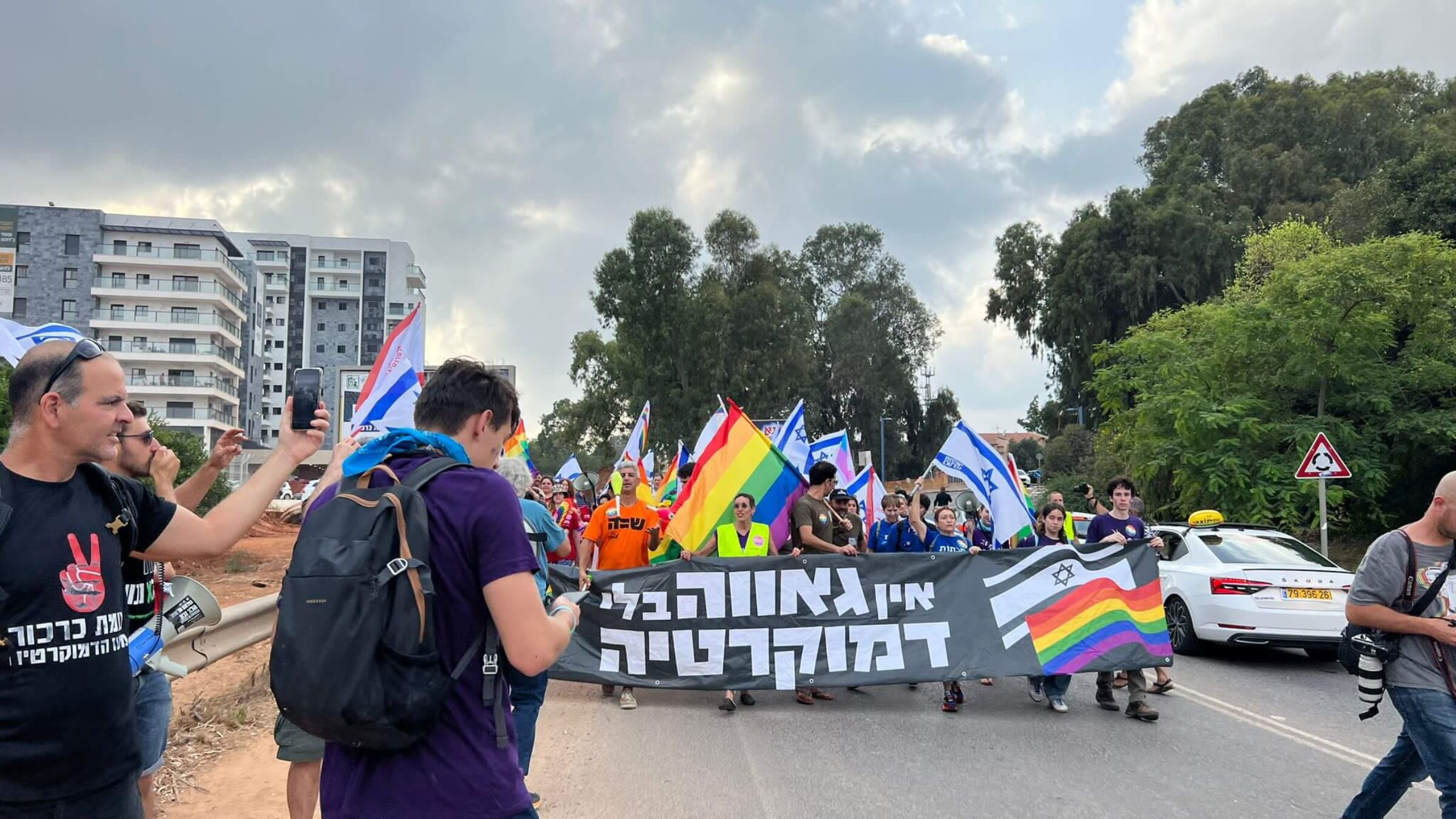 TEL AVIV — Pictures of the protests that have swept Israel since January show seas of blue and white Israeli flags filling the streets of Tel Aviv — a representation of a deep belief in the promise of Israeli democracy.
But on the ground, the flags are a lot more colorful. There's dots of pink, representing women's rights; there are rainbow flags, to represent LGBTQ+ concerns; and Palestinian flags, to protest Israel's occupation of the West Bank and Gaza.
The demonstrations, which are entering their 37th consecutive week, have been focused on the current conservative coalition's plan to overhaul the courts. But the panoply of banners reveal a deeper set of concerns preoccupying the protesters: Many of those marching are worried they will lose not just the country they know and love, but also their own way of life.
Israel's Supreme Court will hear arguments starting Tuesday debating a law the Knesset passed in July, limiting the court's oversight of Knesset laws — yes, like the one they'll be ruling on. Protesters say the law is the first step in a slide away from democracy, and toward an authoritarian and theocratic government. Supporters see the courts as bastions of elitism, disconnected from the will of the people.
This divide is evident on the streets. The protests are biggest in Tel Aviv, an affluent and secular metropolis known for its thriving tech industry and its LGBTQ+ pride parade. There, the protests feel like the weekend's must-do event: The atmosphere is almost like that of a concert, with celebrity performances from Eurovision stars such as Netta Berzilai, as well as stages, screens and vendors. Elsewhere, in remote towns, the protests are smaller, and often meet with jeers from passersby.
In the U.S., stories about the protests focus on the political machinations of the conservative, religious coalition led by Benjamin Netanyahu. On the streets, however, the protests are about everyday life. They are filled with people protesting for their own identities — as queer people, as activists, as academics and doctors and soldiers whose work relies on secular democracy — as they fight for the country's.
Who has freedom — and who doesn't?
For gay Israelis, the new limitations on the courts threaten to stymie their life plans. Though Israel's tourism industry relies heavily on advertising Tel Aviv's gay-friendly beaches and nightlife, many see the courts as the only body protecting their right to live freely.
"They want to bring the biblical law," said Natan Roufe, a blue-haired protester with glittery nail polish who was carrying a rainbow flag at a protest in Tel Aviv. "You can't tell me how to be Jewish, or what kind of Jewish to be."
Roufe explained that Israel's judiciary had been pivotal in helping enshrine LGBTQ+ rights, including through a landmark ruling in 2008 that allowed same-sex couples to adopt.
With the courts' power curtailed, he said, he is certain that gay rights will slowly be stripped away by an increasingly religious government. (Until 1988, same-sex sexual activity was prohibited by law, although a previous court decision, from 1963, prevented that law from being enforced.) "I used to be illegal," Roufe said.
It's not just LGBTQ+ rights that are under threat. Recently, drivers and passengers attempted to segregate a public bus route by gender, forcing women to ride in the back of the bus; a driver also told teen girls to dress more modestly if they wanted to board. In August, female soldiers at an Israeli army base were reportedly forbidden to sing because of religious male soldiers, who believed they should not hear women's voices. 
Instances like these, which have been taken as a suggestion of the challenges women might face under a more theocratic government, have spurred their own set of protests outside of bus stops, as well as the pink-shirted women's rights contingents in the larger demonstrations. Participants in those protests fear that, without the court's oversight, the current government coalition will continue to impose religious laws that limit women's freedoms in Israeli society.
"The reason you see all these minority groups," said one protester standing with a group carrying LGBTQ+ flags, who did not want to be identified in order to protect his career, "is because throughout history, any time the government takes away the mechanisms to limit it, usually minorities are the first people to get hurt."
Israel's place in the world
From the outside, Israel's protests appear to be one, enormous movement. But they actually consist of dozens of different blocs: soldiers, doctors, anti-occupation protesters, LGBTQ+ Israelis, tech workers, regional groups.
And while some groups feel personally threatened by the government's plans for the country, it can be more difficult to understand why, say, a group like high-tech workers or academics might have a vested interest in the protests. But the government's perceived move away from democracy also carries practical implications for industries such as science, medicine and technology. 
Israel's status as a progressive, liberal democracy is part of what enables it to participate in the Western world, developing allies and strong economic ties with Europe and the U.S. But there are already growing concerns and fractured relationships over Israel's treatment of Palestinians, including the Boycott, Divestment Sanctions movement, which some U.S. politicians have endorsed.
Protesters from Israel's top universities and industries worry that if the country doesn't maintain its democracy and demonstrate its support for human rights, its allies will withdraw the support that has enabled the country to become a "Start-up Nation" and flourish in technology, science and business.
Daniel Hanoch Wagner, a professor of chemistry at the Weizmann Institute, one of Israel's premier scientific institutions, said he's been to about 90% of Tel Aviv's marches, and regularly protests in the intersection outside the Weizmann gates.
He explained that he, like many other academics, believes that the general attitude of the country is becoming increasingly closed-minded. At a meeting over whether to resist the judicial overhaul, Wagner said that over 80% of the Weizmann faculty were in favor of taking action.
"If there's no freedom of research, if there's no liberal attitudes toward research, then there is no research," he said. 
Wagner drew a parallel to Poland, which he described as having been scientifically weak 20 years ago, before it joined the European Union. Once it did, he said, the country received funding across a range of industries, and became "rich scientifically." But after Poland's 2019 judicial reform, which has continued over the past four years, European funders began threatening to withdraw money.
"If they succeed in passing laws that are going to be anti-liberal, anti-democratic — in the occupied territories for example — Europe, who is the major partner for us, is going to stop financing research here," Wagner said. "And that means death to the research here. That's millions and millions of dollars."
What does it mean to be Jewish in a Jewish state?
Over and over, protesters brought up the topic of religion. They value Israel's Jewish identity, but reject what they see as the government's attempt to enshrine Judaism into law.
There are even two ways of identifying as Jewish in Hebrew. One bartender I was chatting with, whose grandparents fought in the Palmach, an underground Jewish army that fought for Israeli independence, drew a careful line between protecting the state's ethnic Jewish identity — "yehudia" — while separating out its religious Jewishness, "yehudi."
It's a complicated issue for Israel, which defines itself as both a liberal democracy and a Jewish state, and maintains a sometimes tense balance between religious identity and civil society.
Israel has long had a tenuous relationship with Judaism's role in state matters. "There was a level that was tacitly accepted," Wagner said of religious law in Israel. "Like no buses on Shabbat." 
Although Israel has some religious laws, including a requirement that all weddings conducted in the country be conducted through an approved religious authority, there are often loopholes that allow for a balance between religious law and secular life. Van-taxis run the bus routes in secular cities on Shabbat, and the government will recognize marriages performed abroad, including for interfaith and gay couples. 
But protesters see religious laws as increasingly encroaching on secular life. With a more conservative government in power, such rules are popping up in more venues. "Why stop there?" Wagner said, using the buses as an example. "Why not block driving?"
"It's difficult for me to imagine that Jews, who have gone through so much over the centuries," Wagner said, "can become so fanatic and in a way so primitive, or so aggressive, in terms of intolerance."
Controversy within Israel's protest movement
Although rainbow, pink and Palestinian flags fly throughout Tel Aviv's protests, not everyone is welcoming of them. Protest organizers believe that, for the movement to succeed, it needs to be as broad as possible, involving the majority of the population. They worry that too much focus on progressive issues could drive away more conservative Israelis who still disagree with Netanyahu's coalition.
And, of course, the Palestinian flags waved by anti-occupation protesters could deter many Israelis who might oppose the judicial overhaul, but also have right-leaning views about state security.
"The protest leaders aren't going to talk about the occupation in their own speeches," said an anti-occupation protester, who was beating a drum at an August protest in Tel Aviv's Democracy Square. The 26-year-old requested to remain anonymous to prevent his political activism from having professional repercussions for his career in the high-tech sector.
He knew not everyone wanted to talk about the plight of the Palestinians. "I don't necessarily respect it, but I understand the reluctance," he said. 
Still, the 26-year-old said that he believes that even if the anti-occupation movement remains a fringe and divisive part of the protests, it's having an important impact. Previously, many people could avoid discussing the plight of the Palestinians, or Israel's violence in the occupied territories; those who opposed the occupation were fringe elements of society. But he thinks it's essential to expose the country to discourse about Israel's occupation of the West Bank to slowly shift public opinion, and make the topic less taboo. The protests, he said, are helping.
"The population is starting to get more used to seeing the movement against the occupation, and Palestinian flags," he said. "I think it's important that people see it and get exposed to it."
"My opinion, and that of many people, is if you have this state of occupation over a different population of people, it's bound to corrupt the population and the people who enforce it," he explained, drawing a connection between the protesters concerned about LGBTQ+ and women's rights and the anti-occupation bloc. "If you turn a blind eye to that you start to turn a blind eye to human rights."
"I personally believe it's probably the most pressing issue," he said.
Hope through shame
"These are the best people in the country," an older man in a kippah told me of the protesters at a demonstration in Jerusalem. 
A pair of teenage boys who organize youth protesters said the same thing, word for word, as we discussed the protests in a cafe in their hometown.
And a veteran of Israel's 1973 Yom Kippur War expressed the same sentiment as we climbed a mountain to a protest outside of the hotel where Benjamin Netanyahu was on vacation.
Their words carry both enormous optimism for the promise of Israel's future, and deep worry about its current direction. After all, if the country's best people are on the streets, day after day week after week, protesting — and threatening to emigrate, as many doctors and tech workers are — something must be going wrong.
Exactly how to fix it is, for now, in the hands of the very courts where it all started. But it's not only a fight about the courts — it's a fight for Israel's identity.