News
'It's dire times on steroids': She spent months organizing protests against Netanyahu. Now her activism has morphed.
'It will be very hard to dispute the fact that the work we've been doing wasn't to weaken or dismantle the state of Israel, but out of a real commitment to the country we love,' said Esther Sperber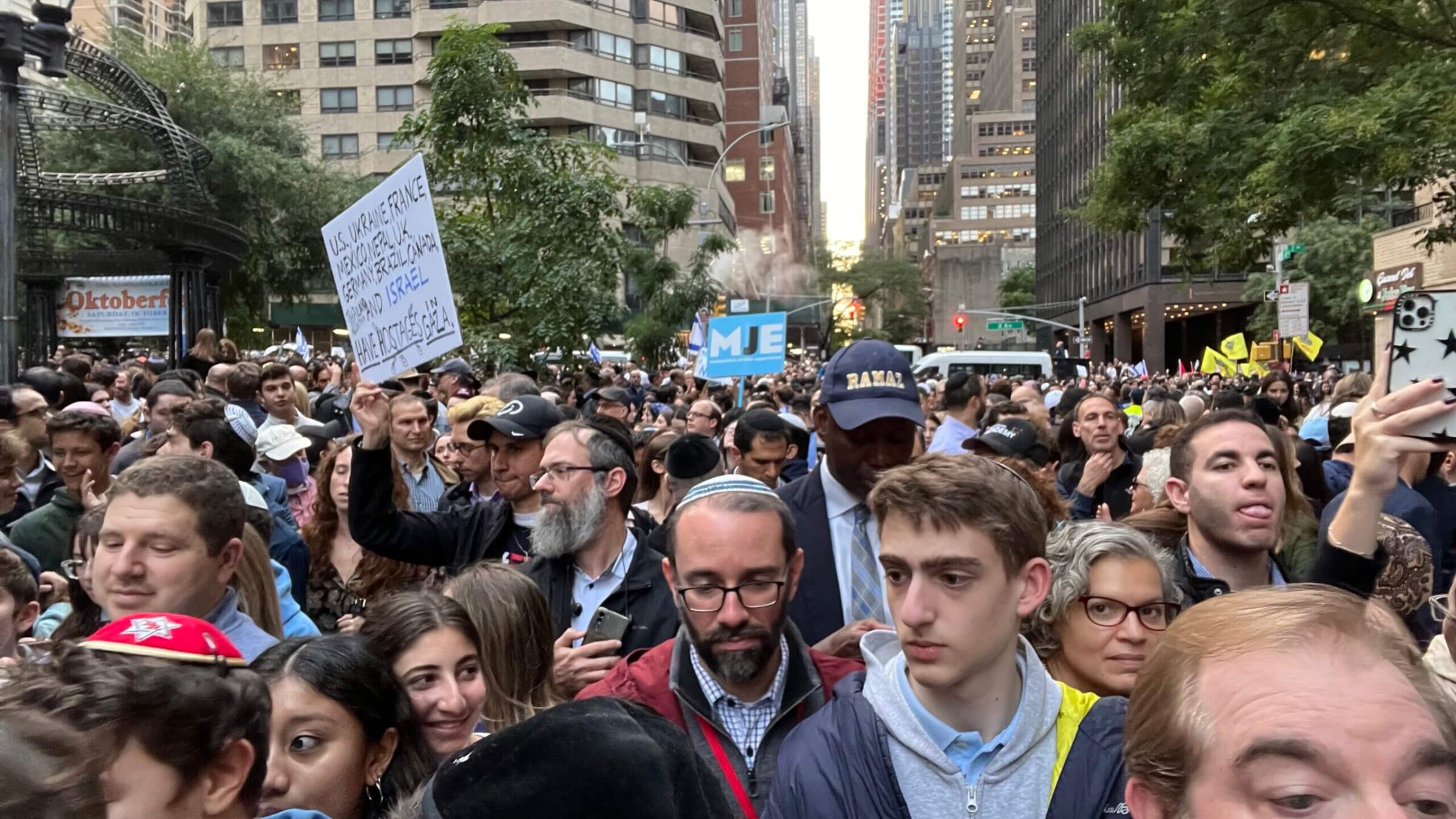 In Dag Hammarskjöld Plaza, in Midtown Manhattan, through the sea of pro-Israel supporters squeezing elbow to elbow, Esther Sperber stood still, eyes pink and glossy from days of crying. Sperber, an Israeli-American mother of two, leads a Manhattan-based architecture firm whose expertise includes designing Jewish community centers and synagogues. But over the past few months, half of her time has gone towards organizing protest events in the U.S. against Israel's judicial overhaul. 
In the wake of Hamas' surprise Saturday attack, however, Sperber is channeling her support for Israel into bringing people together for a different kind of protest movement. "It really isn't a pivot in many ways," Sperber told me in a phone call following Tuesday night's vigil and solidarity rally organized by the UJA-Federation of New York and the Jewish Community Relations Council. "I think we all felt that fighting and protesting for a democratic Israel was part of our way of fighting for Israel." She added: "We all felt it was dire times a few weeks ago and now it's dire times on steroids."
Sperber, 52, grew up in Jerusalem. Seven of her nine siblings still live in Israel, and her oldest daughter, who is 18-years-old, is currently living in Jerusalem where she is spending her gap year before heading to university. Just last week, Sperber celebrated Sukkot with her family in the Holy Land, before arriving back to New York Friday morning the day before the war broke out. Recounting her trip to me, she took a long pause thinking back to a week ago. "It's completely mind-boggling because just last Wednesday we were swimming in the Dead Sea. We were having such a nice time."
After completing her national service and moving to New York City in 1997 for her graduate education, Sperber met her husband, Bruce, who was standing by her side at Tuesday's solidarity rally. Well after speeches by New York City Mayor Eric Adams and New York Gov. Kathy Hochul, a speaker got on the stage to announce, "Now, we will destroy them." Esther shook her head and turned to Bruce, letting out a deep sigh of frustration. She thought the theme should be mourning, not vengeance. 
Cutting through the dense crowd – which included little children clutching onto Israeli flags, elderly in wheelchairs holding banners reading "New York Stands with Israel" and tables where long lines of men waited to wrap tefillin – Sperber explained the cognitive dissonance happening between many American Jews and the Israelis who are shoveling dirt on graves. 
"Everyone in the Jewish community is hurting and is looking to be involved right now," she said. "And I think there is a certain additional intensity that the Israelis here are feeling. It's not just the news; it's people that you know." 
The ability of the American Jewish community to see Israel from the outside is one of the reasons Sperber originally decided to organize the protests against Israeli Prime Minister Benjamin Netanyahu's controversial plan to limit the power of his country's judiciary. Working with U.S.-based grassroots movements like UnXeptable and USA For Israeli Democracy, she organized speakers for the pro-democracy protests — the most recent of which happened in the very same plaza we were standing in, right before Yom Kippur when Netanyahu visited the United Nations.
As the speeches continued on the stage, supporters waved flags and sang the upbeat tunes of prayers like Oseh Shalom. As the front screen in the plaza played a video montage of IDF soldiers in combat gear, Sperber thought it felt far from the reality: Many of these soldiers aren't going to come home.
"I really try to serve as a bridge between the gap, telling the Americans what the Israelis need to hear and telling the Israelis what the Americans need to hear." 
Sperber spent the past few months trying to reclaim what she describes as a moderate religious Zionism that "isn't Smotrich or Ben-Gvir," referring to two right-wing ministers in the Knesset. "As time goes on, it will be very hard to dispute the fact that the work we've been doing wasn't to weaken or dismantle the State of Israel, but out of a real commitment to the country we love." 
Pro-democracy advocates like Sperber continue to show their support and love for Israel in its most desperate hour. After showing up at UJA's solidarity rally, she's already working on setting the date for her next event.
"It will be some kind of get-together to process and cry."