How are you supposed to feel when you visit a concentration camp?
When visiting a site like Auschwitz, it is impossible to not imagine yourself in both the prisoners' and the prison guards' shoes.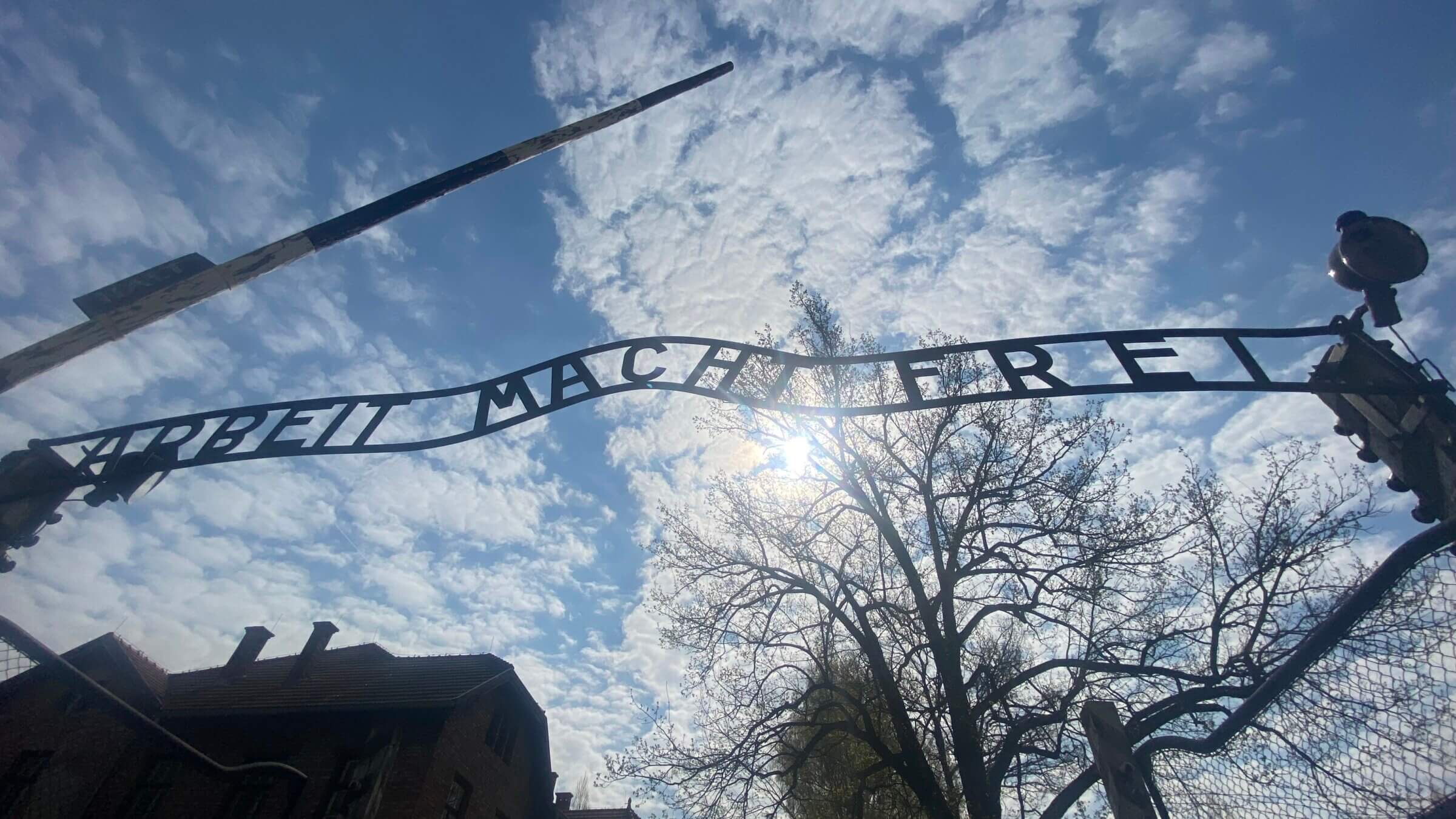 It is surprisingly easy to forget that you are at Auschwitz.
The day after this year's March of the Living, during which I was one of some 2,500 people who walked the 2 miles from Auschwitz to Birkenau, I returned to the former concentration camp for a guided tour. It was a beautiful spring day: the sun was warm, the grass was green and the scent of spring blossoms was pervasive as we gathered as a group next to the infamous train tracks.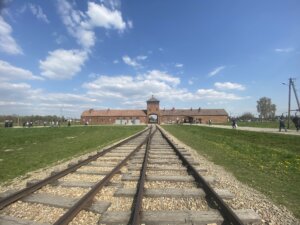 The gravity of the place only hit me when our guide, Dima, began speaking: "First of all, there would have been no grass here during the time the camp was active. It all would have been eaten."
The present and the past constantly vied for my attention. Walking with fellow participants, I might be chatting idly, only to realize I was passing through a tunnel of barbed wire. Our group ate a picnic lunch of chicken cutlet sandwiches within sight of a crematorium and the home of the former commander of Auschwitz, Rudolf Höss.
The human brain can only process so much at a time, for our own good. Yet as I continued to experience this split consciousness while at Nazi concentration camps and extermination sites in Poland, I wondered what our inability to stay focused on the evil imbued within each place meant for Holocaust memory in general, and for how we educate the next generation about the atrocities quickly fading from our collective memory.
For her recent book, "Easy Beauty," Chloé Cooper Jones traveled to Cambodia to visit the killing fields and other grim sites memorializing the dictator Pol Pot's brutal genocide. At one site, she struck up a conversation with fellow tourists and asked why they felt the need to visit. One responded that he did so out of curiosity. "About yourself?" Cooper Jones asked.
"'No,' he said, grimacing at this strange suggestion. 'This doesn't have anything to do with me. I could never do this to people.'"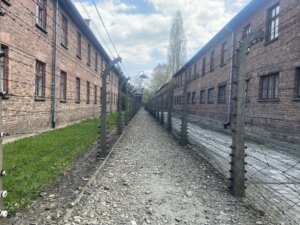 He was wrong: genocide has everything to do with us. Cooper Jones' question belies an understanding that the tourist did not have: that the human curiosity about murder, car accidents and other gruesome incidents is often an expression of latent curiosity about our own agency in those situations.
When you visit a site like Auschwitz, it is impossible to not imagine yourself in both the prisoners' and the prison guards' shoes. As comforting as it may be to imagine Nazis as a breed of sociopathic sadists who delighted in making others suffer, the Holocaust machinery was too vast and too organized to rely on a few bad apples.
What terrifies me, especially after touring Auschwitz and the death camp Treblinka, is how many ordinary people contributed to the murder of 6 million Jews. As much as I want to distance myself from the people who committed these atrocities, I am more convinced than ever that every human being is capable of such evil.
While at Auschwitz, I met two women — a Ukrainian named Olena and her 13-year-old daughter, Viktoriia.
While wandering through the children's barracks, they told me that they had only been in Poland for five days, and planned to soon return to Ukraine. Olena was worried about her husband and 20-year-old son, who were not permitted to leave the country, and did not want to permanently leave until the men were allowed to join them. Others from their family are trapped in the Donbas, the eastern part of Ukraine experiencing the worst of the Russian onslaught.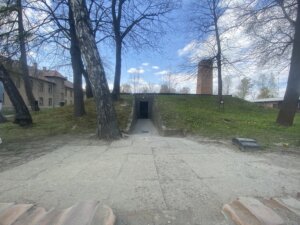 I asked Olena why she chose to come to Auschwitz in the midst of living through a war.
"It's for my daughter," she said. "This is important history, and she needs to see it."
Her simple answer was devastating. In the midst of their own conflict that is destroying their home, Olena and Viktoriia — who are not Jewish — believed that putting in the effort to witness and learn about the Holocaust was worth the time.
The United States, only made possible by a genocide of indigenous peoples, is today plagued by white nationalist violence, much of which is inspired by the very same racist and antisemitic conspiracies the Nazis held dear. And yet, only about 20 Americans joined the March of the Living this year, something many survivors and journalists remarked upon. Does seeing stark reminders of human brutality chafe against our national tendency toward sweeping inconvenient past atrocities under the rug?
The last day I was in Poland, I visited a flea market in Krakow. One of the first stalls I saw was a full display of Nazi paraphernalia.
As I stared at the skulls, lightning bolts and swastika-adorned hunting knives, it felt like I had stumbled upon a crime scene in broad daylight. These were the talismans of evil, the medals and trophies Nazis bestowed upon each other for efficiently slaughtering more Jews. I tried to keep my voice calm as I asked the proprietor about certain items, yet the experience was jarring, particularly when he described in detail the items on the table using the German word for Jew, "Juden," instead of the Polish word,"Żyd."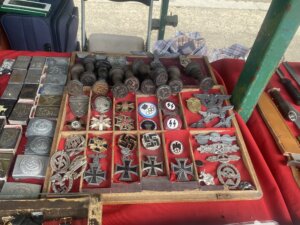 In a strange way, seeing Nazi memorabilia displayed in a sunny, picturesque, cobblestoned square, in a country that has criminalized even mentioning the role their people played in the Holocaust, felt like a fitting metaphor for the challenge we now face: white supremacy is everywhere, but we refuse to look.
A recent study showed that nearly 12% of current state legislators are members of far-right groups on Facebook. Nearly a quarter of Republicans believe in QAnon, an antisemitic conspiracy that claims a group of Satan-worshiping pedophiles control the government, media and financial markets.
Americans may take comfort in having been on the "right side" of history during WWII, but in reality, the U.S. government knew Jews were being exterminated and did nothing to stop it.
Perhaps so few Americans attended the March this year because we do not like to acknowledge our country's past complacency — or see ourselves as players in this ongoing fight between good and evil.
As we reckon with the bloody aftermath of yet another young white man radicalized on the internet, we can't afford to distance ourselves from our own moral equivocations, failures and triumphs. We must uplift the Holocaust survivors and the Righteous Among the Nations who stood up to fascism, and ask ourselves tough questions about what choices we will make today when others are under attack.
If we continue to see Nazis only as a distant, evil "other," we will never truly do the hard work of eradicating white supremacy and antisemitism, making it all the more likely that an atrocity like the Holocaust happens again.
Nora Berman is the Forward's Deputy Opinion Editor. Email: berman@forward.com.