Fast Forward
Amelia Dimoldenberg and Andrew Garfield are the celebrity shidduch we've been waiting for
A viral red-carpet moment fuels clamor for a new Jewish celebrity couple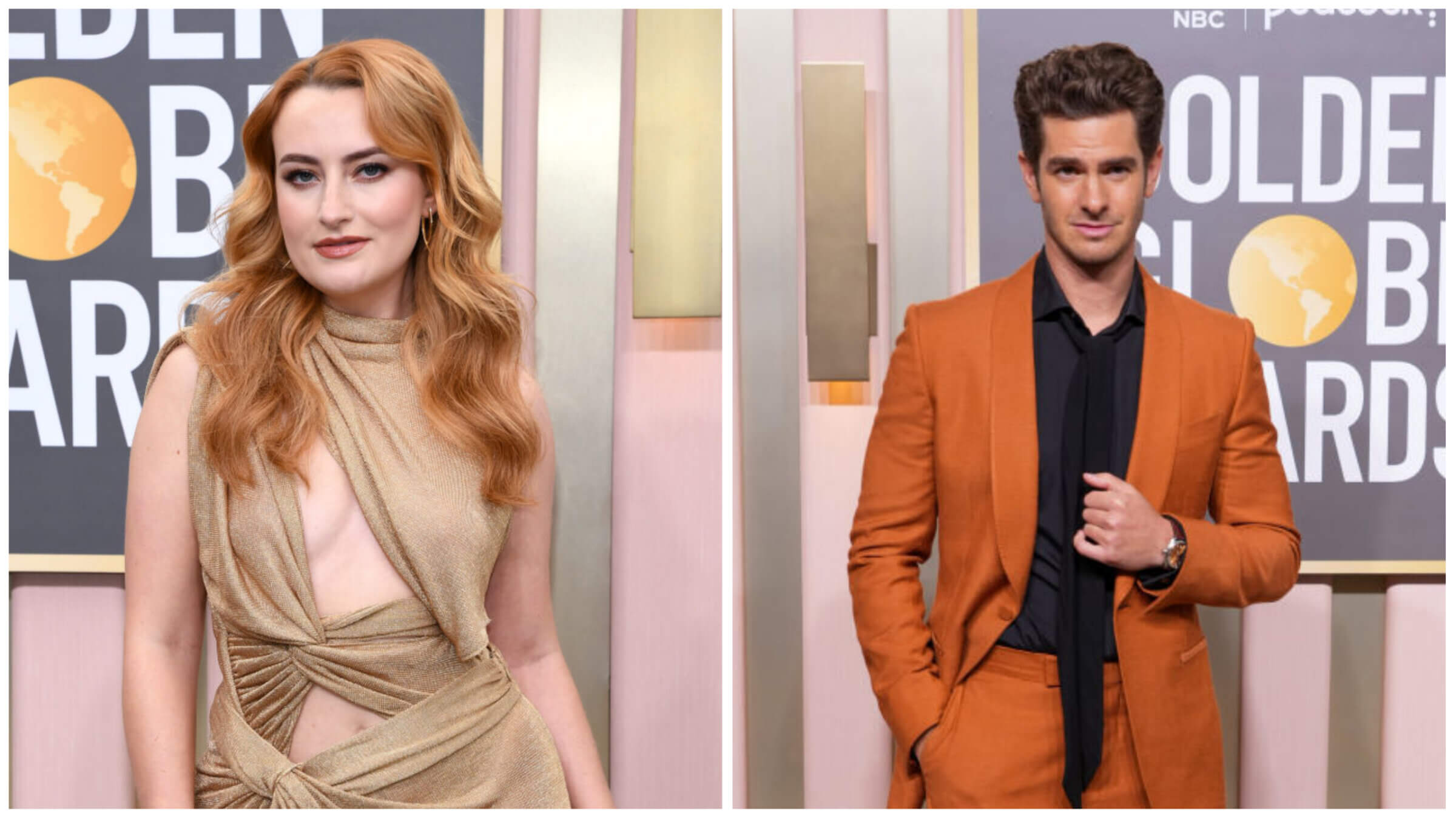 The encounter was unplanned, the chemistry was unmistakable, and the awkwardness so adorable it couldn't be for show — and now fans are calling the mega-viral red-carpet moment between Amelia Dimoldenberg and Andrew Garfield at the Golden Globes "the rom-com of the year."
It's the Jewish celebrity shidduch we've been waiting for.
For those unfamiliar with Dimoldenberg, she's an elite deadpanner who hosts a popular YouTube show, Chicken Shop Date, in which she interviews the stars of U.K. pop culture at London's fried-food shacks.
Garfield, of course, starred in the Spider-Man movies as well as The Social Network.
Before you ask, they're both Jewish: Dimoldenberg's father, Paul Dimoldenberg, is a Labour Party minister in England; Garfield's family name was originally Garfinkel. And, crucially, they're both single!
The two met on camera for the first time last year at the GQ Men of the Year awards, with Dimoldenberg (also on assignment as a red carpet interviewer) telling Garfield that she'd been trying to book him for her show, him saying he wanted to be a guest, and then her saying that he looked hot. "Especially your … armpits," she said, referencing an ad campaign for deodorant (or something). 
Her humor is undeniably weird, but Garfield seemed totally into it. The two of them were cheesing through blushing or blushing through cheesing, for the excruciating duration of the 30-second chat.
The Golden Globes producers must have been trying to effect a shidduch, because they brought Dimoldenberg all the way to Los Angeles to reprise her role at their awards, which they clearly knew Garfield would be attending.
This time they had even more trouble getting through a normal conversation.
Trying to play it cool, Garfield first accused Dimoldenberg of hiding from him "like a capybara in the wild." Which she denied.
She ventures, "We must stop meeting like this!" 
Then he says, "I only ever want to see you —" before his voice catches. Dimoldenberg gasps: "What?!" They then talked about their astrological signs (extremely romantic behavior), Amelia inviting him to her birthday party (high school-level stuff, really), Andrew briefly putting his hand on hers while she holds the microphone (physical contact!!!) and eventually Andrew signing a best friend certificate she apparently produced for the occasion (just get married already).
Dimoldenberg's tweet of the video had 150,000 likes in the first 24 hours of its posting and countless fans demanding more.
"If a man doesn't look at me the way Andrew Garfield looks at Amelia Dimoldenberg then I don't want him," one person wrote on Twitter.
if a man doesn't look at me the way andrew garfield looks at amelia dimoldenberg then I don't want him pic.twitter.com/0IiFwF3POP

— tick, tick... (@BohoDayz) January 12, 2023
"Amelia dimoldenberg is stronger than me cause if andrew stared into my soul and said 'i only ever wanna see you' to my face i would ascend to a fifth dimension," wrote another.
amelia dimoldenberg is stronger than me cause if andrew stared into my soul and said "i only ever wanna see you" to my face i would ascend to a fifth dimension

— iordana⁸³ 🪐 (@murdockswifey) January 11, 2023