Community
Test from email to article
Forwarding The News

Sheryl Sandberg resigns from Facebook, hundreds of Ethiopians arrive in Israel, bacon complaint lodged against McDonald's, and visiting America's first Palestinian art museum.
A demonstration of an immersive world using an Oculus headset at an event in Austin. (Getty)
Are virtual minyans and avatar rabbis the future of Judaism?
The Chabad-Lubavitch movement is building a new Jewish center, a replica of its Crown Heights headquarters. It's got a large open space with high ceilings. It's located between an art gallery and a beauty kiosk. Where can you visit this place, you ask? In the metaverse.
What is the metaverse? Don a pair of Oculus virtual-reality goggles and you'll be transported into a highly realistic immersive world where you feel like you're actually in a physical space. Facebook is betting on this being the way people will interact in the future, renaming itself Meta (which, by the way, means "dead" in Hebrew).
Virtual worship: Congregants could form cyber-minyans untethered to a physical building. There is already a mosque, a church and a Tibetan temple in the metaverse. Many clergy across faiths see these digital congregations as a way to reach younger generations.
Par for the course: Rabbi Steven Stark Lowenstein of Am Shalom, a Reform congregation in Chicago, is currently creating a synagogue in the metaverse. He gifted Oculus headsets to the members of Am Shalom's staff. "If my kids can play 18 holes of golf in my living room while using their Oculus with another friend from New York playing the same course" Lowenstein mused, "why can't we do the same thing with learning a Torah portion or experiencing a Jewish holiday?"
Beyond sanctuaries: Eventually, there may be an app for Jews to pray at a virtual Western Wall, or cyber sukkahs under renderings of the Milky Way. Hebrew school lessons could make the book of Isaiah come alive through a virtual-reality simulation.
George Carlin performing in 1992 in Wyoming. (Getty)
Was George Carlin really a prophet? The new two-part HBO documentary "George Carlin's American Dream" makes a case for the late comic's appeal as a prophetic voice. This may seem counterintuitive, given Carlin's regular attacks on organized religion in his comedy, but our contributor Seth Rogovoy says that it was exactly this penchant for challenging authority and appealing to truth that made Carlin a worthy heir to God's mouthpieces on earth. "He may not have been divinely inspired, but his mission — carried out primarily via the spoken word — was much the same as that of Amos, Isaiah and Jeremiah," Rogovoy writes. Read the story ➤
Once exceptional, the lives of American Jews have become lachrymose: After the trial of Adolf Eichmann, the Jewish-American historian Salo Baron articulated the cautiously hopeful belief that, in the words of French historian Pierre Birnbaum, "American exceptionalism could now give Jews a secure and tearless communal life." In a new book, Birnbaum argues that Baron's theory hasn't stood the test of time. He spoke with our columnist Robert Zaretsky about his less-than-sunny outlook on the Jewish future, saying "Unhappily, the tear-bathed history of the Jews still has a bright future on both sides of the Atlantic." Read the story ➤
A visit to America's first Palestinian art museum: Located in a nondescript office building in Woodbridge, Connecticut, it's a place to explore common ground and, mostly, avoid politics. "When Jewish people, or any people, walk into the museum and see what is there, a window is opened into the experience of the other," said Rachel Bashevkin, president of a nearby synagogue. "It can be painful; it can be difficult and it can be unsettling, but it's important to me as a Jewish person to see these things." Read the story ➤

WHAT ELSE YOU NEED TO KNOW TODAY
A woman in Ukraine collects her belongings after a strike on Wednesday destroyed her home. (Getty)
🇺🇦 Ukrainian President Volodymyr Zelenskyy accused Moscow of forcibly taking 200,000 children to Russia, and said Ukraine will punish those responsible. Meanwhile, Ireland's senate passed a resolution designating Russia's invasion as an "act of genocide." Friday marks the 100th day of the war. (DW, Twitter, Reuters)
👋 Sheryl Sandberg, the No. 2 executive at Facebook owner Meta, is stepping down to, as she put it, "write the next chapter" of her life. Sandberg, who was credited for much of Facebook's growth but has taken the blame for some of its missteps in recent years. plans to focus on philanthropy; in the past, she has donated millions of dollars to IsraAid, United Hatzalah and Ukrainian relief efforts. In 2017, our editor-in-chief, Jane Eisner, spoke to Sandberg about how Judaism helped her grieve after the sudden death of her husband.
🥓 A Muslim woman has filed a complaint with the Massachusetts Commission Against Discrimination claiming that McDonald's workers intentionally served her bacon on a fish sandwich "in an effort to offend, humiliate, and cause distress." Said her lawyer: "Religious discrimination at a place of public accommodation is not only illegal, but also morally reprehensible." (AP)
🇨🇳 China threatened to downgrade its relations with Israel after the Jerusalem Post published an interview with the foreign minister of Taiwan, which China claims as its territory. Meanwhile, the Biden administration on Wednesday announced it would work to strengthen trade and technology ties with Taiwan. (JTA, New York Times)
☀️ Another sign that South Florida's Orthodox community ballooned during the pandemic thanks to relocating New Yorkers: a new yeshiva is opening in Boca Raton for college-aged students. Through a partnership with Touro College, the yeshiva will also offer bachelor's degrees. (Jewish Insider)
Mazel tov ➤ Miriam Udel, a Yiddish professor and Orthodox rabbi, has been named the new director of the Tam Institute for Jewish Studies at Emory University.
Shiva call ➤ Uri Zohar, an Israeli actor known for lowball comedies who later became an ultra-Orthodox rabbi, died at 86.

What else we're reading ➤ In Jerusalem, identical twins give birth to boys on the same day … An Israeli man was sentenced to a day in jail for a beach trip during the first COVID lockdown … Elvis Presley's estate has asked Las Vegas chapels to stop using Elvis impersonators to conduct weddings.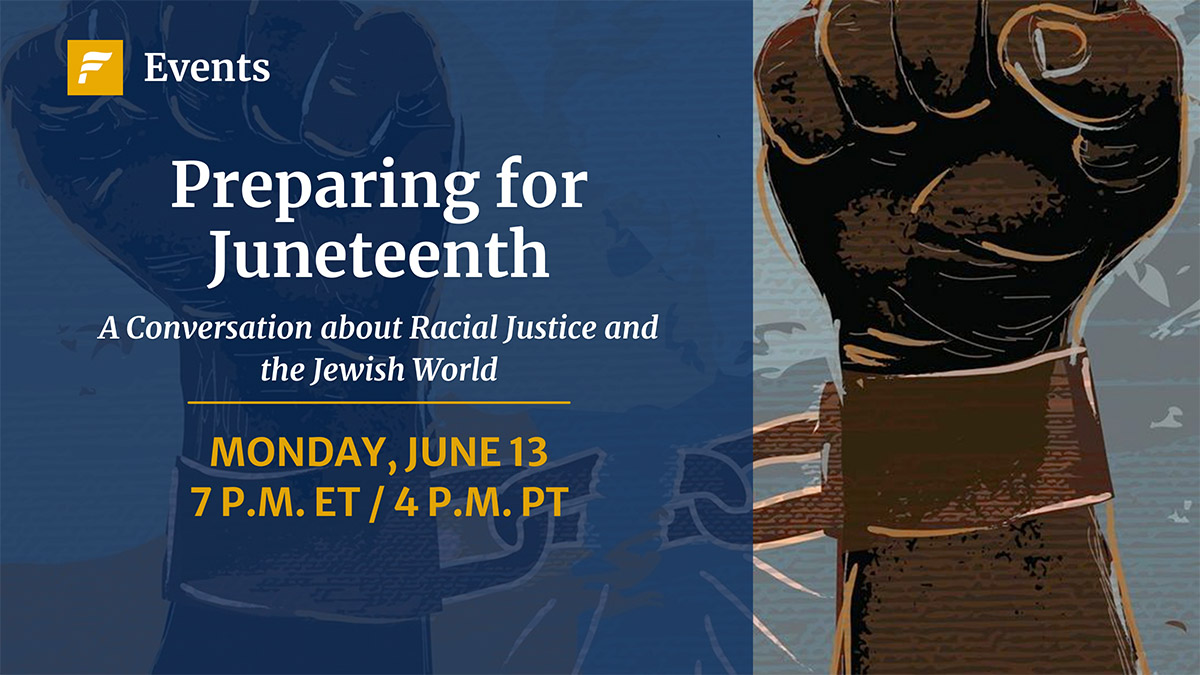 On this day in history: "The Wire," David Simon's television drama about the inner workings of Baltimore's police department, premiered on June 2, 2002. Adam Rosen, who grew up in Baltimore, wrote in a 2015 article that while the show was beloved for its "multidimensional and empathetic characters," its Jewish criminal defense attorney, Maurice Levy, was relatively flat. Rosen said he thought Levy expressed Simon's sense of "rage, or even betrayal, over the fact that members of his own community could be part of such a debasing business."
Last year on this day, Isaac Herzog, son of Israel's sixth president, was elected its 11th.
On the Hebrew calendar, it's the third of Sivan, the yahrtzeit of David Marcus, a colonel in the U.S. Army who helped arrange the Nuremberg trials. He later fought for Israel in the 1948 War of Independence and was killed by friendly fire. His life story became the movie "Cast a Giant Shadow" starring Kirk Douglas, Frank Sinatra and John Wayne.
In honor of Queen Elizabeth's Platinum Jubilee birthday parade today, read about her "unfailingly courteous" relationship with the Jews.
A plane full of Ethiopian immigrants arrived in Israel on Wednesday. (Getty)
The atmosphere was festive at Ben Gurion Airport on Wednesday as 180 Ethiopians arrived in Israel on a plane chartered by the Jewish Agency; 120 more are expected today. The immigrants identify as Falash Mura, Ethiopian Jews whose ancestors converted to Christianity, often under duress. Israel's chief rabbinate does not consider them fully Jewish, so they are required to undergo conversions in order to make aliyah. Read the story ➤
–––
Thanks to PJ Grisar and Talya Zax for contributing to today's newsletter.
You can reach the "Forwarding" team at editorial@forward.com.
Support Independent Jewish Journalism
The Forward is a non-profit 501(c)3 so our journalism depends on support from readers like you. You can support our work today by donating or subscribing. All donations are tax-deductible to the full extent of US law.
"America's most prominent Jewish newspaper" — The New York Times, 2021