Community
We asked our readers about camp photos. Many say: 'Enough already!'
The onslaught of online photos posted by camps has led some parents to wax nostalgic about their own summer days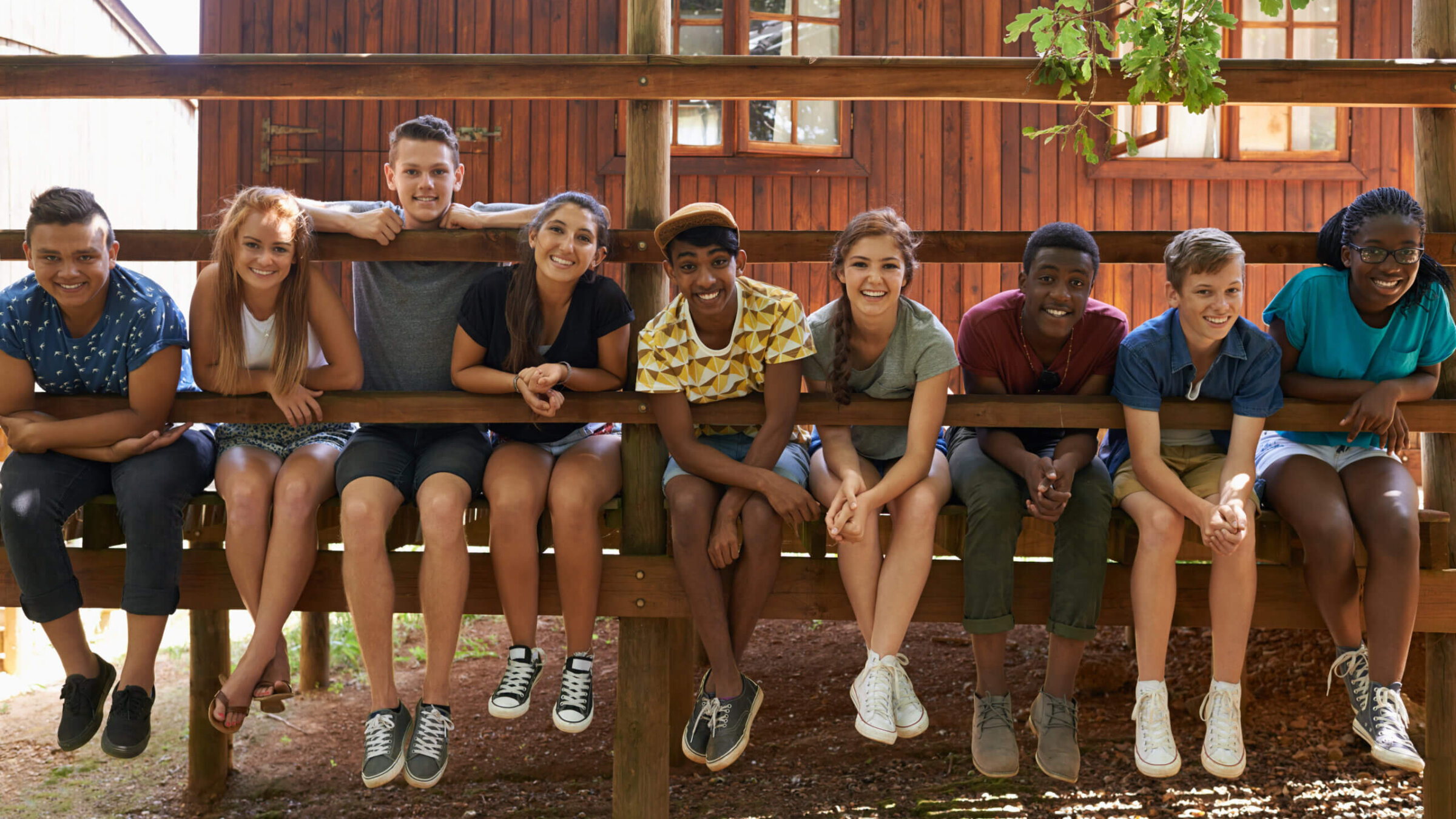 The daily stream of photographs posted by the Jewish summer camp that Bernice Natelson's daughters attended made her "absolutely miserable." Natelson would "scour the website nightly, staying up late waiting for them to be posted," she recalled, and get "upset if technology wasn't working and nothing was showing, upset if my daughters weren't in them." 
In contrast, Rabbi Lisa Silverstein said with more than a little pride that she rarely looks at the pictures. "It's not that I wasn't interested," Silverstein said, "but I felt strongly that they should have their own unique experiences without their Ima looking over their shoulders." 
For Tzvi Klugman, an app called Campanion that uses facial recognition to surface photos of specific kids was a savior. "Why fight the tide?" he asked. "This way it's not such a time suck." 
These were among the more than 40 reader responses to last week's column by our editor-in-chief, Jodi Rudoren, who complained about the "tsunami of camp photos" now posted on password-protected websites. Headlined, "My generation of parents is ruining sleepaway camp," the column generated impassioned conversation on Facebook and a tide of its own to our inbox.
Some suggested Rudoren chill out and look away. Others, including the parent of a child with autism, said the photos are an important way to stay connected to their offspring during the summer. Most, though, echoed Rudoren's bemoaning of how the photo-posting brings both technology and helicopter parenting into a space that once was an escape from both. 
Adam Kaplan, director of Camp Nebagamon in Wisconsin, has resisted the parental push for online photos and taken "a lot of grief" because of it. "I am a resolute believer in the notion that there are some things that are just camp," Kaplan wrote. "Parents are not meant to understand them. It's the campers' world. They can share it how they wish to."
Here is a selection of reader responses, lightly edited for clarity and length:
'I can't smile for cameras'
Our daughter goes to Ramah in the Rockies, which uploads a batch of photos, usually between 100 and 200, each Monday night and Thursday night. We noticed this year that she frequently seemed to be the unsmiling kid in any group photo. 
When I met her a few days ago at Denver International Airport, after she hugged her friends and told me all about the long bus ride from camp, I brought up the question of her looking a bit off in camp photos. 
"I can't smile for cameras," she told me, as if it were obvious. The trick of making her laugh before clicking the shutter is so second-nature to me by now that I'd forgotten other people wouldn't necessarily know to do it. The photos weren't telling me a reliable story about how my daughter's summer was going; it was better than we thought. 
—Lawrence Szenes-Strauss
Apparently you have never spoken to a parent of a child on the spectrum who waited every day for a call from camp saying their child didn't fit in and should go home. Where one photo of your child participating or not looking miserable helped you to go about your day. And that was more than 10 years ago, when photo sharing was new-ish. Be grateful and stop complaining. 
—Rabbi Bonnie Goldberg
All parents should be banned from kids' sports activities and camps. Allow kids to be kids and grow up to be independent menches! 
—Richard Goldman
All the online checking by parents of their kids while they're away at summer camp is the antithesis of how summer camp should be. Grateful that my kids and I had different experiences. I can only hope that by the time my grandchildren attend our beloved Herzl Camp, the pendulum has swung back to saner times. 
—Rachel Krantz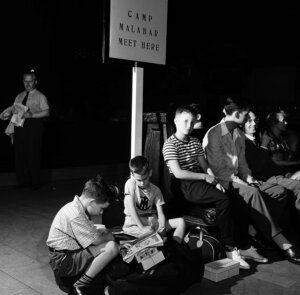 'Maybe the whole camp experience needs to be rethought' 
Camp benefits parents too, you know. I loved choosing the car-radio station with no back talk; I loved not having full meals in my car between school and Hebrew school. I missed them, I waited for their letters and cried happily for about 10 minutes when they returned. I also knew not to bring the trunks into the house and cleaned them outside. 
—Sherri Morr
My brother and I went to brother-sister camps in Maine for five or six wonderful years, starting in 1954. As the price of admission to dinner, we had to produce a letter or postcard home. Was it really every day? I think it may have been! 
—Sara Lee Silberman
This camp phenomenon is disgusting — and not just because it is such a first-world problem nor because of helicopter parents. 
The entire idea of camp is about kids getting away from parents and learning a degree of autonomy. To continue the inane, habitual taking of photographs all the time at camp is a complete travesty. Maybe the whole camp experience needs to be rethought.
—Elise Bernhardt
Maybe I am a neglectful parent, but I trusted the camp to take care of my child and never felt the need to monitor every minute of their lives away from me. I assumed they would swim in a dirty lake, canoe in the same lake and fall in; and learn to take care of themselves and have summer secrets. All those photos make me sad for the kids. 
—Cheryn 
'It was camp life captured from our perspective' 
When it came time for my own kids, at first they were at Olin Sang Ruby Union Institute because I was on staff there. 
I worked very hard to make sure the kids were really away at camp. We wrote letters to each other, and mostly communicated when they dropped off their laundry. I put notes in with the clean clothes. 
Sometimes, like a bird watcher, I calculated when they were going to the lake and positioned myself on the path to see the unit walk by.
—Anita Silvert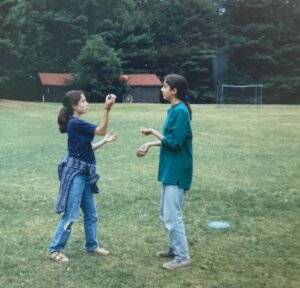 Some of my most treasured items from childhood are the photo albums I cobbled together after camp. I couldn't wait to get all that film developed so I could share my camp experience with family and friends back home. 
Sure, some of the pictures were over exposed, or too dark, but mostly they were great. Great because it was camp life captured from our perspective. 
—Marisa Katz
I like the ability to know how things are going. I follow my camper's lead on how much contact she wants — from me, frequent letters; to me, rarely.
Being able to see photos is a good thing, not to mention our camp doesn't allow cameras, so our camper can have her photos later. Feel there are too many photos? Don't look. 
—P'nina McCabe 
A 'different world' 
At the first sleep-away camp I went to, we slept in tents and used an outhouse. There was this long trough sink with a bunch of cold water spigots where we could wash our hands and face. 
There were no showers. We swam in the lake. We washed dishes after lunch. I had a Kodak Brownie camera there, and took some black & white pictures of the grounds, and beautiful mountains in the (not-so-far) distance. 
—Sue Levin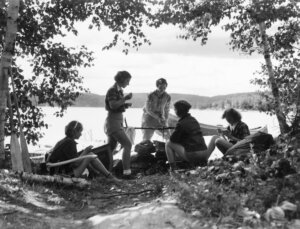 When my son went to Eisner, sometimes a week went by without seeing a photo he was in. I think he was purposely avoiding the photographer! I'd try not to be one of those parents, but eventually I'd call the office and the next day there would be a photo and maybe an answer to one of my letters! 
I knew he was fine and in good hands, but one of the curses of an only child is that his mom missed him! 
—Susan Winters
I'm 68. I always tell people that my grandfather came to America at 15, my father went into the Navy at 18, and I traveled around Europe and Israel when I was 17. None of us talked to our parents during that time. Different world. 
—Louis Agre
We played outside, we slept under the stars, we roughed it, and we loved it! By contrast, when my oldest attended Ramah in Georgia, I almost choked when I saw the air-conditioned bunks that included bathrooms and washers and dryers! 
—Adena Wilson