Culture
How Madeleine Albright downplayed then came to embrace her Jewish heritage
Albright eventually came to terms with her Jewish past past, while remaining an observant Episcopalian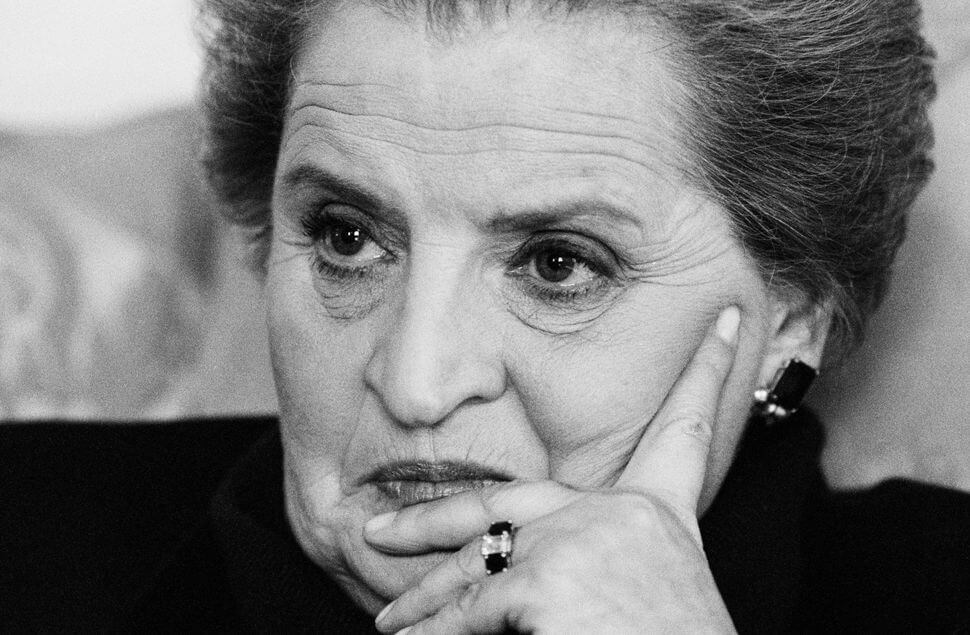 The Jewish roots of former U.S. secretary of state Madeleine Albright, who died March 23, 2022 at age 84, were a personal matter to be mulled over when time allowed.
That occurred intensively only during the past decade, when in a series of books she described how she progressively grew to accept the fact that, although brought up in Catholicism until she converted to the Episcopalian faith to marry the scion of a newspaper fortune, her parents were Jews.
Her father, the Czech Jewish diplomat Josef Korbel, converted along with his wife and children in 1941 in England, after he had used his personal fortune and political influence to escape after the German invasion of his homeland. Korbel was unable to rescue his older relatives, and three of Albright's grandparents would be murdered in concentration camps. As if protecting his surviving family from being vulnerable again by admitting association with a minority group, Korbel never discussed his family origins with his daughter, nor did he offer details about her grandparents' fate.
Even in an historical work about Czechoslovakia published in 1948, Korbel did not mention the wartime genocide of Czech Jews. Albright was sent to a posh finishing school in Switzerland, where her first names, Marie Jana, were Gallicized to Madeleine. Korbel also altered the spelling of the family name, the German Jewish-sounding Körbel, to the more acceptably Czech Korbel, when he temporarily returned to Prague in 1945.
Like her father, considering assimilation essential for avoiding life and career impediments, Albright never dealt seriously with rumors or even flat statements of fact about her family background communicated to her in letters or conversations over the years. Only after she had been appointed secretary of state in 1997 did the chatter grow so loud, some of it in uncomplimentary messages from political enemies, did she feel it prudent to inform White House staff that she might be of Jewish heritage.
A lengthy, detailed reportage on Albright's family followed in The Washington Post, which the Czech Jewish novelist Arnošt Lustig told the Post in February 1997 reminded him a "little bit" of Nazi Reich Leader Heinrich Himmler's method of delving into the family histories of SS members.
Albright's public acceptance of Jewish descent was long overdue, even if the media blitz that ensued was sometimes tone-deaf. Some reporters openly doubted that she could have been unaware of her family's Judaism, and journalistic headlines resembled titles of licentious Victorian memoirs ("Her Secret Past") or novels of manners by Anthony Trollope ("Did She Know?") and "How She Found Out."
Albright eventually came to terms with this past, although remaining an observant Episcopalian, after being a devout Catholic from earliest childhood. Belated acceptance of an added minority status made Albright all the more vigilant against oppressors, repeatedly citing the folly of the Munich Agreement of September 1938, which tried to placate Hitler by acceding to some of his demands.
Ever-aware of the Holocaust, she cited Primo Levi in a recent book on the worrying advance of international fascist movements: "Every age has its own fascism."
Fighting such developments with stamina and force, she had staunchly opposed the ethnic cleansing campaigns of Serbian president Slobodan Milošević, whom she accused in April 1999 of creating a "horror of biblical proportions" through his "desire to exterminate a group of people."
Albright would later avow that her greatest sense of disappointment was when serving as U.S. ambassador to the UN at the time of the Rwandan genocide, she failed to persuade the White House or UN Secretary-General Boutros Boutros-Ghali to intervene. Later slating Boutros-Ghali as "disengaged" in neglecting the tragedy in Rwanda, Albright clearly abhorred genocide, unlike her predecessor, the accused war criminal Henry Kissinger.
At such moments, her forcefulness was most apparent; in May 2006, aged almost seventy, she told The New York Times that as a fitness devotee, she could leg press 400 pounds at the gym. As another example of vigorous self-assertion, she revealed her inner self through wearing jewelry, assembled in a traveling museum exhibit Read My Pins: The Madeleine Albright Collection, planned as a permanent installation in the forthcoming National Museum of American Diplomacy.
She communicated messages with specific pieces, and on occasion defused an insulting term by mocking it, a lesson often learned by members of minority groups. In 1997, after a Saddam Hussein associate termed Albright an "unparalleled serpent," she wore a snake pin to a meeting of Iraqi officials.
Among favorite objects presented to her was a tiny gold-plated dove of peace offered by Leah Rabin, widow of Israeli Prime Minister Yitzhak Rabin. An accompanying note read: "Maybe one dove needs reinforcements to create a reality of peace in the Middle East." Albright wore the pin when paying respects to victims of the Rwandan genocide that year.
Only indirect echoes of Yiddishkeit appear among these personal acquisitions. Given the tzimmes surrounding Albright's family saga, apparently no one had the chutzpah to give her a Star of David or Israeli flag pin.
A rare example of indirect Yiddishkeit in the collection is a golden lion head, presented by British Foreign Secretary Robin Cook, created by Hungarian Jewish designer Judith Leiber. Leiber, a successful fashion designer, would claim that "Hitler put [her] in the handbag business." Unlike Albright's privileged, prosperous family, Leiber had to manufacture accessories as a subsistence strategy.
A further pin may conceal multiple layers of Jewish identity in a way characteristic of Albright's life experience. Lacquered tourist art in the form of a snowy scene, hand-painted on mother-of-pearl was a diplomatic gift from Russian Prime Minister Yevgeny Primakov, born to a Jewish family originally named Finkelstein.
This Slavic equivalent of a Currier and Ives print shows a kitschy Russian winter sleigh ride, exchanged between two prominent public servants whose success was due in part to willingness to downplay identity issues that might have hampered their progress.
Yet as a serious believer in the welcoming message of the Statue of Liberty and the verse by American Jewish poet Emma Lazarus at its base, Albright wore a pin of Lady Liberty in sterling silver with stainless steel watches as eyes, as if conscious of how time-sensitive individual and national freedoms are. In January 2017, she reacted to a federal ban on travel to the USA from seven majority-Muslim nations by tweeting "There is no fine print on the Statue of Liberty. America must remain open to people of all faiths & backgrounds. #RefugeesWelcome."
And when requiring Muslims to register with the U.S. government was discussed, she tweeted "I was raised Catholic, became Episcopalian & found out later my family was Jewish. I stand ready to register as Muslim in #solidarity."
Most recently advocating intervention to stop the humanitarian tragedy in Ukraine, she also tweeted earlier this month on International Women's Day: "From Kabul to Kyiv and beyond, women and girls are on the front lines in the struggle for freedom and human dignity."
Despite the complex, sometimes confounded experience of grappling with a Jewish family history, Albright's devotion to human rights was crystal clear.