Culture
A visionary artist's life cut short at 26 by the Nazis
A new animated film tells the tragic story of Charlotte Salomon who died at Auschwitz in 1943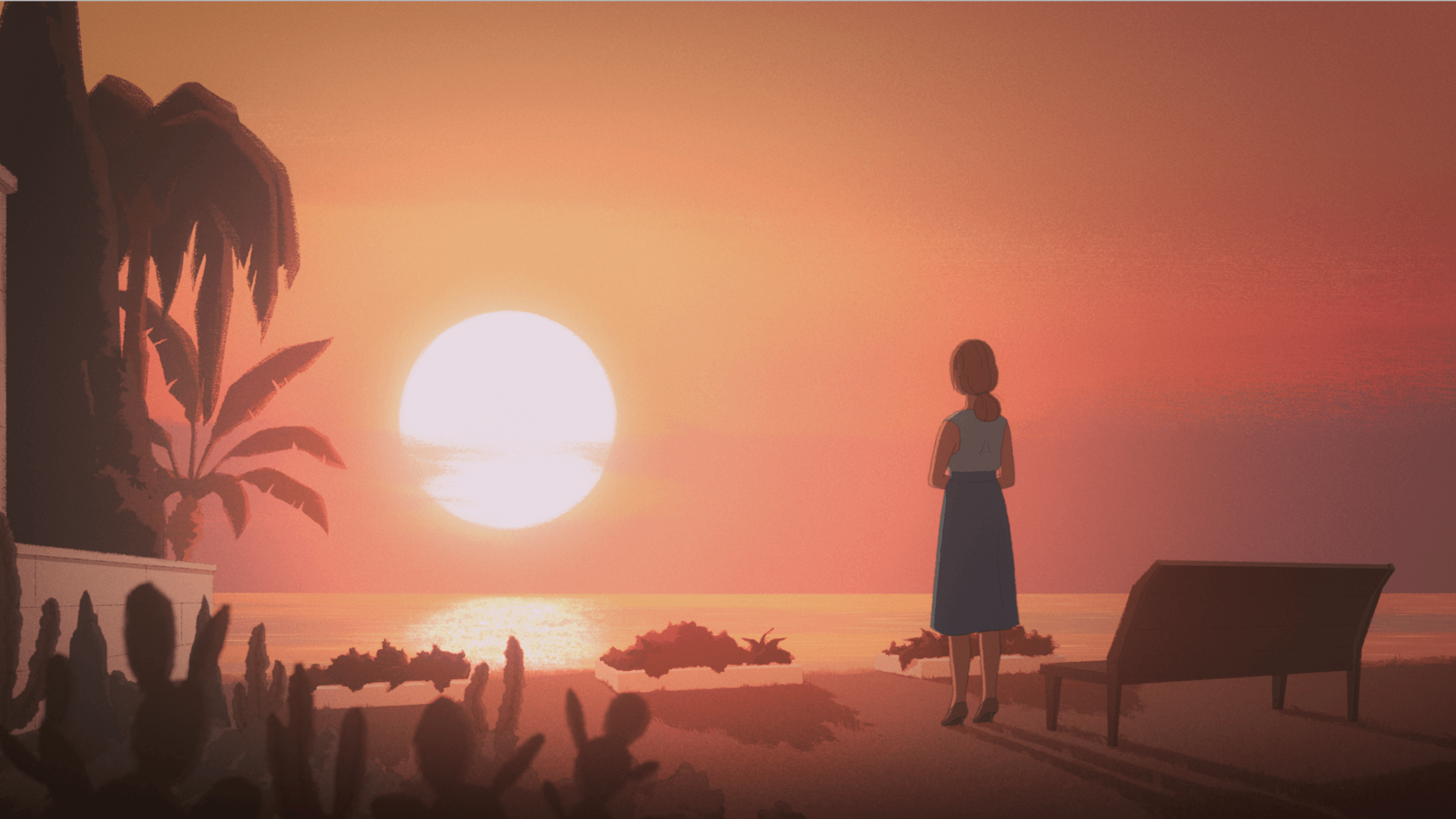 It's easy to find fault with Eric Warin and Tahir Rana's "Charlotte," an animated bio-pic about Jewish German artist Charlotte Salomon, who died at the age of 26 in Auschwitz, 1943. For starters, it's unclear for whom this film is intended — those who are familiar with her work or those who've never heard of her? Is it for adults or children? Potentially more problematic, "Charlotte" is conventionally plotted, at moments tediously so, and much of the animation is uninspired.
So, why in the end does this film pack such an emotional wallop? Perhaps its flaws are precisely its virtues. The pedestrian backdrop paradoxically (and unwittingly I suspect) underscores the story's horror and poignancy.
Despite several plays, an opera, a ballet, a novel, a documentary and a 1981 Dutch feature that were inspired by her biography, neither Salomon's life nor her art ever received the attention they deserve. Today, her work is housed in Amsterdam's Jewish Historical Museum. She enjoys a modest cult status and is credited with forging the first graphic semi-autobiographical narrative that boasts more than 700 pieces, including sketches and gouache paintings, some with text, others without. They are at once quirky, imaginative and oddly compelling.
Devoid of comic strip elements and dubbed, "Life? Or Theater?: A Song-Play," her work is often viewed as a precursor to cartoonist Art Spiegelman's "Maus," which evokes the banality of day-to-day life set against a dark and hideous Holocaust universe. Both Spiegelman's and Salomon's works are complex, contradictory explorations of morality, though hers focus more pointedly on private torment, secrets and guilt.
Beginning in Berlin in 1933, the film, which is scripted by Erik Rutherford and the novelist David Bezmozgis, traces Salomon's evolution from innocence to maturity, from an aspiring painter to an artist with a unique vision. 16-year-old Charlotte (voiced by a feisty and resolute Keira Knightly) lives in Berlin with her well-heeled physician father (Eddie Marsan) and her stepmother, a classical singer (the late Helen McCrory in her last role). Their material comfort notwithstanding, as Jews they are keenly aware that danger is encroaching. In one unsettling scene Nazi brownshirts march into an opera house where stepmom is singing and disrupt the performance.
Still, Charlotte manages to gain entry into Berlin's prestigious art academy, despite the "unfortunate matter of your race," the school's director quips. It doesn't take long for Charlotte to feel equally ostracized as a painter whose expressionistic work is not in sync with the school's rigid adherence to realistic art. Ultimately she is expelled from the institution. Shortly thereafter she falls in love with voice teacher Alfred Wolfsohn (Mark Strong), a traumatized World War I veteran and later a pioneer in experimental theater-psychodrama techniques. The two enjoy a passionate affair (one suspects her first) until he unceremoniously informs her that he is engaged to someone else. With just a flicker of her eyes, the film captures her devastation. And then there's Kristallnacht. Her life is a confluence of public and private hell.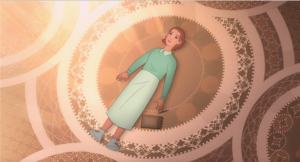 To get a better view of the art, Charlotte Salomon lies on the floor of the Sistine Chapel.
Charlotte is shipped off to live with her maternal grandparents (Jim Broadbent and Brenda Bleythyn who give the film's most layered performances) in Italy where she meets a wealthy Bohemian American, Ottilie Moore (Sophie Okonedo) who she finds to be a kindred spirit. Nice touch: the two women bond lying on the floor of the Sistine Chapel to view and appreciate its ceiling more fully. Moore's autocratic grandfather does not approve of Charlotte's paintings or the relationship, but as the Nazi regime grows more powerful and deadly, the grandparents along with Charlotte move into Moore's home in the South of France where she is sheltering many Jewish refugees.
There, Charlotte encounters German-Jewish groundskeeper Alexander Nagler (Sam Claflin) and once again finds herself deeply in love, only this time the object of her affections is a wonderful human being who is fully committed to her and her art. Pregnant with his child she marries him, but never gives up on her painting. Suspecting the end is near she is more determined than ever to paint her story and that of her family.
"Only by doing something mad can I hope to stay sane," she tells Alexander at one point, comparing her art, which reveals the most excruciating facets of her life, to "pulling a splinter," an act that is at once painful and satisfying.
Charlotte is an obsessed woman, a feminist prototype, and in many ways years ahead of her time. Perhaps it's a nod to contemporary tastes, but we see her not simply as sexually available, but the sexual aggressor.
Charlotte's family has a deep-seated self-destructive streak. Her mother and aunt died by suicide. Her grandmother does as well.
"A disease in the blood," Charlotte's grandfather dryly notes.
It is also intimated that the grandfather, forever demanding and unsatisfied, sexually molested Charlotte when she was a child and in the end, at the very moment she is caring for him, she poisons him, resulting in his death. Perhaps in a different film, this backstory would cry out for further elaboration. But here, given the flattened tonality of the whole piece, the once over lightly, matter-of-fact way these events unfold makes perfect sense.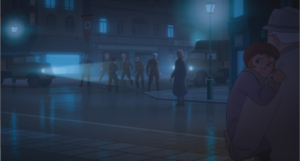 In this universe everything is a throwaway and dramatizes the banality of evil. Similarly, there is little reference to the Holocaust and of course no grisly pictures. In the end, the audience is told in cursory fashion that a pregnant Charlotte was carted off to Auschwitz in 1943 and may have been murdered in the camp upon her arrival.
Although the childlike animation itself might seem an odd choice for this harrowing story, the fact that the protagonist is an artist whose universe is visual, the painterly animation seems a perfect choice. Throughout Charlotte is drawing lines and experimenting with brush strokes that in turn morph into paintings that reflect her literal surroundings or her inner life. There are the bright colors of the Mediterranean sunlight and the dark shadows mirroring existential despair. Also, the originality and life force of her work stands in stark contrast to the bleak, unadorned two-dimensional world she lives in.
True, the film doesn't offer sufficient information about Salomon's significance, her influences, and how her art informed others, but the final moment – when Charlotte's father and step-mother discussing her posthumous recognition — is powerful. The grainy black and white archival footage brings the film back to reality, suddenly making Charlotte's life very real. One hopes the film finds its audience; whatever its shortcomings it may be, it's a solid introduction.
Simi Horwitz won a 2018 Front Page Award from the Newswomen's Club of New York for her Forward story, "Ruchie Freier: Hasidic Judge, American Trailblazer." She received two 2020 New York Press Club Awards, three 2021 National Arts & Entertainment Journalism Awards, and a 2021 Simon Rockower Award.