Art
Look closely — Sol LeWitt's art is a lot more Jewish than you think
A new exhibit of the conceptual artist's work illuminates his religious background (even if it's sometimes hard to see)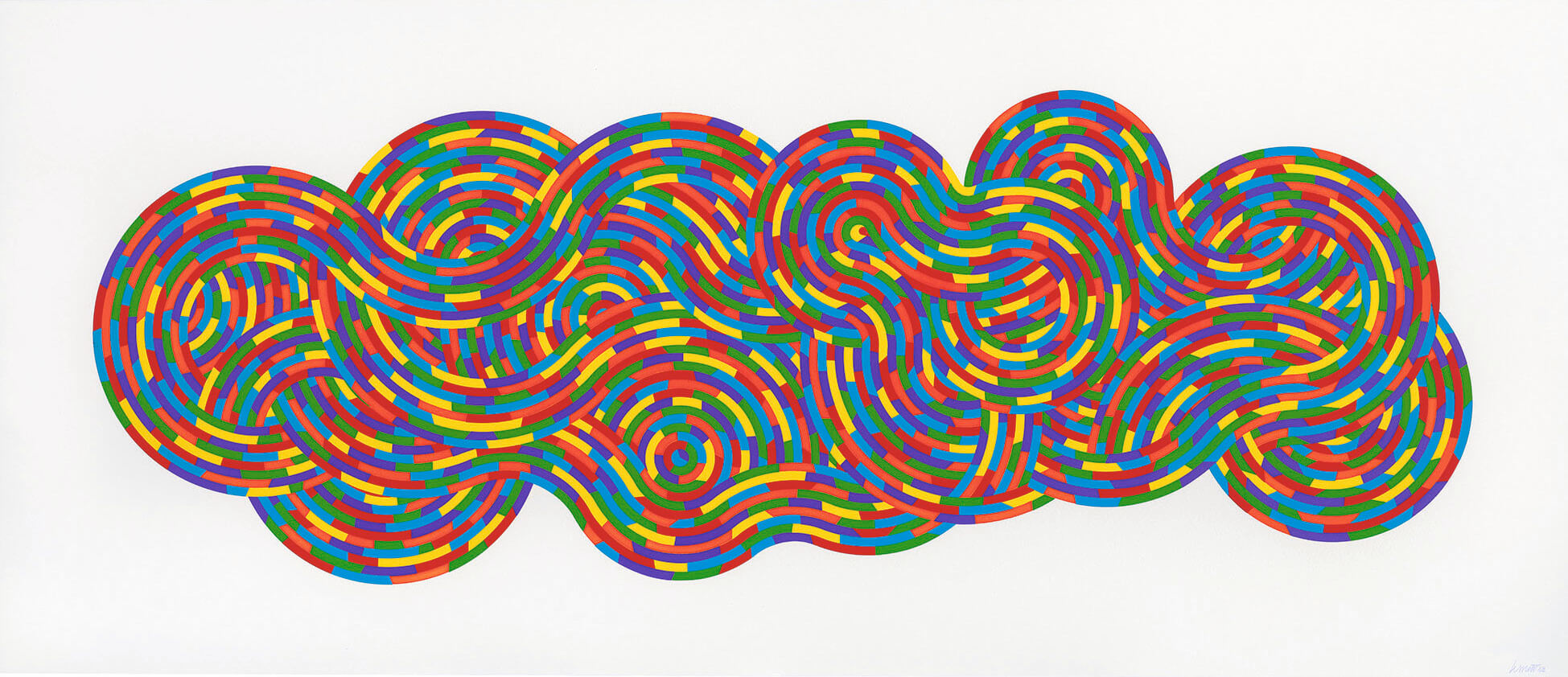 The exhibit, "Strict Beauty: Sol LeWitt Prints," currently showing at the Williams College Museum of Art through June 12, is the most comprehensive exhibit yet of the artist's printmaking. It includes over 200 prints by the artist, who died in 2007.
LeWitt was born in Hartford, Connecticut, to Russian Jewish immigrant parents, and raised in New Britain, Connecticut, where he moved with his mother after his father's death. He is known as a conceptual artist and for his philosophy that the "idea becomes a machine that makes the art." At first glance, the seemingly mechanistic prints on display seem to reflect that notion, that the artist has removed himself from the production of the print and that, as curator David S. Areford observes in a wall note, he seeks "to distance himself and thus avoid any subjective or expressive interference." Prints are an ideal medium for this philosophy, promising the possibility to achieve, as Areford puts it, "an almost mechanical level of uniformity, multiplication, and variation."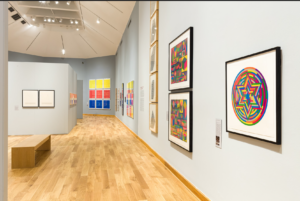 What becomes clear, though, while standing before the often dazzling arrays of repeated images is how contrary LeWitt's work is to his supposed aim of making it appear as if the machine makes the art; the presence of the artist, an emotional energy, is palpably, powerfully present. 
In the first section, "Lines, Arcs, Circles, and Grids," some of his prints do indeed seem mechanistic, the lines formal and the iterations robotic. Yet some have surprising effects, creating the optical illusion of the sensation of movement, of darting shapes that appear and disappear.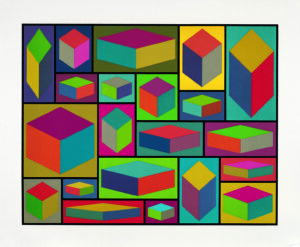 In other prints, lines surprise by taking on human dimension. In "Vertical Lines, Not Touching" (1970), created soon after the death of his close friend, fellow artist Eva Hesse, a Holocaust survivor, this lithograph of black lines on a white background, introduces LeWitt's new language of "not-straight lines." The lines seem freehand and organic, inspired by, as Areford puts it, Hesse's "organic and intuitive aesthetic." If one steps in and looks closely, the lines seem to take on human form, looking even like mothers, fathers and children standing and crouching over each other in protective and nurturing stances.
A similar lithograph, "Vertical Lines Not Touching (Black)" (1971) (here the reverse, white lines on a black background) the not-straight lines are denser, less playful, more foreboding. This lithograph was made as part of a print portfolio to raise money for the legal defense of the Chicago Seven. Areford writes that these lines "suggest a litany or tally of days of carnage, of soldiers and civilians lost." Clearly, lines in LeWitt's oeuvre are not merely lines.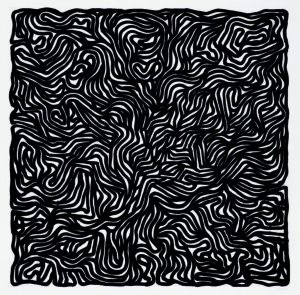 Over time, LeWitt began loosening his self-imposed rules. In the 1980s and 1990s he moved from thin lines, which beg viewers to move up close, to bands of richly-hued primary colors, from straight bands to wavy, zigzag and broken bands. In the "From Geometric Figures to Complex Forms," section of prints, the Jewish star makes itself known. The wall text beside "Shul Print (Six-Pointed Star)" (2005) notes that the vibrancy of the print's colors make it a "celebratory reclamation of a symbol once used to stigmatize and segregate Jews under the Nazis."  
The note also goes on to say that "LeWitt's final star print is a rare expression of his Jewish identity," which contradicts curator Areford's own fascinating essay "Voices Beyond the Wall / On Sol LeWitt's Jewish Art," in the 2021 book, "Locating Sol LeWitt," where he writes about several works the artist created between 1987 and 2005 with specific Jewish contexts: These commissioned works include "Black Form (Dedicated to the Missing Jews)" (1987), a wall of black painted concrete blocks designed to stand in front of a large palace in Munster, Germany (it's now permanently installed across from the immense white neoclassical town hall of Altona in Hamburg) to remember the six million murdered Jews. In  2005's "Lost Voices," a site-specific installation within the synagogue in Stommeln, Germany, a recording of the liturgy of Yom Kippur and Rosh Hashanah continuously plays behind a brick wall LeWitt constructed, recalling the lost voices of the Stommeln congregation and other Jewish communities in Nazi Germany. In all of these works, LeWitt engages with Jewish trauma and collective memory.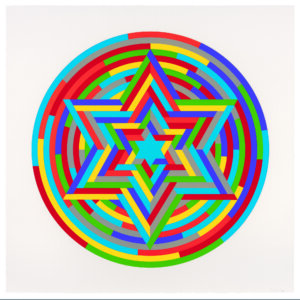 Moreover, in the late 1990s, LeWitt collaborated with architect Stephen Lloyd, to design a new synagogue for his own local congregation Beth Shalom Rodfe Zedek Synagogue in Chester, Connecticut. Inside, exposed timbers form different triangles and a hexagon frames a massive six-pointed star. LeWitt designed the synagogue as an homage to the lost wooden synagogues of Poland in the 17th to 19th centuries, most destroyed in WWII, calling its style "neo-shtetl." The design of his vibrant "Shul Print" is the same image painted on the stark white exterior of the ark. Perhaps it would be more accurate to say that LeWitt's Jewish identity is rarely expressed in his print-making, but it's quite evident in these significant commissioned works.
Still, "Shul Print" isn't the only Jewish star in the exhibit. In 1983's "Stars-Blue Center," a series of seven blue stars, bordered with yellow, each with three to nine points, are arranged in a numerical progression, against a red background. Each star fits within the circumference of an etched circle. One of these stars is the six-pointed Jewish star. The star appears again in 1993's "Stars with Color Bands" as one of eight aquatints in this series of stars with three to ten points.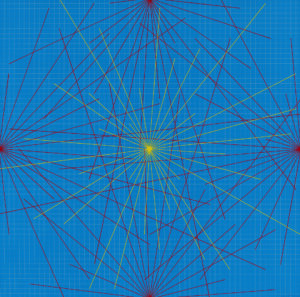 In the second, smaller room of the exhibit, the final images which he made later in his life, consist of "wavy," "curvy," and "loopy doopy" lines and bands. LeWitt seems more free in these prints; some of these, such as Loops & Curves Red/Yellow (1999) and Parallel Curves (2000),with their organic patterns, resemble the cut-outs of Matisse, made in his later years as well. 
The room's most spectacular prints are 1993's "Brushstrokes in Different Colors in Two Directions," a set of six human-size, color sugar lift aquatints. When you stand before these prints, the wavy undulating bands of colors seem to shimmer in front of you. The meditative, spiritual feeling they evoke is similar to the feeling when one views Rothko's paintings. Here, the long brushstrokes — almost four feet long — are scaled to the height of the human body, and so they seem to suggest, as Areford writes, "LeWitt's physical presence and the full sweep of his hand and arm."
Try as LeWitt might to remove the presence of the human hand from his art, his masterful presence is everywhere in this radiant exhibit, and in these prints in particular, it is powerfully, and movingly, felt.