Culture
The friend collector, iconoclast, clam lover and golf aficionado I'll never forget
The Forward's lox columnist fondly remembers his friend, the inimitable Arnold Langer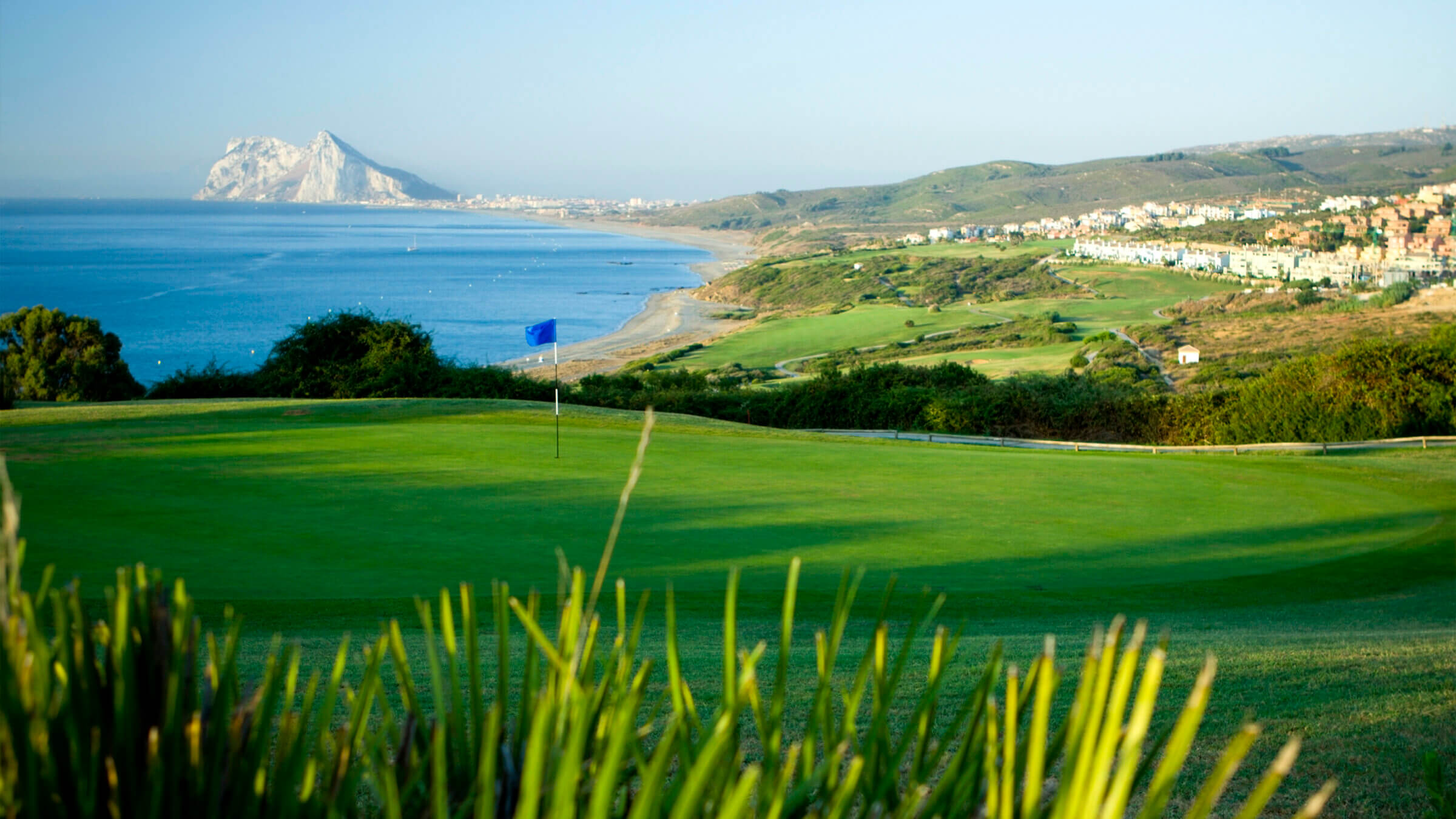 We were driving south along the Mediterranean, somewhere between Malaga and Marbella looking for a golf course but Arnold didn't remember the name of it. He had been in this area many times in connection with his international golf tour operation. Although he was a one-man operation, over the years he had made acquaintances with many hotel managers, golf pros, and staff and restaurateurs of renowned seafood spots.
Arnold Langer's name was well-known in golf circles in the area. He had played on most of the courses along the coast but not the particular one he was looking for this day. Still, Arnold had an uncanny sense of direction and, as we drove, he felt that we were getting nearer and nearer. Nearer and nearer but never there.
There were eight of us in two cars and, of course Arnold was driving the lead car. Admitting only partial defeat, he decided to ask a local where the golf course was. We stopped along the side of the road. Arnold got out of the car and the rest of us followed. In the distance we saw someone walking toward us.
"He'll know where it is," Arnold said.
As the guy got closer, we noticed that he was walking with a crutch.
"Where's the golf course?" asked Arnold.
The stranger looked puzzled and didn't reply.
Arnold realized then that the guy didn't speak English. "El golfo," he asked loudly. "El golfo?"
The guy still looked puzzled.
Arnold grabbed the crutch from under the man's arm and swung it as though it were a golf club. We all looked on in amazement that Arnold would do such a thing, but that's the way Arnold was.
The guy almost fell over but he understood. He pointed us in the direction of the golf course where we arrived shortly thereafter and played 18 holes. By the way; I was always the worst golfer in any of Arnold's groups.
Then, there was the time at the airport in Spain. We were on line ready to present our identification so we could board the plane from Madrid to Alicante, at which point we would rent a car and drive to Marbella. The transatlantic flight had been wonderful. Arnold had gotten us first-class tickets from a buddy, and we were the only two in that upper deck with lounge chairs, and there we sat, drinking champagne, totally unaware of what would happen.
Arnold was in front of me on line and he presented our tickets to the attendant, a fortyish woman who was all business. She looked at the tickets and told Arnold that "Mr. Berk's" ticket was "standby" and there were no seats available at this time.
"My dear"— Arnold sometimes addressed women with "my dear" — "You don't seem to understand that Mr. Berk, the Controller of my company, and I have an appointment with the 'Count de Perlock' at the Melia Don Pepe Hotel in Marbella tomorrow morning. The 'Count' will be very, very upset if Mr. Berk is not there for the meeting; so you see why he must get on the flight."
The attendant looked at Arnold sternly, picked up the phone, spoke to someone in Spanish, hung up and told Arnold, once again, that there was no room for me on the plane.
After a few more unproductive exchanges, she picked up the phone and again spoke to someone in Spanish. Arnold seemed elated until she said, "Please, step aside." Two minutes later, three armed soldiers with vicious-looking dogs, showed up and escorted Arnold and me out of the airport. We exited without a murmur.
So, we rented a car and started our drive to Marbella. After having driven a while we decided to stop at a small, pretty-looking town for the night. We checked in and went to our room to rest before looking for a restaurant to have dinner. We heard guitar music coming from outside and decided to search it out. We were about to leave the room when Arnold made some unflattering remarks about how I was dressed.
I was used to Arnold's shtick. "Arnold," I told him, "you know less than shit about things sartorial; you and your purple 'Dopey' hat with that stupid pompom on top."
He let the matter drop, and we took on the night.
HOW I GOT INVOLVED WITH ARNOLD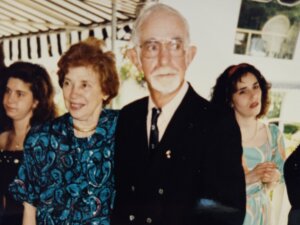 Arnold had known my wife Llewellyn since they were teenagers and went to the High School of Performing Arts together. I think clams may have had something to do with it too. He loved little necks on the half shell and so did I. When you come across another clam lover, you hold on to that person; we clam lovers are not many. I was also a clam digger and I think Arnold approved of that even though he always turned down invitations to go clamming with me.
Arnold never cared much about money; I think he even looked down on it. He hated Nova, loved Zabar's belly lox, but could afford neither. He knew intellectually that one needed money to eat, pay the rent, but somehow it didn't bother him that he had very little of it. He was married to a woman named Phyllis who had a decent job on the staff of Ms. Magazine. To Arnold, the most important thing in the world was golf. He said many times that golf was his life and I think he meant that literally.
Golf Intercontinental was the name of Arnold's one-man organization. I would say that he was moderately successful in that business in that he did execute some golf tours for paying customers and over the years gained modest recognition as a golfer himself as well as a golf tour operator.
He organized trips to far-off lands like Scotland, Spain, Morocco and England. Somebody paid for these trips but I don't remember who; all I know is that I always went free.
Since I was a CPA, Arnold actually made me the controller of Golf Intercontinental, even though I did nothing in this capacity.
A COLLECTOR OF FRIENDS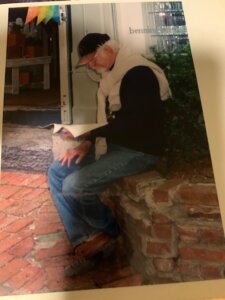 Arnold collected interesting friends. He drove a cab at times when he needed the money. And he had a charisma that attracted a certain type of woman; his soft, relaxed style made him very easy to be with. Although he was an outsider, he had enough curiosity and imagination to attract students in the art world. He could spend time examining the veins of a fallen leaf. Friends of friends sometimes become friends and it was that kind of friend-tripping that brought James Dean into Arnold's world. Years after Dean's death, the director of "The James Dean Story" chose Arnold to play an important role in the film.
Dean was not Arnold's only celebrity friend. On a wall in Arnold's living room, there was a prominently displayed, framed sketch of a penis.
"It was sketch by my friend Tom," he said.
"Who's Tom?" I asked.
Some time later I found out that Tom was Tom Wesselman, a renowned American painter, whose work was displayed in museums around the world and was yet another member in what I came to know as the Langer Loop.
One had to be strong and quite self-confident to remain in the Langer loop. When Arnold found something he didn't like about you, he wouldn't miss an opportunity to use it. He had putdowns at his fingertips. Some loopers were just not able to deal with him, and over time, they left the loop. One who left once said that he thought Arnold was evil.
Although I wouldn't have said anything like that, I did come to believe that whenever Arnold did something nice for another person, he had to derive benefit from the act as well.
What kind of a Jewish person would attend the funeral of a Catholic friend and get on the line to take communion? Did he do it out of respect? Mockery? Maybe he just wanted to taste the wafer?
Nevertheless, it must be said that to have been in Arnold's loop was to have been in a world of color, excitement and adventure. One time, we were on a golf trip in Morocco and were playing on what was known to be the king's golf course. Four golfers, myself included, were ready to tee off on the fourth hole when several military style vehicles approached us. Soldiers got out and instructed us to leave the course immediately because the king had decided to play golf at this time. This must have happened over 50 years ago but I can still see those vehicles; it's not every day that one gets thrown off a king's golf course.
Another day in Morocco, we visited the souk where I was bartering with a salesperson. Beyond the souk, I could see endless miles of a sand desert — Bedouins on camels coming in from somewhere out in the desert. To be in Arnold's world was to be in a world of adventure.
Dining was also an important part of Arnold's world, especially when it involved seafood. One evening he lured us to a restaurant on a wharf somewhere south of Malaga.
"No menu" he told the waiter, "just bring us everything that crawls on the bottom of the sea."
If there was a highway to take, to get from here to there, it was to be avoided. Arnold took side roads only. He felt highways offered nothing. He always made what he called "left turns" which took him through small towns where he could see people as they went about their daily activities; where he could stop at the local soda fountain for an ice cream soda and chat with the clerk, visit the fish market.
This curiosity did not play well with those who invited him to lunch in the Hamptons as he would show up after dinner because, far be it for him to take the Long Island Expressway; he had to take Sunrise Highway and Route 27A which would take him through every small town on the map, where he could stop to inspect the local corn in one town, and a local diner he heard had the best prune Danish, in another.
Arnold was also our travel agent of sorts. Whenever Llewellyn and I would plan a vacation he would always have something to offer — a road to take, a restaurant to dine at, a hotel. One time, Llewellyn and I planned a trip driving down the Amalfi coast in Italy. He suggested we stay at the Hotel Palumbo, in the mountains of Ravello. He had read about it and thought we would love it.
When we arrived in Amalfi, we stopped for a bite and then proceeded to drive up the stone-faced mountain toward Ravello. The road went up and up until when you looked back, the sea was no longer in sight. We were surrounded by solid rock mountain on all sides. Soon, we entered the town of Ravello and continued the drive upward hoping that soon we would get to our hotel.
When we arrived, we found ourselves in a short underpass, so narrow that the car doors didn't have room to open on either side. On the driver's side, there was a glass door that was apparently the entrance to the hotel. There was no choice but to drive further.
After we parked, we went back to that glass door, opened it and went in. In front of us was a magnificent lobby — the hotel seemed to be carved into the mountain. We walked across the lobby and were met with a large picture window that offered an exquisite view of the mountains, left and right, as well as the Tyrrhenian Sea far below. Of course the hotel was magnificent, and the restaurant, served the best tiramisu I have ever tasted.
ARNOLD LIVES ON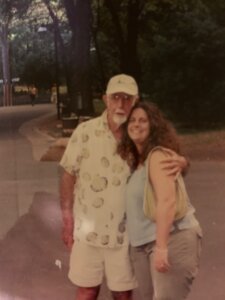 We all don't get an opportunity to interact with the living after we pass on. Not so with Arnold Langer.
Arnold Langer died on Aug. 7, 2017, and a while afterward, his family invited us and some friends to Scranton , PA, for a get-together. Arnold's ashes had been placed in a beautiful urn, which accompanied us on our visit.
Arnold's daughter Alix, and her husband and daughter had driven nine hours from St. Albans, Vermont. We all talked about how we felt about Arnold's passing, about the great life he lived, about how there would never be anyone like him, and on and on. a
Alix spotted a table with a lit candle and pictures of her dad, and thought this would be the appropriate place to deposit the urn, After having placed him there, Alix noted a few strange glances.
A family member informed her that she would have to remove the urn from the house because, she said, in Judaism, cremation is not an acceptable way to dispose of the deceased and that his remains had to be removed from the house.
Alix turned to her husband Jim for counsel. Jim, whose relationship with Arnold was marked by laughter, adventure, frustration, devastation, anger, outrage and fascination, would know how to deal with the situation.
"Well, Al," Jim said. "It won't be the first time he gets kicked out of someone's house." So they picked up the urn, and put Arnold in his proper place for the weekend; the trunk of the car
Arnold had a rare ability to make a world that you had only read about in books come alive. Playing golf at Torrequebrada on the Costa del Sol was a little different from hearing about those that did it, especially when your drive almost hit Sean Connery in the foursome in front of you. Arnold awakened my taste for world travel because he introduced me to it. He brought beauty, excitement and pleasure to my life, and I will never forget him.
Len Berk is the Forward's lox columnist. He works the lox counter at Zabar's on Thursdays.