Art
In America's first Palestinian museum, a chance to explore common ground (and mostly avoid politics)
The Palestine Museum US was founded four years ago by businessman Faisal Saleh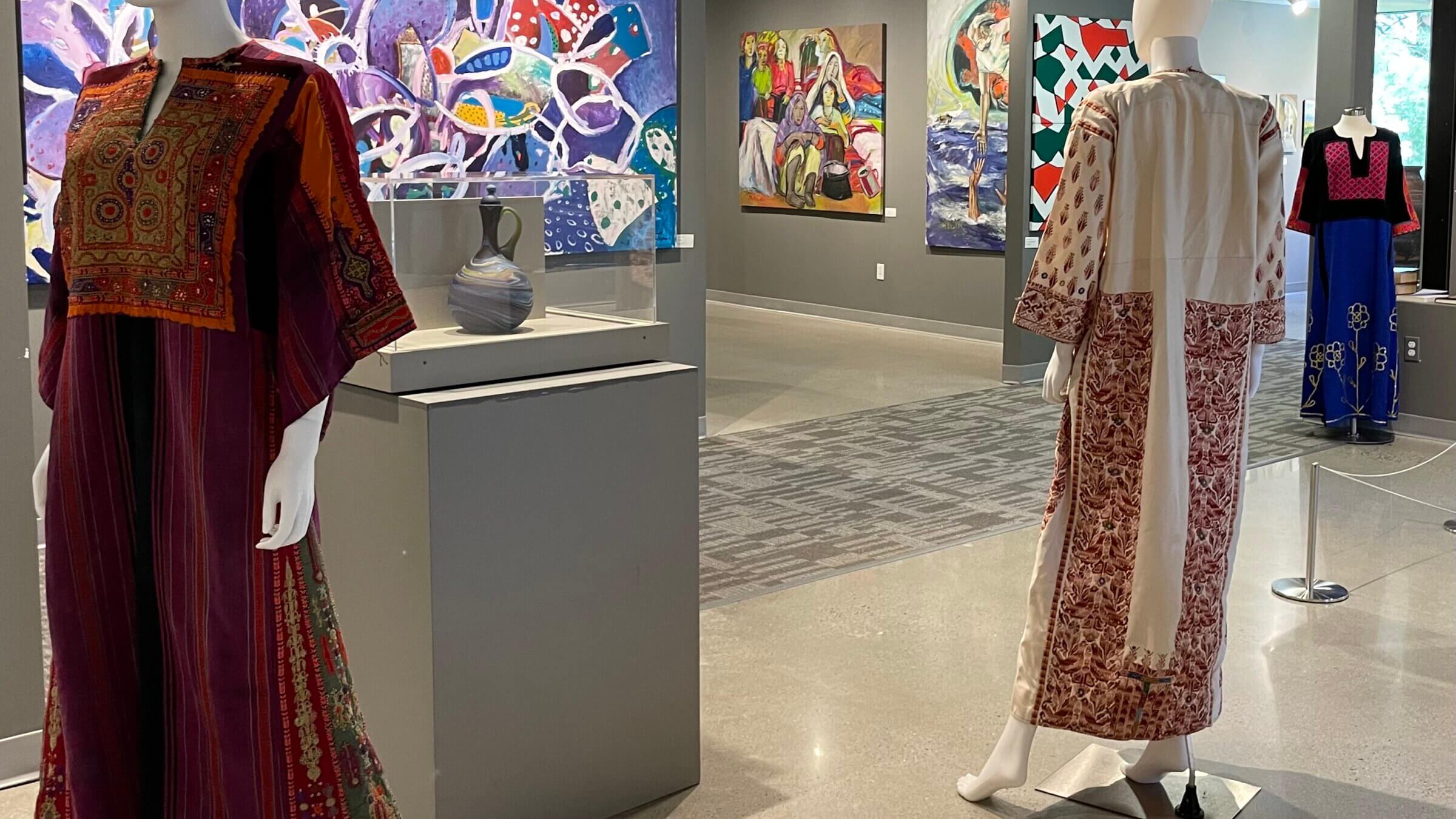 About 80 miles from New York City's renowned Museum Mile stands a nondescript office building; its beige façade conceals the burst of color waiting just inside the double glass doors, which serves as the entrance to the Palestine Museum US.
Several canvases of women painted in bright pinks, blues, yellows and greens hang on the wall. A larger than life-sized bronze statue of a woman by the sculptor Sana Farah Bishara takes center stage. 
Stepping inside the first gallery one is immersed in color, from the intricately embroidered thobe, or traditional Palestinian dresses to the eye-popping abstract canvases displayed alongside artifacts and ephemera. 
"When we opened it there wasn't even a speck of a museum for Palestinians in the U.S. People come here to feel a connection, to get in touch with their Palestinian identity," Faisal Saleh, the museum's founder and executive director, said. "Some people who visit were born there and miss it; others have never been, but are thirsty for Palestine. We are seeing this as a big cultural opportunity for people."
Saleh views the four-year-old museum — the first one in the nation dedicated to Palestinian art and culture — as a place where Muslims, Jews and Christians can connect through culture.
"Many of the Jewish people who come here are well versed in the region and some have been there many times. Some come here and say they were taught a narrative that they didn't question," the 70-year-old businessman said.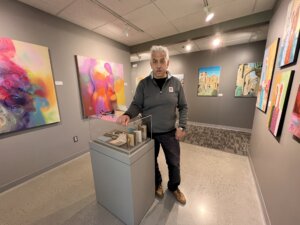 The youngest of 11 children, Saleh was born in 1951 in the West Bank town of El Bireh.
In June 2019, Saleh spoke about his experience of being a Palestinian refugee at Beth El-Keser Israel, BEKI, during its Shabbat Shmooze, a post Shabbat service kiddush and lecture. "It was a good opportunity for good discussion. People were curious," Saleh said of the event. 
Saleh's talk at BEKI came after a previous visit to the museum by some of the synagogue's members. Since then, several congregants have participated in museum events such as lectures and film screenings. 
"We really salute what he's managed to do. When Jewish people, or any people, walk into the museum and see what is there, a window is opened into the experience of the other," Rachel Bashevkin, BEKI's incoming president, said. "Every Jewish institution has the challenge of how much questioning will we do. It can be painful; it can be difficult and it can be unsettling, but it's important to me as a Jewish person to see these things."
Additionally, Saleh who has long fostered ties with Jewish communities in Connecticut rented space to the Jewish Federation of Greater New Haven's Jewish Community Center after a fire in 2017.
Although Saleh said he strives to keep politics at bay, he acknowledged it's not always possible.
"Our mission is not political, but you can't hide the politics either. It's part of the story, our story," he said.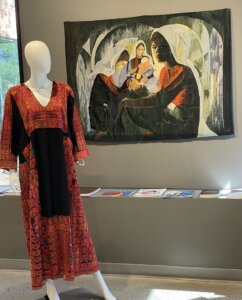 While much of the art in the 4,000-square-foot space has nothing to do with the region save for the fact that the artist is Palestinian, some works have everything to do with the Israeli-Palestinian conflict. 
In a side gallery, there's a large abstract painting of a woman by the Jerusalem-born Nameer Qassim. In another gallery wood pieces fashioned to look like gravity-defying bronze sculptures of buildings hang on the wall. Turn a corner and you'll find paintings depicting winding streets and markets in Ramallah.
One gallery features a painted mural of Rachel Corrie, an American activist who was crushed by an Israeli Defense Force armored bulldozer in Gaza in 2003 during the Second Intifada. The mural shows Corrie's face rising among a field with the  tractor in the distance.  Another wall displays crayon drawings made by children in Gaza, illustrated after the 2009 Operation Cast Lead, Israel's war with Gaza. Also on display is a sculpture of a birthday cake filled with two layers of bullets.     
The youngest of 11 children, Saleh was born  in 1951 in the West Bank town of El Bireh. His family, who lived in Salama until 1948, crammed into a single room. In time the family found a larger apartment.
Saleh immigrated to the U.S. in 1969 when he was a high school senior. He graduated from Oberlin College and then earned an M.B.A. from the University of Connecticut. After college, he started a small benefits and human resources firm in Washington, D.C.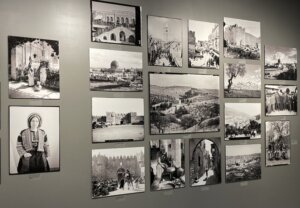 Saleh says he lived in the U.S. for nearly 50 years before he considered doing anything that was related to his roots. He's an avid tennis player, and had toyed with the idea of opening a tennis academy in Ramallah. 
"But I ran into all kinds of issues including dealing with the Palestinian Authority and so that fell by the wayside," he said. 
Saleh says he has only returned to his birthplace twice since he immigrated — once during his junior year abroad when he studied at Hebrew University in Jerusalem; the second time in 1999 when he took his wife and two children to visit Jordan, the West Bank and Jerusalem.
Although the museum highlights Palestinian artists, a bit of Saleh's own family's history is on display as well.
Inside one case are his father's Mandatory Palestine passport, an International Committee of the Red Cross ration card, a small beaded purse that once belonged to his mother, and his father's identity card from the early 1940s on which a photograph is affixed, he says, by "a staple that has been there for more than 70 years." 
Earlier this year, the museum was invited to participate in the 59th Biennial in Venice, marking the first time in that event's 127-year history that there was a pavilion dedicated to Palestinian art. The show features 19 Palestinian artists, including Samia Halaby, a Jerusalem-based abstract painter, activist, and scholar. 
"The Biennial is the Olympics of the art world," Saleh said. "It was heartwarming to be there. A huge bright spot to bring Palestinian art to the summit of the art world. A huge milestone. I hope it's just the beginning of telling our story through the arts."