Culture
Alison Leiby wants you to laugh at her abortion. Will it actually help?
In "Oh God, A Show About Abortion," the Jewish comedian mines her own experience for jokes.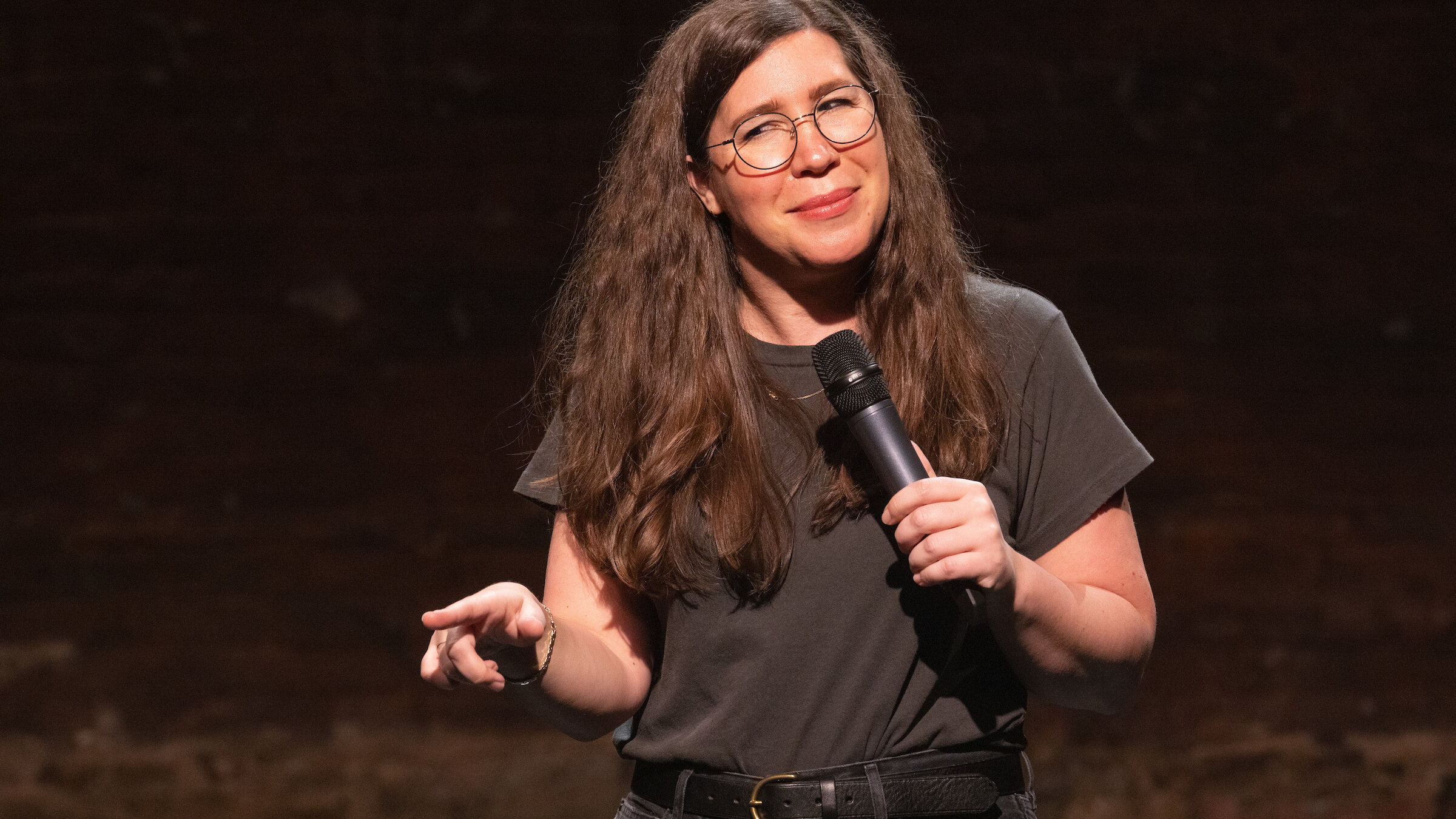 One thing nearly all birth control ads have in common are the pristine landscapes in which they take place. There's the girly swimming pools of Nuvaring, the stylish, vagina-themed boudoir of Phexxi, the jewel-toned backdrops of Annovera. These elaborately constructed settings could not be less reflective of the actual experience of using birth control. Where is the teenager monitoring their legs for fatal blood clots? Where is the grown adult applying salves to cystic acne that belongs back in middle school?
Jewish comedian Alison Leiby gets this. Midway through her 70-minute standup show, "Oh God, A Show About Abortion," she takes a minute to talk about how contraception, often presented as an unequivocal boon to women, can actually kind of suck. She asks who in the audience "almost died" from Yaz, a birth control pill that has allegedly caused high rates of the aforementioned blood clots. Then she turns to ParaGuard, one IUD on the market, which can worsen periods — a non-starter for Lieby, whose uterus already "acts like it shops at Forever 21. Every three weeks, it's like, 'This is trash.'"
As its title suggests, Leiby's show, currently running at the Cherry Lane Theater, details her unplanned pregnancy and her choice to have an abortion. Yet as much as Leiby orients her set around this one big taboo, she addresses the many smaller taboos that persist about women's bodies and their sex lives. "Oh God" invites us to laugh at — and thus dispel, if only for a moment — the contrast between the polished, virtuous femininity our society demands from women and the sometimes funny, sometimes scary, always messy reality of living in a body that can make a baby.
Known for her work as a writer on "The Marvelous Mrs. Maisel" and "Broad City," Leiby takes the stage each night in the same outfit: a black t-shirt, black jeans and blue Gucci loafers that she repeatedly cites as proof of her financial unpreparedness for motherhood. She looks like a cool friend who knows where to get an espresso martini. On the night I went to see "Oh God," she faced a mostly-female audience shaken by the recent leak of a Supreme Court decision overturning Roe v. Wade and looking for something — anything! — to laugh at.
On the laughs front, Leiby always comes through, mining her life for one-liners and elaborate bits. She was on tour in Missouri in 2019 when her cycle-tracking app warned her that her period was late. After peeing into a cup (actually, a crystal scotch glass, the only available vessel in her hotel room) and confirming she was pregnant, Leiby knew exactly what she needed to do. She dialed up Planned Parenthood and, despite a lifetime of support for reproductive rights, found herself whispering, as if in shame, that she needed an abortion.
Leiby experienced what may soon become an impossibility for many: an easy abortion. She doesn't have any agonizing memories or bureaucratic hurdles to pad out her set. Instead, she digresses frequently into different moments of her reproductive life. She riffs on gender-segregated anatomy lessons that crystalized sex as a subject of shame, and vague parental injunctions: "You can get stuff from oral, too," Leiby recalls her mother saying during a pre-college shopping trip. As a 30-something, Leiby describes watching her friends perform contented, effortless motherhood while defending her own choice not to have children. (Her depiction of herself as a tax-return-bungling, houseplant-murdering incompetent unfit for motherhood — as if you can't be a good plant mom without wanting real kids — is the only part of the show that feels stale.)
Leiby is skilled at turning the joke on those who would remain ignorant of women's bodies: In one of her funniest anecdotes, she describes undergoing a lower back X-ray and listening to a trio of male neurosurgeons agonizing about a foreign object near her pelvis. It takes a female nurse to identify the object as a tampon. Perhaps because of this, the ease with which she describes her actual abortion — at the Planned Parenthood in Soho — is unsurprising. Asked during a pre-procedure sonogram if she wanted to know whether the fetus had a heartbeat, Leiby says, "You can fax that to Mitch McConnell. I don't really care. He seems to care a lot."
Jokes aside, Leiby makes a pointed argument: To normalize abortion, we need to talk about it more often and more frankly. Her unapologetic attitude does sometimes feel profoundly transgressive. It was freeing to hear someone say aloud that she didn't like what birth control did to her body, that she didn't take it, and that she didn't feel guilty about needing an abortion as a result. (Not to mention, I learned more about the logistics of an in-clinic abortion in those 70 minutes than in years of state-mandated sex education.)
Yet this argument was far more viable when Roe was a settled precedent than it is now. Millennials like Leiby, and like me, grew up at a time when the work of reproductive freedom seemed to lie with reducing social stigma around abortion or easing the financial or logistical obstacles to obtaining this care. Now, we may soon face formidable legal barriers in a majority of states. Leiby, who reportedly learned of the Roe leak while eating dinner after a run of her show, gestures to the increased importance of frank talk about abortion in an era when our rights are being "legislated away." But the effort of normalization only goes so far if abortions are impossible to legally obtain.
Only at the very end of the show does Leiby make clear what we might gain by talking about abortion in this particular, bleak moment. Just as she whispered the word "abortion" to the Planned Parenthood receptionist, she finds herself reluctant to tell her mother about the procedure. When she does, her mother reveals her own pre-Roe abortion, obtained through one of her mother's Mafia-affiliated business associates. ("We do all the Rockettes," they assured her.) Leiby's mother, then a teenager, was blindfolded in an empty parking lot and driven to a strange house, where she endured a medically-induced miscarriage without any family or friends to support her.
Leiby's mother never discussed the procedure with her parents again. And she didn't tell her daughter until Leiby confided in her. To hear these stories — the ones that truly matter right now, the ones of a world without Roe — we may each have to start a conversation. Just as Leiby does every night, onstage.