Culture
A giant of acting forever changed by the German occupation of his homeland
Jean-Louis Trintignant, star of 'The Conformist,' has died at 91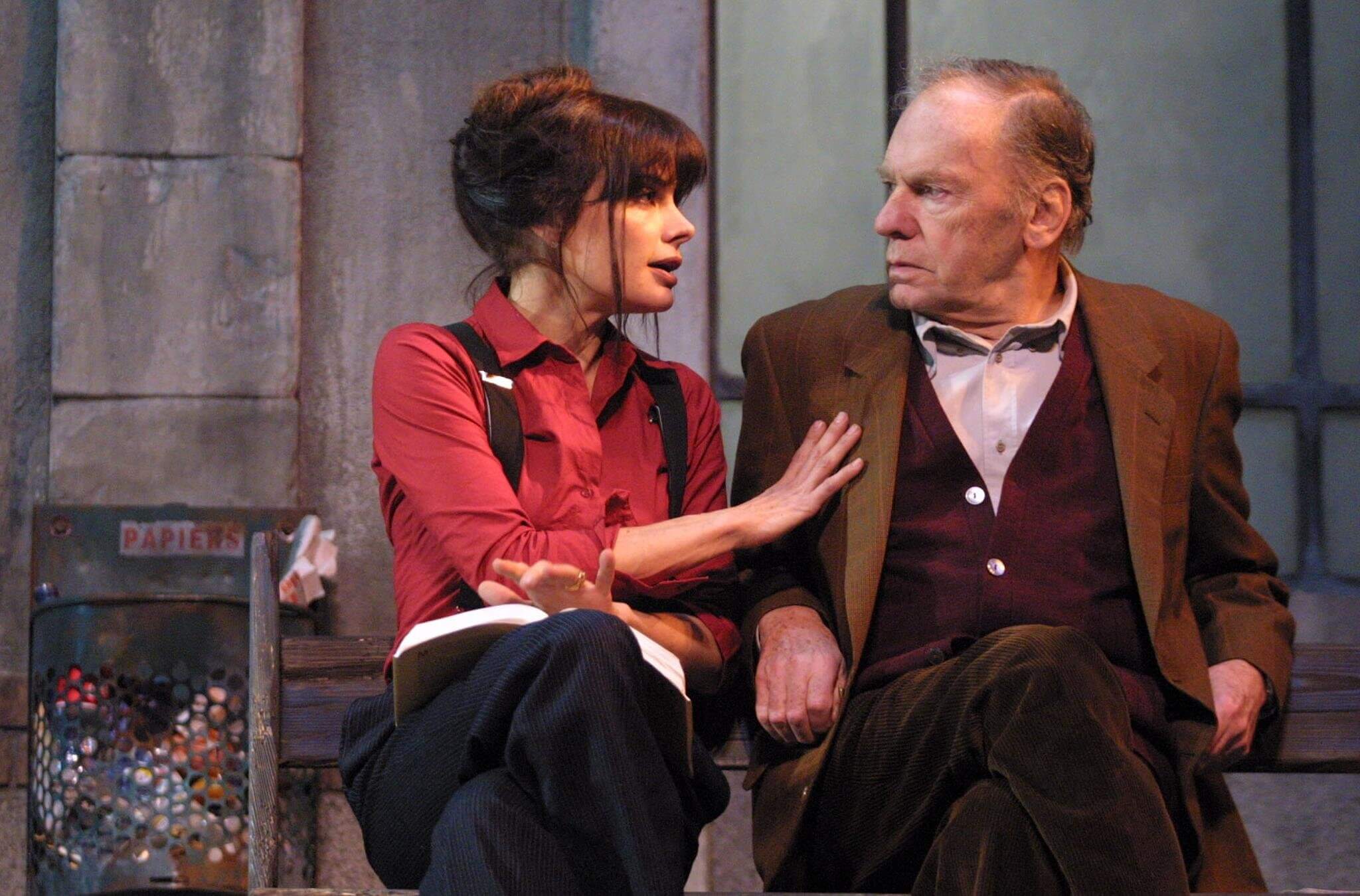 The achievements of French actor Jean-Louis Trintignant, who died June 17 at age 91, were interwoven with the experiences of his admired Jewish colleagues as well as with modern French Jewish history.
Trintignant attained superstardom in the romantic melodrama "A Man and a Woman" (1966) directed by Claude Lelouch, of Algerian Jewish origin. When Lelouch asked Trintignant which actress he wanted to play opposite him, Trintignant selected Anouk Aimée, born Nicole Dreyfus 90 years ago.
Already friends, the bond between Trintignant and Aimée, whose Jewish father inspired her to convert to Judaism in adulthood, strengthened through the filming and two sequels that followed. Like Aimée, Trintignant was powerfully impacted by the German occupation of his homeland.
That stressful era made a permanent impact on Trintignant, whose intense, clenched expression and scrawny physique made him a convincing leading man, despite a slight facial resemblance in his early years to the young Billy Crystal.
Trintignant's father was a wealthy businessman and local official who joined Combat, a French Resistance movement in the non-occupied zone during World War II. In southern France, Raoul Trintignant worked to hide Jews, providing them with counterfeit documents and helping them to escape to Spain by way of Toulouse to join Charles de Gaulle's Free French forces in London.
Raoul Trintignant also joined guerrilla fighters (the maquis) in the French underground in the Ardèche of southeast France. He was arrested in 1944 by French Nazi collaborators and jailed in Baumettes prison in Marseilles, until Allied troops liberated France.
Meanwhile, Trintignant's mother, from a prosperous family in the Vaucluse department of southeast France, reacted to domestic solitude at this challenging time by having a love affair with a Nazi soldier. After the war, Trintignant's mother was among the estimated 20,000 Frenchwomen whose heads were shaven by volunteers and marched through towns in retribution for what was termed "horizontal collaboration" (collaboration horizontale) with the enemy.
Trintignant told several interviewers how as a teenager he silently watched his mother's head being shaven and her subsequent public shaming. When Raoul Trintignant was freed from prison after the Allied victory, he asked his son how he could have stood idly by and watched his mother being humiliated in this way.
Trintignant's response was taut silence, which he reproduced in many movies during a career that lasted over half a century. These real life emotional ordeals proved a solid basis for anguished film roles, such as in "The Train" (1973), based on a novel by Georges Simenon, about a doomed wartime romance between a married radio repairman and a Jewish refugee, played by Romy Schneider.
Other prototypical Trintignant roles were as a general in "Austerlitz" (1960) a vast historical fresco about a Napoleonic battle. It was directed by Abel Gance, whose father may have been Jewish, so French Fascists and Nazi occupants before and during World War II were convinced that Gance was, too. Assisting Gance on "Austerlitz" was the French Jewish writer and filmmaker Nelly Kaplan.
Varying the menu, Trintignant also performed in dark comedies such as "The Easy Life" (Il sorpasso; 1962) directed by Dino Risi, brother-in-law of the Hungarian Jewish Holocaust survivor Edith Bruck (born Steinschreiber). In "The Easy Life," Trintignant was a shy law student whose life is taken over by an ebullient older man, played by the Italian Jewish actor Vittorio Gassman.
Gassman would rejoin Trintignant in an informal sequel to the aforementioned film, "The Success" (Il Successo;1963). In 1969, another prestigious Trintignant vehicle, "My Night at Maud's" (Ma nuit chez Maud), costarred Françoise Fabian, born Michèle Cortés in Algeria, of Polish Jewish and Catalan roots. The high-flown dialogue, in which both discuss the 17th century Catholic philosopher Blaise Pascal, is devoid of Yiddishkeit. Yet Fabian has a warm earth mother quality that irradiates the otherwise chilly setting of wintertime Clermont-Ferrand in central France.
These varied assignments prepared Trintignant for possibly his most daunting professional challenge, to incarnate a craven Fascist in the adaptation of the Italian Jewish author Alberto Moravia's "The Conformist" (Il Conformista; 1970). Desperate to follow along with lowly doings of the Mussolini era, Trintignant's character wishes nothing more than to be accepted as part of a community of evildoers.
His will to conform is such that he accepts an assignment from Mussolini's secret police to murder his former mentor, living in exile in Paris. Through the years, Trintignant's wide-ranging, multifarious career continued to include reflections on how Jews survived, or failed to survive, 20th century ordeals in Europe.
In 1996, he was in "A Self Made Hero" (Un héros très discret), as the older version of a character portrayed by Mathieu Kassovitz, a French actor of Hungarian Jewish origin. Like Trintignant's own experience with a variety of responses to moral challenges in his own family, "A Self Made Hero" had him embody the Gallic postwar myth that everyone in France, including Nazi collaborators, were really at heart supporters of the Resistance movement.
Trintignant's character, Albert Dehousse, lives in a village in Northern France, where he avoids being drafted into the army during World War II. He courts a girl whose family mistrusts him to the extent of not revealing that they are active in the Resistance, sheltering Allied pilots who were shot down.
Of such ambiguities is modern French history made, and Trintignant's characteristic reticence and somewhat ominous stillness ideally reflected the multi-layered reality of conduct that could be admirable one moment, and despicable the next.
Perhaps in response to this brooding reserve, in 1980 the Bronx-born Jewish director Stanley Kubrick was preparing the international release of his horror film "The Shining." Kubrick asked Trintignant to dub the voice of Jack Nicholson for the French language version. Although Trintignant had never dubbed any films before, he readily acceded to Kubrick's request and accepted the humble, semi-anonymous task. Trintignant's voice was duly heard in France and French-speaking territories worldwide on the soundtrack of "The Shining."
Claiming that the immediate audience approbation of theater made that medium his true love, Trintignant acted in plays written by his son-in-law Samuel Benchetrit, of Romani, Sephardic and Ashkenazi Jewish ancestry.
Trintignant could have worked with more Jewish filmmakers, but he turned down the role of a French scientist in "Close Encounters of the Third Kind" directed by Steven Spielberg, because he felt that his mastery of English was inadequate. Instead, François Truffaut, who claimed to be of Jewish origin, got the part.
As Trintignant told an interviewer in 2012, fellow actors whom he admired included Robert Hirsch, a French Jewish classical actor and trained dancer of magical comic skills, and Charles Denner, of Galician Jewish origin. About Denner, Trintignant recalled poignantly, "I made several films with him. I would have liked to be friends with Denner, but he didn't want to be friends with me. He found me a bit facile. I was from a middle-class background and he was of foreign, working class origin. And I had somewhat fine features, which must have irritated him. I would very much have liked to be Denner."
Even if he never realized his ambition to be or befriend one French Jewish actor, Jean-Louis Trintignant nevertheless made a permanent impact on modern world cinema history.