Culture
Who serves the best kosher pizza in NYC? We found out
We regret to inform you that at least one Ashkenazi digestive tract was harmed during this investigation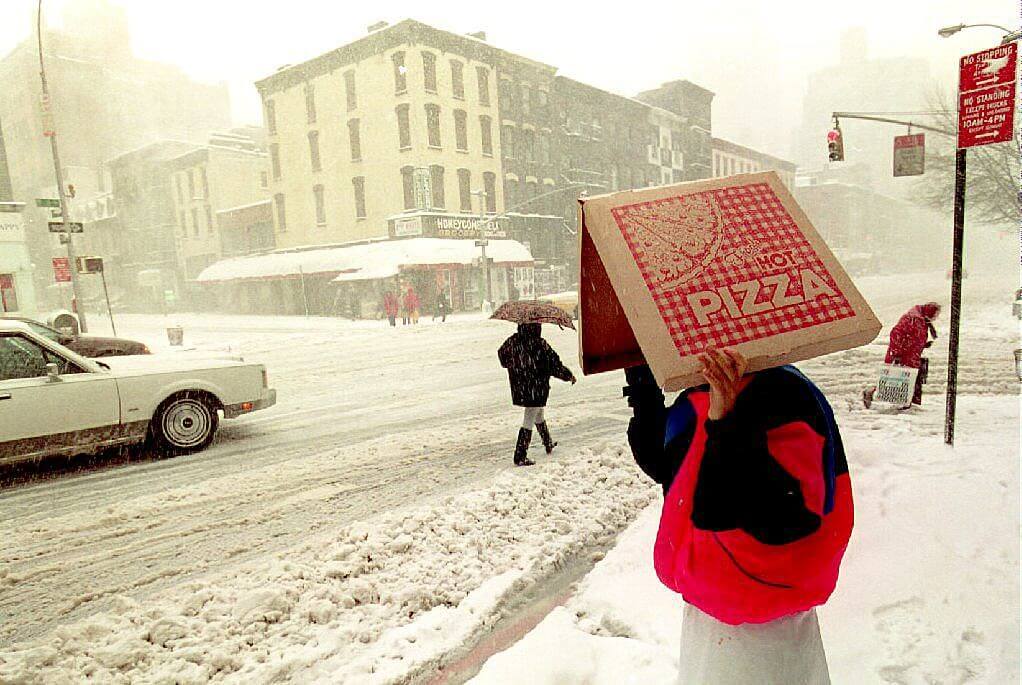 Pizza is personal. From the best late-night slice to the most reliably cheap lunch, every New Yorker has a unique opinion that is objectively, 100% true. So when I posted on Instagram that I was searching for the best kosher pizza in Manhattan, it was no surprise to find my DMs flooded with hot takes and big feelings.
Friends and friends-of-friends inundated my inbox with the kind of meticulous analysis that befits the inheritors of the Talmudic tradition. One respondent suggested that a certain kosher pizza shop was a front for some more nefarious enterprise, asking how [tactfully redacted pizzeria] "can have such a large space when no one actually eats there. It's a conspiracy to the highest level." Others cast doubt on the kosher certifications of the neighborhood joints. 
You see, while pizza is a piping hot topic for all New Yorkers, the laws of supply and demand drive even more intense interest among kosher connoisseurs. For the general pizza-consuming populace, a slice of pizza is a matter of convenience. But there aren't dozens of kosher pizza shops in every square mile. For the same reason, plain kosher slices run from $3 to $4 per slice. So the relatively few kosher pizzerias get outsized attention, with slices and shops analyzed down to the final drop of sauce.
I carefully considered the Instagram votes, but, like the chief rabbi from "The Frisco Kid," "I am the one who has to decide!" While I originally planned to restrict the search to Manhattan, my quest for the best slice eventually led me across all five boroughs. Okay, fine, four boroughs — Staten Island was a bridge (or a ferry) too far. I purchased and tasted 18 slices of plain kosher pizza, rating them on a scale of one to five greasy napkins. My only concession to my beleaguered Ashkenazi digestive tract was that I split the tasting over a bunch of trips.
So, here are my very biased — and very correct — opinions on the best kosher pizza in New York City. I look forward to being told I'm wrong. 
Manhattan
My research started informally and over time in Manhattan, as that's where I live and eat most of my slices. I started my crawl there too, with the slice I've eaten more than any other in New York: Bravo Kosher Pizza.
Bravo Kosher Pizza

When judging pizza, there is only one category that really matters, and that's the quality of the plain slice. I need evenly melted cheese that doesn't slide, a crispy crust (especially on the bottom of the slice), rich sauce that doesn't drown the triangle, and a thin film of grease to crown the small triangle of paradise. 
Ari Schaffel, a food scientist and my former roommate, said it best in response to my Instagram poll. "Bravo. Period."
Open since 1985, with locations in Midtown and the Financial District, Bravo Kosher Pizza is the king of classic. Their plain slice is consistent from bite to bite and order to order. More than any other kosher pizza place, Bravo is able to make a traditional NYC crust: crispy but not brittle, flexible enough to fold while still maintaining structural integrity.
It's worth letting a fresh slice from Bravo rest for a minute to let the cheese tighten ever so slightly, but this is a slice you can eat on the go. Just make sure to bring a napkin.
Where it is: 107 W. 37 St., Manhattan; 17 Trinity Place, Manhattan
What a (plain) slice costs: $4.50
My rating: 5 greasy napkins
View this post on Instagram
Cafe Viva
Cafe Viva got a lot of love on the Instagram poll. Some praised Viva's specialty slices, but there were also plaudits for the plain. 
Located at 97th and Broadway, Viva is often the most convenient option for Upper West Side Jews. In addition to the shop's geography, it's also open until the last second before Shabbat and within a minute of Shabbat ending. (How can that be, you ask? The shop stays open throughout Shabbat.)
Viva's crusts are less than crispy and dusted with a bottom layer of corn meal, but the slices reliably satisfy a craving for pizza. The cheese will not slide off the slice, though the point of the triangle might droop as you fold it. 
Where it is: 2578 Broadway, Manhattan
What a (plain) slice costs: $3
My rating: 3.5 greasy napkins
Saba's
Like Cafe Viva, Saba's is known for specialty slices more than plain ones. The pizzeria may also possess the most devoted fans of any shop I visited. When discussing the plain slices, fans praised the sweet sauce as a standout feature. I'd add that locations on the Upper West and Upper East sides make Saba easily accessible for most of Manhattan's kosher yuppies.
But when I actually tried the slice, I found I couldn't share the apparently widespread enthusiasm. The crust feels like cardboard, and the sauce and cheese are unremarkable. Slices here reminded me of the ones I ate at Jewish day school growing up — a damning indictment, considering those slices were delivered to my school early in the morning and sat around until lunch time. My conclusion: Saba's is only worthwhile if you're out late on Saturday night.
Where it is: 1217 Lexington Ave., Manhattan; 403 Amsterdam Ave., Manhattan
What a (plain) slice costs: $3
My rating: 2.5 greasy napkins
Manhattan is unique among the five boroughs in that the kosher pizza shops aren't usually located near each other. The exception is Washington Heights, where you can find Lake Como and Grandma's pizza shops on the same block of Amsterdam Ave., between 186th and 187th streets. 
Still, the neighborhood is one to avoid when looking for kosher pizza. On my Instagram poll, thumbs-down and negative emojis far outweighed any other comments on these two eateries. Most commenters hedged by saying "if you're in the Heights and have to eat pizza…" It's not a pretty picture, and I will spare you the details. 
With 90 blocks between Washington Heights and Manhattan's other kosher pizza offerings, upper Manhattan purists might have to — gasp — travel to nearby Riverdale to find a quality slice. I made the journey as part of a two-borough pizza crawl through the Bronx and Queens.
The Bronx & Queens
Riverdale is a suburb. I will die on that hill. But, technically speaking, it lies within the limits of the Bronx. Before I embarked on my grand tour of Queens, I visited the Bronx's single kosher spot: Pizza Plus.
Pizza Plus
Located in a calm Riverdale strip mall, Pizza Plus is only a 10- minute walk from the 238th Street stop on the 1 train. Unless you live nearby, you aren't likely to be taking a slice to go. That's a good thing, because Pizza Plus is not meant for grab-and-go.
In order to get a slice here, you have to order in Pizza Plus, then pay next door at Corner Cafe & Bakery, the pizzeria's older sister. The slice you get when you return to Pizza Plus is too floppy to be a convenient travel partner. But it's definitely tasty, with a fluffy texture and cheese that pairs nicely with an understated sauce. If there was such a thing as a diet pizza slice, this might be it. Some foreshadowing: Considering all the slices I had ahead of me in Queens, I was lucky to start the crawl with Pizza Plus.
Where it is: 3718 Riverdale Ave., the Bronx
What a (plain) slice costs: $3.50
My rating: 4 greasy napkins
The real work began when I left the Bronx for Queens. Five stops to make, and all on a tight deadline. My stomach aches just thinking about it.
Naomi's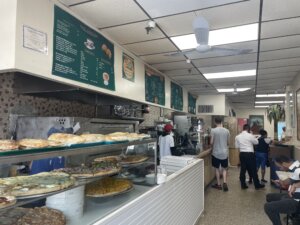 Naomi's, my first stop in Queens, came highly recommended by a good friend. They told me that the vibes at Naomi's are old-school, they only take cash, and the pizza is top-notch. 
I paid with a credit card, and instantly knew something was amiss. My slice came noticeably thin, crunchy and burnt on the bottom, more matzo pizza than New York pizza. Spotty sauce distribution left me wanting flavor-wise as well. I left underwhelmed, the only lasting impression being my first tongue burn of the day. Word of mouth, it turns out, isn't always so trustworthy.
Where it is: 68-28 Main St., Flushing, Queens
What a (plain) slice costs: $3
My rating: 2 greasy napkins

Shimon's and Benjy's
When I asked around about Queens, my informers presented Shimon's and Benjy's as a unit. "They rep Jewish Queens," said Shua Mermelstein, an acquaintance who became a friend as I ran my reporting by him. "Old-school and non-conformist, yet simple and multicultural."
Shimon's is cute: cash only, lined with faux-wood booths, messy in the way all good pizza shops are. Vibe-wise, I saw at Shimon's what I'd hoped for at Naomi's. The slice was soft and doughy, though the sauce dried into the cheese and crust, creating a pizza bagel-esque culinary experience. Still, I enjoyed watching the owner's grandchildren arrive and make themselves at home while I ate. The slice was lackluster, but the easy way customers moved around the joint testified to something of a cult following.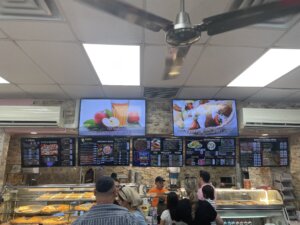 Two blocks down Main Street from Shimon's, Benjy's is separated from the street by a service road. While cleaner and more modern than Shimon's, the space lacks personality. The restaurant was packed with families, so I took my slice to go. After the lackluster slices I'd had in Queens so far, I was impressed with this one.
Chewier than the offerings in Manhattan or Brooklyn, Benjy's pizza is still strong enough to fold and walk with. Ever-so-slightly-spicy sauce compliments a greaseless layer of cheese for a heavy-but-tasty bite. Though I was already well past full, I ate the whole slice. By the time I reached the crust, Benjy's had cemented itself as my favorite pizza in Queens.
Where Shimon's is: 7124 Main St., Flushing, Queens
Where Benjy's is: 7272 Main St., Flushing, Queens
What a (plain) slice costs: $3.25 at both
My rating: 2 greasy napkins for Shimon's, 4 greasy napkins for Benjy's

Brooklyn, Part I: Crown Heights and Flatbush
Kosher offerings abound in Brooklyn, and I could never make it to every slice shop. Apprised of my plans, my concerned mother offered to overnight a box of Lactaid pills for the excursion. Foolishly, I declined. Still, I chose to handle Brooklyn in two trips. The first began in Crown Heights, and I brought a group of friends for support.
Kingston Pizza 
The Saturday night scene at Kingston Pizza in Crown Heights is one of controlled chaos. Chabad families, teenagers, and yeshiva bochers impatiently waited in line, muttering about being hungry while half a dozen portraits of the Lubavitcher Rebbe oversaw it all from the walls. 
Kingston's plain slice is like a discount version of Riverdale's Pizza Plus. Same runny cheese and anonymous sauce, with just a tad less chemistry between the two. If you're at Kingston's on a busy Saturday night, as I was, you will likely be nudged to vacate your booth by a group lingering just over your shoulder, hoping to snag a rare seat. But don't rush — this puffy crust is unique in Brooklyn, and worth savoring as much as the rest of the slice.
Where it is: 395 Kingston Ave., Brooklyn,
What a (plain) slice costs: $3.50
My rating: 3.5 greasy napkins

Pizza Time, part 1 
If Saba's boasts the most stans, Flatbush's Pizza Time comes with the highest expectations. Three friends joined me for this crawl, and between the four of us, we'd received a dozen recommendations for this pizzeria.
When we arrived, however, we discovered that Pizza Time doesn't serve slices on Saturday nights. Knowing that slices are on offer during the week, we bent the rules a tad and ordered a plain pie. While we waited, we went around the corner to Benny's.
Benny's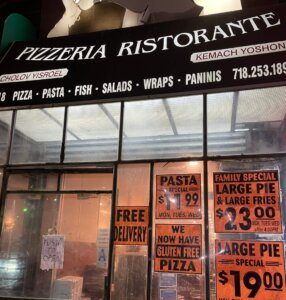 A closet at the back of a hallway lined with tiny tables and struggling fluorescent lights, Benny's hit the Saturday night vibe on the nose. Groups of young people overcrowded tables. The food came quickly, and the unassuming space led to a major surprise when I tasted the slice.
Benny's slice is as close to Bravo's as you can get. It boasts the same sauce-cheese symbiosis, and the same crispy-but-foldable exterior. The only drawback was that the dough had a strong taste of yeast; Benny's is a Brooklyn alternative to a Manhattan classic.
Where it is: 1418 Ave. J, Brooklyn
What a (plain) slice costs: $3.21
My rating: 4.5 greasy napkins
Pizza Time (Flatbush), part 2
Pizza Time's pie might be the most photogenic one I've ever seen — but we had to take it to go, because there was no space to eat in the pizzeria. We chowed down in my friend's Toyota Sienna, a tribute to our high school days.
I found these much-touted slices a bit confusing. The crust and cheese held their shape easily: I could fold and walk with only a greasy wrist to worry about. The sauce-and-cheese combo reminded me of Benny's and Bravo's, but it finished with a bitter aftertaste. The crust was chewier than it was crisp, and everything felt like it could be a little bit better. Pizza Time's slice was perfectly serviceable, but the hype made it harder to get excited.
Where it is: 1324 Ave. J, Brooklyn
What a (plain) slice costs: $4
My rating: 4 greasy napkins
Brooklyn, Part II: Boro Park
Naim Pizza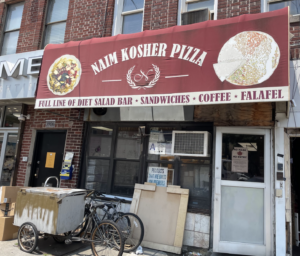 A few weeks after the first Brooklyn crawl, I returned to spend an afternoon in Boro Park. I had spent the weeks exercising and eating well, and I was ready to undermine all that good work in the name of investigative journalism. 
I began with Naim Pizza. On first bite, I was immediately offended by the sauce. Ketchup-y and pretty much substance-less, it lays on a chewy and doughy crust under a blanket of coagulated cheese.
One interesting note: Naim pizza accepts Zelle, Cash App, and, in a bind, Venmo — a modern take on the cash-only business model.
Where it is: 3904 15th Ave., Brooklyn
What a (plain) slice costs: $3.25
My rating: 2 greasy napkins

J2 Pizza
I grew up eating reheated J2 pizza, so I was excited to try the original. In the shop, a pair of Haredi men pulled on their vapes and tucked into a meal for seven while I waited for a taste of my childhood. The slice tasted just like the frozen version — shocking and disappointing, although maybe it shouldn't be. The cheese is the best part of this slice, but J2 is simply not a first or second option. 
Where it is: 5502 18th Ave., Brooklyn
What a (plain) slice costs: $3.95
My rating: 1.5 greasy napkins
Mendelsohn's and Amnon's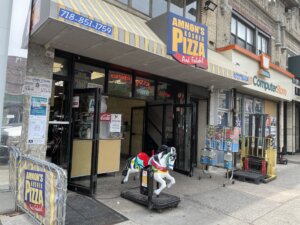 In Queens, my friends and informers considered Shimon's and Benjy's the twin standard-bearers. In Boro Park, it was Mendelsohn's and Amnon's. 
Founded in 1959, Amnon's looks like it hasn't been renovated since. Over the oven, a puzzling sign assured customers that "we do not use apple juice in our dough" — a grim hint at the quality of the product. Cheese slid across too-thin sauce over the edge of a slice that drooped down no matter how I positioned my hands. Exposed sauce and crust did Amnon's no favors. 
By contrast, Mendelsohn's was pristine. The seating area could fit an entire middle school field trip. The slices, meanwhile, were unlike any other on the trip, and they grew on me by the bite. The sauce was a bit sweet, but the cheese had a great stretch and the crust was light and flaky. The slice folded well, without letting any cheese slip off. Quality air conditioning and leg room made Mendelsohn's a perfect rest stop during a busy day in the neighborhood.
Where Mendelsohn's is: 4418 18th Ave., Brooklyn
Where Amnon's is: 4814 13th Ave., Brooklyn
What a (plain) slice costs: $3.75 at Mendelsohn's, $3.50 at Amnon's
My rating: 4.5 greasy napkins for Mendelsohn's, 2 greasy napkins for Amnon's
Our Top Five
Bravo. I said it up top and ruined the suspense, but there is just no conversation. Consistency, flavor and just the right balance of crunch and ooze make Bravo an easy No. 1.

Benny's in Flatbush. The biggest upset of the whole research period. I ate this slice so fast, and that says all I need to know.

Mendelsohn's. A true New York slice doesn't have a flaky crust, but this slice grew on me from bite to bite, and I left the shop smiling. 

Pizza Time. Despite unreasonable expectations coming into the tasting, Pizza Time still makes a high-quality slice. 

Pizza Plus. I didn't want a suburb in this story, but I was pleasantly surprised by my trip to the Bronx. If you have the time to take your slice to a bench or a park, then Pizza Plus is a great way to slow down and enjoy a good one.