Culture
In Satmar Williamsburg, even the Legos wear yarmulkes
Frieda Vizel left the Satmar world at 25 — but she still visits twice a week to give tours of Hasidic Williamsburg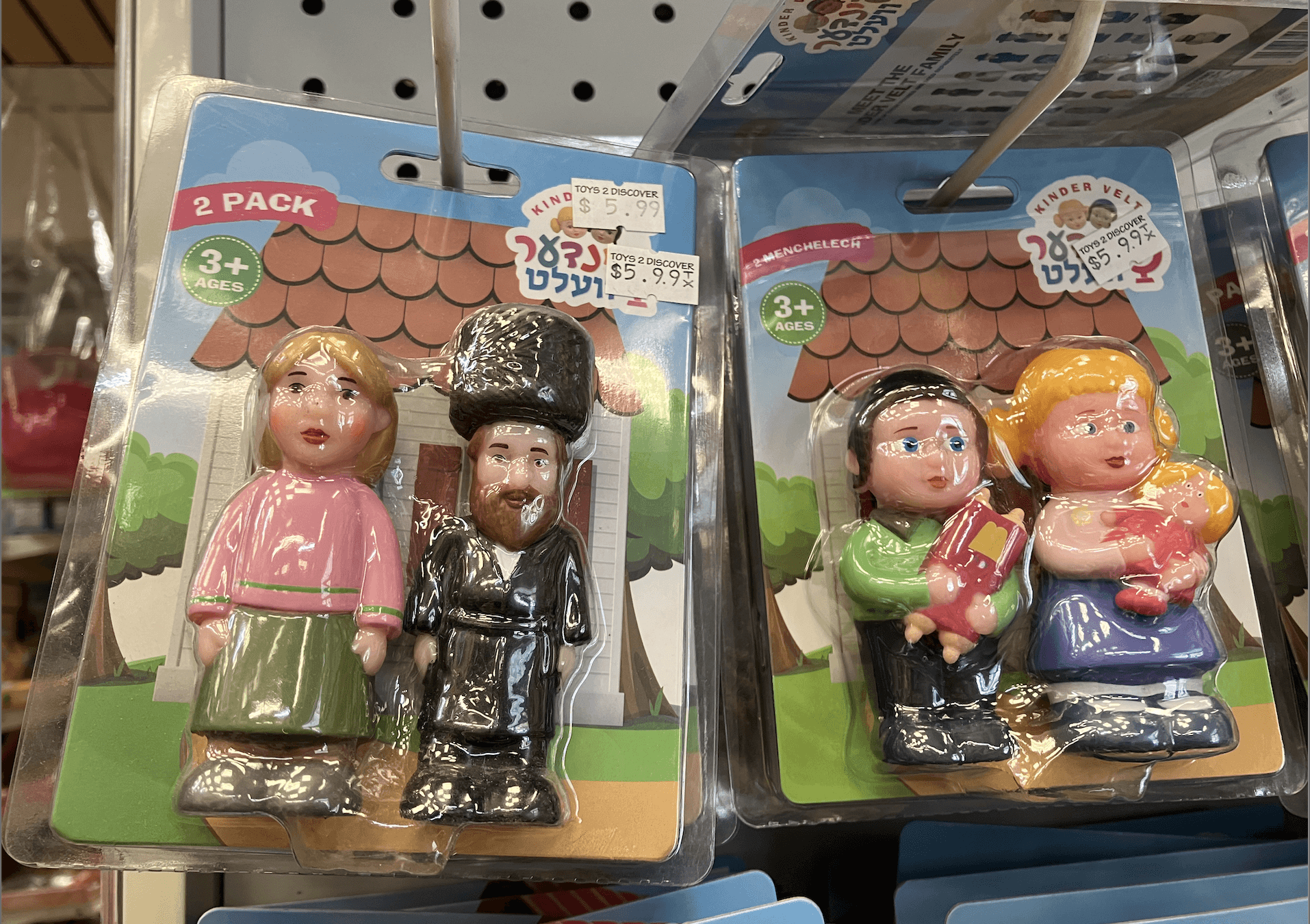 Like any good toy store, the walls of Toys 2 Discover in Williamsburg are teeming with bright colors, dolls and puzzles, dress-up kits and card games. An orange building made of magnetic plastic blocks is on display in a glass box, filled with figurines to inspire children's play. 
But when you look a bit closer, you notice the plastic figures all have peyot, the curled sidelocks worn by Orthodox Jewish men, and are gathered around a plastic Torah. There's a group of female figurines on a balcony — the women's section —  and it is somehow obvious, even though they're plastic, that they're all wearing wigs. It's a plastic synagogue. 
I found myself browsing the toy store thanks to Frieda Vizel, who was leading a tour of Williamsburg's Satmar Hasidic area, a community she was part of until her 20s — she's in her 30s now. Vizel grew up in Kiryas Joel, a Satmar enclave in upstate New York, and married a boy from Williamsburg at age 18, a match arranged by their parents.
As she showed our small group of nine around the store, she analyzed the ways the toys reinforced community values — family, marriage, religion. And she explained that toys are a much bigger part of Hasidic life than they are in the secular world, which has turned toward digital entertainment for children.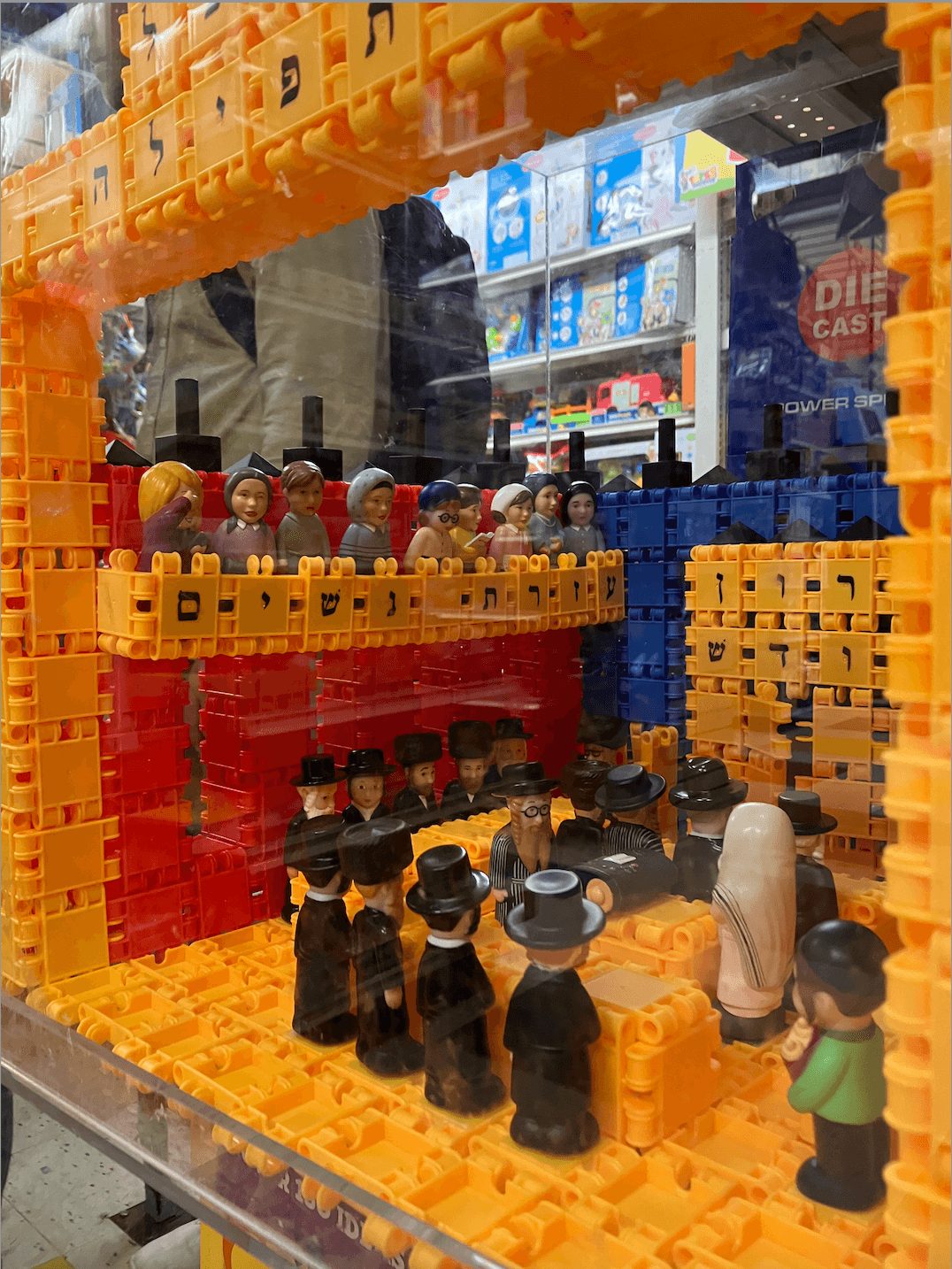 As is the case with nearly every part of the Satmar world, the toys follow certain rules, and operate within their own economy. The inflatable kiddie pools for sale were censored, large white stickers hiding the bathing suits pictured on the packaging. There were no toys that reference TV shows or modern, sexualized fashion — no Barbies, no superheroes.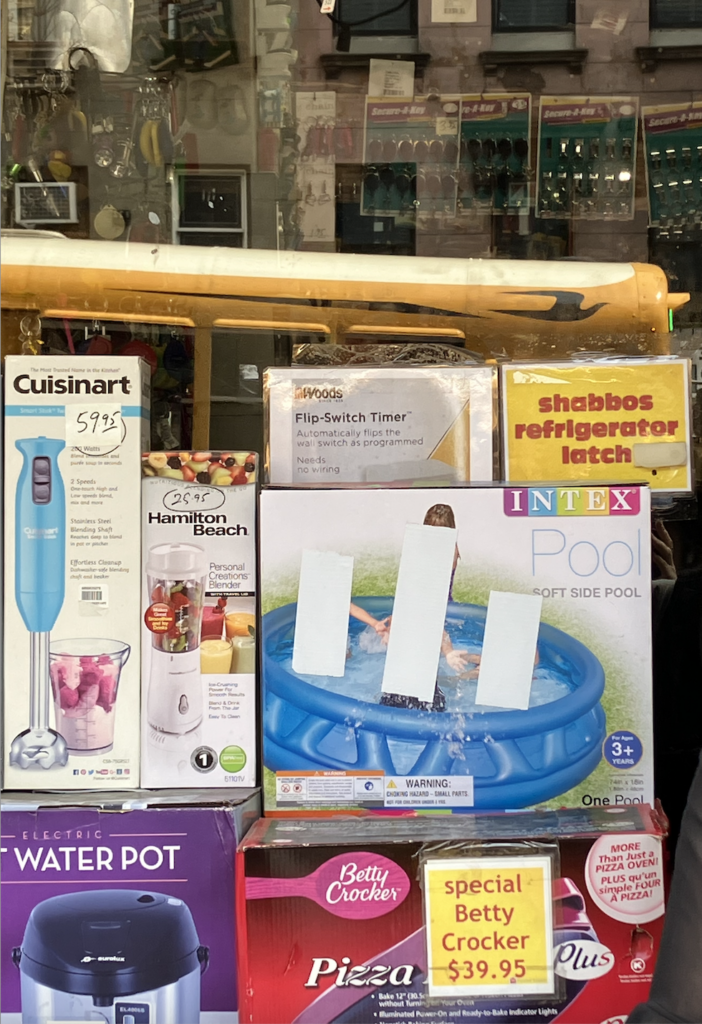 And there was a whole world of Hasidic toys you'd never see anywhere else: Shabbat-themed dress-up kits complete with a mini shtreimel fur hat; a "mitzvah" set of plastic figurines with lulavs, etrogs and challah; picture books and board games in Yiddish. 
Vizel has been leading tours of the area for nine years, ever since her graduate school professor at Sarah Lawrence asked her to show some students around; it's become her main business, advertised through word of mouth. She takes groups twice a week, pointing out the distinctive balconies that mark the area's architecture — they're so each apartment can have its own sukkah — and explaining the nuances of the community's dress, food, history and habits.
"A lot of people have a familiarity of the Amish culture through tourism, but there isn't that kind of general knowledge when it comes to the Hasidic community," she said a few days later when I asked her why she runs the tours. "I'm surprised how many people don't know Hasidim exist."
"I think it's very important as the community grows, and grows in influence," she added. "There's very little out there that's not stereotype."
Our group met near the entrance to the Williamsburg Bridge where Vizel unfurled a map of Europe that explained the origins of each Hasidic sect, and another of Brooklyn, marking which Hasidic groups lived in each neighborhood. She also gave us a few tips, such as the fact that the religious men of the neighborhood wouldn't walk through a group of women; she advised us not to block the sidewalk. We could take pictures, she said, but should be mindful not to make people feel like zoo animals.
The group included a middle-aged Jewish couple, a Mexican mother and daughter, a Turkish Sephardic woman, a sunhatted woman from Mexico City and a Danish couple who were staying in Williamsburg and curious about the sea of black hats and modest women surrounding them. Everyone was wearing long skirts or pants, with high necklines and covered shoulders despite the heat; Vizel had emailed us in advance to tell us how we should dress.
About half of the group was Jewish, and two spoke at least fledgling Yiddish, both of which Vizel said were unusual for her groups. 
Because our group was so Jewish, Vizel didn't spend much time explaining how more general Jewish practice — such as observing Shabbat or keeping kosher — function to shape daily life in the Satmar world.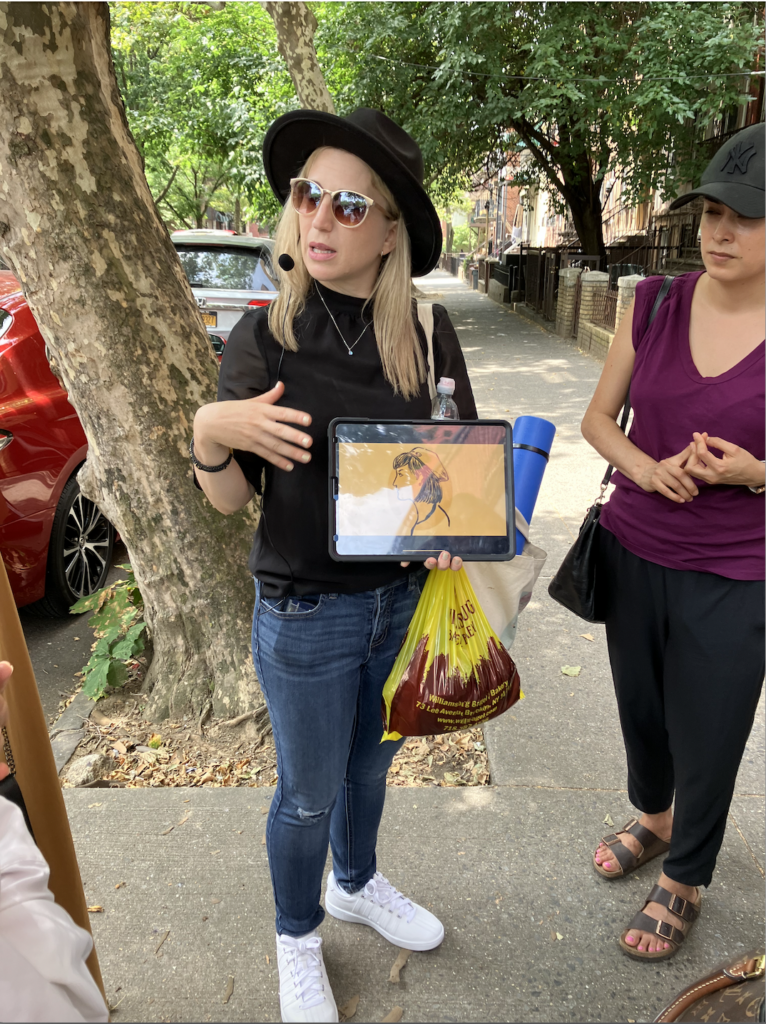 Instead, she focused on things such as the gendered education system — religion for boys; more secular subjects, albeit with censored textbooks, for the girls. She gave us a rundown of the different styles of pants for men and head coverings for women, and what they implied about the wearer's religiosity. (Vizel also pointed out that the fashion seemed stuck in the 1950s, when the community interfaced more with the secular world; Jackie O-style pillbox hats are ubiquitous.)
She also answered questions about how the community makes money with little secular education — largely real estate and shops serving the community — and noted a newer realm of business seen in posters on the street advertising Hasidic coding academies. Other posters, hanging nearby, warned of the dangers of the internet.
The most poignant observations she had to share, however, were personal memories. Vizel recalled assuming that the Israelites in Exodus must have dressed like the Satmar when they fled Egypt, in fur hats and black coats — after all, that's what Jews look like, and how the story was drawn in her coloring books. She didn't know people could look different than her community and still be Jewish.
And when we passed the public library in Williamsburg, she added that she hadn't known she could simply go in and borrow books for free.
Of course, her personal experience also provokes curiosity, and people on my tour immediately pried into Vizel's personal life, asking whether she was still in touch with her family, her ex-husband or her in-laws, and how her own arranged marriage was set up.
"I'm not a private person — I'm completely fine talking about myself — but they're not interesting questions to me," she said to me later. "We're walking around a really vibrant neighborhood and we're trying to understand it, not get the next 'Unorthodox' tale." 
Still, Vizel's personal experience, and the deep understanding of Satmar life it affords her, are what enable her to defuse people who arrive full of critiques, and allow her to portray the community with the kind of empathy and nuance that tourists looking for another "Unorthodox" story don't expect. 
"I can very easily switch to understanding where everyone in the community is coming from because I have so many years in it," she said.
When our group pressed about the arranged marriages, for example, assuming that the bride couldn't refuse a match, Vizel explained that they could — but gently asked the group why they would say no when they are raised to want to marry young and to trust their parents' choices.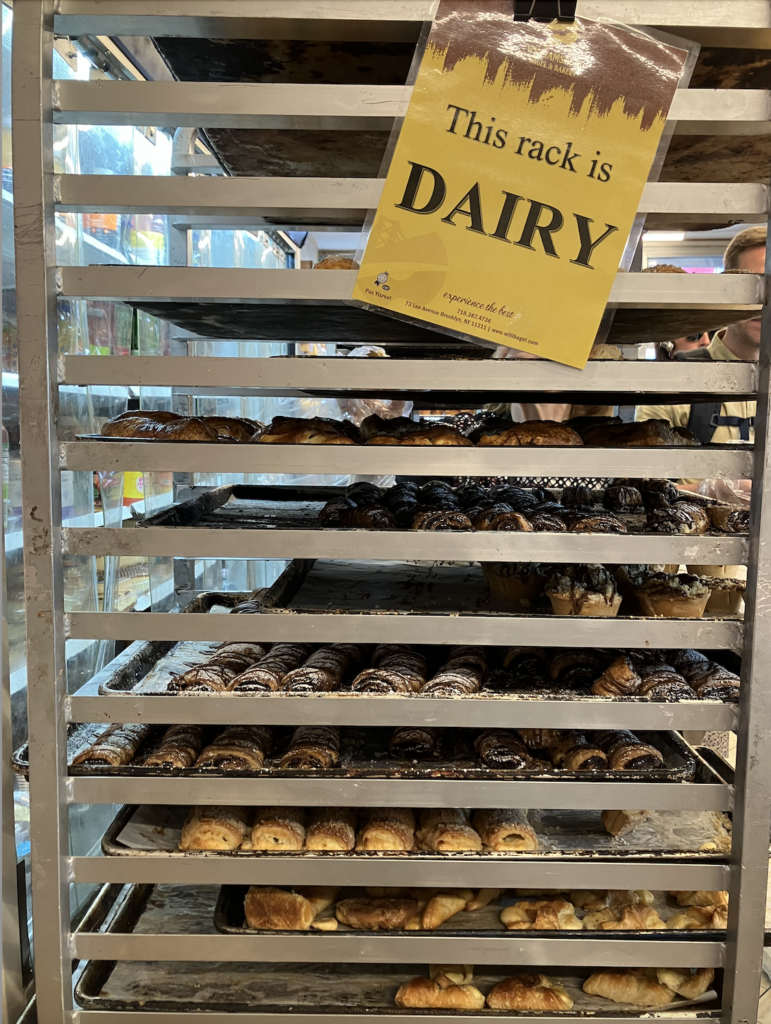 Throughout the tour, Vizel took pains to present a rich, complex and deeply human world. While she noted the ubiquitous posters and ads warning against the dangers of smartphones, she also explained that a large swath of the community are embarrassed by the ads, fearing that they make the Satmar look like crazy zealots. 
And in fact, when we stopped at a deli at the end of the tour to enjoy a pre-Shabbat meal of cholent, tsimmes and farfal, a Satmar man greeted us by loudly welcoming us to Brooklyn — all while filming on what appeared to be a new, top-of-the-line iPhone. Turns out, he has a solid following on Telegram.
Of course, Vizel has critiques of the Satmar world; after all, she left. But she wants to complicate what can often be a narrow, bigoted understanding of the religious group, especially by people who have only heard about Hasidic Judaism through Netflix. (Most of her tour groups are largely international.)
"My perspective is that you have to look at the whole; you have to look at the big picture. I'll try to answer questions in an outside-of-the-box way," she said. "It's not this pure angelic world; there's contradictions existing at once as there are everywhere."