Film & TV
For Norman Lear on his 100th birthday
The sitcom king kept tukheses in line and gave TV a social conscience — and he's still going strong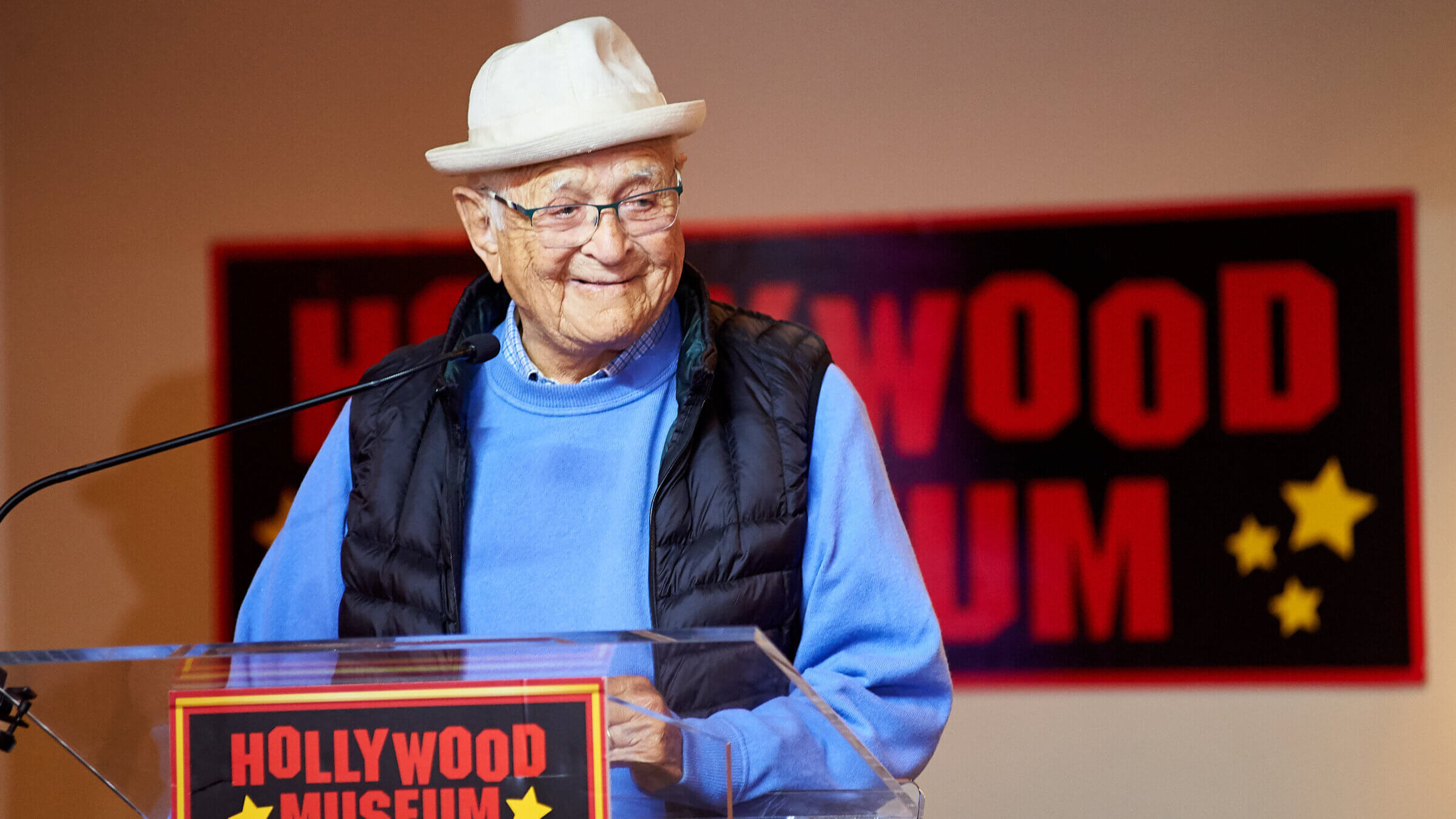 I've always loved the title of Norman Lear's memoir: "Even This I Get to Experience," a gleeful pronouncement anointed with Yinglish syntax. It makes sense for Norman Milton Lear ("Nussi Mush" to his Yiddishe Mama) and co-founder of the production company T.A.T. (Tukhes Afn Tish) Communications.
Lear, who turns 100 today, is beloved not for his Yiddishkeit, but for a more conceptual, perhaps elemental Jewishness. His most famous characters — the working-class WASP Bunkers, their Black neighbors the Jeffersons, the Sanford family and Mary Hartman — weren't Jewish, but one could argue their impetus was. All of Lear's shows, many of which could in more reductive terms be called "very special episodes," were touched with empathy and a concern for social justice. 
His comedies were nakedly political in form and content while rarely sacrificing laughs or momentum, rooting whatever topic of the day they chose to take on in character and situation. Perhaps most remarkable is how they never condescended or shamed the viewer and drew the eyeballs of Americans from all political stripes. Today they'd likely be decried by Fox News pundits as liberal propaganda, with Archie Bunker — who Lear said is a lot like Donald Trump — as a left-wing caricature of a conservative.
While it would be wrong to say Lear's work, from "All in the Family" to "One Day at a Time," is timeless, many of the best-remembered episodes broach issues that remain controversial. Just last week, Lear announced his intention to recreate a 1972 two-part episode of "Maude," where the title character has an abortion after an unplanned pregnancy. (Lear is reported to have balked at Maude having a false pregnancy or a miscarriage, as he'd already had a miscarriage subplot on "All in the Family.")
If that goes to air, it will be as part of the show "Live in Front of a Studio Audience," which since 2019 has restaged two episodes of "All in the Family," one episode of "Good Times" and an episode of "The Jeffersons." The series, recruiting talents like Jamie Foxx and Marisa Tomei to step into iconic roles, is a powerful testament to the public's love of what Lear created. 
Lear's formula for comedy, which placed colorful, flawed characters in situations that challenged their prejudices or raised difficult dilemmas, had its most powerful second act in the Netflix reboot of "One Day at a Time." Created by Mike Royce and Gloria Calderón Kellett and produced by Lear, the show reimagined the divorced mom of the original series as a Cuban-American veteran struggling with PTSD. One of her children is queer. Schneider, the ridiculous superintendent from the original, is reimagined as their landlord, a millennial rich kid and recovering alcoholic.
The central family, the Alvarezes, are vivid and imperfect, much like the world around them. Issues of racism and intolerance regularly flare up on the show, while delightfully broad performances by Stephen Tobolowsky (as the unmistakably Jewish Dr. Leslie Berkowitz) and Rita Moreno as a vivacious Cuban immigrant matriarch, never make it feel like homework.
For the last decade or more, Lear seems to have been queried more about the secret to his longevity than the legacy of his work, which achieved what after-school specials always hoped to without making even the most cynical among us roll their eyes. But when reporters ask him about fighting for a "controversial" episode with the network, he's straightforward about the reasoning he used with executives. 
"We're not talking about anything that isn't a topic in the average American household," Lear told Vox's Emily St. James in 2015. In these interviews, Lear typically gets a dig in about other shows' "boss comes to dinner" episodes where the roast is ruined — a sitcom situation that feels artificial, largely irrelevant and not very comedic. 
Lear's advice to his writers is: "Let's work with real problems; there's comedy in the foolishness of the human condition."
Sometimes Lear's staff wanted to talk about antisemitism — as in an episode of "Archie Bunker's Place" where the synagogue of Archie's business partner, Murray, is ransacked. It was another opportunity for the bigoted but loveable Archie to grow, though he'd already been primed to overcome his antisemitism on "All in the Family," when he said Kiddush as a guest at a Shabbat dinner.
Perhaps the real secret to Lear's style and its durability is inseparable from his Jewishness.
"At 9 I learned that people disliked me because of my Jewishness," Lear told the Forward in 2014, recalling a time he heard the antisemitic priest Father Coughlin on the radio. "It was a profound discovery and influenced everything I ever felt about the human species, the human condition. My sympathies, my empathy went out to people who are automatically disliked just because of who they are."