Culture
The 'poet laureate of Southern Jewry' has died. Here's how I remember him. 
A gradualist and an optimist, Eli Evans argued that I was holding Southern Jews to an unfair standard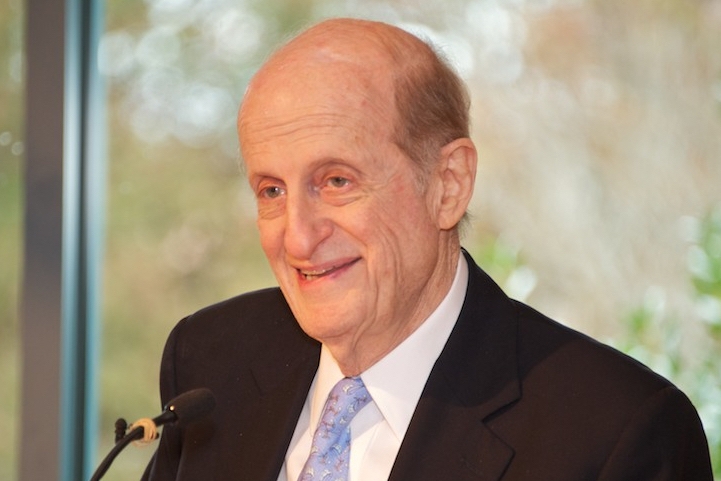 I first met Eli Evans, who died last week at 85, after reviewing his lyrical book, "The Provincials: A Personal History of Jews in the South," for Present Tense, a liberal Jewish magazine.
That was the beginning of my nearly 50-year friendship with Eli, a pioneer in the field of Southern Jewish history. I didn't always agree with his take on that history. But our debates over it have challenged my thinking and enriched my life.
My 1973 review of his now classic book was favorable, but he had some bones to pick with my criticisms. So he called me. His amiability was infectious, if not always persuasive. I listened, and we soon became friends. I later assigned "The Provincials" in a course I taught at Rollins College in Orlando called "Kasha & Cornbread: The Jewish Experience in the American South."
When we disagreed in the decades that followed, always respectfully, it was most often over the degree to which Southern Jews confronted slavery, Jim Crow segregation and racism generally. 
I was the brash, judgmental kid from the South Jersey suburbs, a recent Duke graduate who felt that Southern Jews had been too timid in their support for Civil Rights. I pointed out those Jews who had been hostile toward Jewish activists who came south in the 1960s to organize for voting rights — including martyred heroes like Andrew Goodman and Michael Schwerner.
For his part, Eli could be defensive of his Southern Jewish tribe, maintaining that they did all they could safely do. A gradualist and an optimist, Eli argued that I was holding Southern Jews to an unfair standard.
He insisted that, for their own safety, early generations of Southern Jews — most of whom were in the retail business — were compelled to go along with the prevailing racial attitudes and practices, which in their hearts they knew were wrong. Sometimes they challenged white supremacism, particularly in the respectful way Eli's family and other merchants tried to treat their Black customers. These shops and shopkeepers were sometimes the target of antisemitism as a result, as the Evans family's United Department Dollar store was after integrating its lunch counter.
The last communication we had, years ago, was about an op-ed I wrote for the Raleigh News and Observer, about a Jew named S.H. Fishblate, who played a central and despicable role in a murderous, white supremacist 1898 takeover of city government in Wilmington, North Carolina. Eli called to complain — not that the column was inaccurate but about my decision to write about Fishblate. It wasn't good for the Jews, at least Southern Jews. I replied that good or bad, history had its claims. He countered, fairly, I thought, that there were also heroic Southern Jews who fought against racism, at great personal peril, during Reconstruction. I could only say that I wish I had known about them before I had done the op-ed, and that I would have included them.
I had also voiced skepticism to him about what seemed to me the revisionist liberalism of Southerners, including many Jews, who argued that they had been quietly active "behind the scenes" during the Civil Rights movement. It was only last year, after reading T.K. Thorne's "Behind the Magic Curtain: Secrets, Spies, and Unsung White Allies of Birmingham's Civil Rights Days," that I decided that Eli may have been right after all, and that I had minimized these quiet allies' contributions.
Family history
In 1911, the first two Jews were admitted to a small Methodist college in Durham, North Carolina, that would, just over a decade later, become Duke University. The pair arrived to what must have seemed to them an alien and hostile Southern environment. The only co-religionists there to greet them were a handful of pioneering merchant families and the tiny remnant of about a hundred Jewish cigarette rollers imported from New York 30 years earlier by tobacco tycoon James B. "Buck" Duke.
Among those merchant families was that of Eli's father, Emmanuel "Mutt" Evans, who founded the first of what became a chain of dollar stores. Mutt, a track star while attending the University of North Carolina at Chapel Hill, became beloved in Durham, in large part because of his ecumenical, colorblind philanthropy. In 1950 Mutt was elected to the first of six two-year terms as mayor, shepherding the growing city through the civil rights movements with relatively little strife.
This family history is Eli's starting point for "The Provincials," which seamlessly weaves his warm account of growing up in Durham with that of his extended family throughout North Carolina, as well as with the larger history of Jews in the South.
The grandson of two peddlers, Eli had no interest in joining the family business.
Eli followed his father to Chapel Hill, where he was the first Jew elected to head the student government. Yale Law School and then the Navy were next, as well as stints as a White House speechwriter for Lyndon Johnson and as an aide to North Carolina Gov. Terry Sanford.
A distinguished career in philanthropy followed. At the Carnegie Foundation, Eli helped launch "Sesame Street," and then "Rechov Sumsum," its Middle Eastern cousin, which he hoped would build bridges between the youngest Jews and Palestinians in Israel. He then headed the Charles Revson Foundation, where he helped fund Marian Wright Edelman's Children's Defense Fund.
At Revson, he also came up with the idea for the PBS series "Heritage: Civilization and the Jews," hosted by former Israeli Foreign Minister Abba Eban. After reading "The Provincials," it was Eban who dubbed Eli the "poet laureate of Southern Jewry."
While he spent the rest of his working life in New York, in his heart he remained a Southerner, following "The Provincials" with "The Lonely Days Were Sundays: Reflections of a Jewish Southerner."
"I am not certain what it means to be both a Jew and a Southerner — to have inherited the Jewish longing for a homeland while being raised with the Southerner's sense of home," he wrote in "The Provincials."
"Jews were not aliens in the Promised Land, but a blood-and-bones part of the South."
"The Provincials" was an immediate success, at least among Jews.
"Before Eli Evans, there scarcely was a field of Southern Jewish history," says Jonathan Sarna, the dean of American Jewish historians. "His book helped to define it, and his encouragement helped to extend it." 
Mourning
The Evans family has released an obituary that described him as "A warm, often ebullient storyteller who played banjo at seders — Dayenu was a family favorite — and wore his Carolina-blue Tar Heels cap with attire both business and casual, he was equally at home in Manhattan, Jerusalem and the American South."
At Eli's funeral Friday, at Beth El Synagogue just off the Duke campus, where Mutt Evans once served as the congregation's president, Eric M. Meyers, the Bernice and Morton Lerner Emeritus Professor in Jewish Studies, paid tribute to Eli.
"Never in all of his public life did he forget his roots or his family ties to the South," Meyers told the mourners, who included former Durham mayor Steve Schewel, only the second Jew to hold that post since Mutt.
Meyers ended his remarks by quoting Eli, from a dedication ceremony honoring his family at Duke:
"As Jews in the New South, we have today become firmly a part of this region's history, in a place where pluralism abides, diversity is celebrated, and our common heritage binds us all together in the family of man."