Art
At the age of 95, an American Jewish artist finally gets his due
Born in Brooklyn and raised in Queens, painter Alex Katz is bound for the Guggenheim in Manhattan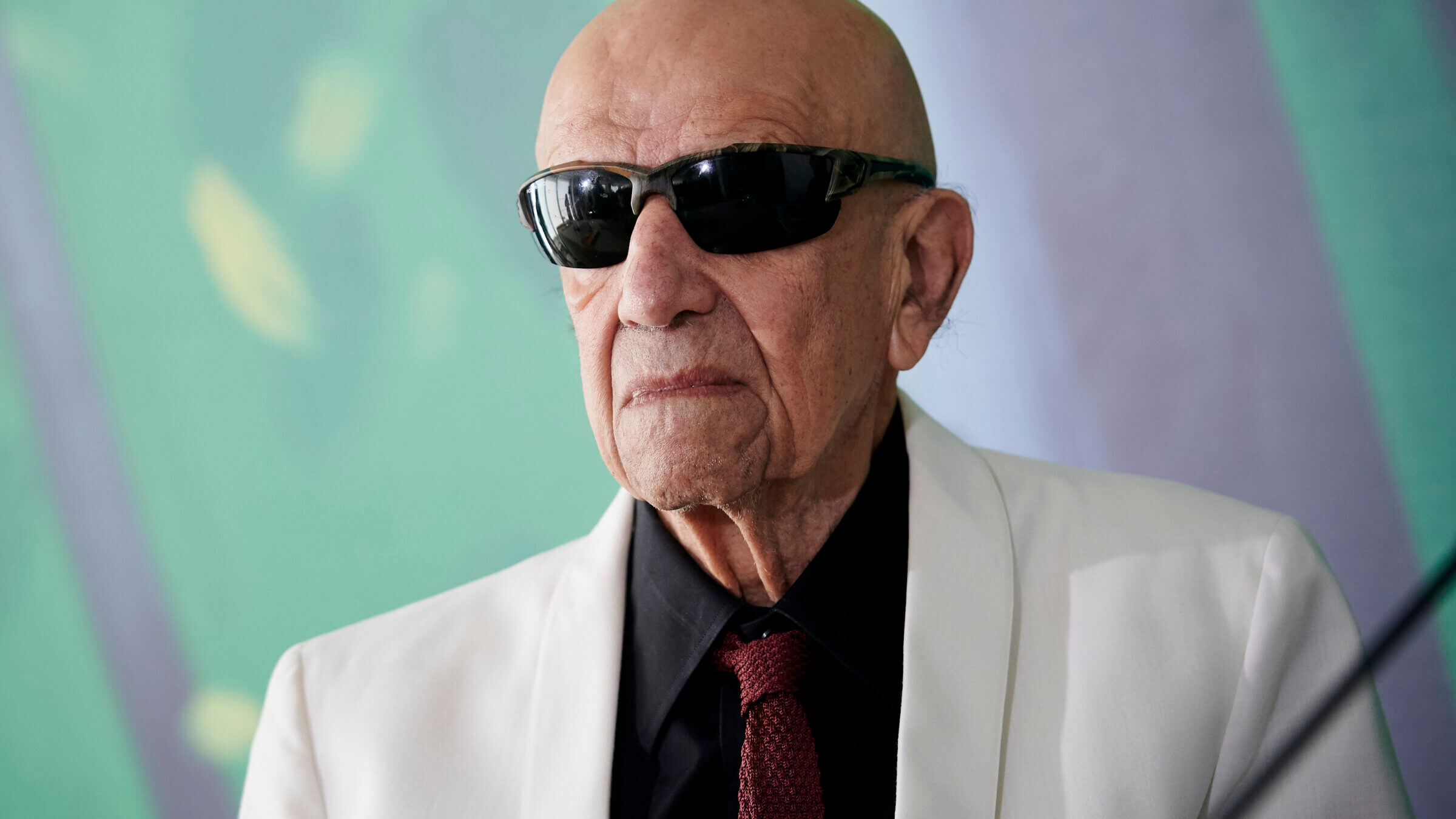 Discovering Alex Katz's work at London's Saatchi Gallery in 1998 felt like a chance encounter. His painting "Blue Umbrella No. 2" seemed not to care that it was misplaced, far from its New York origins. Its raindrops were universal, abstract simplicity belying the complexity of an intricately patterned scarf, in turn complementing his subject's red lips.
Mesmerized by the smooth and polished brushwork, I was blissfully unaware that this exhibition, "Alex Katz: 25 Years of Painting," was the first substantial showing of his work in the U.K. After all, this was the late 1990s, his art was almost ubiquitous and Katz was already 70.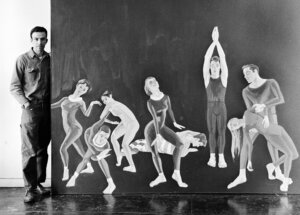 At the Guggenheim this fall
Fast forward a quarter of a century. Katz is now 95. This fall, Manhattan's Guggenheim Museum will show "Alex Katz: Gathering," an eight-decade retrospective. This smorgasbord, or deli counter, of delights, ranges from his 1940s rudimentary subway sketches to his latest immersive landscapes, along with his magnificent figurative works, hundreds of which feature his wife, Ada. Her face is synonymous with his art. One wonders if there has ever been such a striking muse so attentively painted, and over so many decades.
Katz's portraits and figures are known for commercialized sleek faces with bold features and brightly colored backgrounds. The red background of his "Coca-Cola Girls" was a nod to branding. His iridescent "Calvin Klein Girls," set against a black background, was a tongue-in-cheek follow-up to his claim that a video commercial, viewed in the back of a New York cab, stole its styling from him.
Proud of his outsider status
More Ralph Lauren than Ralph Waldo Emerson, Katz rejected any inklings of transcendentalism explored by prominent American artists, such as Barnett Newman or Mark Rothko, many of whom were, like him, sons of Jewish émigrés or immigrants themselves. Born in Brooklyn and raised in Queens, he attended The Cooper Union in the 1940s after a few years of studying industrial design and completing intensive drawing training at Woodrow Wilson Vocational High School. A regular on the midcentury art circuit, he was proud to proclaim his outsider status. He described how no one was painting figures, so he decided to do just that.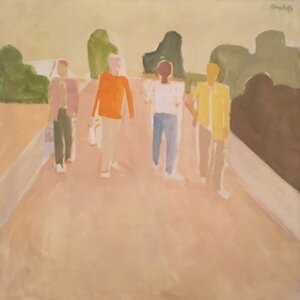 "I didn't fit in with the old Realists," Katz told the Financial Times four years ago, "I didn't fit in with the Abstract Expressionists, I didn't fit in with Pop Art. There were a lot of parts of me that were not connecting at all. I'm not a Pop artist, and people can't see my work as realistic, either."
Nor does his work appear particularly rebellious today. His paintings reflect the seasonal aspirations of many New Yorkers: winters in the city, summers in Maine. (He is a longtime summer resident of Lincolnville, Maine.) Candy-colored bathing suits and open-topped shirts shown on long-limbed vacationers may have had their stylistic origins in midcentury advertising. But in his work they persist with a haunting timelessness and relevance. His subjects have a romantic self-awareness that transcends borders and emotion.
The next time I stumbled across Katz's work was about a decade ago at the exhibition "Give Me Tomorrow" at the Tate St Ives in Cornwall, England. The artist's paintings enhanced the beach vibe of the scenic coastal town, known for its artist community. The gallery offered framed views of the rugged aqua coastline animated by bursts of color of people and boats. Katz's paintings sublimely offered the same.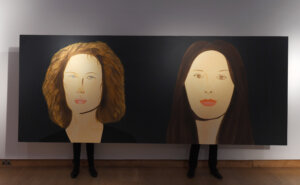 'Quick things passing'
Six years later, the Neuberger Museum of Art in Purchase, New York, featured "Brand-New & Terrific: Alex Katz in the 1950s."  Casually slung jackets and white tennis shoes in his pastel-colored "After Softball" conveyed wistful happiness. A tight composition of a relaxed group in his "Lincolnville Beach" created a nostalgic longing for white sands, water and good company. 
Katz's more recent landscapes and filigree leaves differ in subject matter from his figurative work, or perhaps they hint at backgrounds that were painted originally only as bold color. Regardless of subject, all his work attempts to capture fleeting encounters, in his words "quick things passing" —  a gesture, an overhead seagull, a conversation.
With Katz, surface is king, style is content, fashion has always been important and art, like fashion, is ever-changing.
The takeaway emotion is one of satisfaction of a life lived, loved and observed. Casual elegant moments mingle with occasional awkward ones. They are recorded and made indelible, with his indefatigable wife and muse by his side. Like snapshots of a well-spent summer, Katz's cutouts, collages, sketches and paintings had entered my subconscious. They were not about to leave in a hurry.
His wish, come true
Colby College Museum of Art in Waterville, Maine, has an entire wing devoted to Katz, funded by a Colby trustee. The museum owns a total of 900 of Katz's works, 400 of which were donated by Katz himself.  Yet despite numerous gallery showings, New York's biggest museums have paid him scant attention. Fifteen years ago, paintings of his wife held centerstage at an exhibition at The Jewish Museum, and his prints have been shown at the Brooklyn Museum since, but it has been 36 years since a major retrospective was staged at the Whitney Museum of American Art.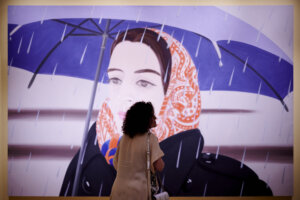 Nevertheless, Katz continues to defy and defeat uncertainty both on and off the canvas. There is nothing tentative about him or his art. Despite his age, he remains driven and competitive as always; he continues to create large works with physical strokes that demand a rigorous exercise regime.
When asked, back in 2018, if he had any final career ambitions, Katz stated, "I would've liked to have had a show in a major museum in New York." The wish will be granted this fall. With its modernist vortex as background, I couldn't think of a more suitably stylish venue for his art. "Alex Katz: Gathering" will be shown from Oct. 21 through Feb. 20, 2023. Like a cluster of falling leaves or color-rich beachballs from one of his paintings, grab the show with both hands, before it is gone.