Bintel BriefAm I right to resent my careless relative for giving me COVID-19?
For the first time ever, our hosts do not advise talking to said relative. Instead, talk to yourself.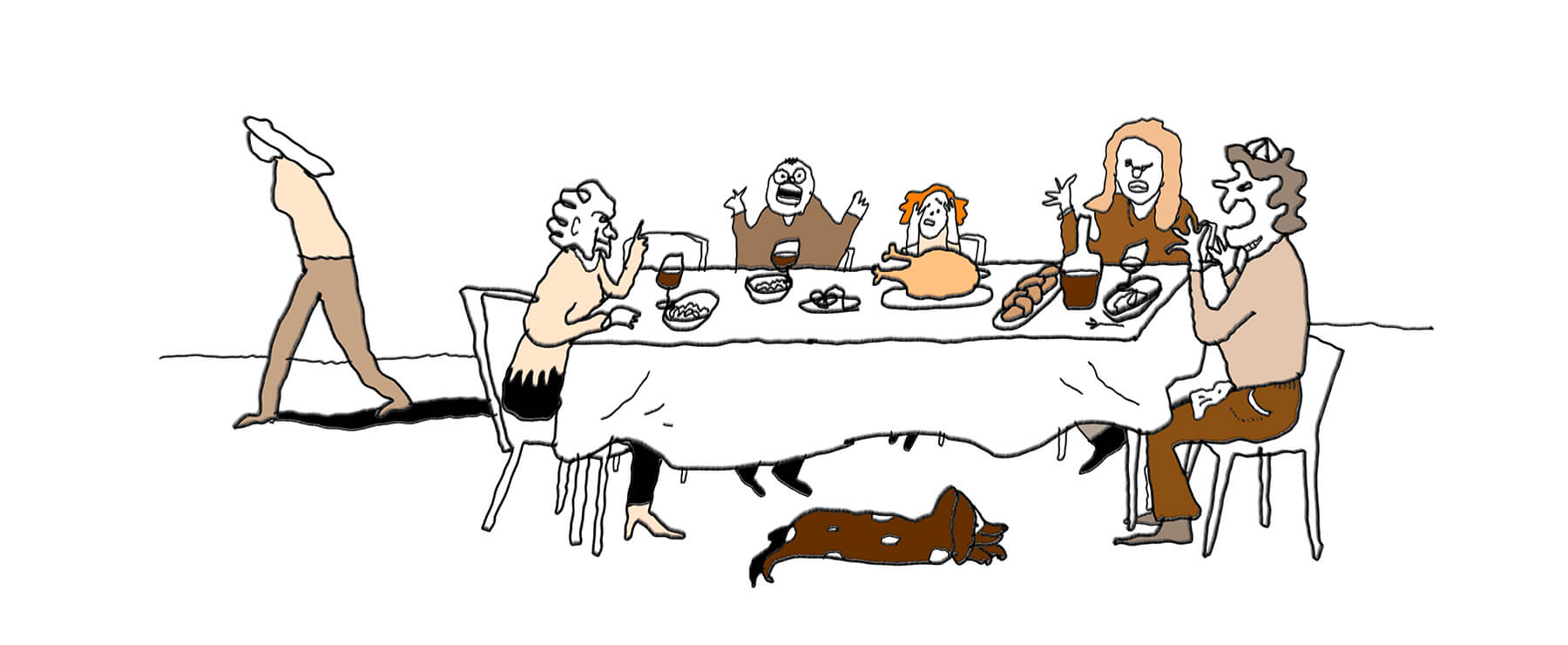 This is an adaptation of our podcast, "A Bintel Brief." Listen to the episode here (or wherever you get your podcasts), and click here to sign up for a weekly newsletter with backstories from our hosts, Ginna Green and Lynn Harris. Need advice? Email [email protected], or leave a voicemail at (201) 540-9728.
Dear Bintel,
I have been particularly cautious during the pandemic and never contracted COVID-19. Only recently have I begun meeting friends out for dinner and, notably, traveling to visit family — specifically my nephew, who was a COVID baby. I made the decision to travel with a number of my other family members to finally meet him in person.
This was our first reunion. Shortly after arriving, one of my family members started coughing. I asked if they were feeling OK, and if they had tested. They assured me it was just allergies. Fast forward, two days later: I'm back in my apartment and I get the text that this person has just tested positive for COVID-19, and of course, a day later, so do I.
I know that I can't be upset about the situation and keep being told it's just the reality of the times. But as someone who has been so cautious and has turned down so many get-togethers and in-person events since the pandemic started, I can't help but feel some unwarranted resentment toward this person for not taking the pandemic as seriously as I do.
I don't want this to be something I hold over them going forward, but I'm not sure how to let this go.
Signed,
Sick & Tired
---
Dear Sick & Tired,
There are lots of folks who are getting COVID-19 this summer who haven't had it before. There are still tens of millions of active cases, though it's worth noting that's still far below where we were two years ago. And thanks to vaccines, we're also not being hospitalized or dying at the same rates that we saw during the first part of the pandemic. So clearly, we're in a different COVID reality than we were before when it was very, very deadly.
The key to this question is in one phrase that you use: unwarranted resentment.
You know, or at least feel, that your resentment isn't rational, but the fact that you feel it nonetheless really surfaces some of those gnarly emotions that come along with contracting this particular disease. So much has changed since the beginning of the pandemic: its virulence and deadliness has been mitigated by vaccines, this country has a different  president. But our feelings haven't always evolved along with those new developments.
We're tired. Earlier in the pandemic, we were suited up, and it was sort of life during wartime. And now we're like "ehhh." So we get it.
Although you say you're angry at the relative who we gather gave you COVID, we feel like really you're mad at yourself for going to the gathering and for being mad now. On that, never say to yourself, "I shouldn't be feeling this way." When you have feelings about your feelings, that's an alarm bell; you should stop trying to strong-arm yourself out of feeling resentful.
You can't fight the feeling, but maybe if you stop trying to, that will help it ease.
Thinking about the types of battles that we wage, it reminds us a lot of progressive movement politics right now. We're seeing the younger generation fighting battles within their own organizations or their own institutions, while there are clearly bigger fights to fight than with each other. And yet people feel the need to fight and to win something. When so much is out of your control, it's tempting to find someone or something who's an appealing target.
We know all about this from Yom Kippur. As a matter of fact, if you look at Leviticus, you'll see that Jews have figured out a way to place their sins elsewhere in an act of expiation, in this case on two goats. One is sacrificed, and one sent away carrying the sins of the community. A later translation into English called that an "escape goat," which evolved into "scapegoat."
So that is a solution for basically not beating yourself up that goes all the way back to the Bible.
We have so many fascinating rituals in Jewish tradition, and the scapegoat is one that everybody — non-Jews and Jews alike — can get behind, because we all need someone to blame.
Our advice, for the first time ever, is not to go talk to your relative.
If you do, you're going to get more fuel for the fire about what you perceive as their irresponsible behavior and cavalier approach to COVID-19. Or maybe you'll even get facts that make you feel you shouldn't have raised the issue, creating a whole new set of bad feelings like guilt. There is nothing to be gained.
Instead of talking to your relative, talk to yourself, and be nice about it. It's really normal to feel resentful of that person. It may have also been inevitable that you got COVID. If it wasn't from this person, it could have been from someone else. 
We hope it wasn't so bad for you, but we really want you to just chalk the whole thing up to how we live now, in a time when we have to be especially kind to ourselves.
Signed,
Bintel
Samuel Breslow contributed to this adaptation. Listen to the full podcast episode, which includes a letter from our archive and an expert's advice for Sick & Tired, here or on any podcast platform. Send your dilemmas about Jewish American life, identity, culture, politics or your personal hopes and dreams to [email protected], or leave a voicemail at (201) 540-9728.