Culture
Meet the Jewish songbird who dropped everything to save Ukrainian lives
Ukrainian American singer Daniil Cherkasskiy felt little connection to his home country. But after the Russian invasion, he knew what he had to do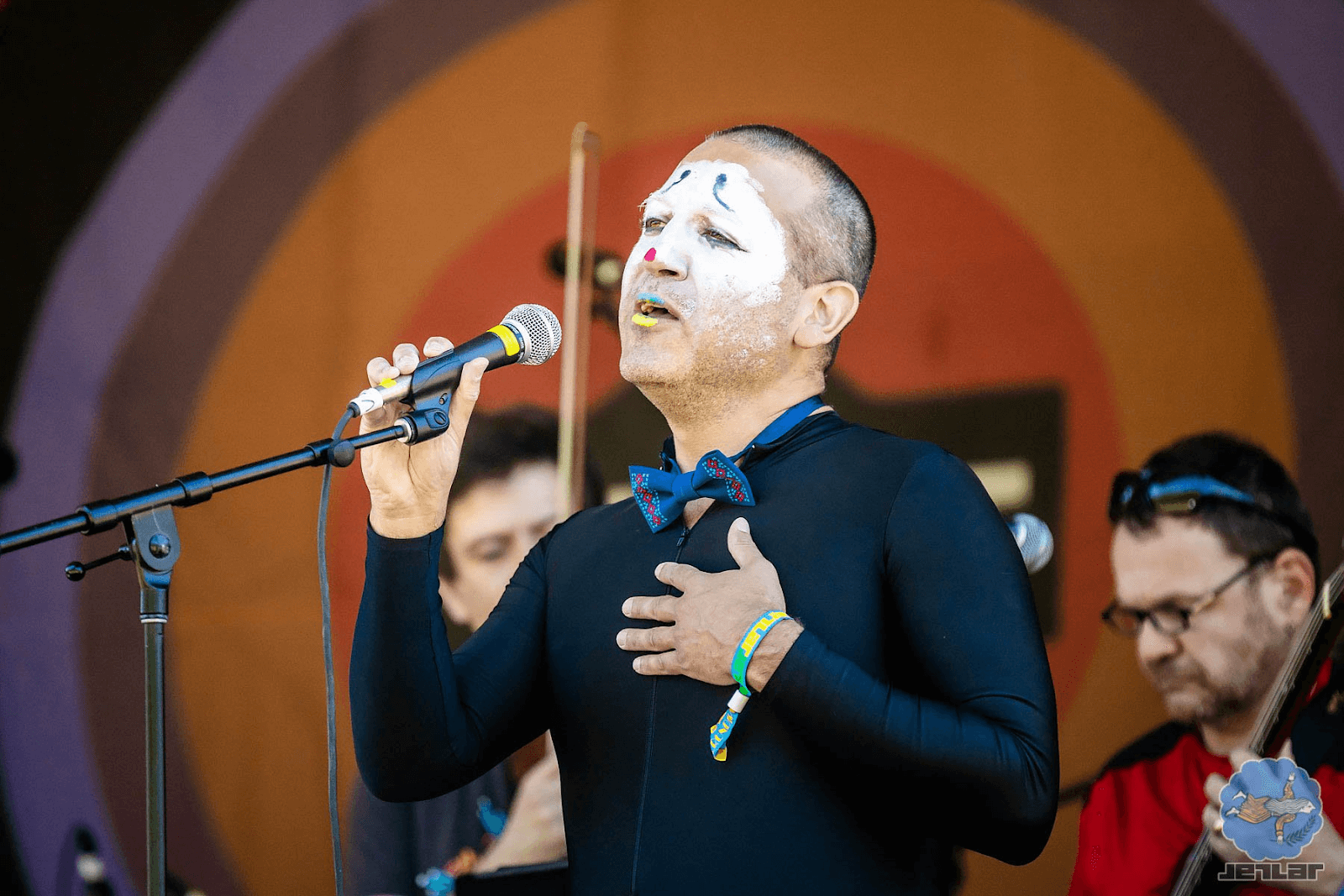 The first time I encountered the singer Daniil Cherkasskiy, he was in full drag. His outfit, a lime-green dress paired with an orange wig and pumps, was the perfect complement to his set of songs by female Soviet singers of the Cold War era. The outfit would have been de rigueur in the 1960s, and it created a memorable effect: heteronormative, pro-establishment lyrics sung by a drag queen with a pencil mustache. The performance was just one installment in Cherkasskiy's Iron Curtain Cabaret series, a musical jab at queerphobia prevalent in both the Soviet Union and modern Russia.
Cherkasskiy, a Ukrainian-born, Chicago-based performance artist who uses the stage name Dani Chë, gave that performance in 2017, a few years after Russian president Vladimir Putin enacted anti-gay legislation that led to waves of violence against LGBTQ people in Russia.
For almost 20 years, Cherkasskiy was obsessed with Soviet songs – collecting them, performing them, and deconstructing their meaning to wrestle with the implications of nostalgia for the Soviet Union.
Then Russia invaded Ukraine, and everything changed. Not only was Cherkasskiy's repertoire no longer palatable to much of his audience or himself, but his performance practice took a backseat entirely to his new calling: raising money to help Ukrainians impacted by the war.
It all started, as so many things now do, on social media. In February, a Ukrainian surrogate carrying twins for Cherkasskiy's Chicago-based friend Alexander Spektor gave birth prematurely in Kyiv. Russian troops were approaching the city, and the twins and their surrogate desperately needed hard-to-find supplies like preemie formula while they awaited safe passage to Poland. After sharing Spektor's plea for help on Facebook, Cherkasskiy received a message from a woman named Natalia Mitsuta, a real estate agent in Kyiv who volunteered to go in search of formula.
"It just seemed incredible, that someone was just driving in Kyiv without any incentive," he said. While many were fleeing the city, Mitsuta decided to stay and provide aid to civilians. Cherkasskiy, moved by her determination, sent her some money for food.
Though he hadn't thought beyond this one act of kindness, Cherkasskiy soon found himself getting more involved in Mitsuta's work. Over the next few weeks, Mitsuta organized a network of 70 locals to distribute supplies to people in need all over the country. To help, Cherkasskiy wired thousands of dollars of his own funds and started a crowdsourcing campaign that soon went viral. Managing so much money was more than he could do alone, so he recruited a group of friends to coordinate donations and obtain 501(c)(3) status for a nascent nonprofit they named Ukraine TrustChain.
"A lot of us had an almost physical need to do something to help Ukraine to alleviate this pain," Cherkasskiy said. In the immediate aftermath of the war, he spent the bulk of his time running the organization, running on little sleep.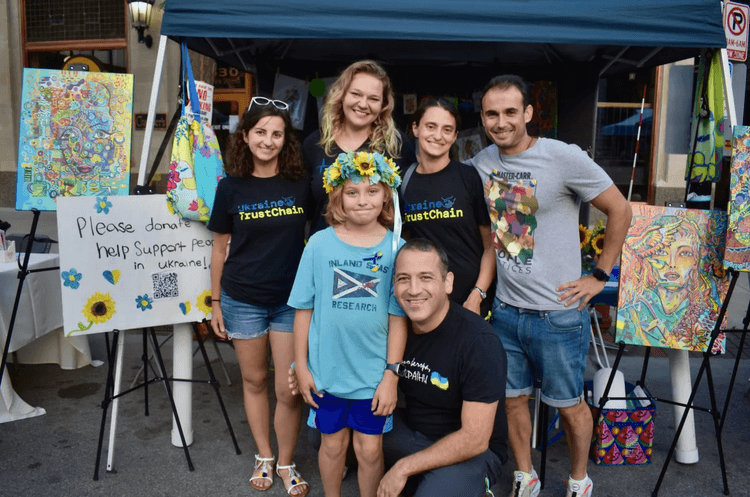 Cherkasskiy says that TrustChain has deployed $1.5 million to date, working with a network of an estimated 500 locals to facilitate everything from food distribution to infrastructure repair and evacuee transport. The organization has funded the transport of nearly 40,000 evacuees between cities, with every dollar raised going directly to Ukrainians in the war zone.
A data analyst by trade and a performer by passion, Cherkasskiy had no prior experience administering humanitarian aid or running a nonprofit organization before founding TrustChain. He didn't even have a strong connection to his birthplace.
An early passion                                                                        
Born to a Jewish father and a mother who converted to Orthodox Judaism later in life, Cherkasskiy grew up in Kyiv and attended the all-boys Jewish school Orach Chaim, the first state-run school to offer Hebrew language study in Ukraine since World War II. As a student, he regularly starred in theater productions including the school's annual Purim spiel. Though religion was a cornerstone of his childhood, he drifted away from Judaism as a young adult, even as his parents moved towards an Orthodox lifestyle.
After the fall of the Soviet Union, 1.6 million Jews left in search of a better and safer life. Cherkasskiy's family was part of that wave, immigrating to Chicago in 2001 when he was 17. Cherkasskiy enrolled in community college but regularly crashed graduate seminars in Slavic languages and literature at Northwestern, which gave him a taste of the region's intellectual life. This soon led to his discovery of Chicago's Russian-speaking neformaly – literally, "informals," or alternative youth – who introduced him to the local music and art scene, plugging him into a network of radical immigrant artists known for their avant garde performances.
In 2002, a friend moving to London left Cherkasskiy his clackety Soviet bayan, or button accordion, which would later become his signature. Cherkasskiy started bringing the bayan to local open mics and stood out right away, if only for his choice of instrument. At the same time, he began learning to play Soviet propaganda songs, carving out an artistic niche for himself in his new community.
As a litmus test for his craft, Charkasskiy attended a number of Russian-speaking "bard" gatherings – an offshoot of a Soviet counterculture movement characterized by singer-songwriters with acoustic guitars. (Bard songs are largely anti-Soviet, and detractors of the genre will call it cloying and overly earnest, making these settings the perfect foil for Cherkasskiy's act.) There he embraced his new status as provocateur, blaring Communist party music on his bayan to scandalize the other attendees.
But for him, the Soviet songs were more than a shtick. Filled with messages planted by Soviet authorities or hidden by renegade lyricists, they provided a window into the past. Cherkasskiy was fascinated by the layers of meaning encoded in Soviet music and started conducting in-depth research in online archives, eventually amassing an annotated corpus of 40,000 songs, many of which had been long forgotten by the general public.
Reckoning with nostalgia 
When Cherkasskiy first started performing, the Soviet Union felt like ancient history — arguably, more than it does today. That distance allowed Cherkasskiy to engage artistically with his repertoire without seeming to espouse its ideology. He even sang songs praising Stalin, embracing the discomfort inherent to the act.
"The whole point was that I wasn't nostalgic at all," Cherkasskiy said. "I was singing it to show like, 'you see, there is nostalgia in this. Isn't it weird?'"
But as Putin's regime began to more explicitly extol the country's past, it became difficult to perform that nostalgia, even ironically. By 2009, Cherkasskiy observed that the songs that had always been a staple of Russia's annual World War II victory parade were now being used to serve the country's modern agenda, accompanied by increasingly militaristic displays. Today, Cherkasskiy argues, the same cultural forces that romanticize Russia's Soviet past are fueling the country's aggression against Ukraine.
In 2014, to express his horror at Russia's illegal annexation of Crimea and aggression in the Donbas region of Ukraine, Cherkasskiy performed while swinging from faux gallows he constructed at New York's JetLAG Festival, the largest celebration of Slavic and Eastern European music in the United States. After 2014, Cherkasskiy shifted his acts away from political music to more lyrical Soviet songs, performed in myriad formats – covered in foam, jumping on a trampoline, submerged in water – for audiences all over the country. Then the Russian invasion brought his Soviet song practice to a screeching halt. While he channeled most of his remaining energy into running TrustChain, the war spurred him to explore Ukrainian-language music, focusing on urban pop songs of the 1950s and '60s.
Today Charkasskiy performs an all-Ukrainian repertoire absent of Communist ideology. In June, I watched him debut his new set at JetLAG. For the occasion, he dressed as a mime, his lips painted the colors of the Ukrainian flag. Most audience members were immigrants from the former Soviet Union. A few teared up during the show.
As I watched Cherkasskiy on stage, he seemed to perfectly embody the character he'd chosen for that moment – a sad mime crooning in Ukrainian to the open sky. I marveled at the energy it must have taken to prepare for his performance while working full-time and running TrustChain. And yet, shortly before the festival, Cherkasskiy reached a new milestone in his work: He traveled to Ukraine to meet the local TrustChain volunteers in person for the first time. While he didn't bring his bayan, he did perform a few Ukrainian songs on a friend's guitar.
Like so many things in Ukraine right now, the future of TrustChain is uncertain. Few people expected the war to go on for as long as it has, and the need for aid persists even as donations have waned. Cherkasskiy said that TrustChain collected about half as many donations in July as in May, attributing the change to a decreased sense of urgency from the public.
"I'm able to look just a couple of weeks into the future," Cherkasskiy said. "Even then it's not necessarily rosy."
Meanwhile his Ukrainian is improving every day, both by speaking with TrustChain members and memorizing lyrics on the side. Though a concert in his native Kyiv might seem like a pipe dream, he's not willing to count it out yet.
"Maybe someday," Cherkasskiy said. Maybe when the war is over, or as they say in Ukraine, after the peremoga – the victory.