Art
Can this noisemaker rattle the world out of its complacency?
Elana Mann's activist art is a mixture of politics and Purim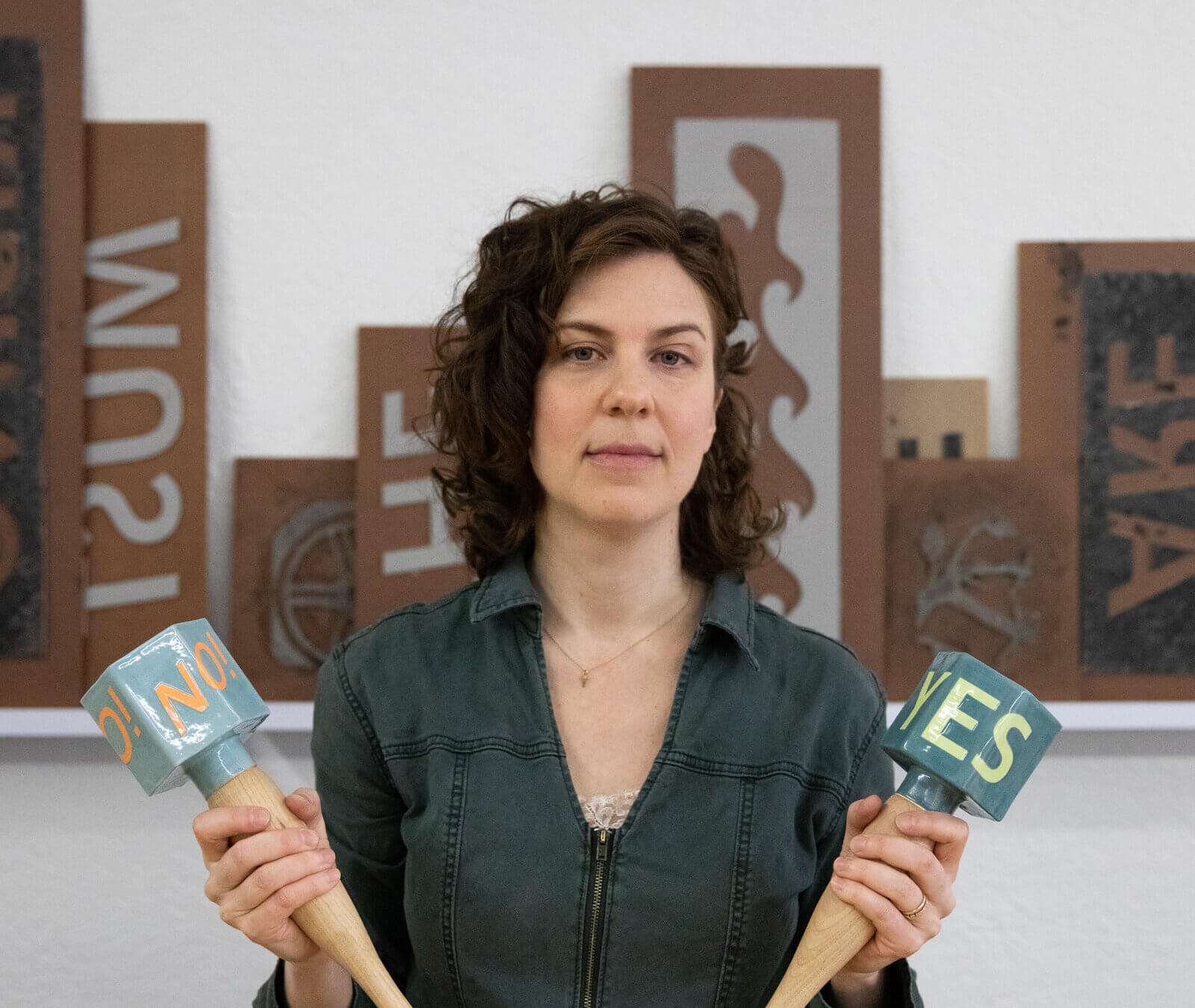 When a gunman opened fire on two abortion clinics in Brookline, Massachusetts, on Dec. 30, 1994 — killing two and wounding several others — Elana Mann was a frightened 14-year-old looking on from the neighboring town of Newton. Her thoughts were racing. "What if I get pregnant and then I try to get help and then I get shot?" she remembers thinking. "It was just terrifying."
A friend from middle school was the daughter of activists, and the family invited her to attend a protest with them in the wake of the attacks. Someone had fashioned a papier-mache coat hanger painted in red that Mann and her friend carried as a prop they didn't fully understand. The fear that propelled her that day was reminiscent of others she recalls from her childhood — when she learned about the Holocaust at age 5, when she and her classmates at a Jewish day school sang songs for children stuck in the Soviet Union, when they had bomb drills in class.
Going to that protest helped her realize "there's this thing called solidarity and these movements that I can be a part of, and I don't have to be so scared. I can feel more empowered in my life," Mann told me over Zoom.
"That really politicized me," she said, and though she may not have been able to articulate it quite so cogently as a tween, "the issue of women's bodies and sovereignty over one's body and access to health care became a really important issue for me, from that time on."
Nearly three decades later, when a draft Supreme Court decision leaked and the end of Roe v. Wade seemed imminent — an eventuality Mann had been expecting at least since Brett Kavanaugh's confirmation hearings but was no less devastating for its lack of surprise — Mann craved that solidarity once again.
"I was feeling just so, so desperate," said Mann, by then an artist and activist living in Los Angeles with two young children of her own.
She remembered an interview she'd seen with activist Ady Barkan earlier in the spring. "He was talking about hope in this really amazing way — hope as action in the face of despair," she recalled. "As an artist," she thought, "I can put that into motion."
It was time to bring out her protest rattles.
'Get your bans off our bodies'
The first two rattles Mann ever made in 2019 simply said "yes" and "no." She'd been attending a lot of street protests and felt stymied. "I have a really quiet voice, it's hard for me to project," she said. "I really wanted to create something that would make a lot of noise and that I could use instead of screaming and yelling." She was inspired, too, by the rich culture of creativity prevalent in protest spaces in Los Angeles — with Aztec dancers, drummers and more. 
Since then, she's made more than 70 rattles — handheld folk instruments with molded clay tops that are filled with beads, plastic, metal and other noisemaking materials and attached to wooden handles. They've helped amplify activism on issues as wide-ranging as the climate crisis, the family separation policy under the Trump administration, and, most recently, abortion. 
Mann gave birth to her daughter at the start of the pandemic and she's been quite COVID cautious. But when the draft decision in Dobbs v. Jackson Women's Health Organization came to light and signaled the end of federally protected abortion rights, "I really needed the vibrational energy of my community." So she blasted out emails to her network and posted on social media to invite people to join her and her rattles at the "Bans Off Our Bodies" rally in downtown Los Angeles on May 14, 2022.
"Are you interested in joining me to shake in rage and fury?" she wrote.
She donned a mask and a face shield with a small sculpture of a uterus jutting up from the top of it — a protective helmet and a beacon in the crowd. About 30 people showed up to pick up rattles and head to the rally as a group. There were "yes" and "no" rattles, but also others emblazoned with words like "choice," "change," "rage," "us," "we," "help," "voice," "united," "truth" and "power."
When Claudia Pretelin arrived, she selected a compact rattle inscribed with the word "care." For Pretelin, an art historian, curator, and administrator originally from Mexico City, "the message felt appropriate."
The ad hoc rattle ensemble walked together toward the rally by city hall, instruments raised and shaking. "It felt like all eyes were on us," Pretelin said.
Flanking the entrance was a group of counter-protesters who reminded Mann of the anti-abortion hecklers she used to face regularly: When she was an undergrad at Washington University in St. Louis, she volunteered as a clinic escort, helping shuttle patients from their cars to their appointments.
"The amount of vitriol, rage and anger that women have to endure just to go seek health care, just basic health care, was really astounding. And heartbreaking," Mann said. "I honestly was so unprepared and so shocked. And also, I've never felt like my mutual aid was so important."
Seeing the counter-protesters screaming with their signs in 2022 took her back. She didn't want to engage, but others in her group "descended upon them and were shaking these very loud rattles," which she's realized are a little like Purim groggers. "They kind of work the way the ritual rattle is supposed to work in terms of drowning out Haman's name because they drowned out these radical activist screams."
After making their grand entrance, Mann and her friends and colleagues made their way toward the stage, amplifying chants of, "My body, my choice," with the rhythms of their rattles and shaking them like sonic punctuation when a speaker said something that resonated.
For Pretelin, the experience was transformative. She'd been to protests before — including back home in Mexico "to protest the government's lack of actions and answers" after the disappearance of 43 students in 2014 — but she'd never quite felt safe in those spaces. And Donald Trump's election to the presidency soon after she immigrated to the U.S. didn't help her feel at ease in her new home either.
"Trump's racist and dehumanizing rhetoric and policy actions made us feel afraid of other people fomenting racial violence against Latinx people and other minority groups," she said. Already an introvert, she retreated even more. But moving to L.A. from Rochester helped her feel more free to express herself politically. And this protest in particular was liberating.
"Having this object, holding one of the rattles, it was very empowering," said Pretelin. "Elana's art in that sense, it's a switch from art is just to be looked at to art — you can listen to it, you can be part of it, you can talk through it."
As a permanent resident working to obtain her citizenship, Pretelin can't yet vote for candidates whose positions on abortion and other issues align with her own, but she can show up and make noise. "I found a community of people that cares about what's happening," she said. "We don't see this as the end, but as a good catalyzer to start, again, fighting for human rights."
The artist behind the rattles
Mann's parents have told her she walked around as a toddler with a pencil and a notebook, scribbling away. Her dad's dad and her mom's mom both took to art as a hobby but no one in her family had pursued it as a career. "It was definitely an unconventional path and choice, but from a very early age, I knew that that's what I wanted to do and pursue and who I was."
She grew up in a religiously observant household. "The way that they engaged was through Judaism. Like that's how they engaged with the world, that was our community, it was our synagogue," she said. Her parents talked about politics, but they weren't political, not like her friend's activist parents.
At the same time, their Reconstructionist congregation had a humanist, feminist bent to it. "My parents were literally changing the prayer book," Mann said. "Seeing that you can change things — you can decide this is wrong and I'm going to do something different to a religion that's thousands of years old — was huge," she said. "Being in this spiritual environment that really valued women, and was rewriting patriarchal ideas, and then going from that to a secular world where I was like, 'Oh my God, sexism, misogyny, ahh!' that's maybe the opposite experience that most people have."
Mann doesn't make the kind of traditional, ritual art she associated with Judaism growing up, but she identifies as a Jewish artist whose work is influenced by her upbringing and culture. She tunes into Jewish themes of liberation and resilience even as she immerses herself in the modern movements she's part of — including Occupy, climate justice and abortion rights.
Her preoccupation with sound also feels rooted in Judaism, which is "oriented towards text and the oral and aural ideas of listening and storytelling." Think of the role of the voice in revealing people in disguise in the Torah, she said, or the concept of learning in havruta, in fellowship with others. Besides the protest rattles, she's also created various sculptures you can play, like megaphones that are reminiscent of shofars — another example of art she's both displayed in galleries and taken to the streets — and collaborated with musicians on performances.
Her fascination with listening and using your voice might also have more specific, personal underpinnings, said Mann, who as a child was very shy and bullied in school but also spoke up in the classroom. "Oh so that's why you make work about listening," Mann's friend and a fellow Jewish artist, Susan Mogul, thought when she heard this story.  "That's why you're making noisemakers. That's a way to give yourself a voice."
"For someone who calls herself shy," she gets very involved in "being a leader," said Mogul, who's known Mann for at least a decade. "She's got this quiet, understated strength."
Debra Scacco, a friend and artist who works in the studio next door to Mann, said that "the word that I always use with Elana is generous." Mann makes "objects to be used," not just admired in a gallery, and they can and do support a wide range of entwined issues. "The action of protest is so much a part of her practice."
"As a fellow artist and friend, I see her work so much as an extension of who she is and how she expresses empathy," said Audrey Chan, who was Mann's classmate and roommate, and became her collaborator, when they were in grad school at the California Institute for the Arts. "She's always been interested in bringing people together."
The rattles heard across the country
Nell Hazinski was tired when the Dobbs draft leaked this past spring. "There's a certain kind of numbness with all the horrible news that's happening," she told me over the phone recently. She wasn't surprised Roe was being overturned, but she was feeling "exhausted, just exhausted," she said. "And behind that, maybe a bit of rage."
Mann's rattles helped reinvigorate her.
A potter based in Chester County, Pennsylvania, Hazinski has made her living creating kitchen and tableware — "stuff for serving and displaying food and flowers" — and teaching ceramics. But in the last decade or so, she's become more and more politically active, particularly after Trump's election in 2016.
Before the COVID-19 pandemic, for example, she'd held an annual fundraiser at her pottery studio with proceeds going to Planned Parenthood, typically raising around $1,500 or $2,000. And when she read about Mann's rattles in an article, she was immediately drawn to the idea. Maybe it was because the materials were familiar or because she understood the urge to make something with her hands. Maybe it was the rage lurking beneath her exhaustion that led Hazinski to reach out to Mann: Would it be OK if she and her community made some rattles of their own?
The two spoke on the phone this summer. "She was amazing," Hazinski said. "It was just what I needed to hear, that kind of openness and generosity."
With Mann's blessing, Hazinski invited some friends to her pottery studio a few times to create 30 rattles. Now they're up on her website as a fundraiser: In exchange for a donation of $75 or more to a pro-choice organization, you can pick your favorite protest rattle.
"When we first started meeting, one of my hopes was that it would ignite in me and other people who were making the rattles a need to be more active and to solidify our efforts," Hazinski said. Her hopes for the folks who donate and take the rattles home is similar — that they'll think and do and vote to support choice.
Mann has been inspired right back by Hazinski's efforts. She was already participating in Epoch Gallery's digital exhibition "Unprotected — organized in response to Roe's overturn — and working on new rattles specific to the abortion fight. But now she's also exploring how she might help others in different pockets across the country make their own — perhaps with a how-to guide or rattle-making kits.
"There's been a lot of progress. And there have also been a lot of back steps," Mann said. "But we've got to keep on going."